Tony Goins
UX Professional / Content Manager
Admissions User Test
Four high schools | 16 students | Many Post-Its
My largest "classic" user test so far
Problem: We just launched a new website with a focus on prospective students, but we're not sure how effective it is.
Solution: Exploratory user test with high school juniors.
Tools: Classic user testing, lots of collaboration and shoe leather.
Into the high schools
We launched our flossy new site in December of 2017, which meant it was time to test it. Along with two colleagues (Laura Contrucci, a designer who also holds a master's in UXD; and Greg Phillips, a longtime web designer), we conducted evaluative tests on our site in May 2018.
We sat with 22 high school juniors as they navigated the new site. We wanted to:
Determine what prospective students know about us.

See how students conceptualize Columbus State's offerings vs. their own educational plans.

See how students "naturally" search the website to find programs.

Determine how easy/hard it is to apply or visit.
We recruited high schoolers by working with our Admissions department, and got a good mix of schools from around the city.
User Testing - sitting with users and watching them use what you built - is continually surprising and humbling.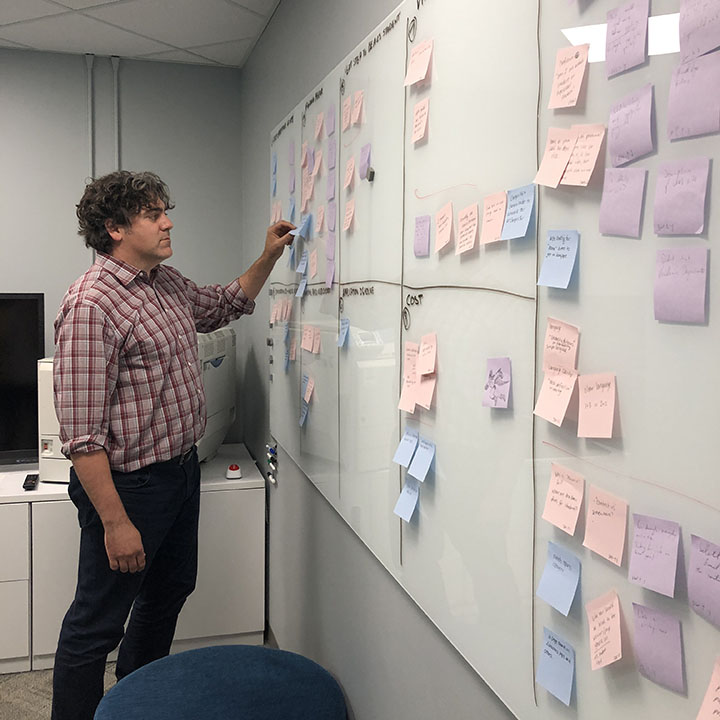 Analysis
This was an extremely collaborative effort! Laura, Greg and I worked together on the script and we split up the testing sessions.
As the web content coordinator, I took the first pass at re-watching the recordings. I created a scoring sheet so I could keep tallies of students' first clicks, successes and failures, and how often I saw certain behaviors.
After that, it was time for the whiteboard. The three of us rewatched all of the tests and coded the student's behavior. We invited other members of the Marketing & Communications team to sit in with us, and again benefited from the additional perspectives.
Observations
Overall, participants were generally able to find something that interested them. Most visited the Pathway pages or the A-Z List.
More participants used the A-Z list than we expected. This page has some risks since it lacks context and naming conventions vary.
Participants did not find general transfer degrees or Preferred Pathway programs. (One student did not find the option for "Film.")
Participants sometimes chose a close-sounding Career degree, although they told us they intend to transfer.
Participants talked about plans to transfer, but no one went to the transfer page.
The Application was easy to find - Admission Dates were hard to find.
Possibilities
Consider separating degrees and certificates on department homepages.
Consider search or filter option on the A-Z list.
Consider adding descriptions for majors within each drop-down section on Pathways pages.
Consider adding transfer options to the catalog pages, especially for BET and HHS majors.
Add Admission Dates to the Admissions homepage.
Many of these recommendations formed the basis for my Searchable Online Catalog project - see my Catalog Search Tool 2.0 case study.