Tony Goins
UX Professional / Content Manager
Catalog Search Tool 2.0
Showing programs, transfers and careers in one search box.
A searchable online catalog
Problem: Information on programs and curriculum is spread among different websites and systems.
Solution: Searchable online catalog, including careers and transfer options.
Tools: Wireframes, user testing, ethnographic study, information architecture, lots of collaboration.
For most of our history, the college catalog was a book. It was very long. It was written for accreditors. It was fairly difficult for students to get a good view of what we offer.
My big project over the last 5 years has been creating a searchable online catalog. I conceived this project from the ground up and have steadily shepherded it toward launch.
The first version launched in 2017, following the implementation of our curriculum management tool. The new version, which launched in March 2022, includes the following features:
More customized search options allowing students to search degrees and programs, courses, careers and transfer agreements in one search box.

Results that can be filtered by program type, delivery mode, pathway or academic department.

Search results that match academic programs with related career and transfer options.

Printable PDF of real-time, database-informed academic program overviews.
It has required a lot of man-behind-the-curtain work to connect the various bits of information. But I think it's going to have a big impact on recruitment, enrollment, and SEO.
Target.com doesn't have a catalog. It is a catalog. Why can't a college do that?
Wireframes (Axure)
The 2017 version includes only curriculum information hosted in the curriculum management database. The new version is intended to french-braid in career information housed in Career Coach and transfer agreements housed in a Google spreadsheet. It also includes some information we hold in AirTable, such as which programs are available online.
(This info is all housed in different systems. Do not attempt this unless you have a web dev who is crazier than you are.)
Here's my first sketch of how to knit all this information together. It's changed a lot since this layout, but you can see it taking shape.
(Axure is the tool I'm most familiar with, but I'm flexible. I often use InDesign or a good ol' pencil and paper if I need something quick.)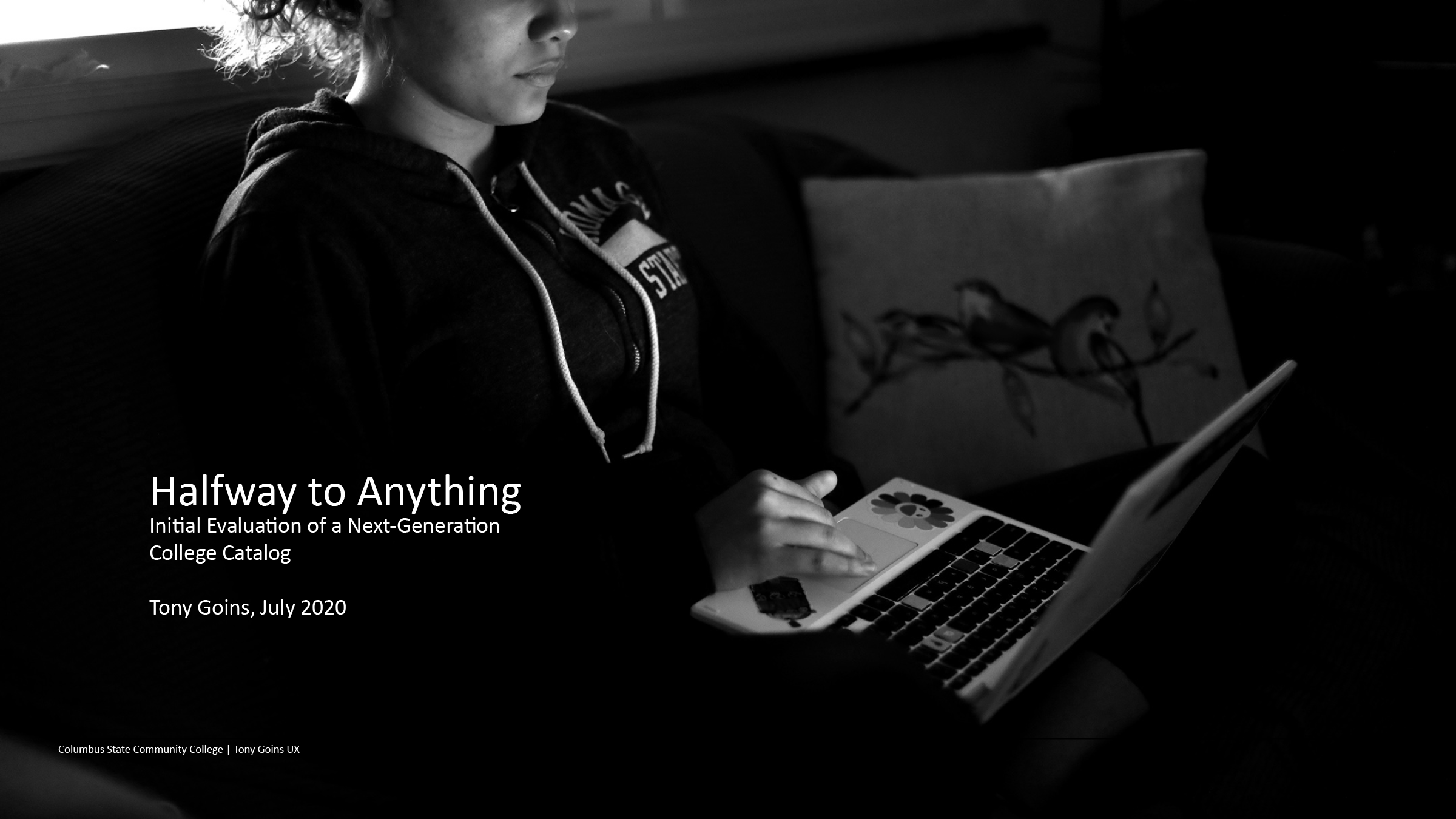 User Testing - Methodology
I did two rounds of usability testing on the new catalog, one with high school students and one with current Columbus State students. Due to the COVID-19 pandemic, I was forced to transition the tests to an online format (Zoom). Additionally, I talked to Academic Advisors to see how the new catalog would fit into their work.
Students were presented with the tool and asked to find a major that appeals to them, then the courses needed for that major. I recorded screen movements and their voices, asking them to "think out loud" as they worked through the tasks. I recorded screen motions and voice, but no faces. We wanted to see what strategies and which options they used.
This was an exploratory test, not a benchmark test focused on numerical totals. Nevertheless, I took rough tallies of:
Success or failure

Time to find

Errors

Tools they used

Title suggestions Next steps for enrollment

What they know about Columbus State already
Read the full report (.pdf)
User Testing - Findings
1) I recommend limiting the "quick results" that come up when you start typing to just degrees and subjects. Once the user clicks Enter, the results screen categorizes the results and provides more context.
2) We need synonyms to help point people to degrees.
3) Students need to be able to quickly distinguish between career-focused and transfer-focused degrees. We should also add those to the filters.
4) The catalog shows 0 results before results populate - we need a loading screen.
5) Further exploration of how transfer degrees are reflected.
6) Continue to integrate the catalog with the rest of the site.
7) Provide a more specific subhed on the homepage, describing specifically what students will find in the catalog.
More findings are in the full report - Read the full report (.pdf)
Rollout and User Acceptance
The catalog french-braids together a lot of information from different sources.
Curriculum is entered by faculty from 60 or so departments, so we are currently working to show faculty how the information they enter is displayed in the catalog. Making this information more visible is the key to keeping it updated and standardized.
We are working very closely with Career Services and our transfer advisors to ensure their information is reflected accurately.
As we integrate the catalog closer into the site, we will continue to test with students to make sure they can find the programs they're looking for.
Our new program pages are easy to read and actionable - each one includes a Request Information button. We'll keep an eye on leads from the catalog. We expect to gain some SEO value as well.