Tony Goins
UX Professional / Content Manager
Reminder X
Tasks can come from anywhere (grad school).
Testing a hypothetical task app
Problem: Business needs more customers on their app. Customers need to get a handle on their tasks for peace of mind.
Solution: Add functionality to accept tasks in more formats, encourage people to get their friends on the app for collaboration.
Tools: Wireframes, user testing, flow diagram.
Getting things done
This was another project for my master's degree in User Experience Design. For this project, we were presented with a very basic task-reminder app and asked to do user tests on it. We then recommend some improvements to some hypothetical stakeholders (Vera and Jorge)
My most striking finding was that all of our respondents used at least four methods to track their tasks: a combination of email, calendar, other apps, and paper. In Getting Things Done methodology, this is a problem: It's a low-grade stressor to wonder if you have more tasks in another list.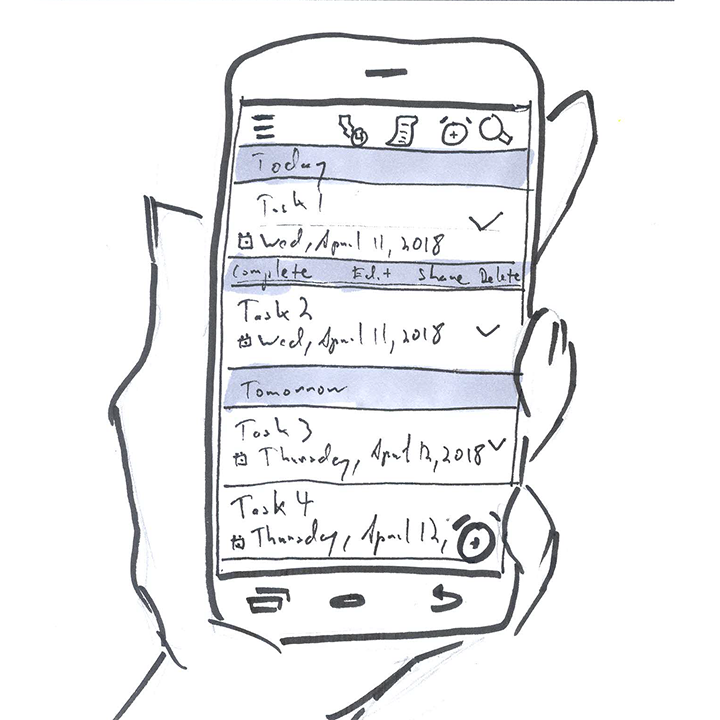 Tasks can come from anywhere
Following that finding, my main insight is that the app needs to be able to accept input from anywhere. I spent most of the report sketching out how you could forward an email to the app and automatically convert it into a task.
My design tenets are:
Keep it simple: Simplicity is the key to getting this into peoples' lives. Our main competition isn't another app; it's not tracking your tasks.

Be there when they need us: It should be as unobtrusive as possible.

Get it from anywhere: The app should be able to handle any input users can throw at it. If we can figure a way to get their handwritten notes, we should do it.

Encourage others to join: Many people use an app their coworkers, friends or spouse use. Encourage other people to join our app.
Read the Report (.pdf)