Tony Goins
UX Professional / Content Manager
Resources for Students
Too many links, but not the one you want.
A gateway to student tasks
Problem: Top tasks are easy to find, but smaller tasks are difficult to find.
Solution: Improve the gateway page to student tasks.
Tools: User testing, wireframes, website analytics.
80 tasks (off the top of my head)
I identified nearly 80 tasks you may need to complete to finish your degree at Columbus State, ranging from big ones like "register for class" or "pay your fees" to smaller ones like "turn in your tuberculosis record" or "appeal your SAP status." Getting students to these tasks is an ongoing challenge.
The biggest tasks live in the student information system (CougarWeb). The rest are afforded through a page called Resources for Students. As we rolled out a new version of CougarWeb, it was time to examine Resources for Students.
This project included an in-depth look at Google Analytics, user tests with 10 students, multiple rounds of wireframes, and some back-end SEO trickery. We don't have it all figured out yet, but I think we can make things better for students.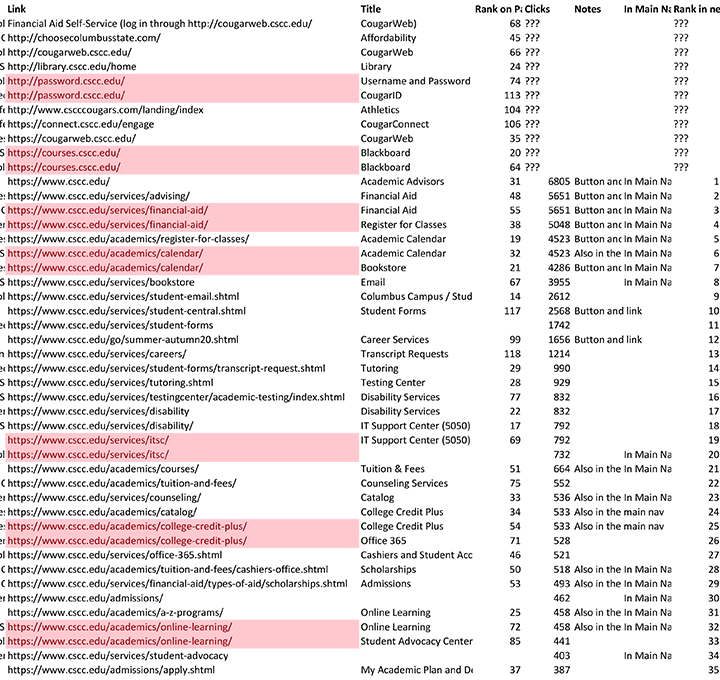 120 Links
The first thing you notice about this page is it is very long - around 120 links. So my first step was to fire up Google Analytics. I wanted to see if any of those links are actually being clicked, and whether they're listed in roughly the right order.
Next, I calculated the difference between the link's rank on the page and how often it got clicked - giving me an index of whether each link was too high on the page or too low. This confirmed for me that the quick links at the top were roughly right, but the rest was pretty random.
Next, I looked at search logs to see what people searched for from this page. There were a lot of long-tail queries not represented on the page.
At this point, it was becoming clear: This page has too many links to be useful, but not enough to have the one you're looking for.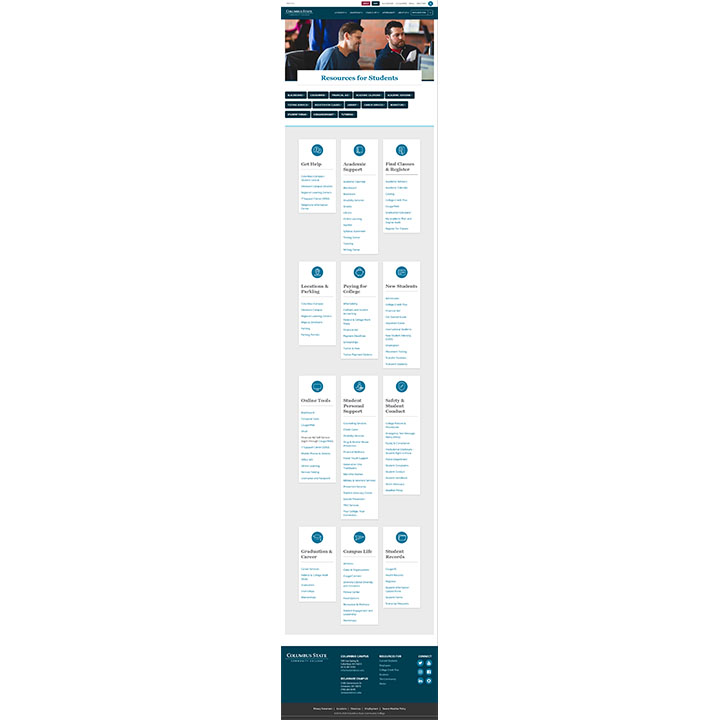 User Tests
In February 2021, I conducted user tests of 10 students (5 adult learners and 5 traditional-age students) to determine how well the Resources for Students page performs. Additionally, I asked help desk representatives what people have the most trouble finding.
Good news first: Our most mission-critical task, Register for Classes, saw a 100% success rate. Checking Your Account Balance went 9-0, and Contact Your Advisor went 7-2-1.
Longer-tail tasks were harder to find. Although our biggest tasks are located in CougarWeb, other tasks are spread around PDFs and online forms or third-party systems such as Radius, TutorTrac, Starfish, or FAFSA.gov.
This task fragmentation makes it extremely hard to create a coherent gateway to each task. So it's time to get creative.
Read the full report (.pdf)

Wireframes
It's time for InDesign. My design tenets were:
Keep focus on CougarWeb, home of our top tasks.

Afford easy access to help resources.

Straighten up the quick links so they're easier to scan.

Add the search box to the page. We're going to need it for these long-tail queries.

Condense the categories into accordions. This way, people will be able to browse the categories and get to their resources quickly. I also highlighted a key resource in each category.
View all wireframes (.pdf)
I ended up doing a chalkmark / A/B test on the wireframes.
Conclusion & Next Steps
Maintain a focus on top tasks on Resources for Students. Attempting to maintain a comprehensive directory of tasks does not seem promising.

Defer smaller tasks to another section of the page or other pages entirely.

Add search to Resources for Students.

Methodically ensure that every task on the list comes up in the search.

Consider adding Current Students to the main nav (this was the case until the 2017 website redesign).

If Student Central and the Telephone Information Center continue to be important, we should consider featuring them prominently on Resources for Students.

Keep working to consolidate tasks into fewer systems.
Read the full report (.pdf)
And what about that directory section? I also did a chalkmark A/B test on the Resources for Students page.