Tony Goins
UX Professional / Content Manager
Registering for Classes
19 tools for one task
User-testing the course registration process
Problem: Curriculum info, student records, and course registration are in different systems.
Solution: Combine tools and streamline resources.
Tools: User testing, direct observation, wireframing.
As a community college, Columbus State's mission is to provide Central Ohio residents with educational opportunities that can help them start college, avoid student loan debt, and potentially change their lives.
However, it's not always easy for students to find and register for classes.
Columbus State's course search and registration system is spread among a dizzying array of tools and resources, each with its own strengths and drawbacks.
For this test, I observed five students registering for classes, then sat with three Academic Advisors to see what tools they use in their work.
Major findings
In this small sample, students and advisors used a total of 19 different tools, ranging from CougarWeb and U.Achieve to written notes and ad hoc plans of study.
A "tool" is defined as any resource that helps in the task. These included interactive tools such as CougarWeb, the website's search, individual web pages, printed handouts, or conversations with Academic Advisors.
Columbus State's primary tools are extremely limited in their functionality and usability, leading the organization to develop a number of workarounds. Consequently, students must consult multiple sources to choose and register for classes. Additionally, much practical information resides only in the heads of Academic Advisors, who are can see only a fraction of our students.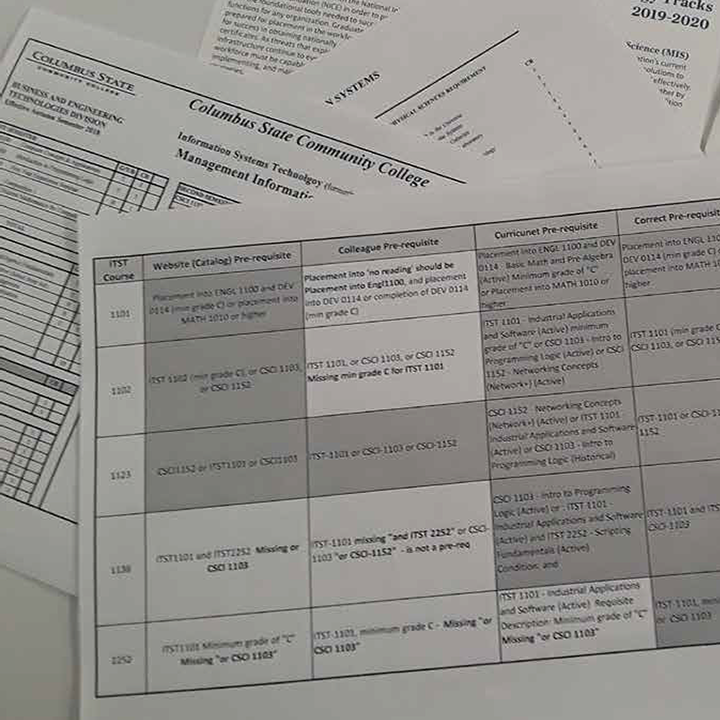 Advisors
Academic Advisors generate a lot of paper handouts on their own. The advisors generally prefer to work with paper because they can mark it up and give it to the student as a personalized deliverable.
The drawback, of course, is that a homegrown handout can quickly get out of date – and the student could easily lose the paper.
Let's consolidate some of these tools.
Key recommendations.
Making it easier to find and register for class will help students persist and graduate at higher rates.
If possible, replace CougarWeb with another system with more functionality (this is under way).

Combine tools to reduce the number of tools students need to learn.

Redesign website pages to provide walk-throughs of the registration process. (Based on this work, I gathered all of these tools onto our Register for Classes page)

Work with Academic Advisors to develop tools that they need and create a process to keep them updated.
Read the report (.pdf)