Tony Goins
UX Professional / Content Manager
COVID Vaccine Clinic Volunteer
I just want to eat in a restaurant already.
I made three contributions to the fight against COVID-19:
Assisted communications going out from the college, as we switched to 99% online learning.

Took part in a vaccine trial for Novavax (it's a regional indie vaccine, you probably haven't heard of it).

Volunteered with the Franklin County COVID-19 vaccine clinic up on Morse Road.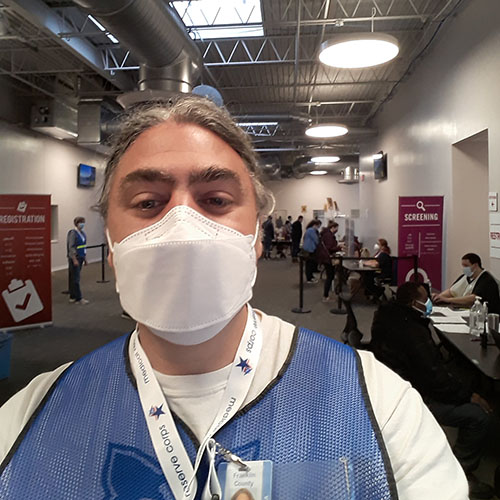 It's all UX and content
My assignment at the vaccination clinic was "runner." I spent most of the morning doing line control, but I was also tasked with helping people with wheelchairs and those who needed translation.
Over two sessions at the site, I assisted clients speaking Somali, Arabic, Nepali and Swahili. The county uses a service that can quickly get a translator on the phone, so my job was to speak the health screening questions to the translator and listen as they translate the client's answers.
Even this is a UX and content job. The health screening questions are written at about a 12th-grade reading level, so I spent a lot of time figuring out how to phrase the screening questions so they could be understood by a non-native English speaker and translated back into the client's native language.
This is also an exercise in empathy. It's important to introduce myself, speak directly to the client, and remember they're completing a strange task in very confusing circumstances.
If I had a UX suggestion for the process, it'd be to cut down on duplicative questions. The greeting area, screening area, and the vaccine stations all ask very similar health screening questions.
I don't know if you've ever asked a woman who speaks an obscure Arabic dialect if she carries an EpiPen. I guarantee you don't want to do it twice.