COOKR
CASE STUDY
Home cooked meals cooked at home
MY ROLE
UX Designer
UX Researcher
TIMELINE
October 2021-May 2022
TOOLS
Figma
Adobe Illustrator
Invision
WHAT IS COOKR?
Cookr is an application that connects people who know how to cook with people who are looking for a home-cooked meal. The idea has been inspired by the concept of sharing economy, where users with resources share those resources with others users through a public platform for example Uber (car becomes a taxi) and AirBnB (home becomes a hotel). What if food or meals were shared in the same way?
Discover
User Surveys
User Interviews
Competitive Analysis
Define
Affinity Map
Empathy Map
User Personas
How Might We Questions
Ideate
User Story
MVP
Sitemap
User Flow
Prototype
Sketching
Wireflow and Wireframe
Style Guide
High Fidelities
Test
Usability Testing
Solution
PROBLEM
Cooking can be time-consuming or difficult to complete, however, ordering from outside is unhealthy and expensive, especially when users already have ingredients for meals in their pantry. Professional chefs are unavailable everywhere and are very expensive as well.
Nowadays, the sharing economy has been adopted as a model where personal services and resources are shared with the public (such as Uber and AirBnB) and can be useful in many fields of service. Sharing economy targets the problem of utilizing shared resources.
SECONDARY RESEARCH
statista.com
On an average day in 2014, Americans age 18 and over spent 37 minutes in food preparation and cleanup. "Meal prep" can take 22 minutes for men, whereas women spent 51 minutes.

On average, a household's usual meal preparer saves about 30 minutes of meal preparation time a day by purchasing prepared food.
prnewswire.com
The survey found unhealthy eating habits are driven by a lack of time, the convenience of unhealthy food, a lack of cooking skills and lack of knowledge of how to establish a healthy diet.

Over 40 percent of respondents do not consider themselves to be good enough cooks to enable them to eat healthily all the time. Over 50 percent believe they are or may be overweight. When asked why:
60 percent said the portion sizes they eat are too large

52 percent said their family does not know how to buy healthy food

25 percent said their family does not have time to cook healthy meals

16 percent said their family does not know how to cook healthy meals
thebalancesmb.com
The sharing economy is an economic principle that is constantly evolving. In the very simplest terms, it's the use of technology to facilitate the exchanged access of goods or services between two or more parties. The increased efficiencies allow these brands to pass-through value to their customers and supply chain partners.

[...] many other traditional sectors will soon experience changes because of the sharing economy.
HEURISTICS ANALYSIS OF COMPETITORS: LANGUAGE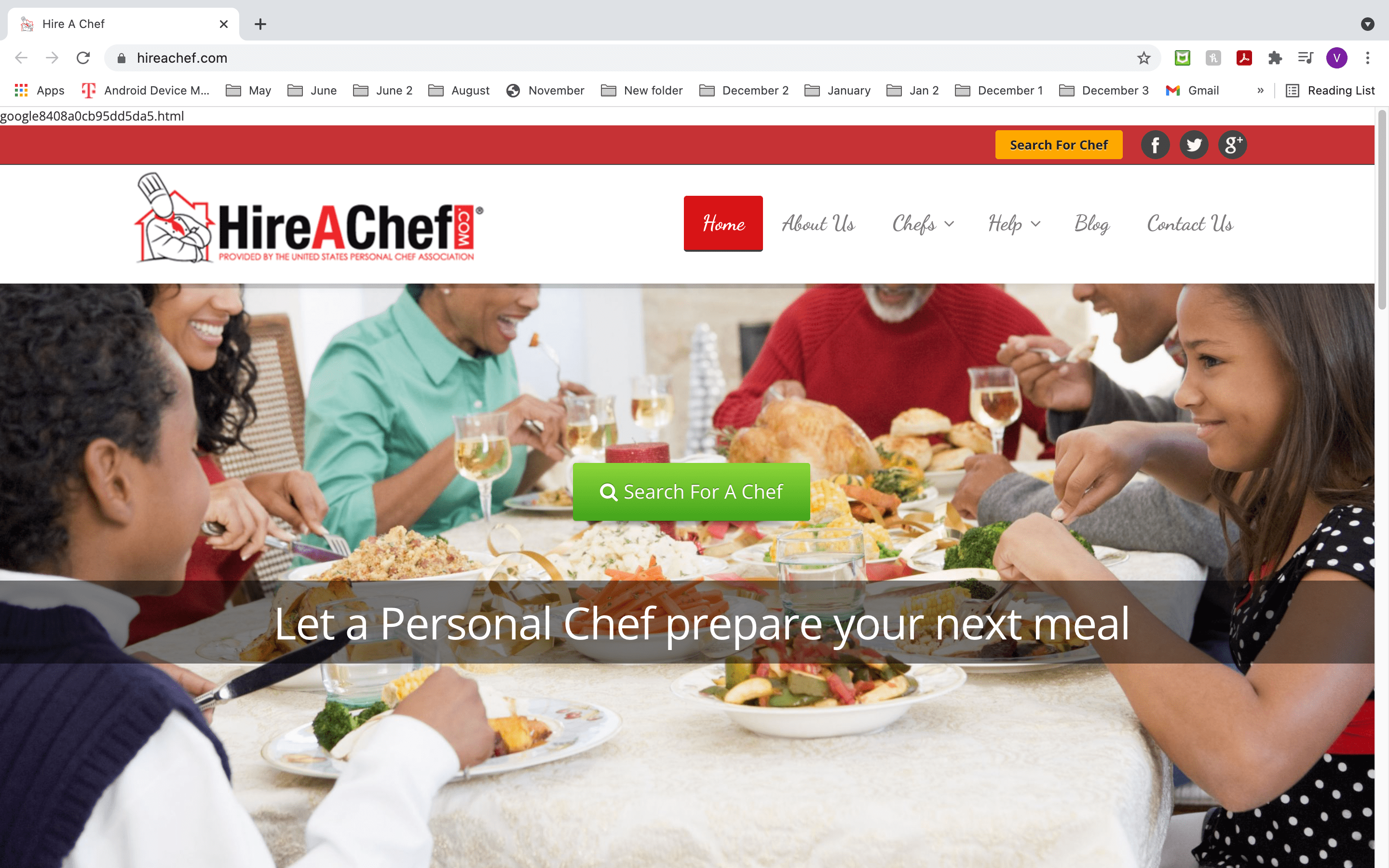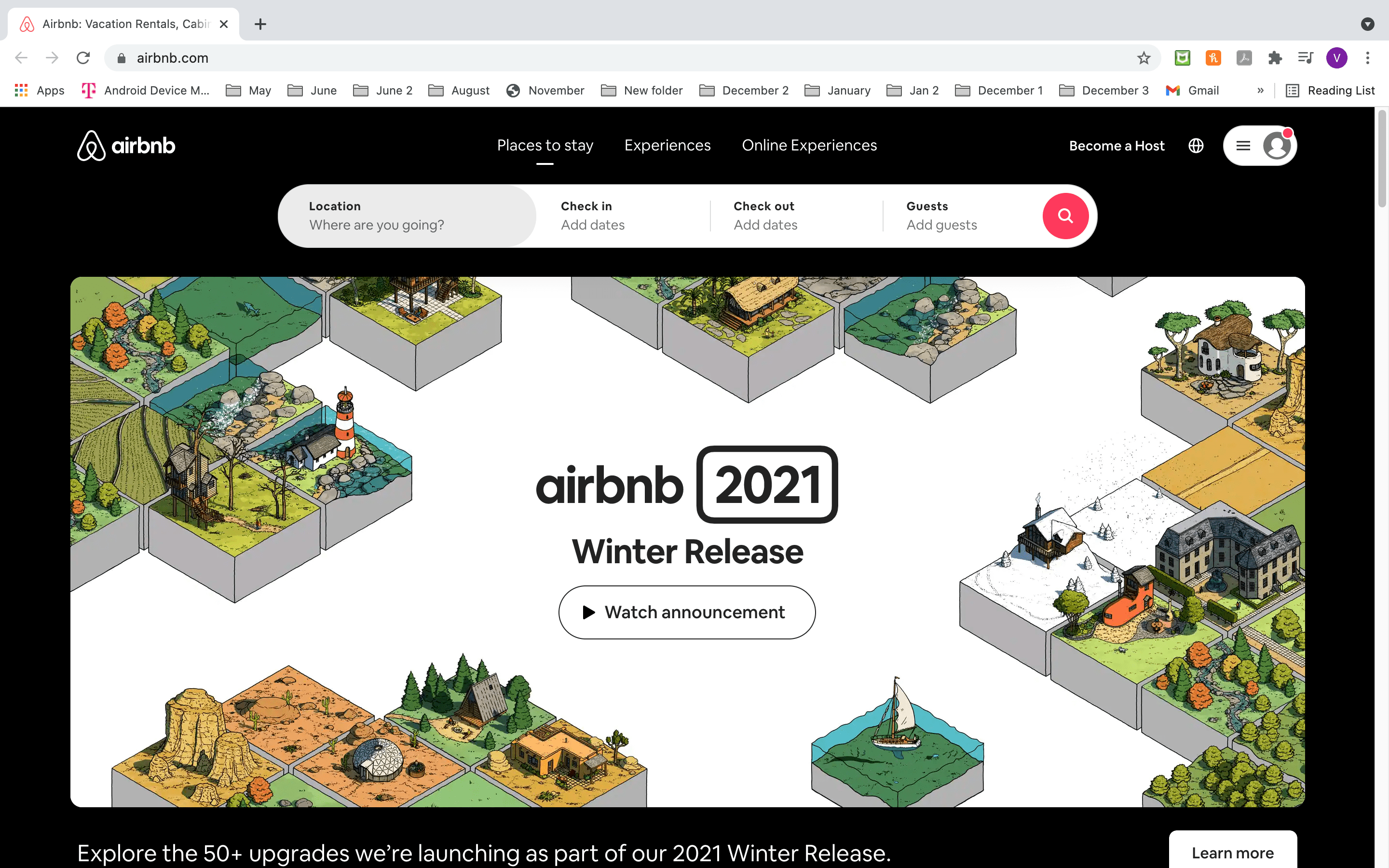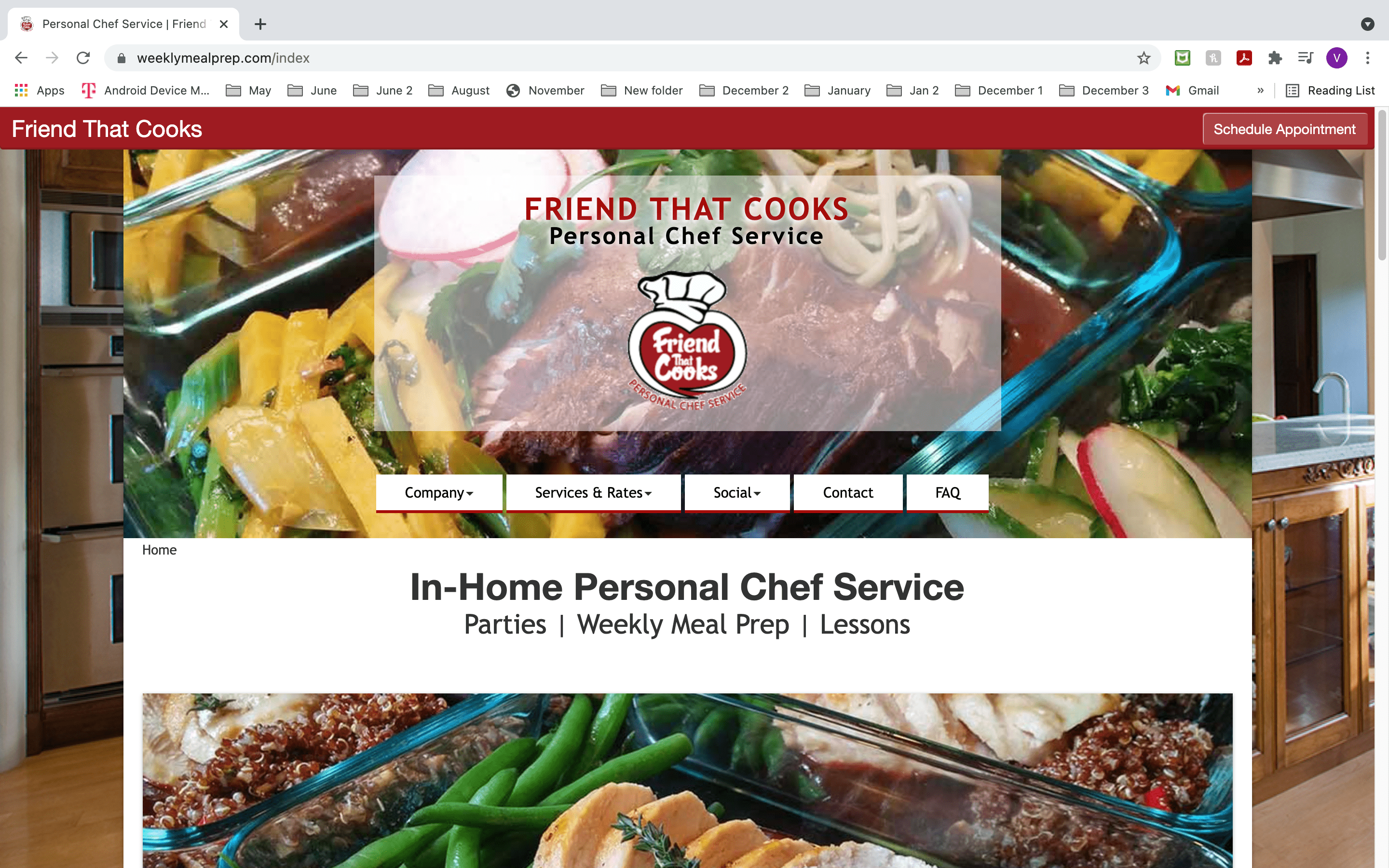 HireAChef.com
The chefs of HireAChef.com are located throughout the United States and Canada and are skilled in a variety of culinary skills and specialties. The service provides the largest and only open searchable venue for connecting people looking for affordable and healthy eating alternatives with quality personal chefs in their area.
This website is intended for users who want to hire a professional chef at their specific location. There are proper terminologies used with words such as "culinary," "meal," "chef," "Gordon Ramsey," etc., and other elements that certify the credibility and quality of the organization and the chefs who the users will hire.
AirBnB
An online marketplace for lodging, primarily homestays for vacation rentals, and tourism activities. A service that lets property owners rent out their spaces to travelers looking for a place to stay.
This website may be difficult to understand if the user were not already familiar with the role of the organization. It is not entirely obvious if the user were not familiar with AirBnB that the check in and check outs are intended for locations apart from hotels. There is an importance on location and exploration of those locations with the intention of creating experiences for the user so the user must be open to adventure, risk, and new things.
Friend That Cooks
An in-home personal chef service for busy families and couples. Th service specializes in in-home weekly meal prep, and there is no service more experienced or better staffed to bring the best option available for affordable, weekly personal chef service in a home. There are talented, professional chefs who also offer in-home parties and in-home cooking lessons.
This website is for users to hire personal chefs in various locations. The website uses friendly language such as "friend that cooks," "families and couples," "affordable," "in home." It is confusing to use this website because the web address is different from the name of the organization, which is Friend That Cooks. The language overall is straightforward, however very verbose, cluttered, and lost in translation.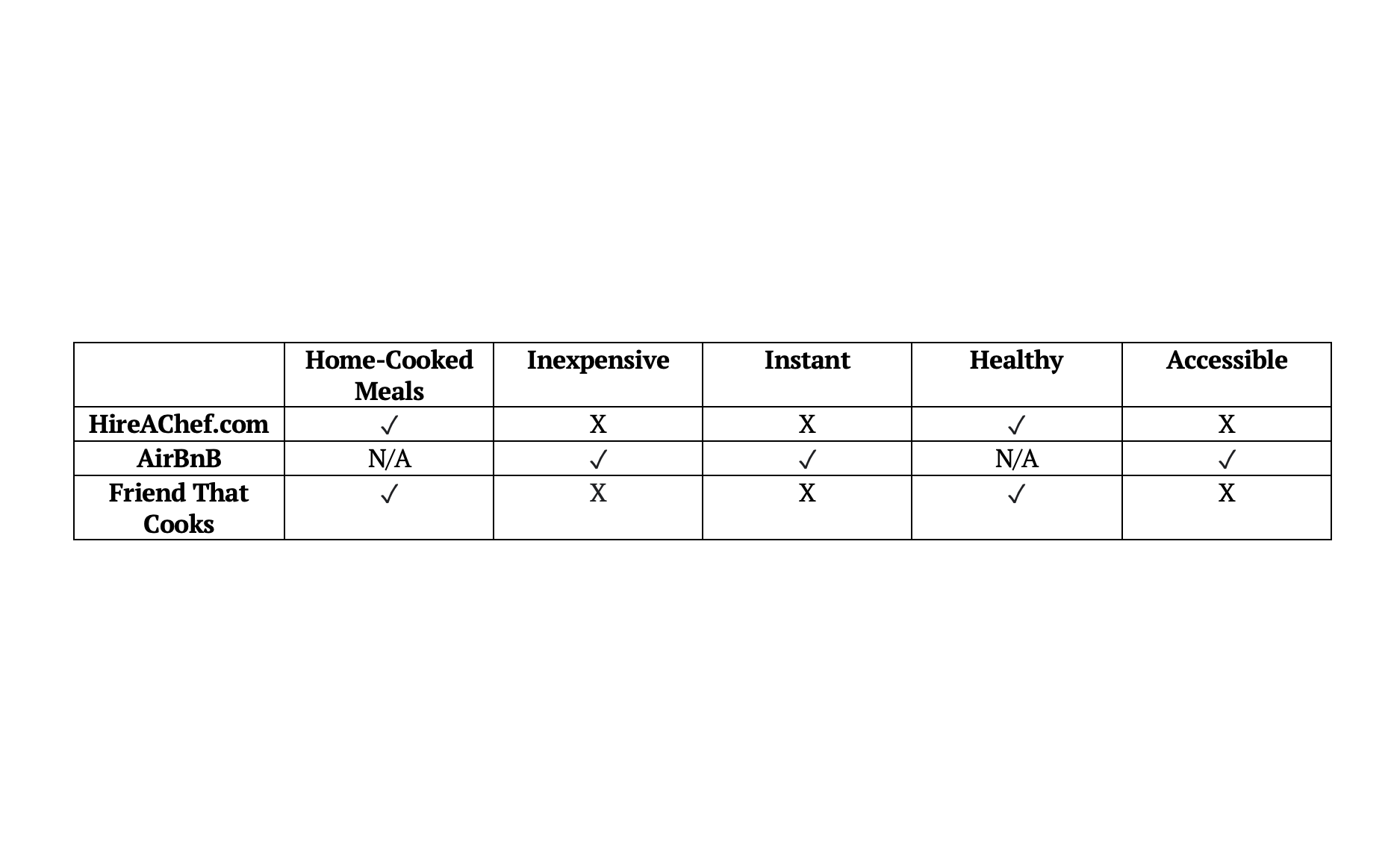 COMPETITIVE ANALYSIS
Home-cooked meals need to be inexpensive and accessible for the general public to accept the service in place of other options. Therefore, the home-cooked meals need to be produced by the average chef/cook in addition to professional chefs such as in a sharing economy, which will increase the number of meals prepared and decrease the time to get those meals and the price of the meals prepared. Home cooked-meals are important for healthy living.
HYPOTHESIS
Design a platform for cooks of any level to share their cooking skills with users while making a profit and in return providing a home-cooked option for users to get their daily meals. A service where those with cooking skills can register their skill of cooking and those seeking a home-cooked meal can hire those cooks instantaneously.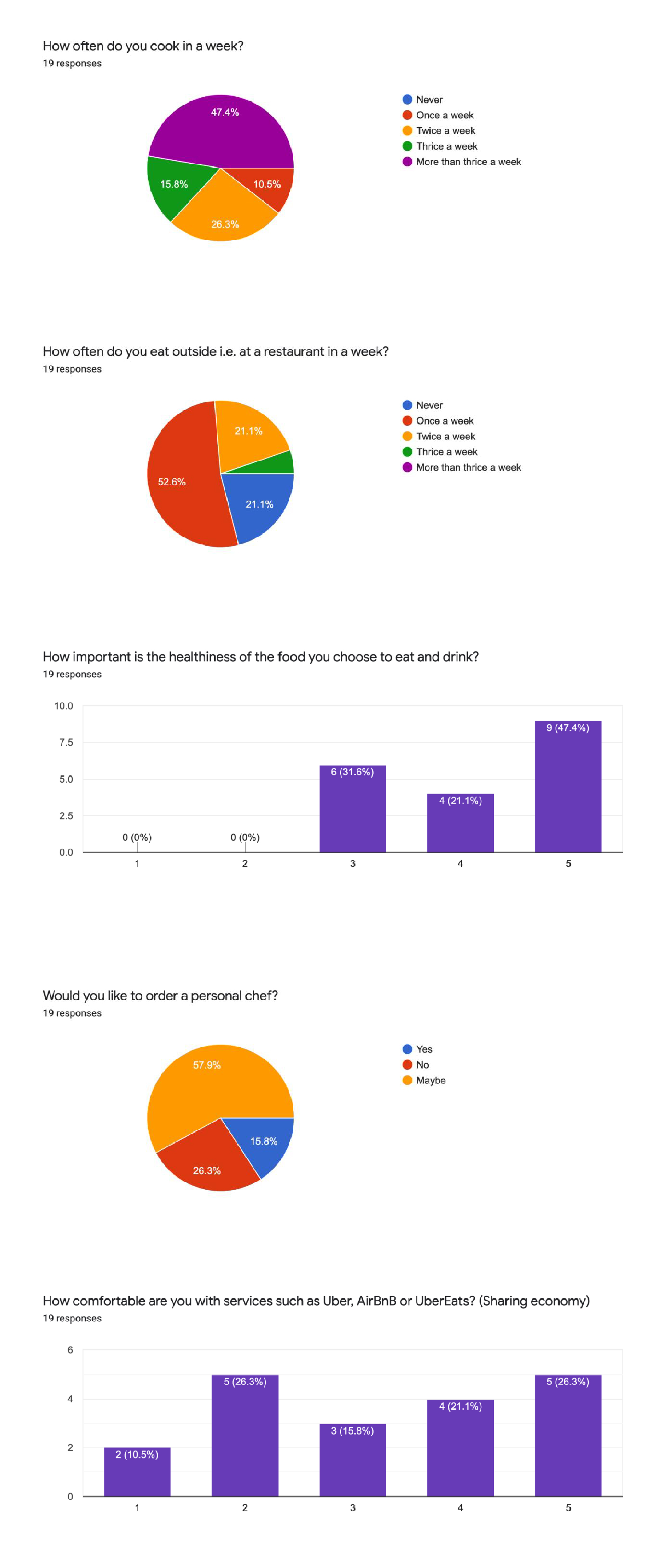 QUANTITATIVE RESEARCH
The research phase began with a screener in order to qualify candidates for user interviews (see below). The screener consisted of questions about eating habits and familiarity with services identified in the competitive analysis.
Sample Questions from Screener:
How often do you cook in a week?

How often do you eat outside i.e. at a restaurant in a week?

How important is the healthiness of the food you choose to eat and drink?

Would you like to order a personal chef?

How comfortable are you with services such as Uber, AirBnB or UberEats? (Sharing economy)
47.4%
Cook 3 times or more per week
52.6%
Eat out once a week
47.4%
Rank 5 out of 5 Importance of healthiness
57.9%
May order a personal chef
26.3%
Rank 5 out of 5 Comfortability with sharing economy
QUALITATIVE RESEARCH
I interviewed a user base to decipher solutions for the problems I am trying to solve. The main goals of the research were to assess the pros and cons and attributes of a potential solution as well as to identify the user base itself.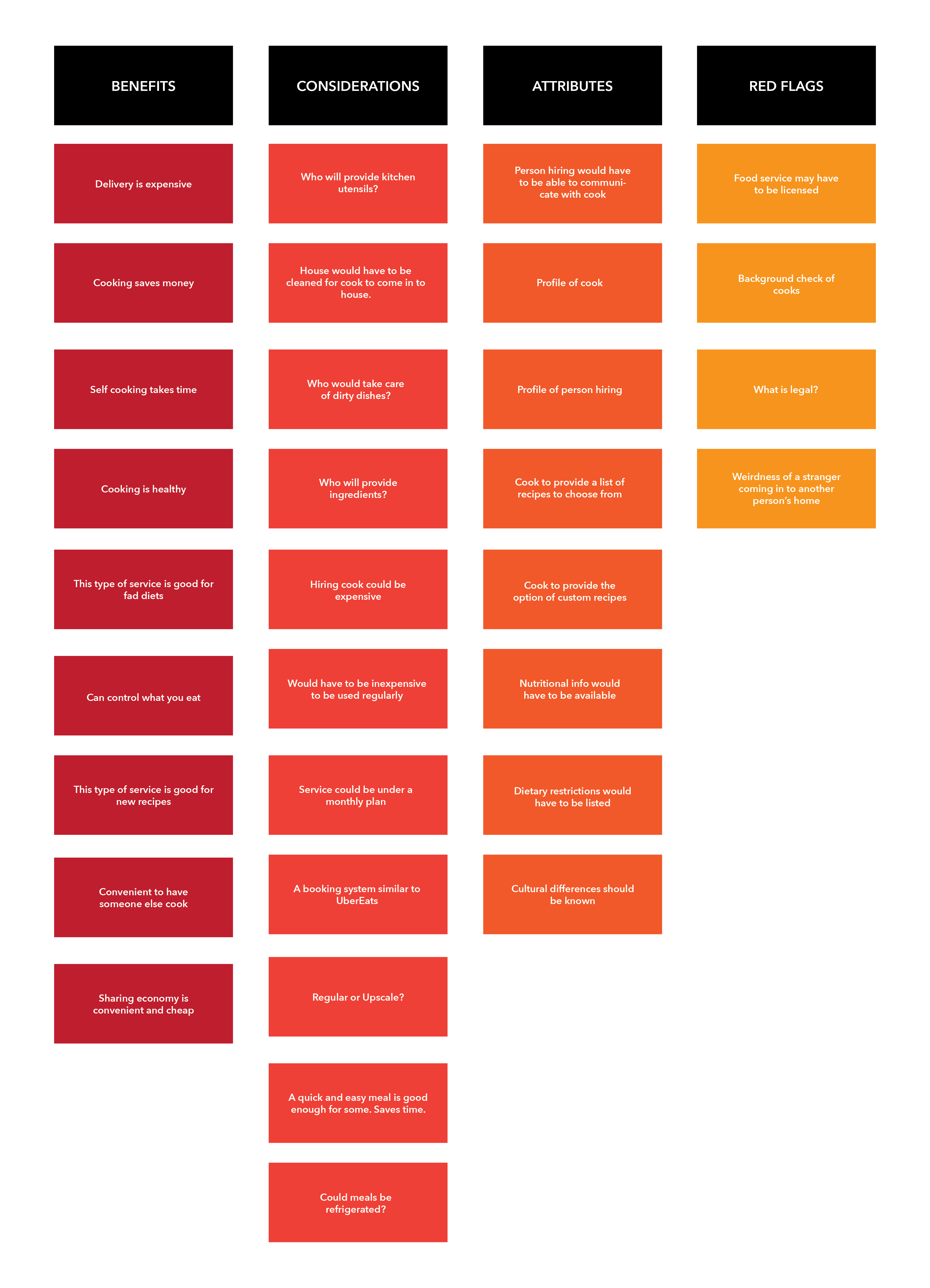 AFFINITY MAP
The Qualitative Research studies of potential users suggests opportunities for a solution that incorporates the benefits of healthiness, time-saving, and variety. The research also suggested apprehensions potential users may initially feel if an unknown member were to cook for them. The research helped to assess how a service could be designed with both sides in consideration.
EMPATHY MAP
The most pertinent elements of a solution may be the trust building between a user and the cook as well as the method through which the service will operate that is efficient, easy-to-use, and user-friendly.
The most advantageous elements include a home cooked meal that saves time, effort, and is healthy. By creating an Empathy Map, I can understand the user's need for a stress-free life, desire for food alternatives, and desire for healthy choices as well as the user's pains of cost-friendly food services, safety, and a customer-friendly experience.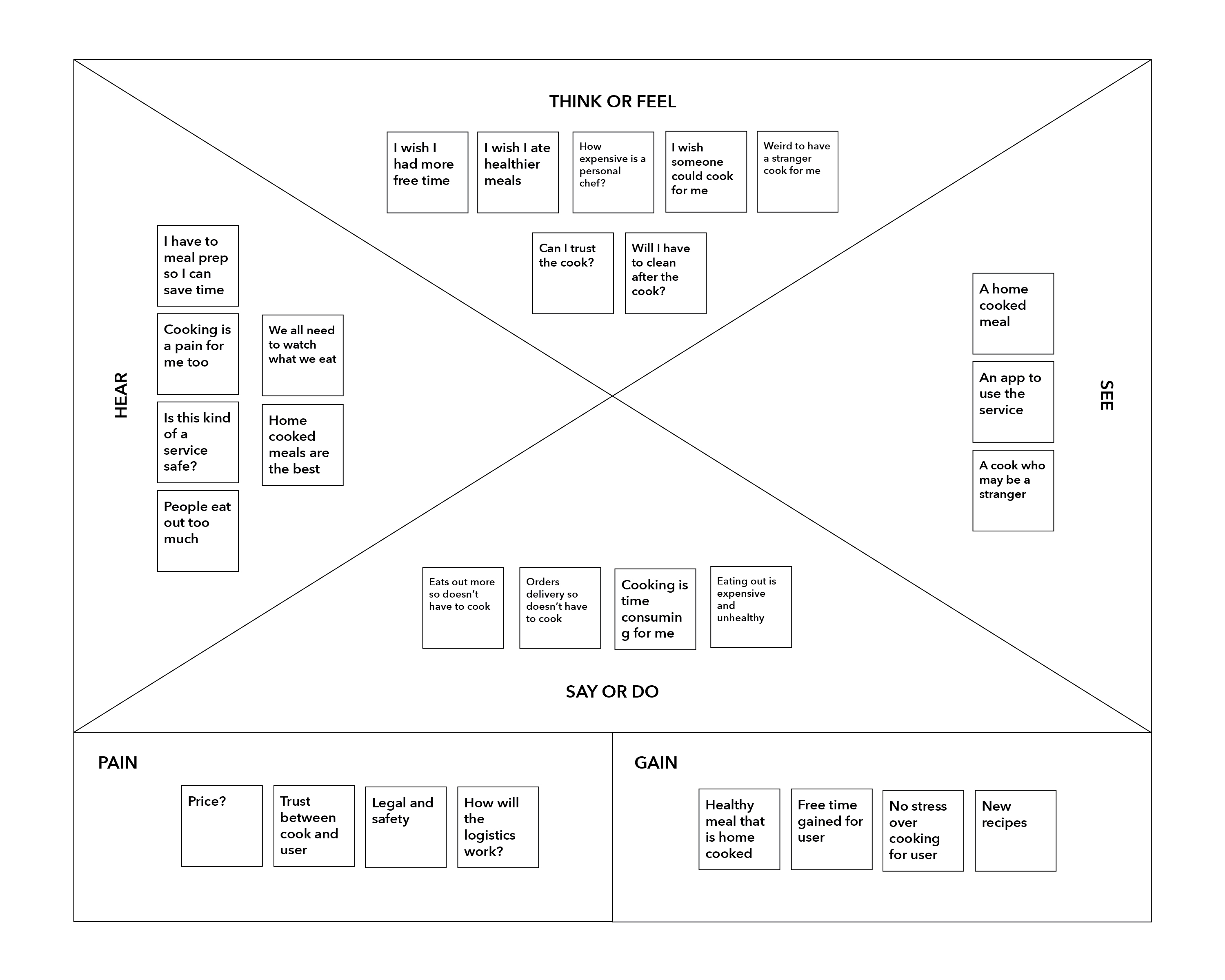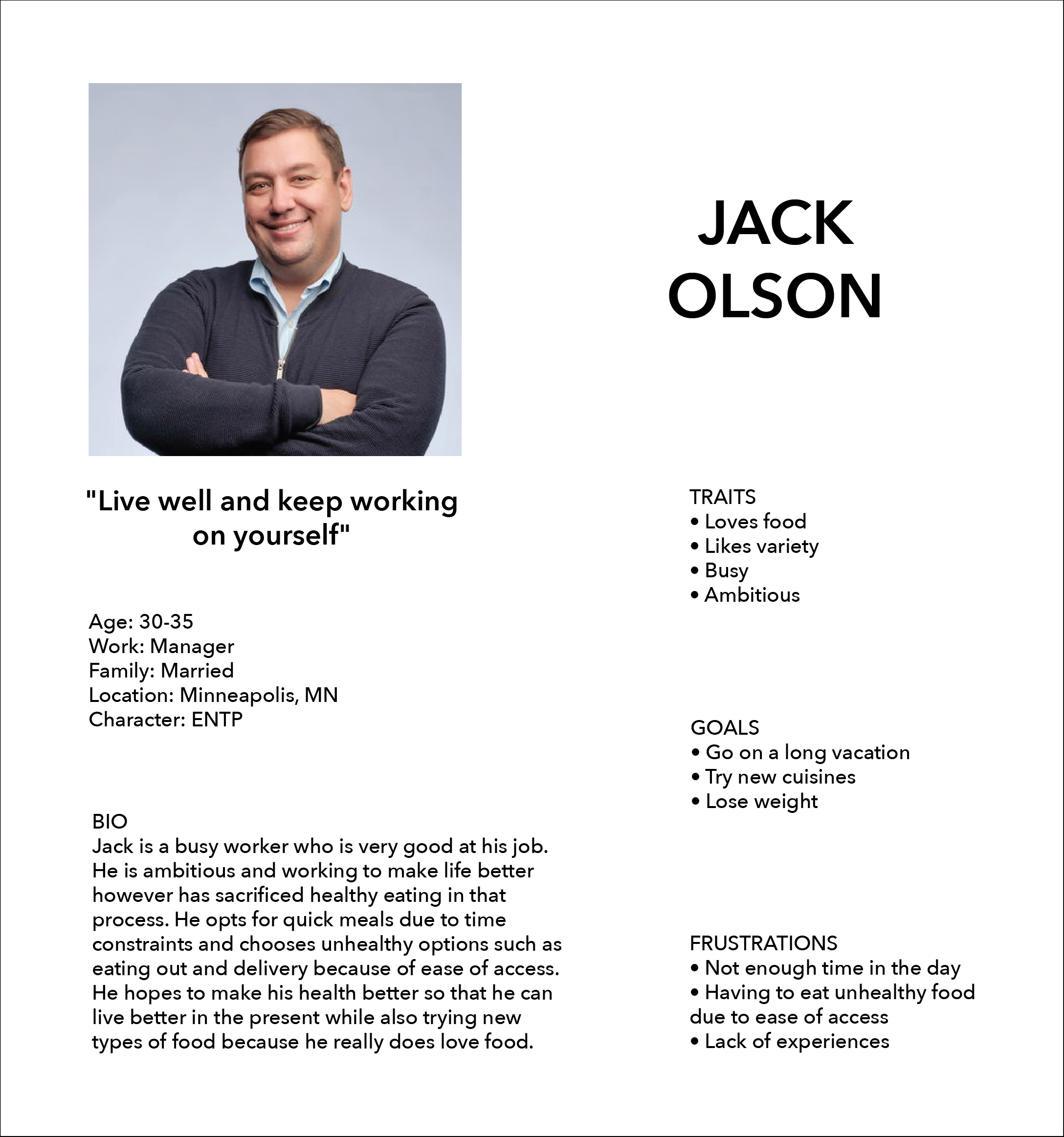 PERSONA
I created a persona of a potential user named Jack Olson who relates to the problem(s) being researched. Jack is a 30-35 year old busy professional who currently chooses unhealthy options because of time constraints however, is open to new recipes and a healthier lifestyle if the solution presents itself. He does not have enough time in the day and is often compelled to eat unhealthy options due to lack of cooking awareness. He is open to new experiences and loves to try new foods.
RESEARCH FINDINGS AND INSIGHTS
Research indicated that a sharing economy, as popularized and incentivized by services such as AirBnb, Uber, and UberEats, has become accepted by the general population. Therefore, in order to improve the success quotient of a service like Cookr, a similar strategy of sharing economy must be maintained in its messaging and solution. Upfront, users may feel hesitant and find the concept of a stranger cooking for them odd and weird. However, if the solution bridges that trust factor and allows for community building and positive and new experiences in which users can be presented with wholesome, home-cooked meals that are relatively inexpensive while also providing nutritional value, there may be advantages to Cookr that are currently missing in the market.
IDEATION
Based on the Research, I was able to understand the user base and ideate three potential solutions for the problems identified. The Research provided opportunities for solutions the user base may find suitable by pinpointing what the user base may prefer and what the user base may find unnecessary.
1) A platform in which a cook goes to a user's home and cooks a meal the user has chosen or requested for the user in the user's kitchen using the ingredients and utensils the user already has in store in their home.
2) A platform in which a user hires a cook who opens their home for the user to go to (like going to a restaurant) who then eats a meal in the cook's home using the ingredients and utensils already in store at the cook's home.
3) A platform in which cooks can share their recipes along with the ingredients in the same way as BlueApron and ship the recipe with the ingredients to users who would then make the recipes themselves
IDEA #2
Based on the user research data I gathered and analyzed, the second idea was determined to work the best with the concept and for the end user. My initial hypothesis was leading me to a solution where cooks would be invited to the homes of users. However, based on user interviews, users would be find this service inconvenient due to the amount of work and input they would have to provide such as providing recipes, ingredients, utensils, etc. The legal questions of the initial hypothetical solution also raised red flags hence, the decision to pursue Idea #2 in which the cooks invite the users to their homes rather than the other way around.
USER FLOWS
The user flows I created were in relation to idea number two. The user flows were helpful in mapping and laying out the stepping stones of each element within the design of the application and helped to visually depict the categories of each red route listed below:
1) How to Login or Sign up
2) How to Search or Book a Meal
3) How to View your Account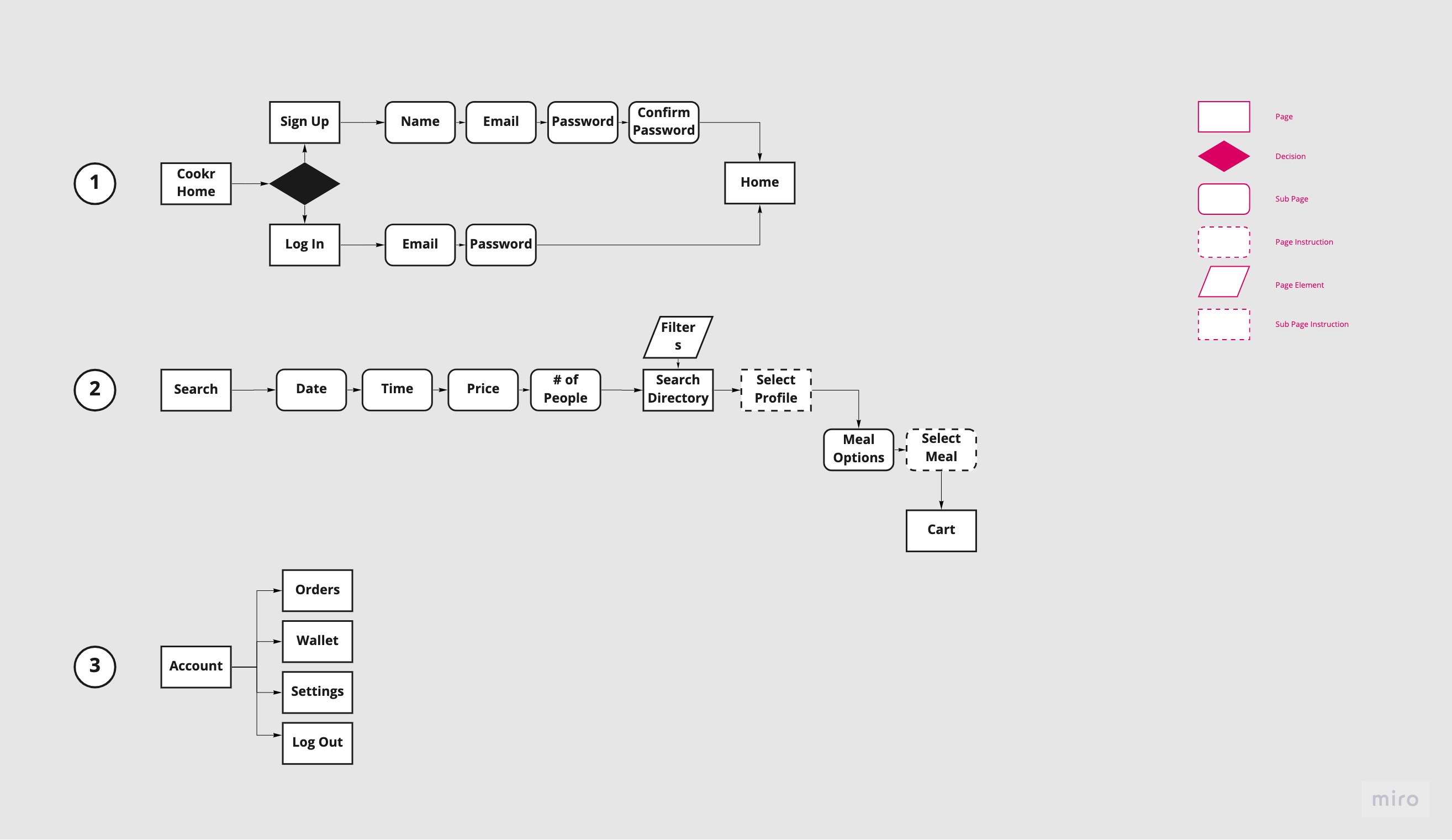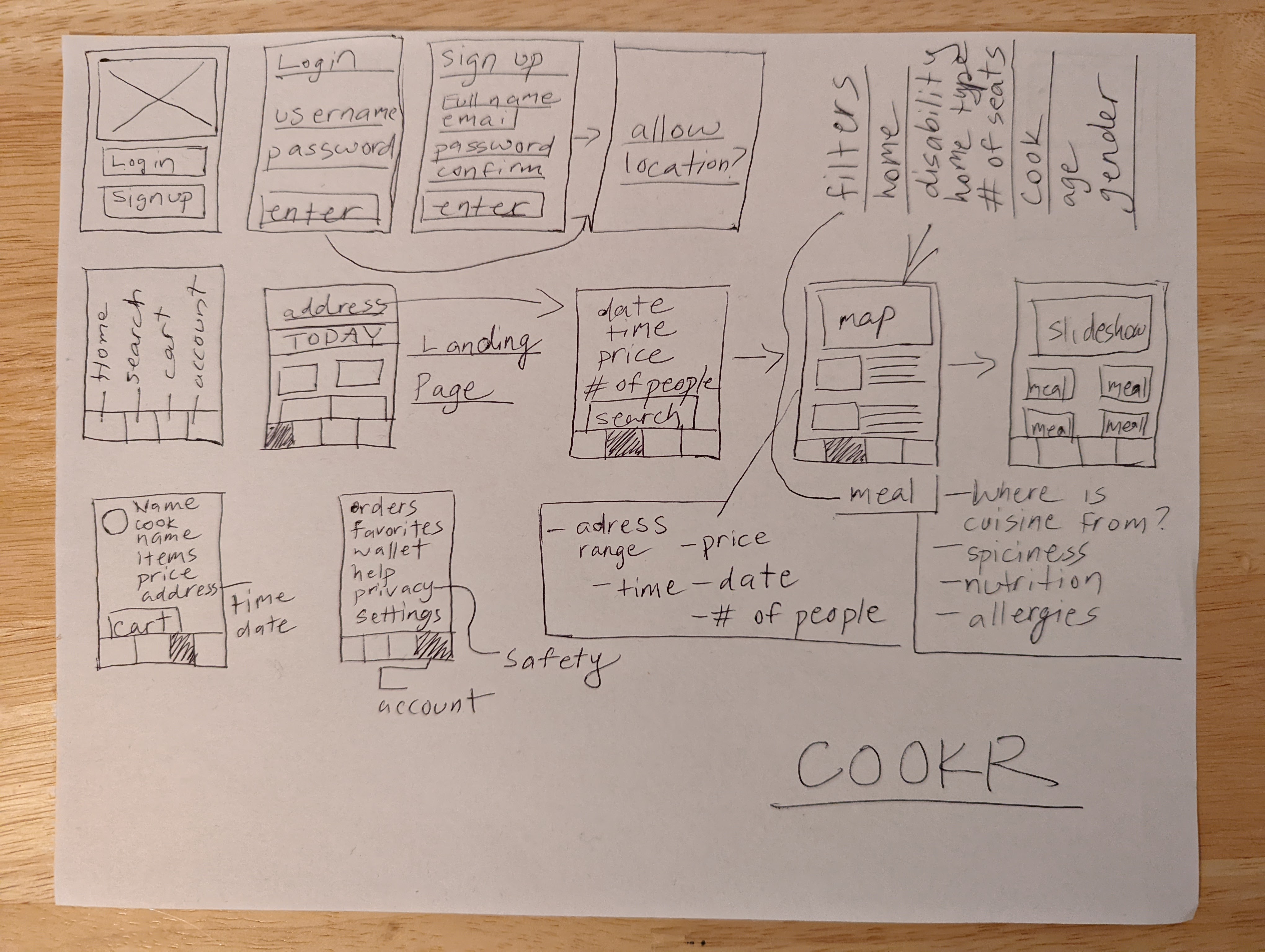 SKETCHING
By using the power of sketching, I walked through the elements that are necessary for the application to be user-friendly and valuable based on the idea I chose, where a cook opens their home for a user to enter and eat a meal as though that user is at a restaurant.
Trust is important, and so, there needs to be elements included that build trust with the cooks and the people who will eat the meals prepared by the cooks such as a cook profile, meal information, photos, location, identification, etc. Hence, transparency is helpful. I also have tried to limit the amount of information to only what is absolute because afterall, the real product is the experience of eating a home-cooked meal that is not prepared by the user in a new found environment of hopefully comfort and conversation.
WIREFLOW AND WIREFRAME ITERATION
The goal of my wireframe and wireflow design was to create an easy to use user experience that is simple, contains all the important elements, and to the point. The layout is allows users to enter into their account, order a meal, read information about the cooks, location, and foods they are choosing, and view their settings and order lists.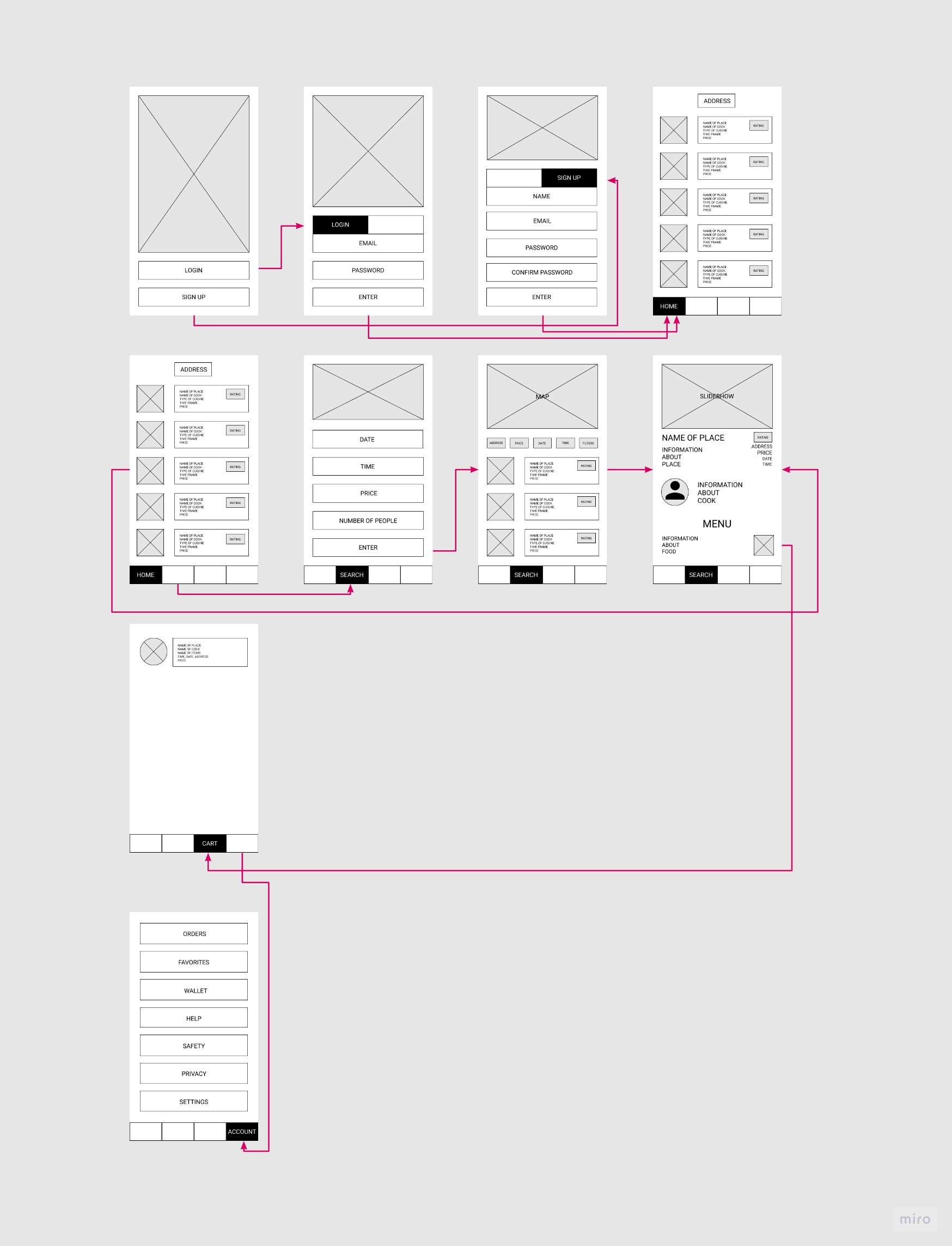 PROTOTYPE/HIGH FIDELITIES
After careful review, the wireframe revealed other components in the design that I included when creating the User Interface. The user interface embraced a warm and welcoming theme for food lovers who are looking to try new and variety of foods in a comforting setting through a service that is simple to use. The UI of the app is minimalistic and engages with the community-building and wholesome food environment aspects of the idea of the app, which allows the cooks to present their "restaurants" in the shelter of their homes and users to get a taste of meals they may never have eaten elsewhere.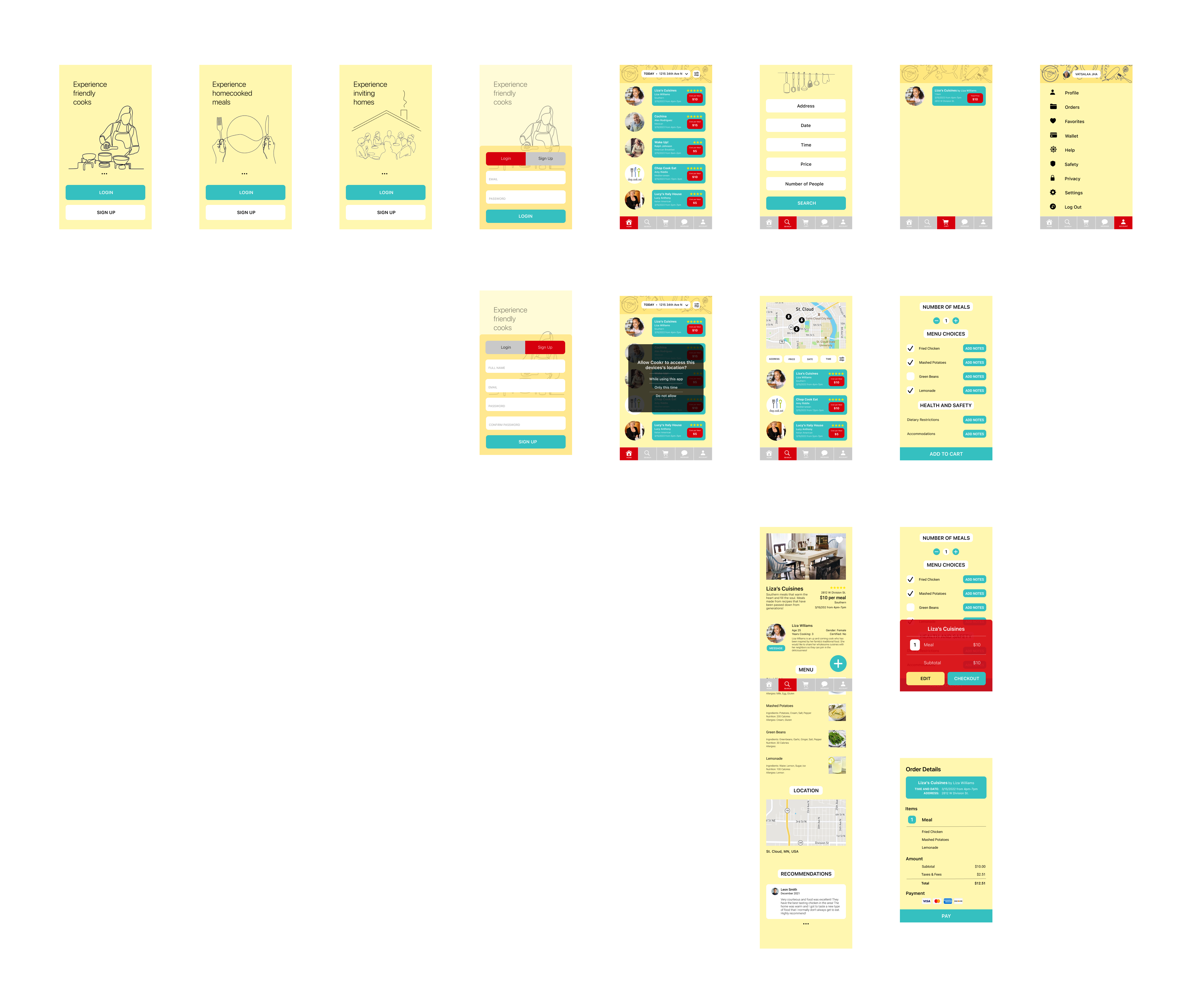 Usability Test
After the first iteration of the prototype was finalized, I conducted Usability Testing with up to five participants who would be categorized as potential users due to their interest in food and sharing economies. The test was conducted via zoom, hence remotely, due to accessibility. Participants were provided with a set of tasks which they completed using the first iteration prototype. The following information includes issues that need more design work and further iteration including recommendations that suggest what the solution may be for the issues. After finding the issues and concluding recommendations, I created a second iteration prototype with improvements and adjustments.
Findings
Issue #1
Users were unable to directly follow the user flow of the path from Add to Cart to Checkout
Recommendation #1
I would solve this by creating a more direct route to Checkout by eliminating one or two steps that are confusing
Issue #2
A user may want a profile section menu tab or a section in the Account menu tab that lists profile usability
Recommendation #2
I would solve this by keeping the Account menu tab and adding a profile section with information users can add about themselves
Issue #3
It was not obvious to the users that the Home menu tab included the format of listing cooks who were available Today at the user's address
Recommendation #3
I would solve this by making the Today section more visually visible and obvious
Issue #4
The accessibility of the colors and fonts were not following the rules of UX.
Recommendation #4
I altered the colors to create more contrast and updated font sizes to display more clarity.
SECOND ITERATION PROTOTYPE
More Testing and Iterations
Based on the research conducted, the next steps are to continue to iterate and create a final and tested product that contains the appropriate elements related to the problem I am trying to solve in support of the information interviewed users have provided. After the testing phase is complete and the product has been approved by all parties involved including stakeholders, the product will be handed off to developers and made into a usable application.