VELFARE INTERNSHIP
4 weeks internship at startup Velfare
MY ROLE
UX Designer
UI Designer
OUTCOME
High-fidelity prototype
VELFARE
Velfare is an upcoming B2B SaaS startup and a marketplace platform for all things digital. The website includes peer-to-peer review, product information, and professional community engagement to help professionals decide on digital services and products and mitigate time, risk, and cost after purchase.
PROBLEM AND GOALS
Velfare was in need of user experience research and user interface design. The company was at a very early stage of its development and had initiated website prototyping however, needed actionable insights and design improvements, including competitive analysis, value propositions, wireframes, secondary research, heuristics analysis, and prototypes.
How can we improve the design of Velfare's website? How can we perform research to differentiate Velfare from its competitors? How can we prepare Velfare for future user interviews and usability testing?
I collaborated with two other UX interns, along with the founder and his team. By working together during the four weeks, we refined Velfare's product page and its overall company goals in order to prepare the startup for its next stage of development as a new service in the market.
THE FIRST PHASE
The beginning phase of the internship consisted of secondary research provided by the startup founder. The other interns and I became familiar with the company, the idea behind the startup, its future goals, how we can help, and who its main competitors are from whom we can gain insights and knowledge.
SECONDARY RESEARCH:
KEY PLAYERS
PATHS TO DISCOVERY AND INFLUENCERS
G2 Crowd, Gartner, Capterra
Primarily focused on reviews (crowd sourced or expert opinions). Their main goal is to become the buying decision influencers.
COMMUNITY AND SOCIAL GROUPS
The goal here is for companies to engage with the users of their product, or potentially find new users who may want to use them. They rely on existing connections, professional network to influence buying decisions.
SUBSCRIPTION BASED PLATFORMS
These are the players who focus less on discovery and more on selling and managing the subscriptions.
Example: Zoom for calls, a UX design tool (Figma, Sketch, Canva), a digital signature software (docusign), Gmail or Outlook for email, etc.
Which means the companies need to buy, and keep track of what softwares they bought, how much are they paying per month, keep track of the expenses, cancel a tool thats too expensive, etc.
Some players here are Vendr, NachoNacho (this is a newer space and requires a ton of relationship building, partnering with Sellers etc).
THE SECOND PHASE
The next phase of the internship encouraged all of the interns to research the competitors and discover how their services were similar or different to the service Velfare is trying to achieve. Based on the findings, a competitive analysis, heuristic analysis, and How Might We statements were created, along with the development of ideas on how to differentiate Velfare with what is already in the market. All of the interns continued to communicate with the founder and his team to understand how to approach the time together and create the start to Velfare's product page.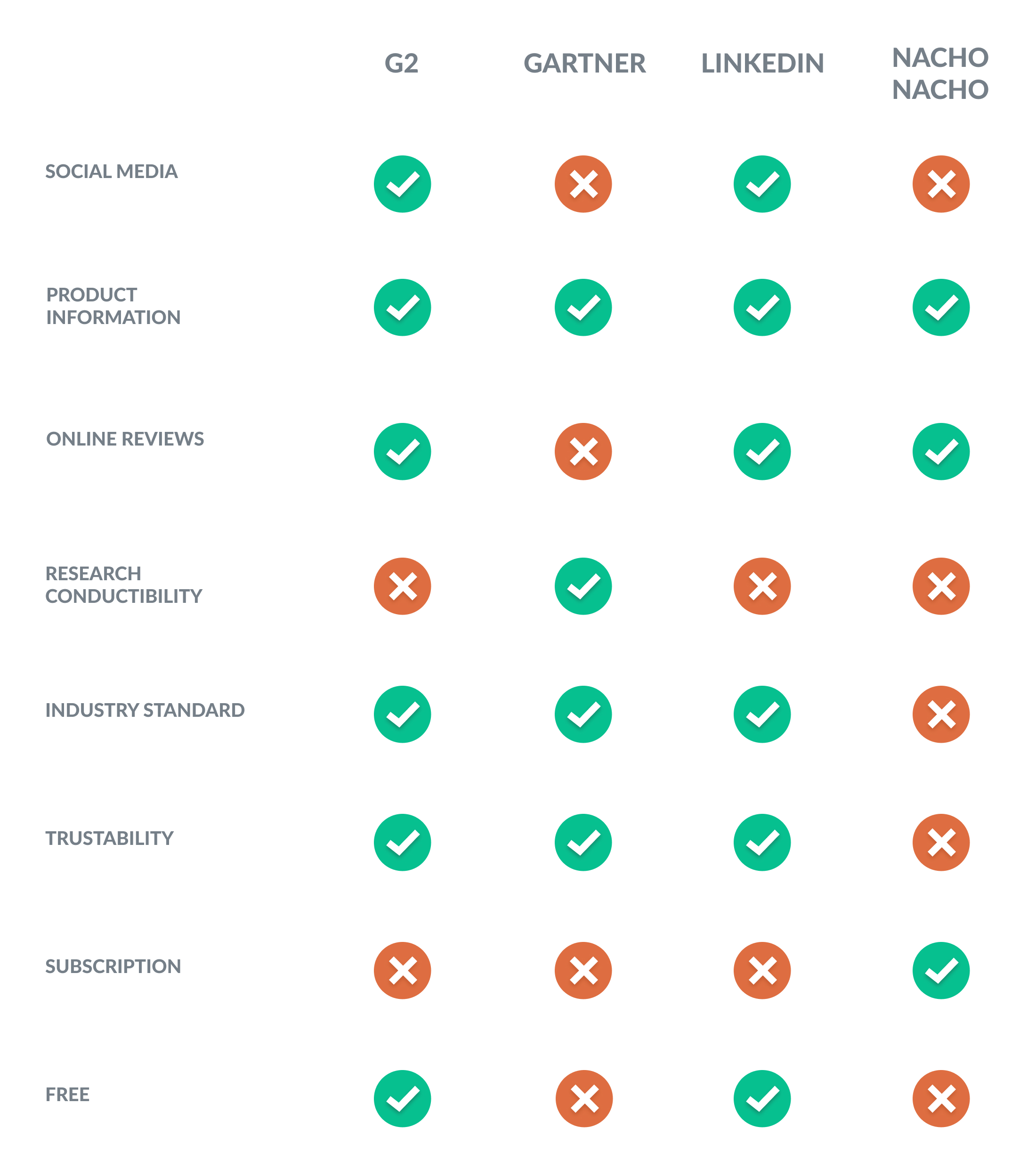 COMPETITIVE ANALYSIS
The competitive analysis indicated Velfare's similarity with G2 and its intention to include features from LinkedIn and NachoNacho. Velfare was not a long-term research institute hence, unlike Gartner.
AESTHETIC AND MINIMALISTIC DESIGN
"Interfaces should not contain information that is irrelevant or rarely needed. Every extra unit of information in an interface competes with the relevant units of information and diminishes their relative visibility."
Is the UI minimalistic?

Does the UI contain too much noise?
G2
G2 has a very busy and cluttered user interface with an excess of information and tasks for the user to perform. There is too much noise in the information provided which misdirects the user from digesting all that is on the product page in a user-friendly and efficient manner.
LINKEDIN
LinkedIn's product page attempts to provide minimalism and lack of noise in its design however, could still be improved to create a cleaner, more visually appealing and attractive interface. The user interface of LinkedIn's product page can be archaic in font, color, and rectangular blocks.
NACHONACHO
The product page of NachoNacho is very minimalistic and does not contain noisy elements. The colors of the text may be slightly difficult to read as far as accessibility is concerned. The minimalistic design of NachoNacho could be improved with more elements added.
HOW MIGHT WE QUESTIONS
How Might We make create make reviews easier to digest?

How Might We make reviews more trustworthy?

How Might We create more interactivity with other users when looking up reviews?

How Might We help users choose products and services that are best suited for their needs?

How Might We reduce the price for startups to purchase software products in groups?
MARKET QUESTIONS AND IDEATION
Is the market looking for a quick overview or in depth research information?

What is the goal of Velfare? To get more reviews? To sell more products and services that are on the Velfare website?

Is LinkedIn the only social media outlet for users to be able to use on Velfare?

Is the market looking for already researched information or to also conduct research themselves?

Can a user hire a reviewer to review a product instead of the company?

Can there be demos of products and services on Velfare before a user uses that product or service?

If a user is looking for a product or a service, that user should ask what is the goal they are trying to achieve, and which product would be best to achieve that goal?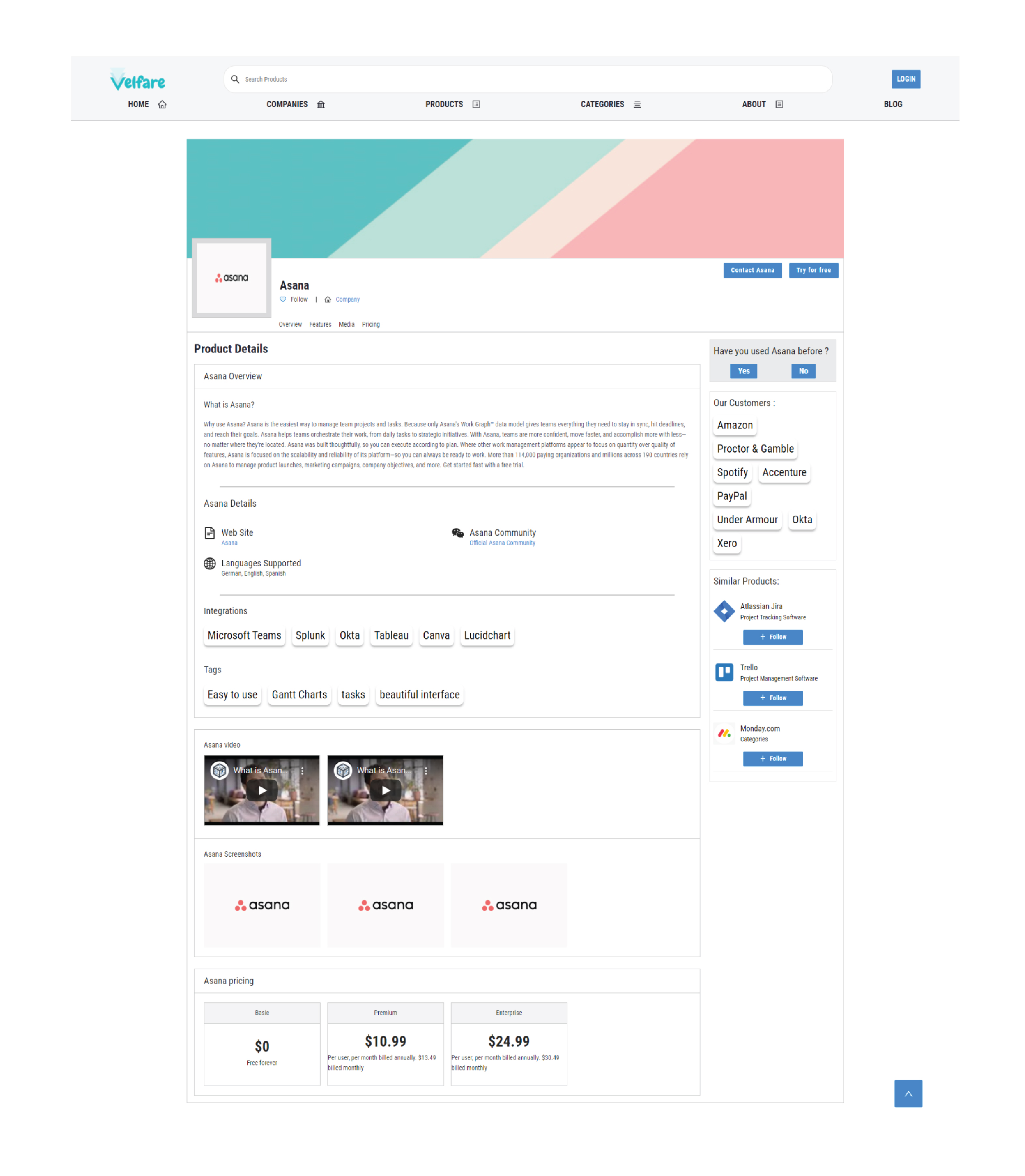 Issue #1
The stakeholders were unsure of the information to include on the product page.
Recommendation #1
Based on competitive analysis and ideation, we derived key information elements to include on the product page following consultation and communication between the stakeholders.
Issue #2
The original product page contained too many competing elements that resulted a lack of a visual hierarchy and visual pattern for users to follow.
Recommendation #2
We solved this problem by highlighting primary information and distributing information in an aesthetic and systematic way.
Issue #3
The product page was too similar to competitors of Velfare.
Recommendation #3
By analyzing primary and secondary competitor product pages, we deciphered how Velfare is similar and different from its competitors and how to create a product page that adheres to the advantages Velfare provides.
THE THIRD PHASE
After the discovery phase, all of the interns were assigned the task to create a low-fidelity prototype of the product page. We collaborated to design elements which we determined were relevant to Velfare such as product information, similar companies, media information, and a community section.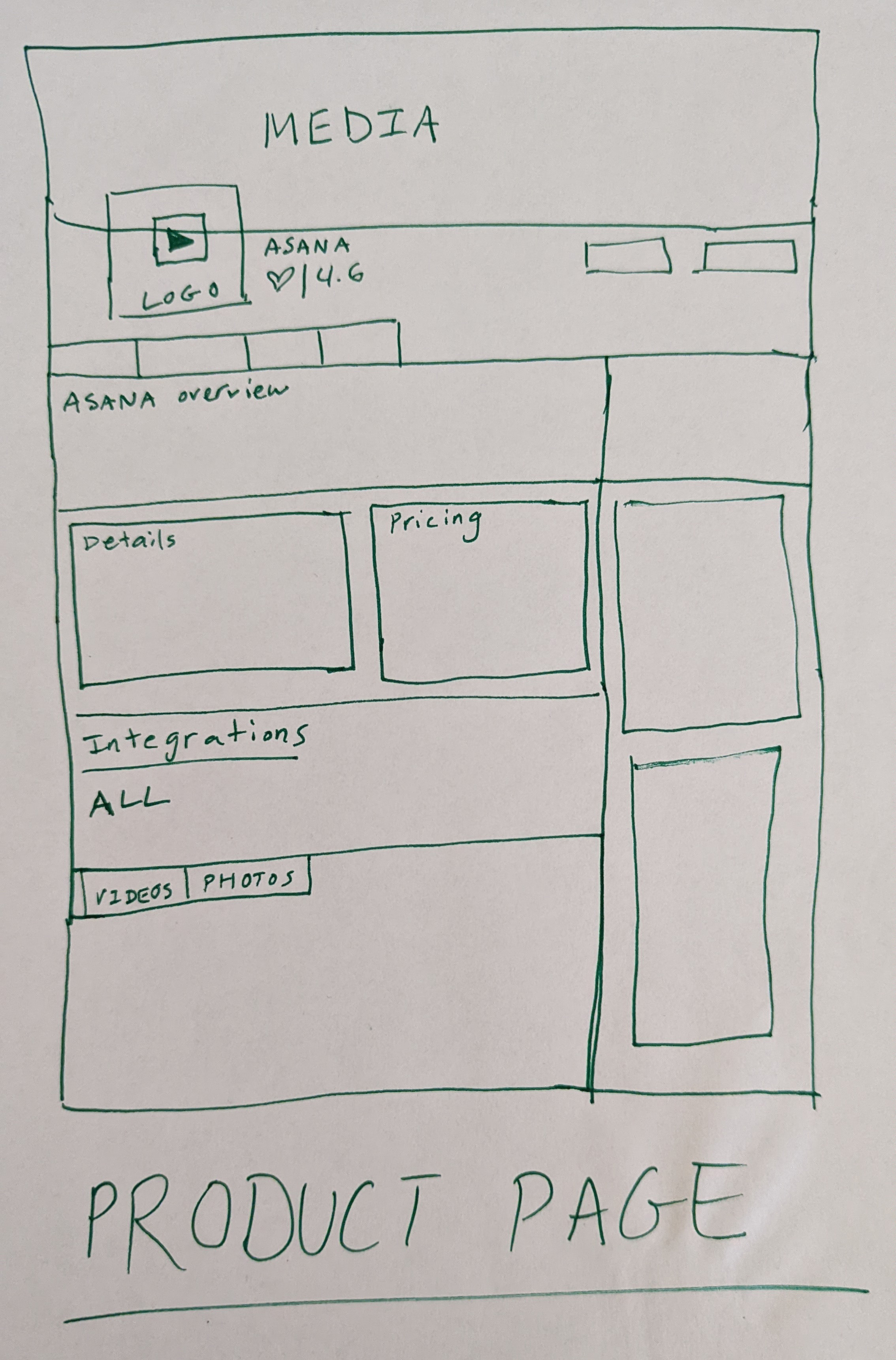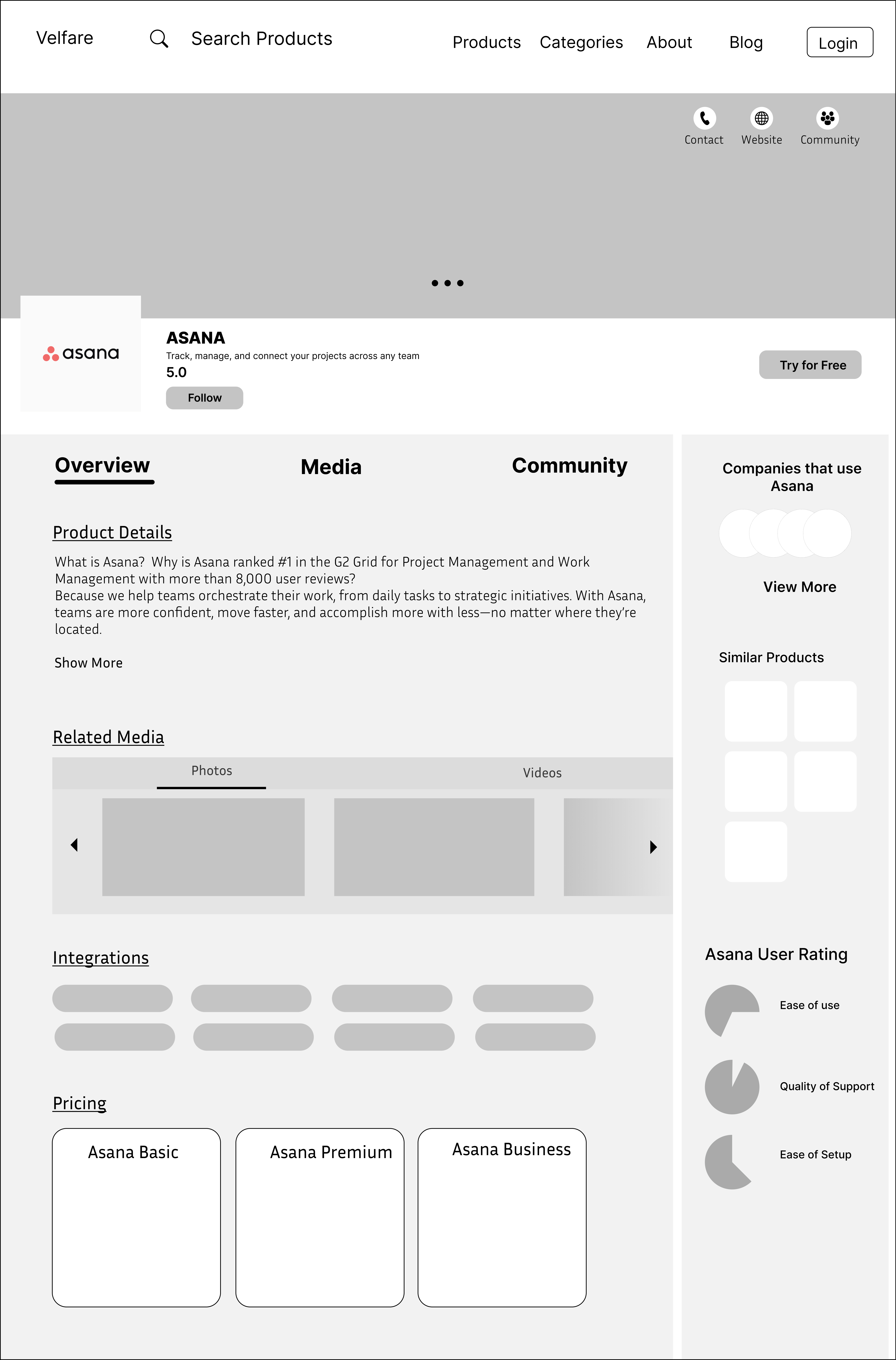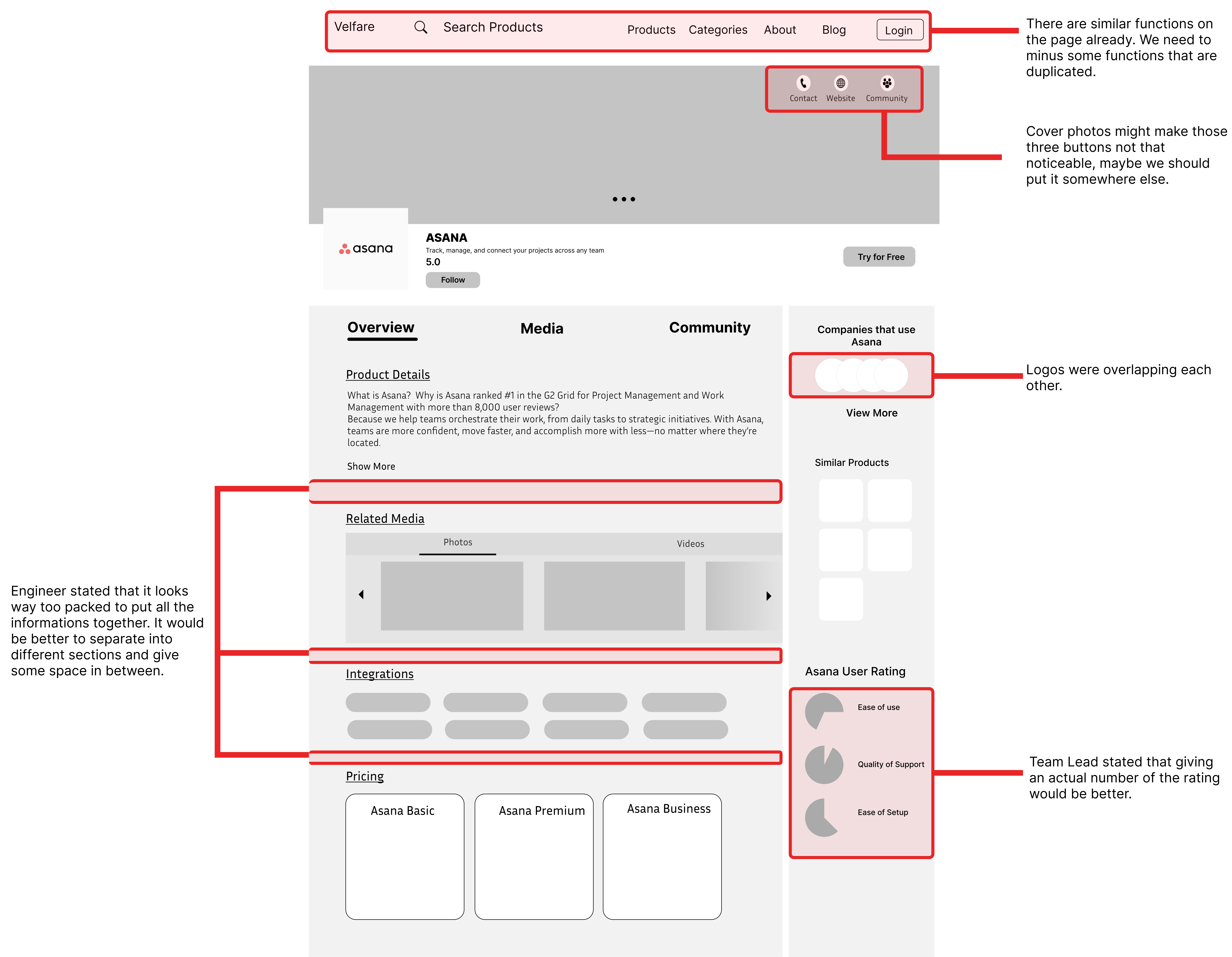 THE FOURTH PHASE
After communicating with the founder and his team on how to improve the low-fidelity prototype, all of the interns worked together to create high-fidelity prototypes for the purpose of stakeholder reviews. The high-fidelity prototypes eliminated the unnecessary elements of the low-fidelity prototype with a clean and simple design.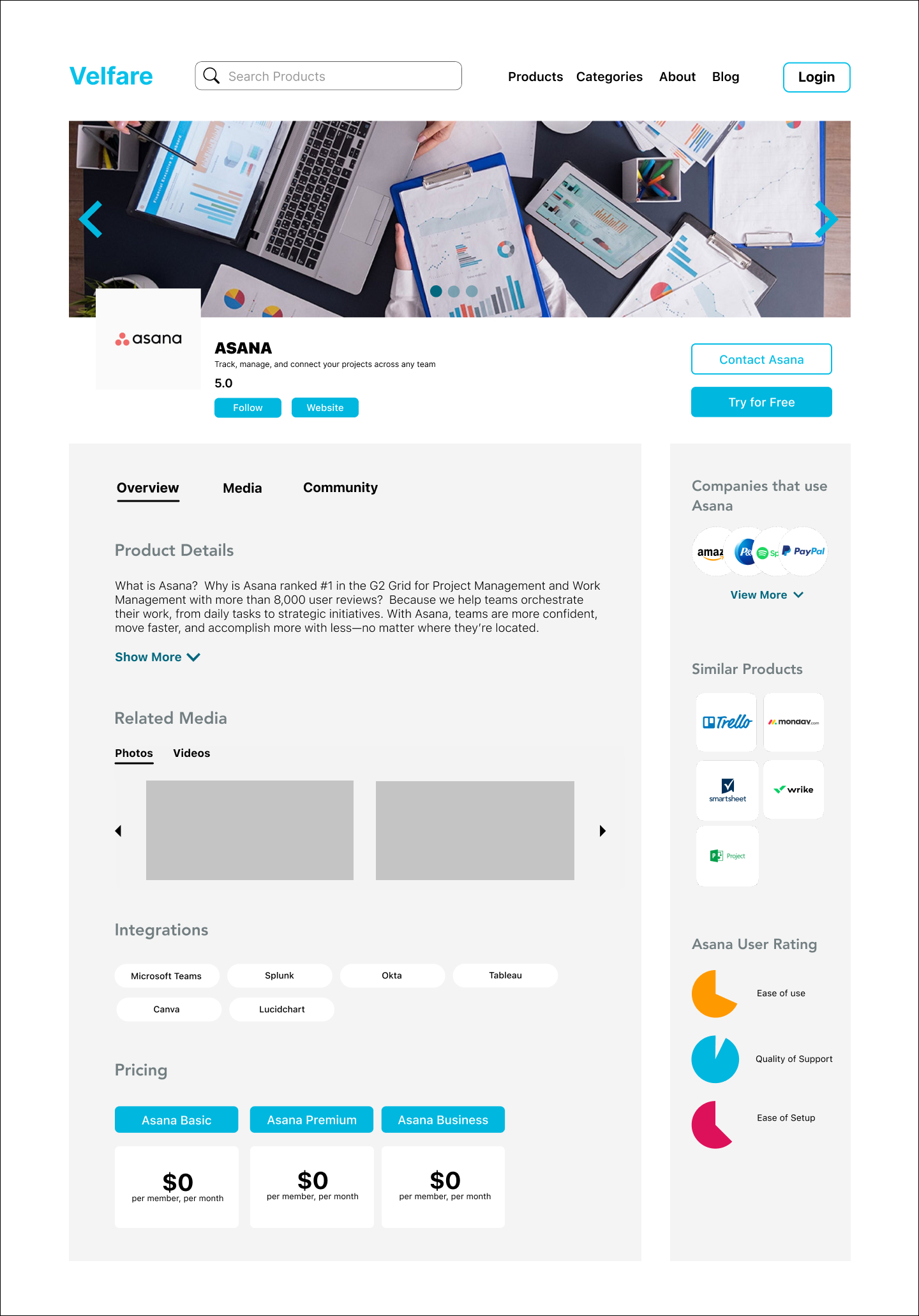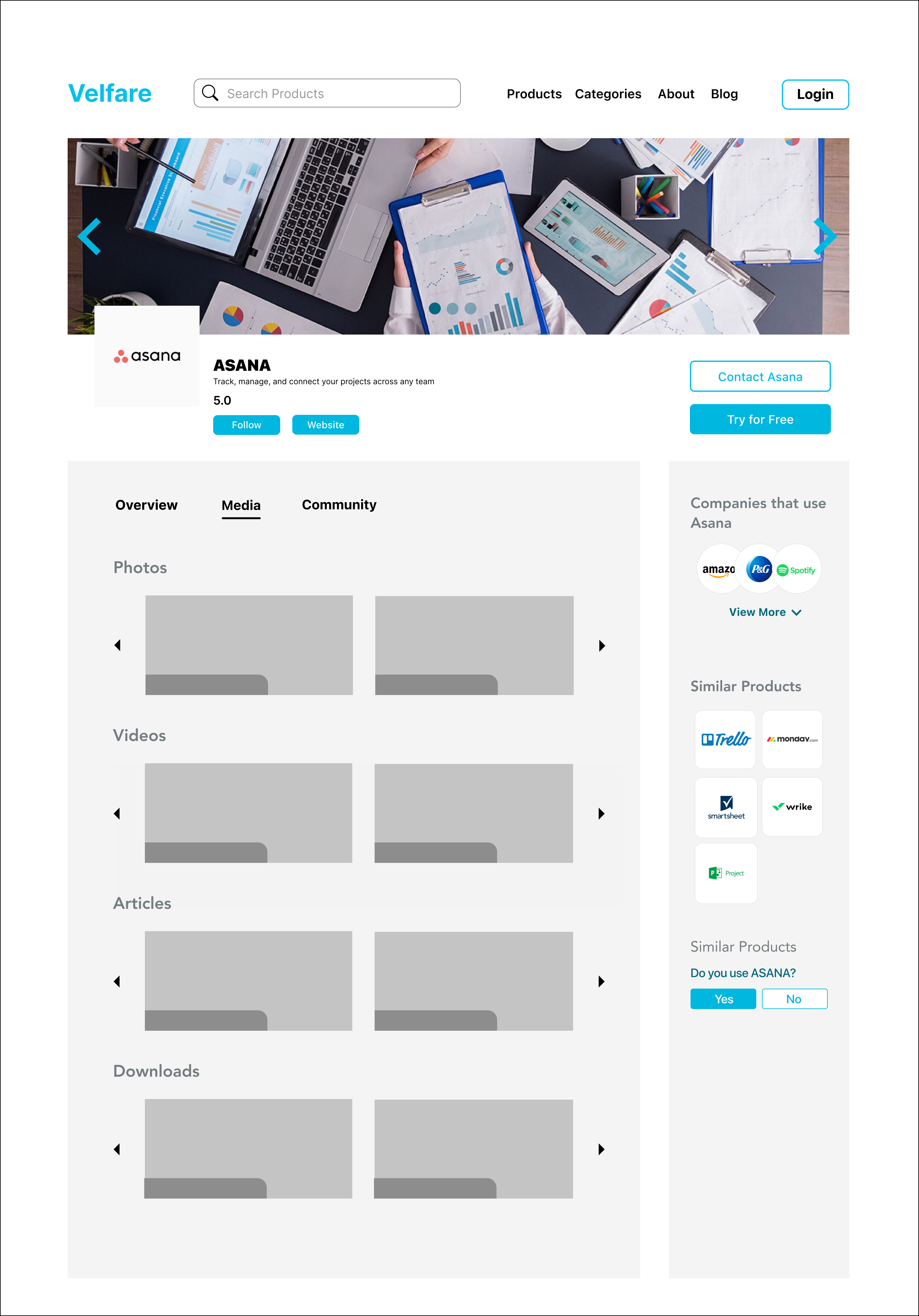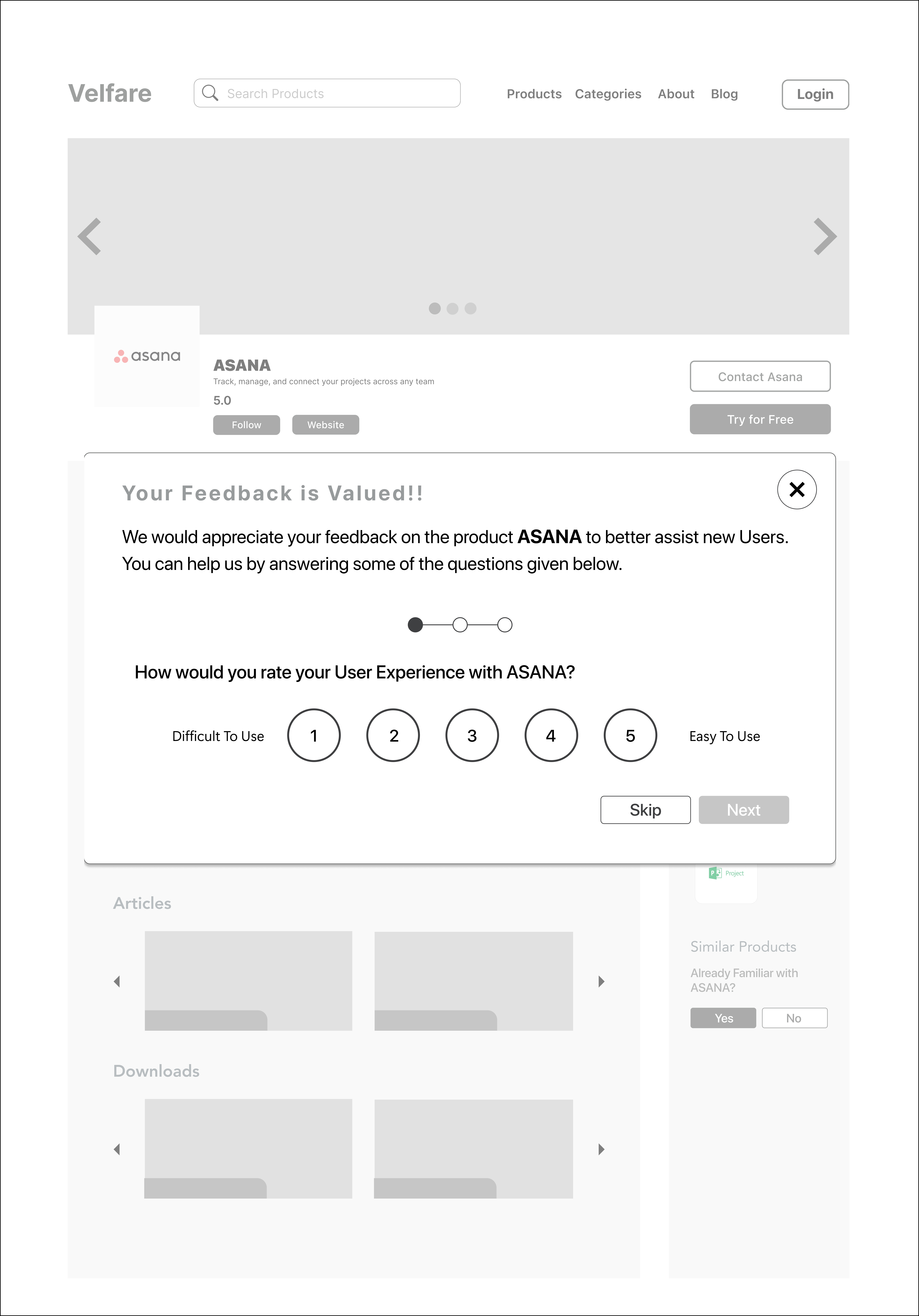 Top page media hub carousel that will include introductory visuals and demo video of product in search

Easy access buttons below product name, introductory product description, and number rating of product in search

Answer the question: What is this product and why purchase this product? in the product details section

Photos and Videos carousel rather than drop down menu

Purchasing information with direct links to purchasing the different levels of product in search

Right side fixed section with information about competitors of product in search

Minimalistic design that incorporates only the required visual elements

Less noise within the information provided and more negative space in the visual design
Communication is imperative when collaborating and each teammate takes on a different role and brings in a different perspective in order to complete the project.

Every design needs to follow an iterative design process and needs user input to validate each design's usability.

Involving stakeholders helps to define the goals and objectives of the project and creates better project planning.

Research is the foundation of any design project and helps to provide input and insight on what is being designed and how to design it.