Amos Shaw
UX/Visual Designer
Sun Life + Spotfiy
Creating a home on Sunlife.ca for their first ever Spotify Podcast
Building a home for Spotify Podcast
In October 2020, Sun Life decided to dip its toes into the world of Podcasting by launching its first ever Podcast on Spotify. In order to ensure that the experience followed UX best practices, Product owners from the Global Marketing team engaged with the Digital Customer Experience team to build a podcast page on sunlife.ca.
As Design Lead on the project, I worked with Business stakeholders and Brand in order to ensure that the site adhered to SEO best practices and that pages were built according to the Global Design standards.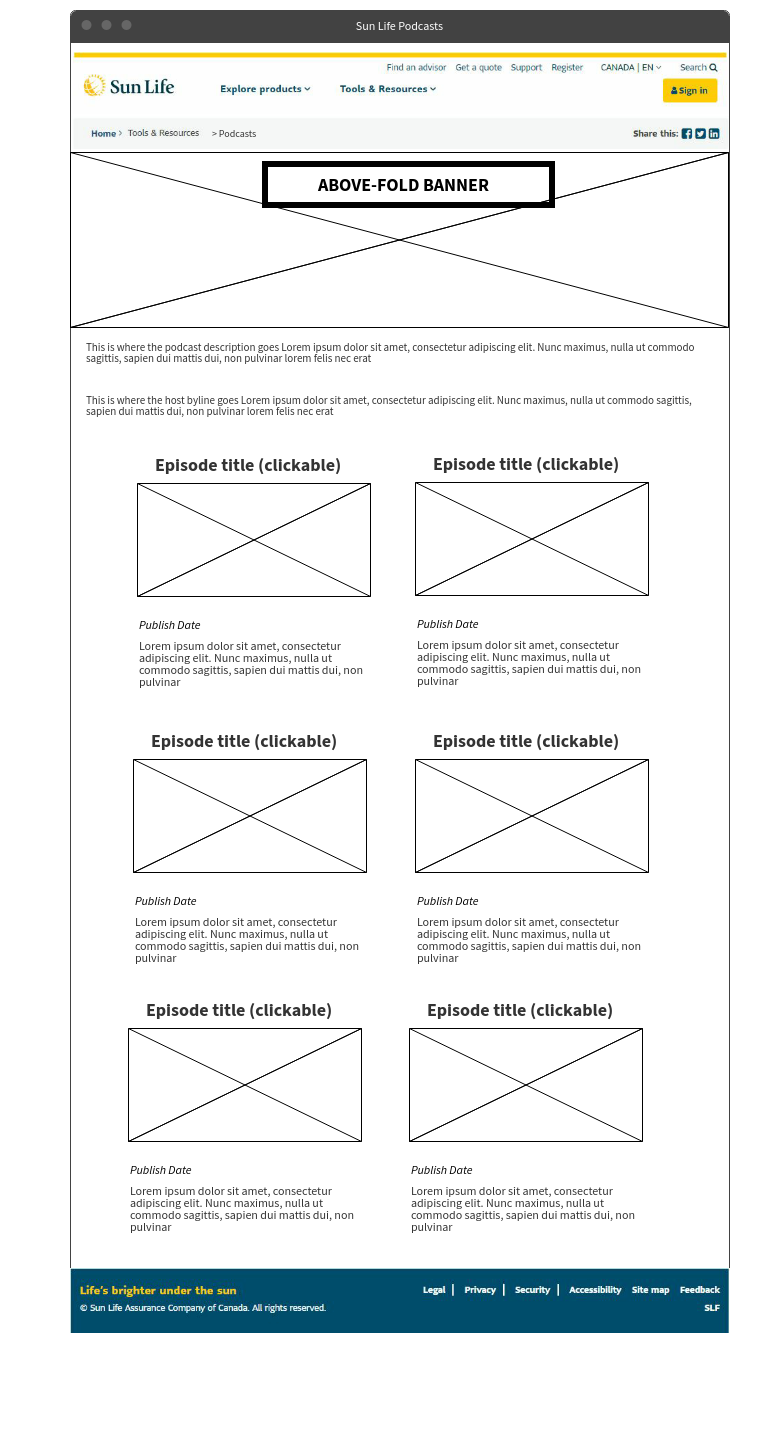 Business Requirements
Marketing needed an SEO friendly landing page and Episode page to drive traffic to for the launch of their new Podcast series on Spotify.
Guiding Questions:
What is the primary CTA?

What content needs to be showcased on the page? What content is necessary for SEO?

Is it being updated regularly?

Is audio playable on the main page vs driving traffic to Episode page (children pages)

What size thumbnail does the Design system support for each episode

Where are we driving the user on the child pages after user has played episode?
UI Design
After reviewing the wireframes provided and meeting with Stakeholders, I created some high fidelity mockups in Sketch.
Guiding Questions:
Will Audio play as an embedded file within the Landing page or are we driving traffic to Episode pages?

On Episode pages, are we driving users to other content? Addtional CTA?

Are the images provided by Brand adhering to accessability standards

Are we using Global Design approved components?

Finding the balance between copy supporting SEO needs and creating a visually compelling page

Project Summary
The project went pretty smoothly. We adapted what we had learned (from a previous project) supporting video components within AEM (Adobe Experience Manager) and applied it successfully to audio files. We also managed to create a vibrant site while still maintaining SEO best practices.
After one month live, the site has bee extremely well received. Stakeholders are excited about the visual execution and how easy it is to consume content on mobile. Daily visitors are up 52% and users are finding additional content from the CTAs on the Episode pages.