Palm Tree Seeker is the first palm tree-dedicated app
It alows all the palm tre lovers to recognise a palm tree with just a few click, collect the palm trees already seen in the virtual garden, discover more and more palm trees growing in their area and get all the knowledge about palm trees they were looking for in one place.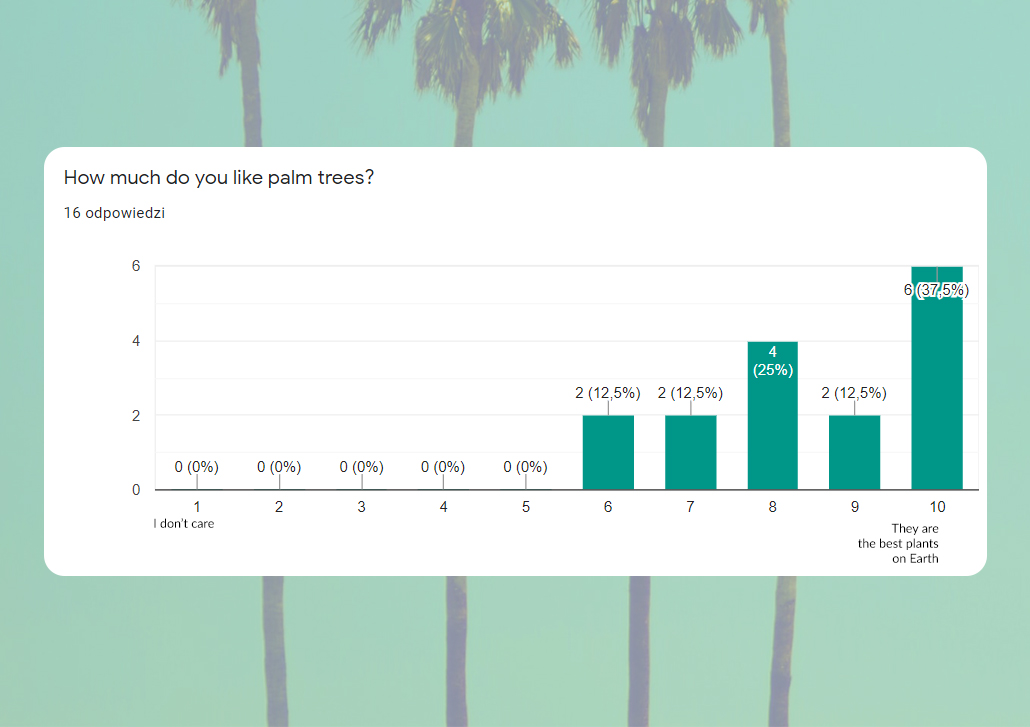 Surveys
To get to know potential users of my app, their needs and wishes, I set up an online survey and published it on a few palm-tree related facebook groups.
I got 26 answers from people all around the world. I asked them about where thay live, how often they have a chance to discover palm trees in nature, how their love to palm trees expresses and which features they would find useful in the app.

What I learned about potential users:
They live all acros the globe, and if they happen to be based in colder countries, they travel to the palm trees areas at least once a year

Most of them plants some palm trees or dreams about having one

They always look for knowledge about palm trees which is ussualy not easy to find

They are very nice people!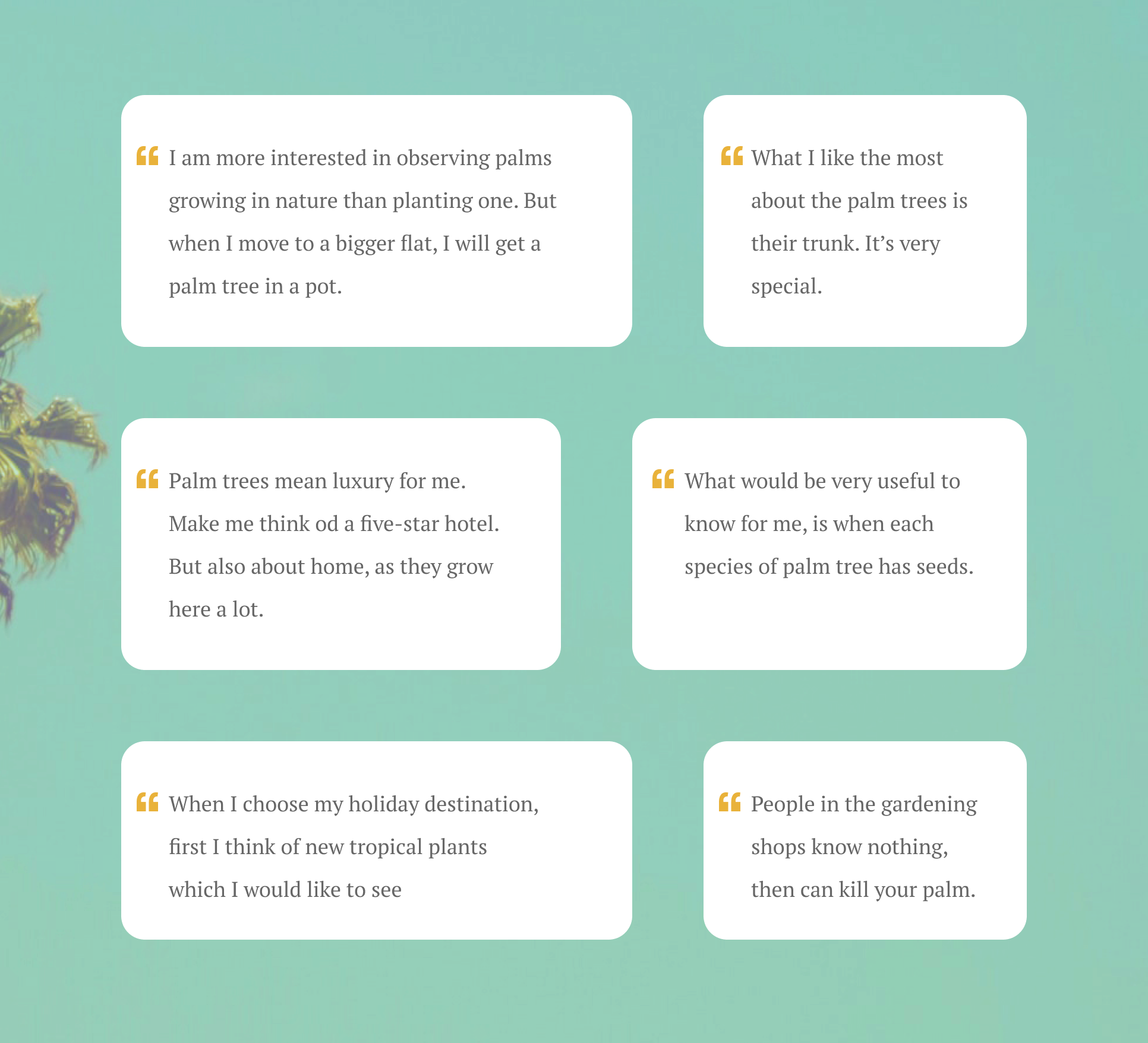 Interviews
After getting some general knowledge about the community of palm tree lovers, I conducted eight user interviews to get to know them a bit better and hear directly about their ideas about a palm tree app.
Thanks to the interviews I got to know:
that there is not much common knowledge about palm trees, even among the plant specialists

that people are often relaying on advice or knowledge of other palm tree fans
I implemented in my app idea:
in the species specification section: more information about palm tree propagation, seeding time, possible plant companions, fruits usage

direct picture share via instagram

users' reviews about each palm tree species

botanical shops marked on the mapp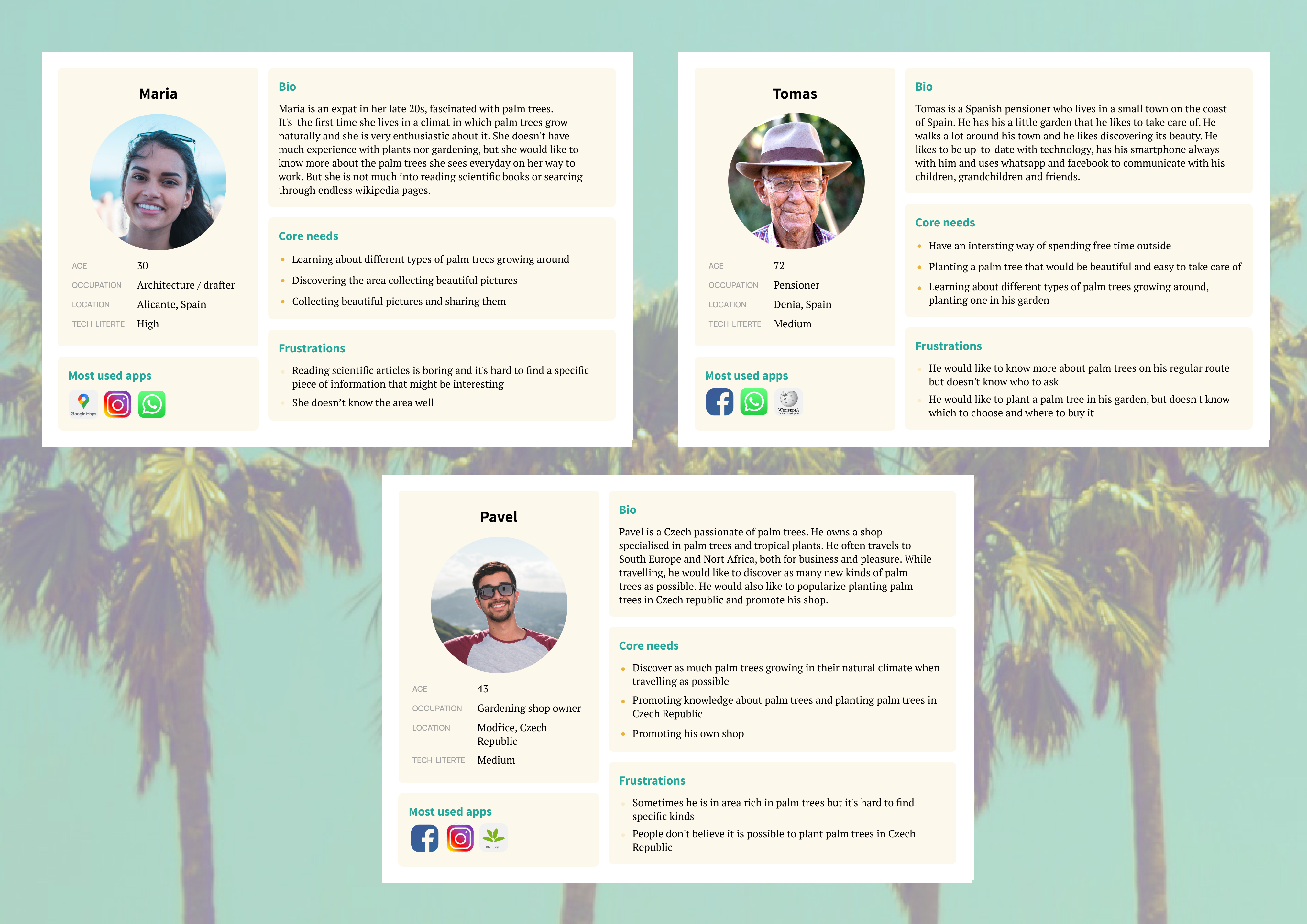 Personas
Based on the interviews I set up three personas. I referred to them throughout the entire product development process.
Each of them represented a different kind of user: Maria is a young girl interested moderately in palm trees, living among them. Tomas is a retired teacher who needs a goal for his daily walks; and Pavel is a proffesional palm tree retailer, interested in promoting his shop and the idea of planting palm trees in any climate.
On each step of design I was asking myself questions, like: will this layout be clear to Tomas? Would Pavel find this function useful? Is Maria going to like this Instagram post layout?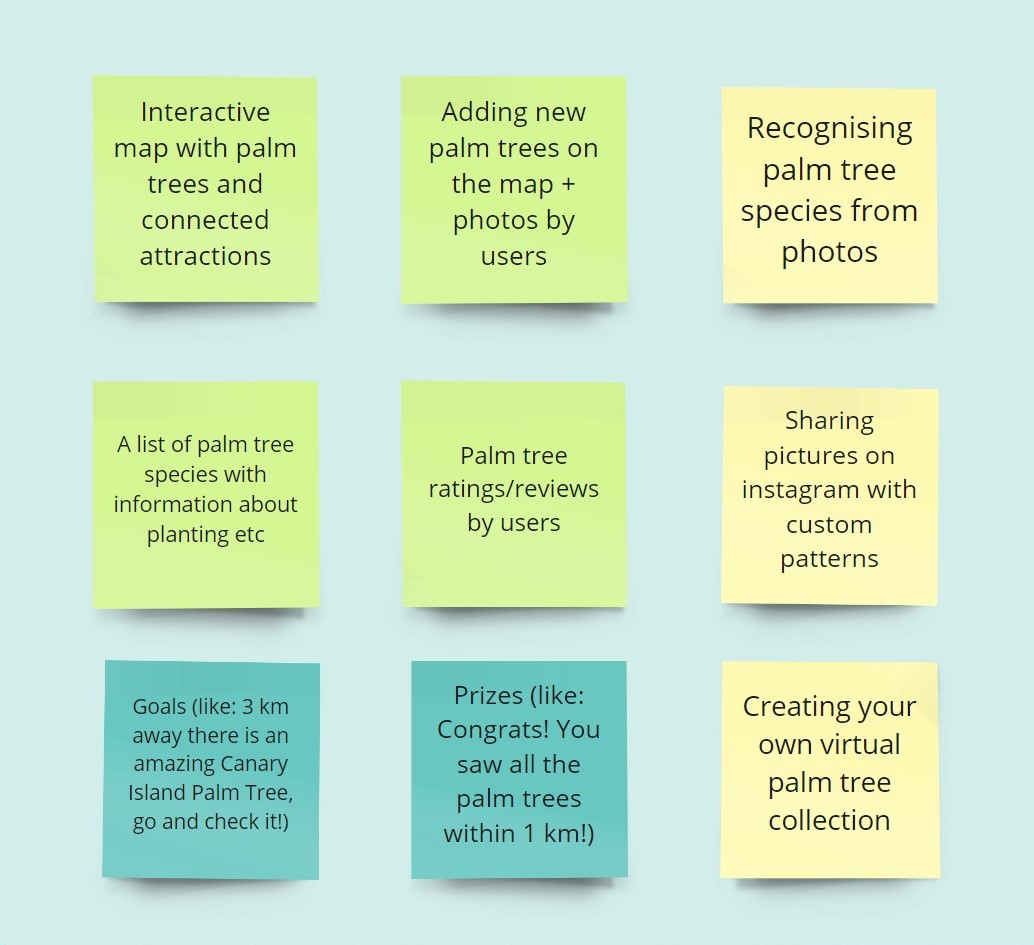 Key app features
After all the research the time has come to sketch a general idea of the app.
I noted down the key app features. Then I created an extensive MVP with all the features that Palm Tree Seeker should provide. That allowd me to create a simple architecture of information.


Wireframes
At the beginning of my design process I created wireframes for testing purposes.
I made low fidelity mockups in Figma to arrange user friendly and readable layouts. Thanks to this I also planned how the main users' flow will look like.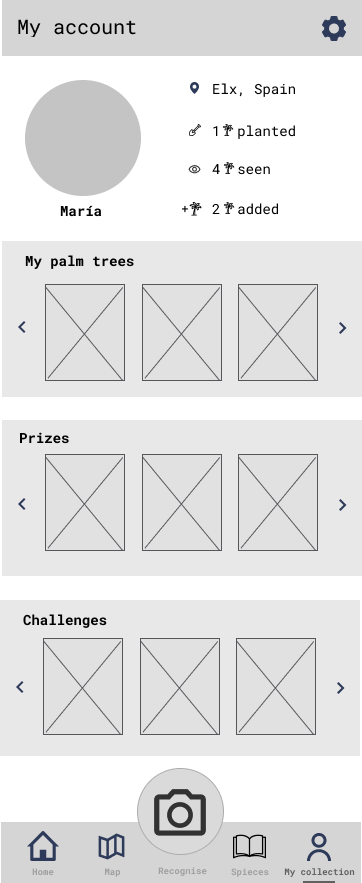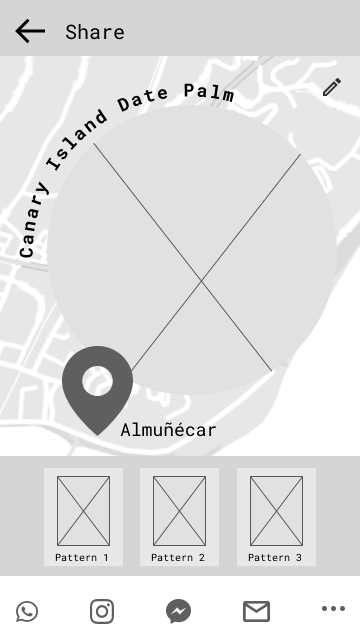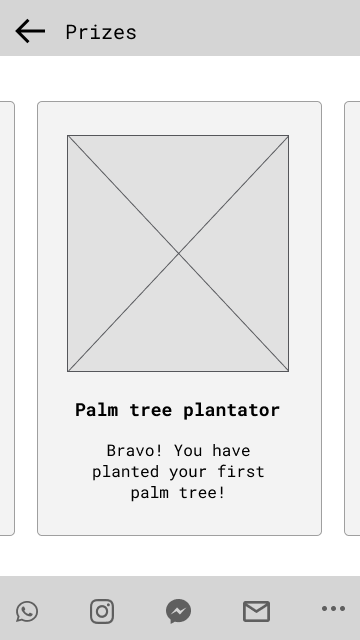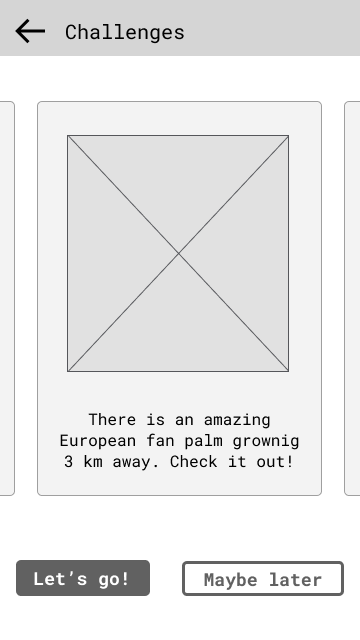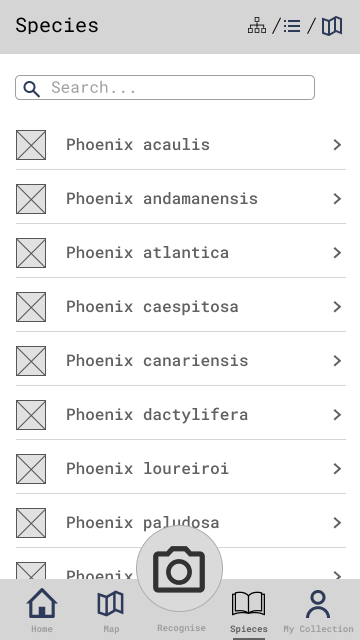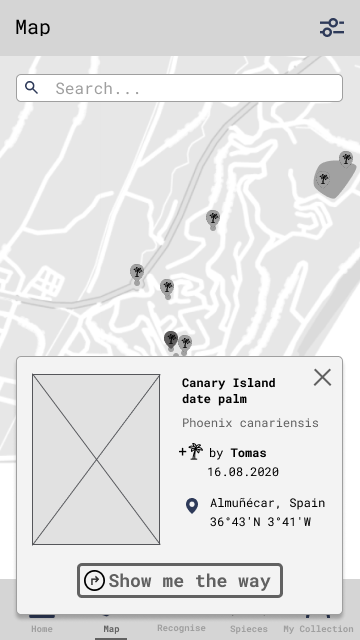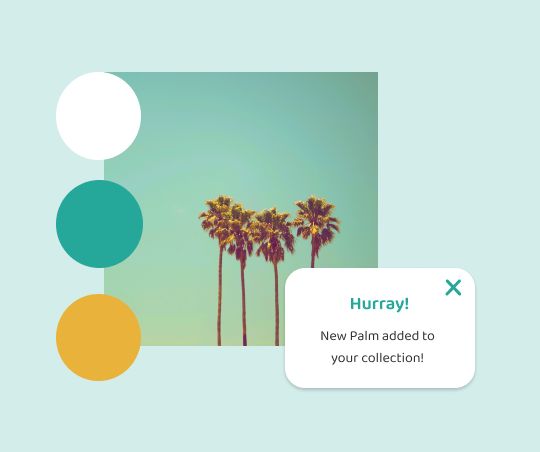 UI Design
Once I had all the main flows ready, I started adding colours and styles to my wireframes.
I decided to use Baloo 2 font, as it brings fun, holiday mood. To keep layout coherent with the font, I rounded edges of picture frames, buttons and overlays.
For the primary colour I used minty green in a few opacity variants, for obvious botanical connections. To light it up a bit and add summer vibe, I used warm yellow as a secondary colour.
I created the app logo and a set of icon matching the app style, round in shape and filled with colour.
What have you learned from this project?
I met - in person or virtually - great palm tree lovers across the world!