Datalogics Rebrand
& Website Redesign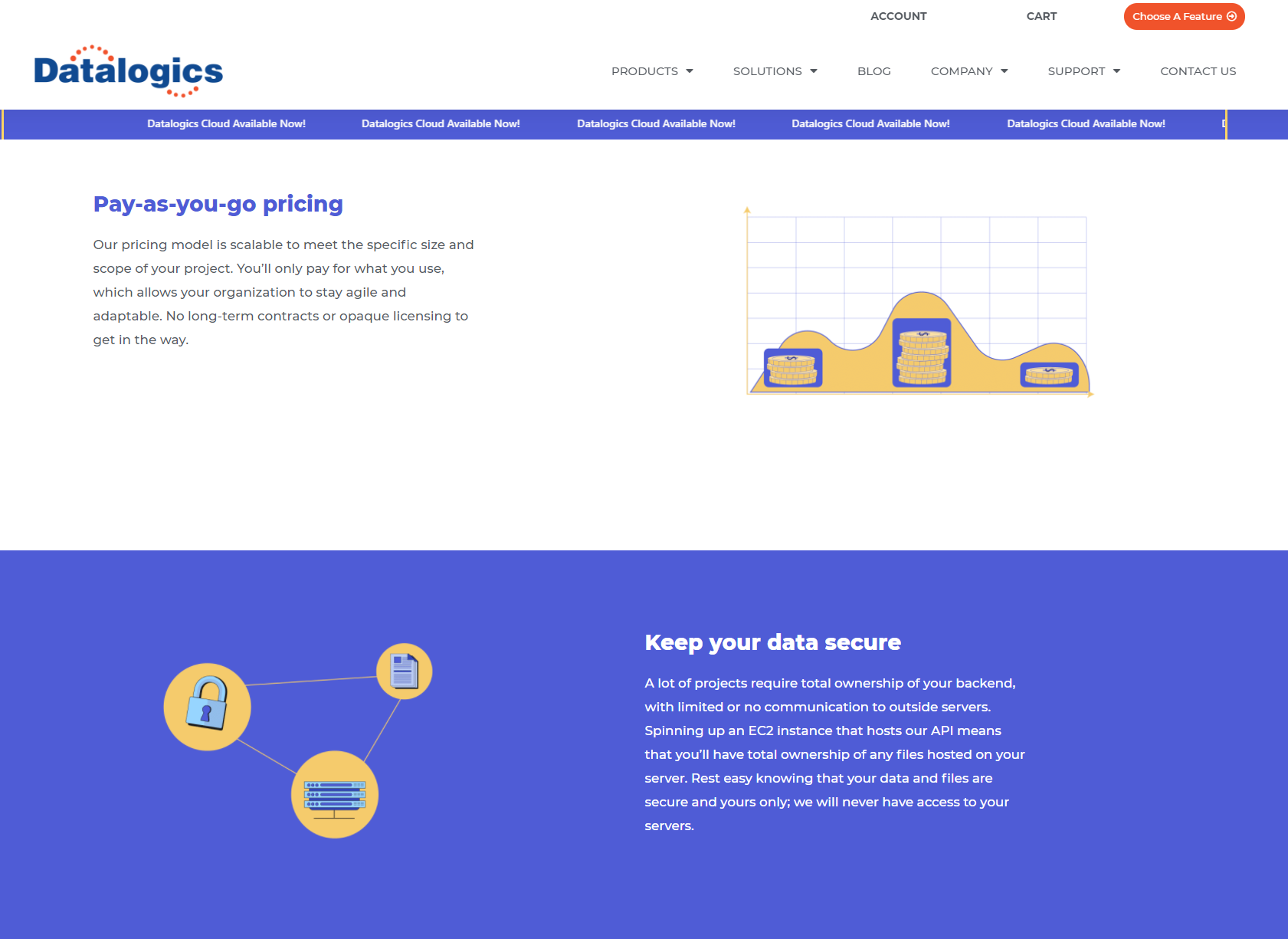 Project overview
Complete website design and branding for Datalogics, an Adobe Portfolio Company and leading SaaS and OEM Provider in the Document Management Space.
Role - Researcher and Designer
Tools used - Adobe XD, InDesign, Illustrator, WordPress & Elementor.
Timeline - 5 months (August 2019 - January 2020)
Team - Marketing & IT/Web Development Department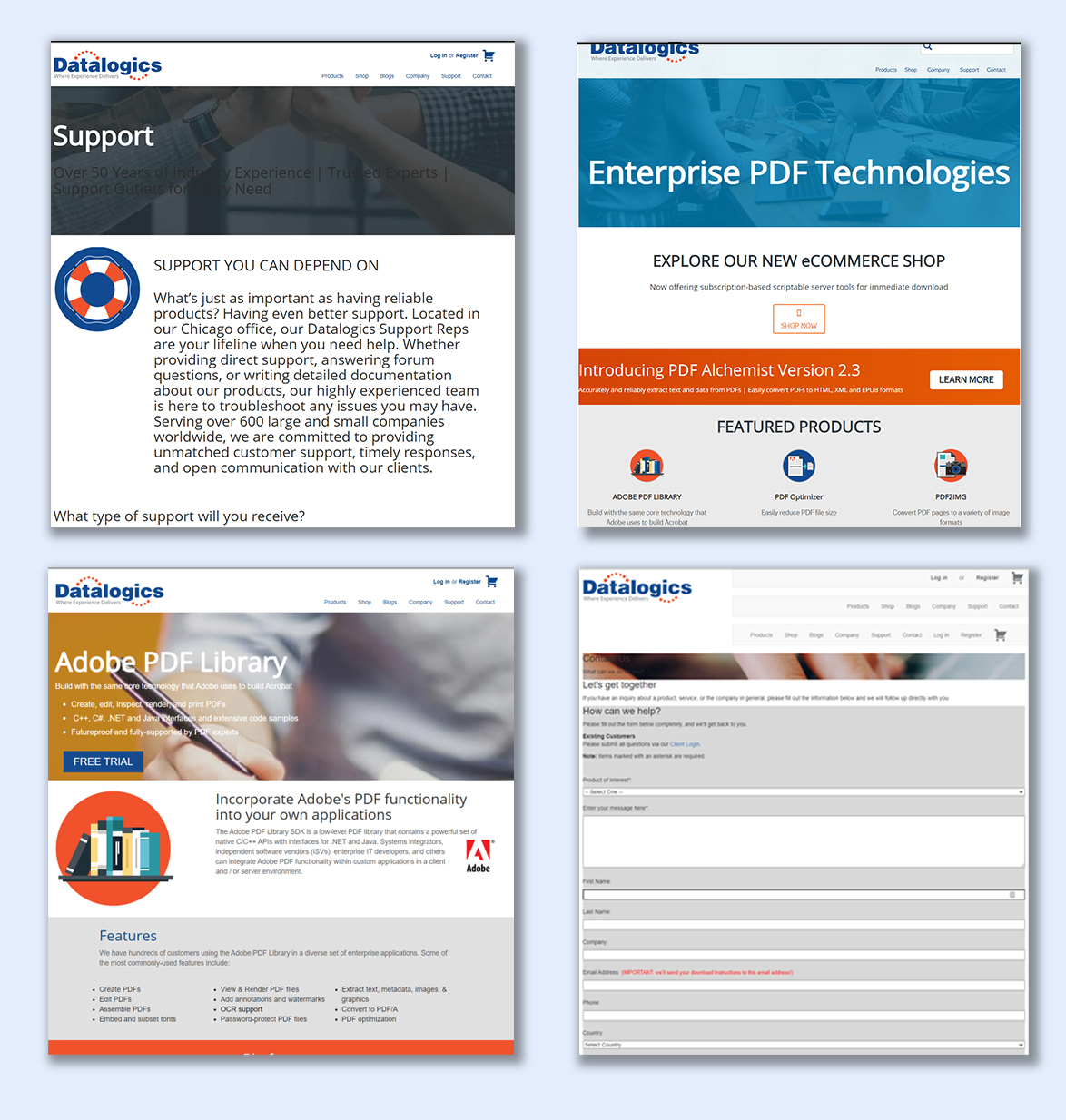 Background
Datalogics, an Adobe Portfolio Company with over 50 years of experience, is a leading SaaS and OEM provider for enterprise level document management software. Their SDKs allow developers and IT professionals across many industries to process, convert, archive and print documents at high volumes with increased efficiency.
Problem Summary
When I arrived at Datalogics in August of 2019, there wasn't any documentation outlining the Brand Guidelines. Moreover, all of the visuals used for marketing materials were created by one-off freelancers who designed based off of the marketing team's verbal descriptions. The marketing team reported this dynamic resulted in a multitude of visually dissonant pieces that didn't convey the necessary brand elements to prospective and existing customers. Additionally, Datalogics had an outdated website, with visual inconsistency and generic imagery and copy.
Goals
Craft a cohesive brand structure and visual narrative that allows prospective customers to easily understand Datalogics and its offerings.

Refresh the company's visual identity while maintaining existing key brand components that evolved over their 50 year history (logo, main colors, mission and vision).

Consolidate the verbal, "tribal" knowledge of the brand into a "single source of truth" document on the Datalogics brand.

Educate Datalogics' leadership and executives on the value of a strong brand narrative.

Complete website redesign.

Provide better visual direction both internally for the Marketing team as well as externally for prospective customers and existing clients.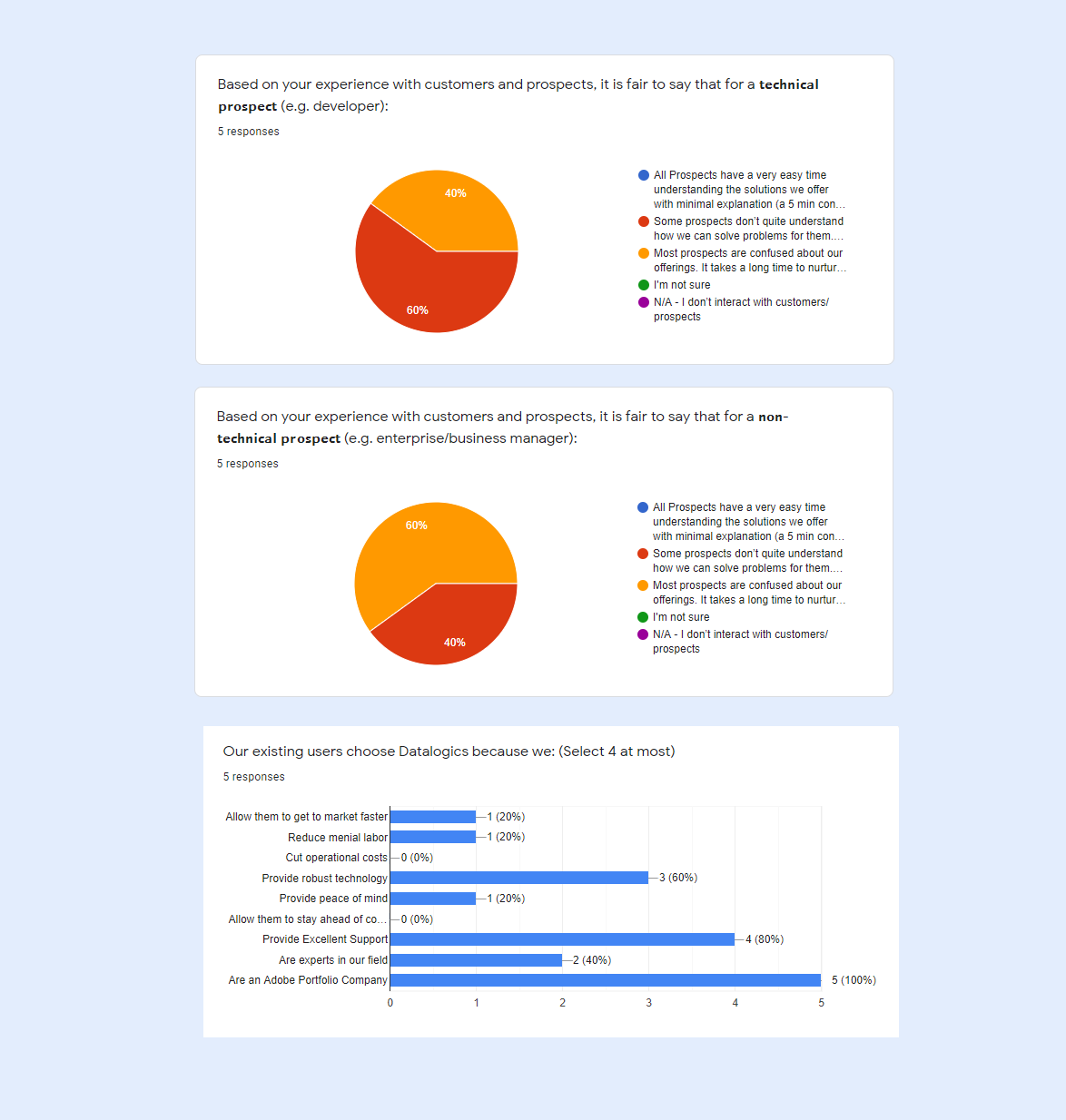 Research
In order to better understand the Datalogics brand, it was imperative to conduct research with those who were subject matter experts: leadership and long time employees. The goal of this exercise was to help leadership identify what differentiates Datalogics from competitors, what the brand - in their vision and experience - stood for, and how it could be improved.
Research Findings
100% of respondents believed existing customers choose Datalogics because of Adobe backing.

100% reported that prospects, whether technical or not, had trouble understanding what Datalogics offers.

60% stated that excellent in house technical support is what sets Datalogics apart from competitors.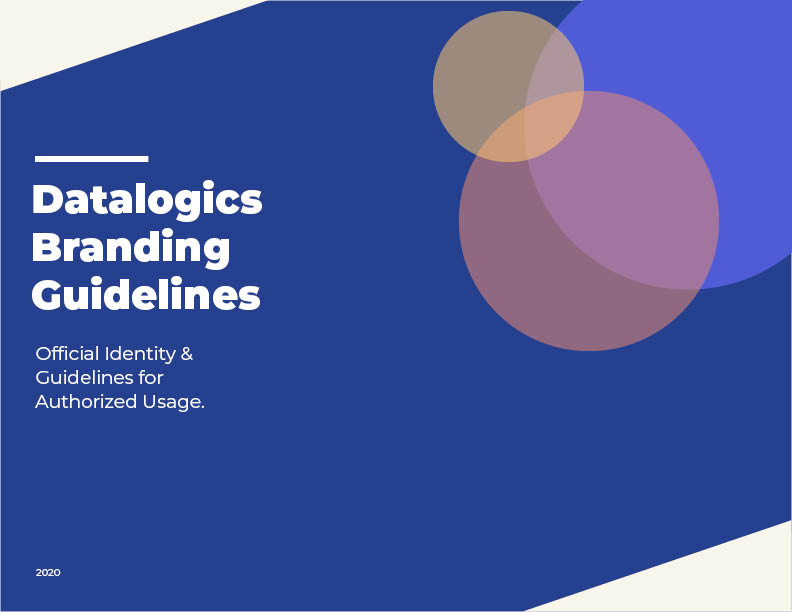 Branding Guidelines
With a better understanding of Datalogics, I began working on the Branding Guidelines, which covers a range of topics such as typography, layout and colors. The goal of this document was to:
Document and explain all the elements that comprise the Datalogics brand.

Educate readers on design best practices.

Showcase good branding examples.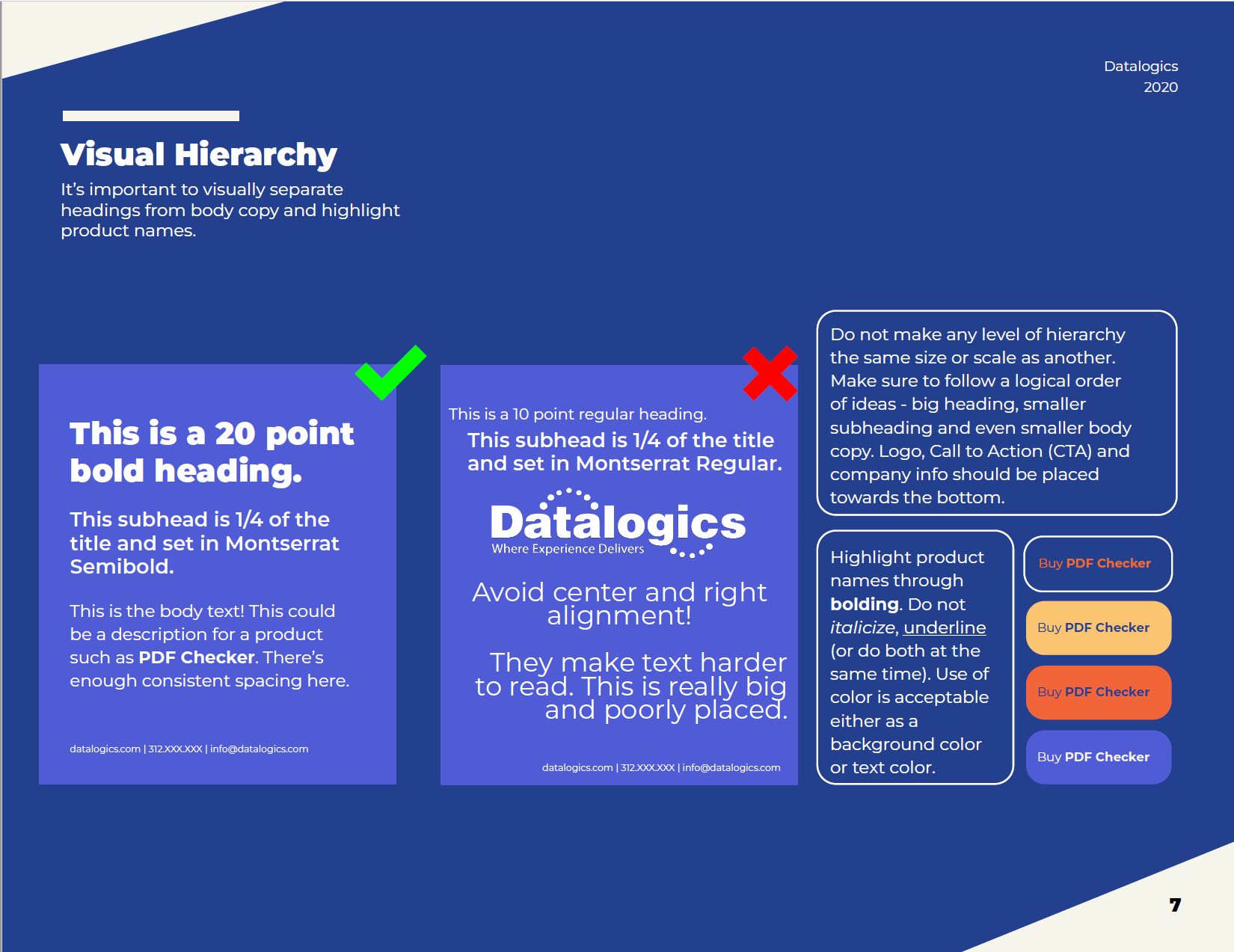 Layout and Visual Hierarchy
This section is meant to help readers understand the importance of visual hierarchy, proper typesetting, and layout. By showcasing a correct example and an exaggerated incorrect example, readers can easily compare and contrast to better understand why one conveys information better than the other.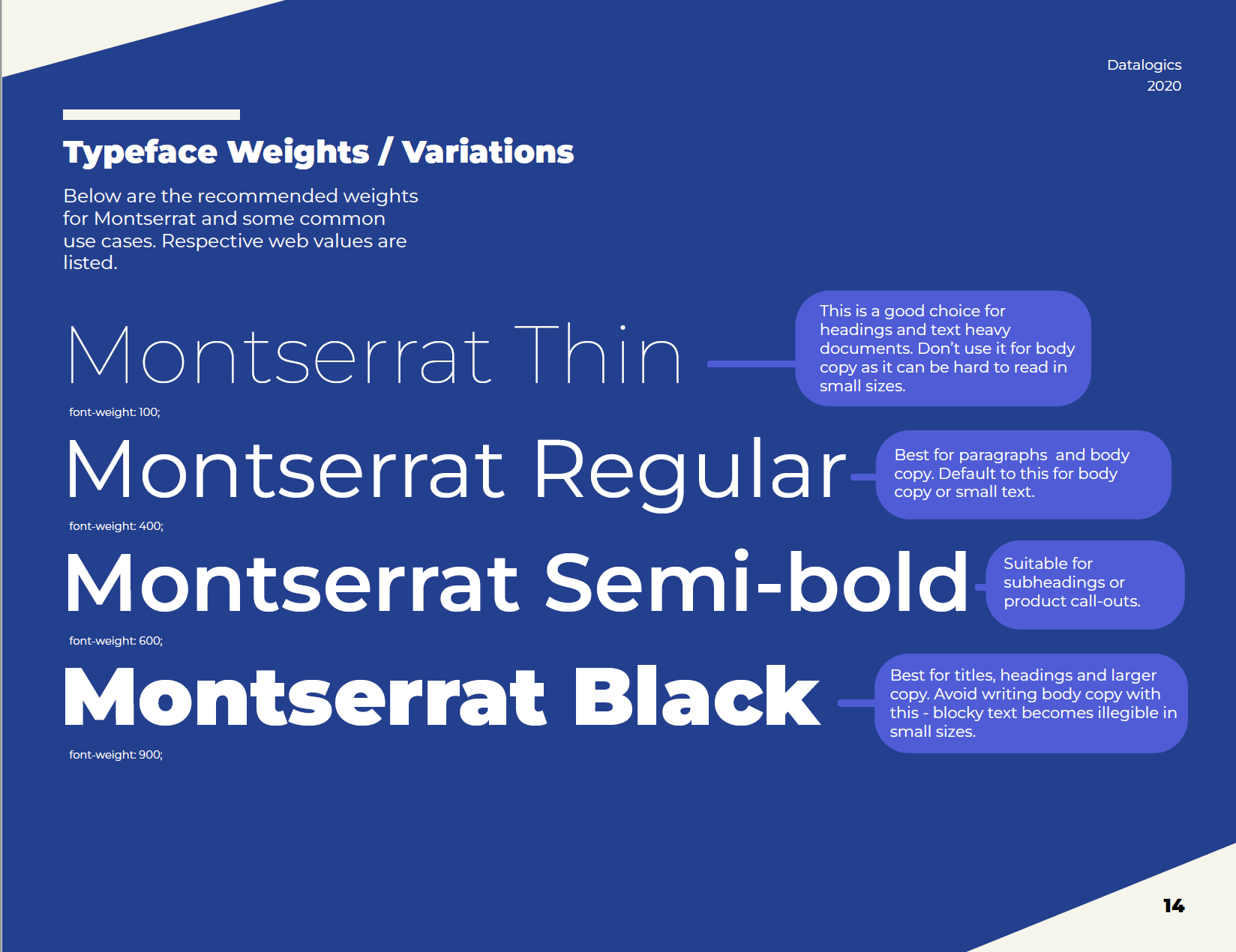 Typography
Datalogics' original font for its logo, website, and marketing materials was Arial. Due to its extensive use in the early days of computers, Arial is often viewed as a generic, outdated and lacking design thought. In order to correct Arial's poor reflection of the Datalogics' brand, I chose to utilize the Montserrat type family for various reasons. Firstly, it is a highly legible typeface. The extensive family, from Thin all the way to Extra-Bold and Black, gives multiple options when setting type - making it easy to visually separate headings, sub-headings and body copy. Secondly, Montserrat's modern sans-serif look paired with its old-school curvy arches creates a modern yet timeless look in line with Datalogics' history. Finally, Montserrat is a practical type family. It is freely available on Google Fonts and can be seamlessly integrated in landing pages, web banners, and other marketing materials (print or digital).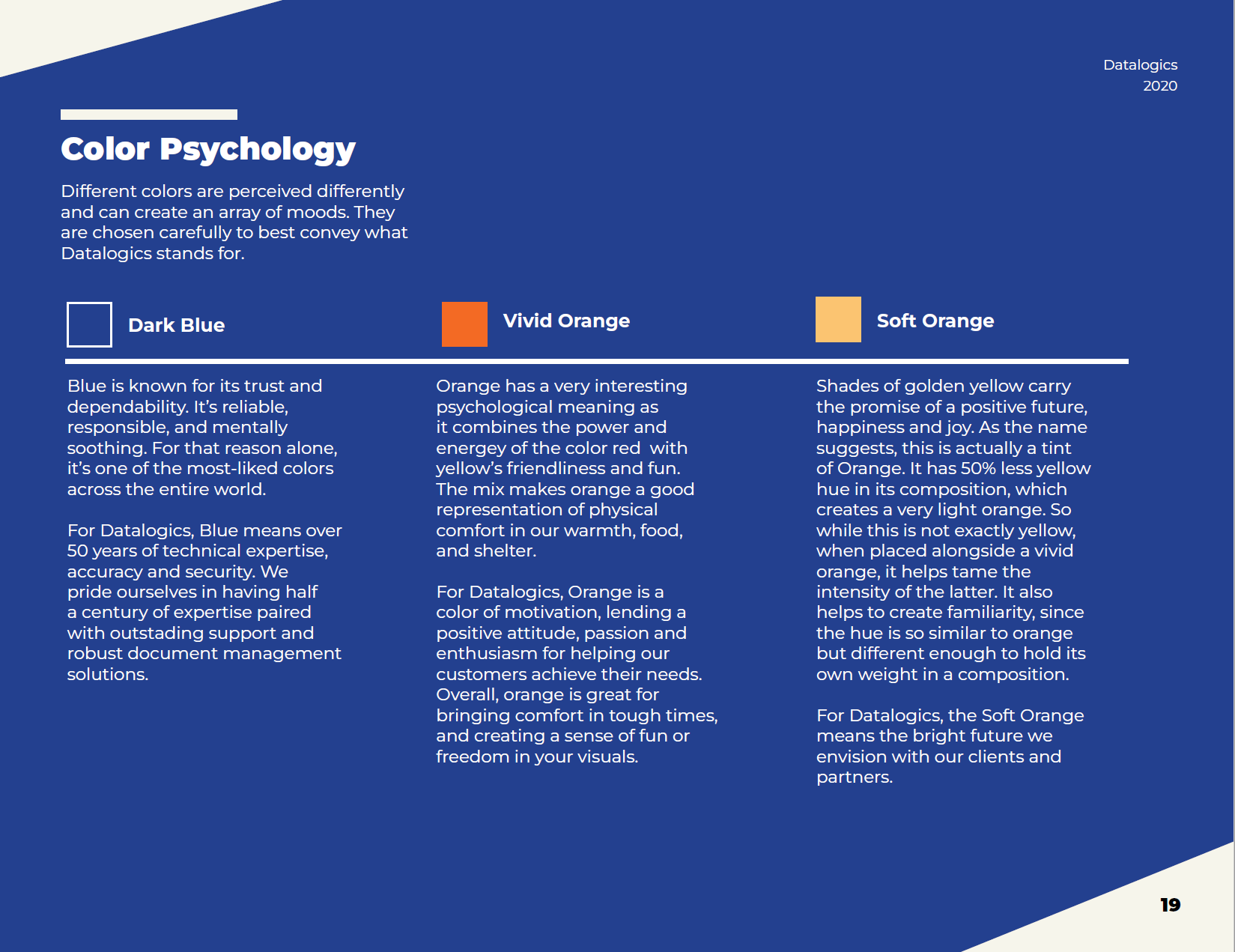 Color
In order to maintain familiarity when updating the brand's visuals, it was important to keep the original colors that are present in the Datalogics logo, namely the dark blue and vivid orange. Additionally, I introduced soft orange as a key color to help balance out the vivid orange and provide more options when designing. From these three main colors, a secondary palette was created for illustrations and other vivid layouts.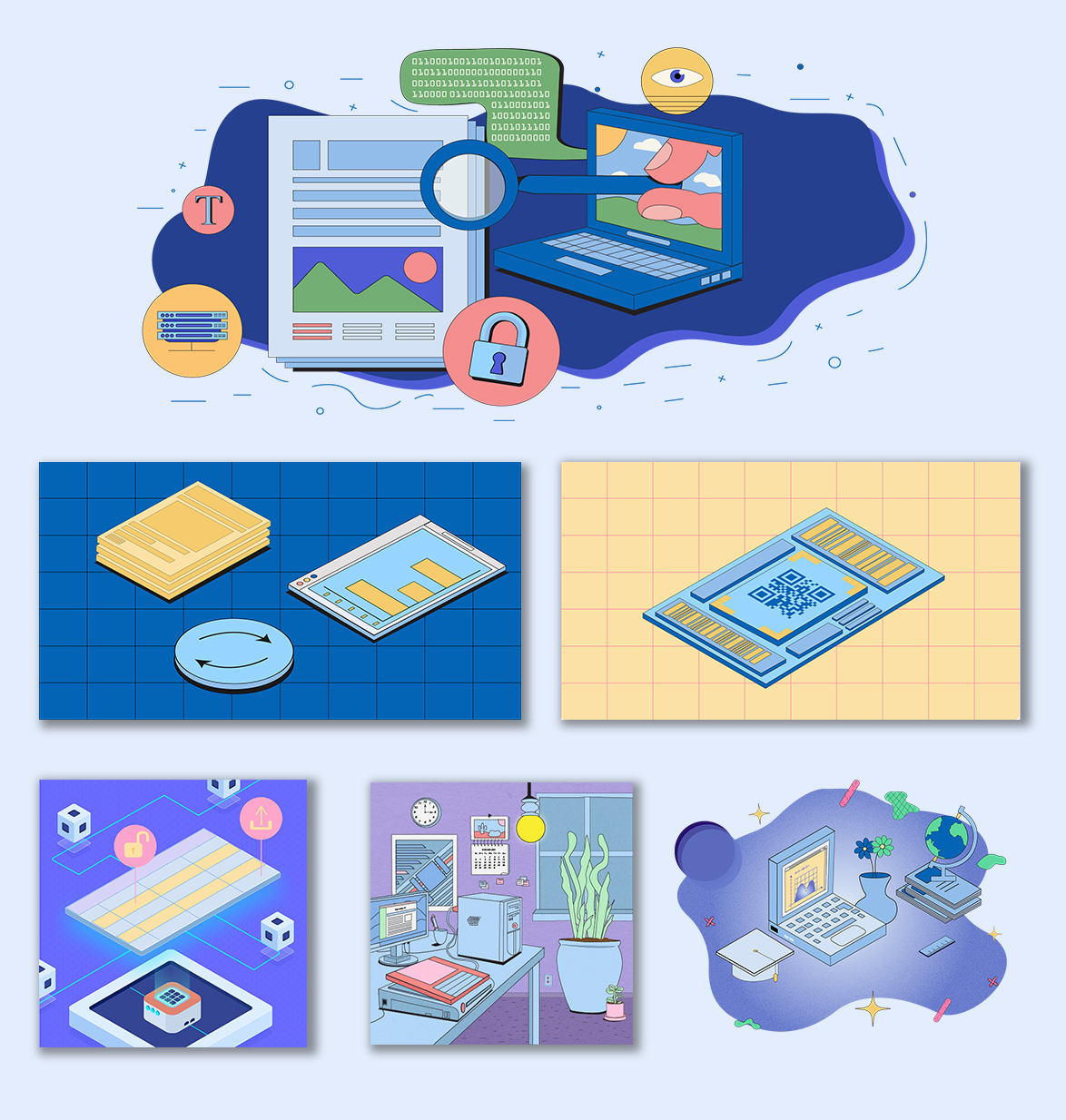 Illustrations
In order to replace Datalogics stock imagery with something more evocative of the brand's personality, I created various illustrations to be used on the website and other marketing materials. My main goal for these images was to convey the highly technical nature of Datalogics products while showcasing its joyous and helpful atmosphere. To achieve this sensibility, I relied on rigid, geometrical shapes contrasted with organic and natural elements. This paired with my use of the key brand colors and secondary palette provide a sense of ease of use and familiarity.
Website Mid-Fi Prototypes
With the branding guideline complete, it was easy to replicate the brand standards on web layouts. Below are some lo-fi and mid-fi prototypes for the re-designed Datalogics website.
Outcomes
I worked with marketing, IT and leadership to create a new and updated website that more clearly conveys Datalogics and its offerings. To achieve this, I conducted research and created the company's first branding guideline. Moreover, I created 32 webpage layouts and over 40 unique illustrations. I believe that our iterations were successful, as we achieved our goals of creating a single source of truth document for all things visual and branded, educated leadership on the value of strong branding, and launched a completely new website.
5
Interviews with Leadership