Turning a Touchpoint Into a Conversion Mechanism
Seeing clearly with ShopWindow
It all started with a trip to the local coffee house!
After seeing the Events Board, I had a question: How can you bridge the gap from offline printed media to online digital marketing, or how can we turn a touchpoint into a conversion mechanism?
Touchpoints are your brand's points of customer contact, from start to finish:

Customers may find your business online or in an ad, see ratings and reviews, visit your website, shop at your retail store, or contact your customer service

Conversion is simply getting someone to respond to your call-to-action:

Opening an email, clicking on the call-to-action link inside that email, going to the landing page, filling out a form and, of course, buying your product is the ultimate conversion

We needed a way to help local small business owners turn their touchpoints into easy to implement conversion mechanisms

The following video production was just the start in a series of webinars I developed to introduce, educate and implement QR Codes into the marketing efforts of local small businesses.
Creating a template for success!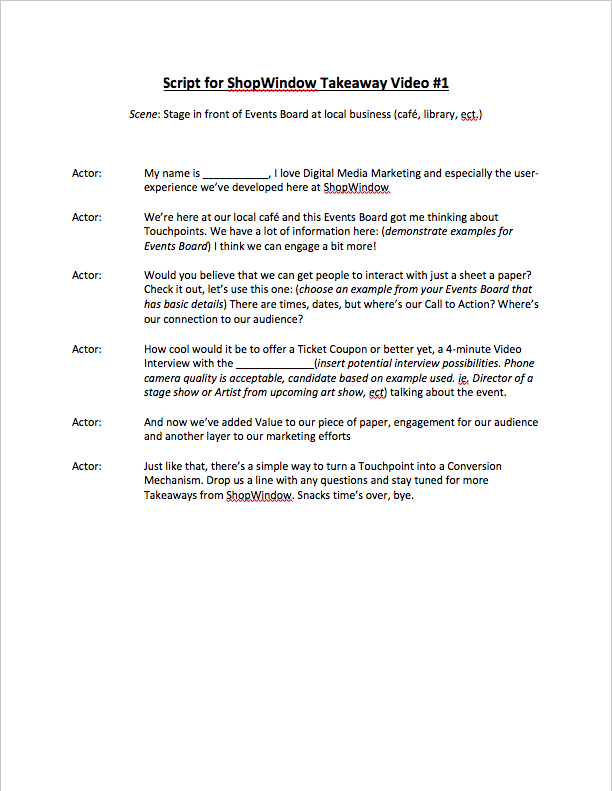 Script Writing
ShopWindow Takeaway Web Video
Every great film starts with a script and this project was no different.
We wanted to test the process of developing and producing targeted web content. Our goal was to show how the process worked, where the weak points were, how we could improve our message

Being a retail manager prior in life, I had first hand knowledge of the needs and goals of our target audience
3 different versions of this script were created, each was specified and niched down to specifically target their needs

Taking the time to develop a script for web content helps ensure higher quality, consistency and repeatability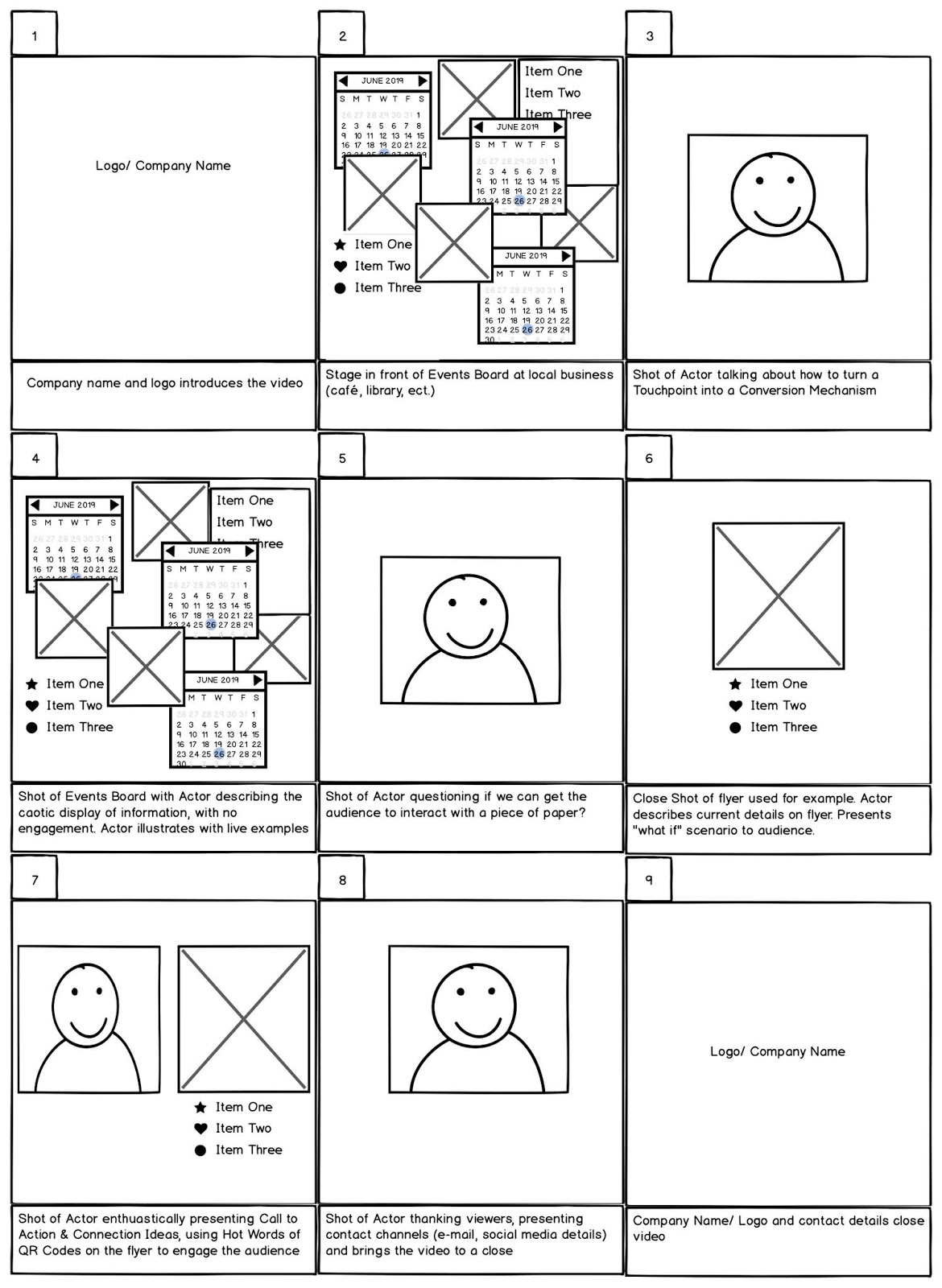 Storyboarding
ShopWindow Takeaway Web Video

After the script was finalized, I created a storyboard for planning and logistical purposes.
The storyboard helped illustrate the visual aspects of the video shoot, pacing, shot selection and actor movements

This low-fidelity storyboard was created using Balsamiq
I learned a multitude from this experience.

This project incorporated interviews with business owners, interviews with marketing company owners, writing copy, user experience research, web content development strategy, iteration, collaboration and working with start-ups and their CEOs directly.

The goal was to help small business connect with their target audience faster
Some of my challenges during this project were: being self conscious, unnatural and forgetting pertinent information while the camera was rolling

Creating a script to follow, developing the storyboards, researching the technology and listening to feedback from my teammates helped me to have confidence in our message and deliver quality to our clients

During this project I also developed an efficient "ready-set-go" process for dealing with an extremely busy CEO, to save time and maximize efficiency

Connecting the offline with the online was our goal and I'm confident we did just that.