UX studio
User Experience Agency
Made with
Jahia Website
How we redesigned the website of a content management platform
The project
Jahia sells a DXP (digital experience platform) for 500+ companies all around the world. With their on-premise or cloud based software big corporations can manage multi-site, multi-language websites and enable their marketing and developer teams to work together more effectively.
Jahia reached out to us to redesign the key pages of their site to improve conversion rates, and rethink their whole navigation.
We also had to figure out how to talk to their two very different target audiences: marketers and developers.
Additionally, we provided them with a custom illustration system and style-guides as well, so that they can continue with redesigning the rest of their pages by themselves.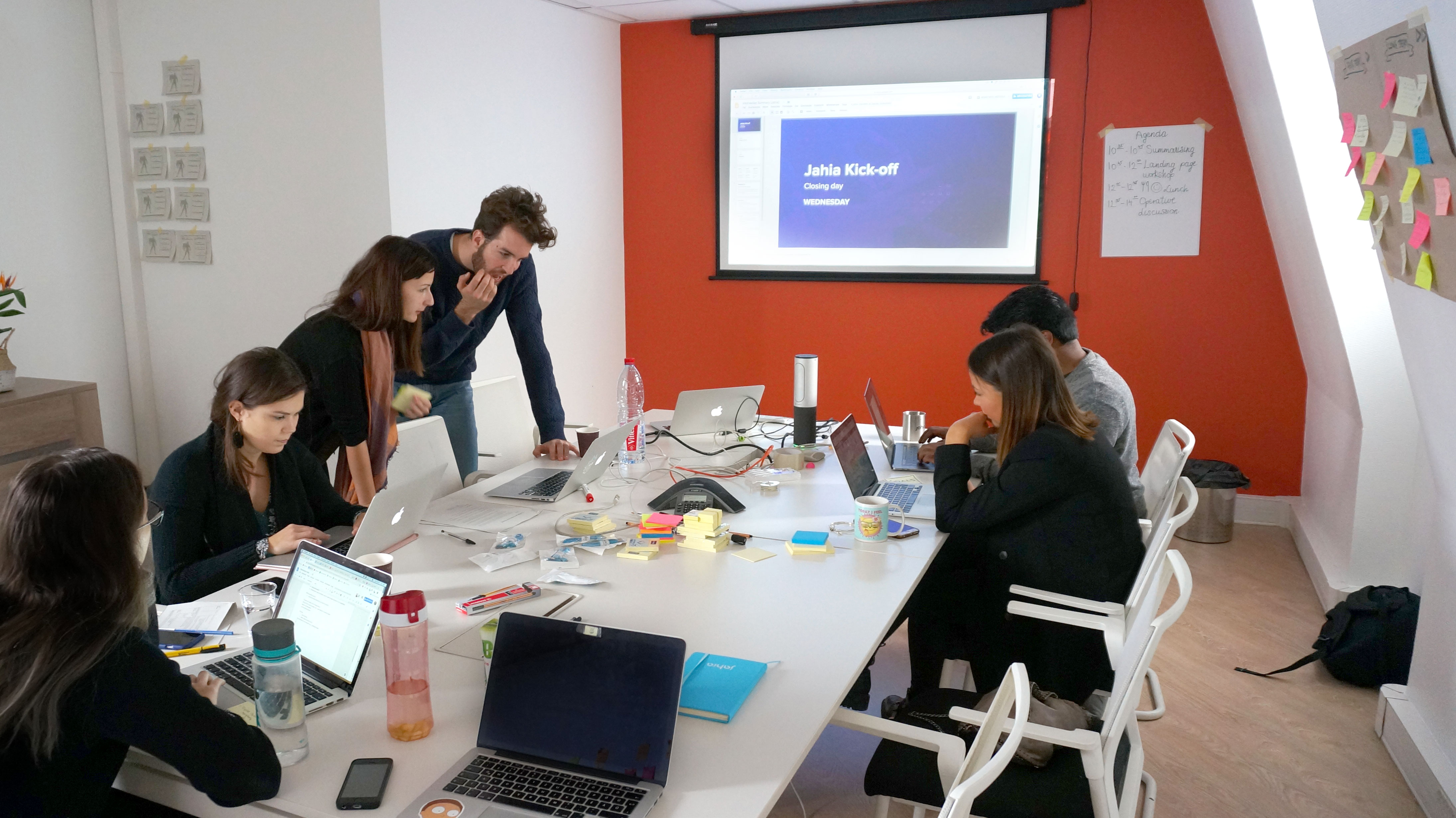 The team
Our team consisted of two UX Designers and two UX Researchers. We worked closely with stakeholders from Jahia's team meeting every week for almost four months.
We even visited them in their office in Paris for a three day long kick-off workshop.
Kick-off

Our team flew to Paris where we held a 3 day long workshop. We gathered lots of information about the product and the target audience of Jahia. We mapped out the project scope with:
smart goal setting

target personas

user journeys

brand persona

stakeholder and customer interviews.
Axure prototype
Our scope was limited to the main pages and the navigation but to make sure the test participants have a coherent experience we included a lot of other pages in the prototype as well. Collaboration in Axure is not the easiest thing, but we needed the advanced functionality it can provide. When we iterated on a page we always added the new version as a different page, this way we could track the different stages.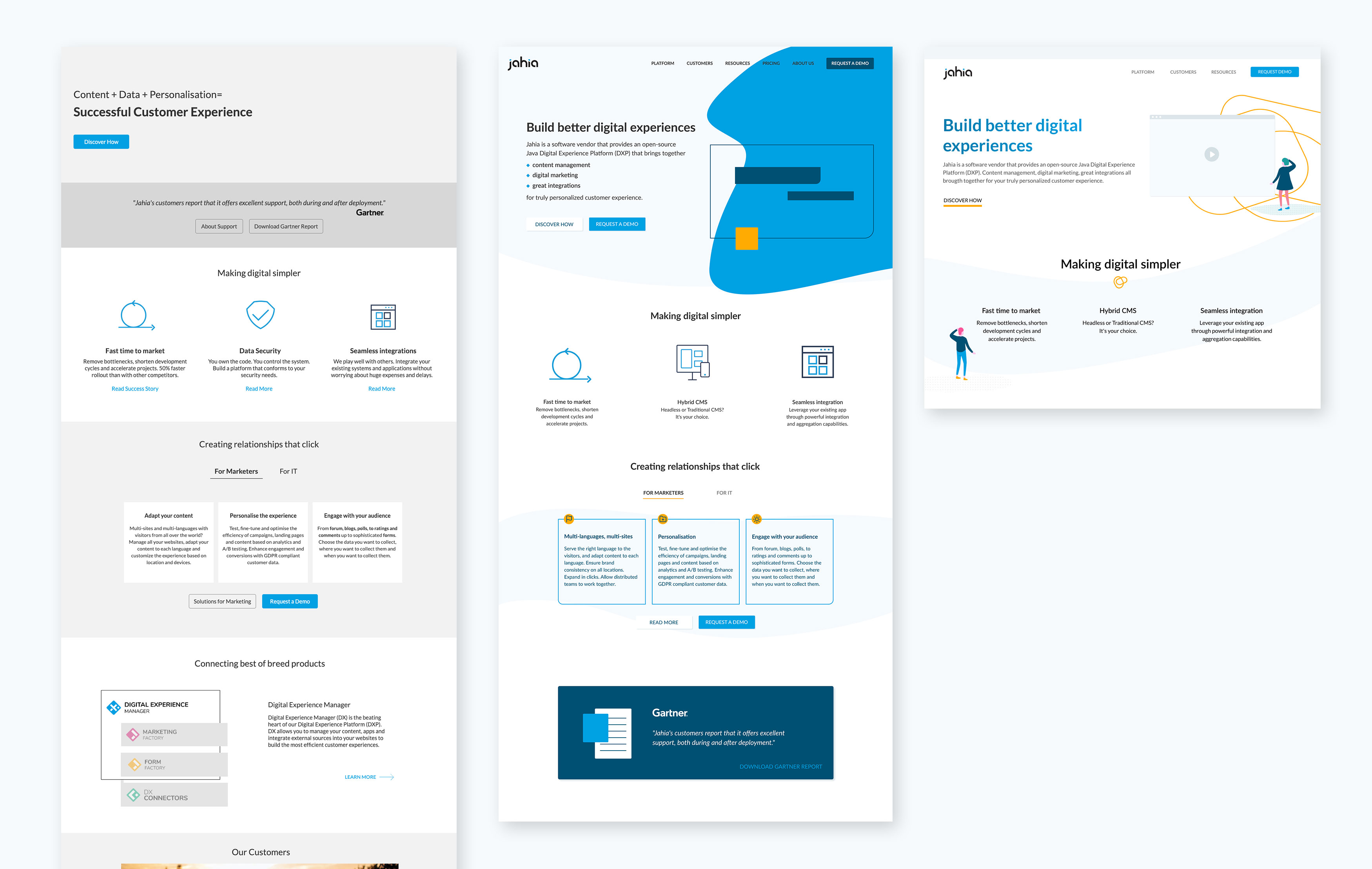 Weekly user tests
We had two target personas: the IT manager and the Digital Marketer. Since Jahia's aim was to cater to both of their needs with equal priority, we set out to have 50-50% participation from the two user groups.
First we conducted tests on the current website to identify main usability issues and get to know more on the target audience's preferences, understanding about the industry. After that we rapidly put the prototype to test and had 3-4 usability tests each week. After 6 iterations, we integrated the redesigned pages with final UI into the prototype. All in all we conducted 23 usability test, all of them containing an interview part.
Areas we investigated, how our two target audience groups reacted to:
navigation
value proposition
funnel, journey of the evaluation process
information consumption
understanding of the concept and solutions
language and visuals
We put the research insights into a research system so that it could be used by anyone working on Jahia's website in the future.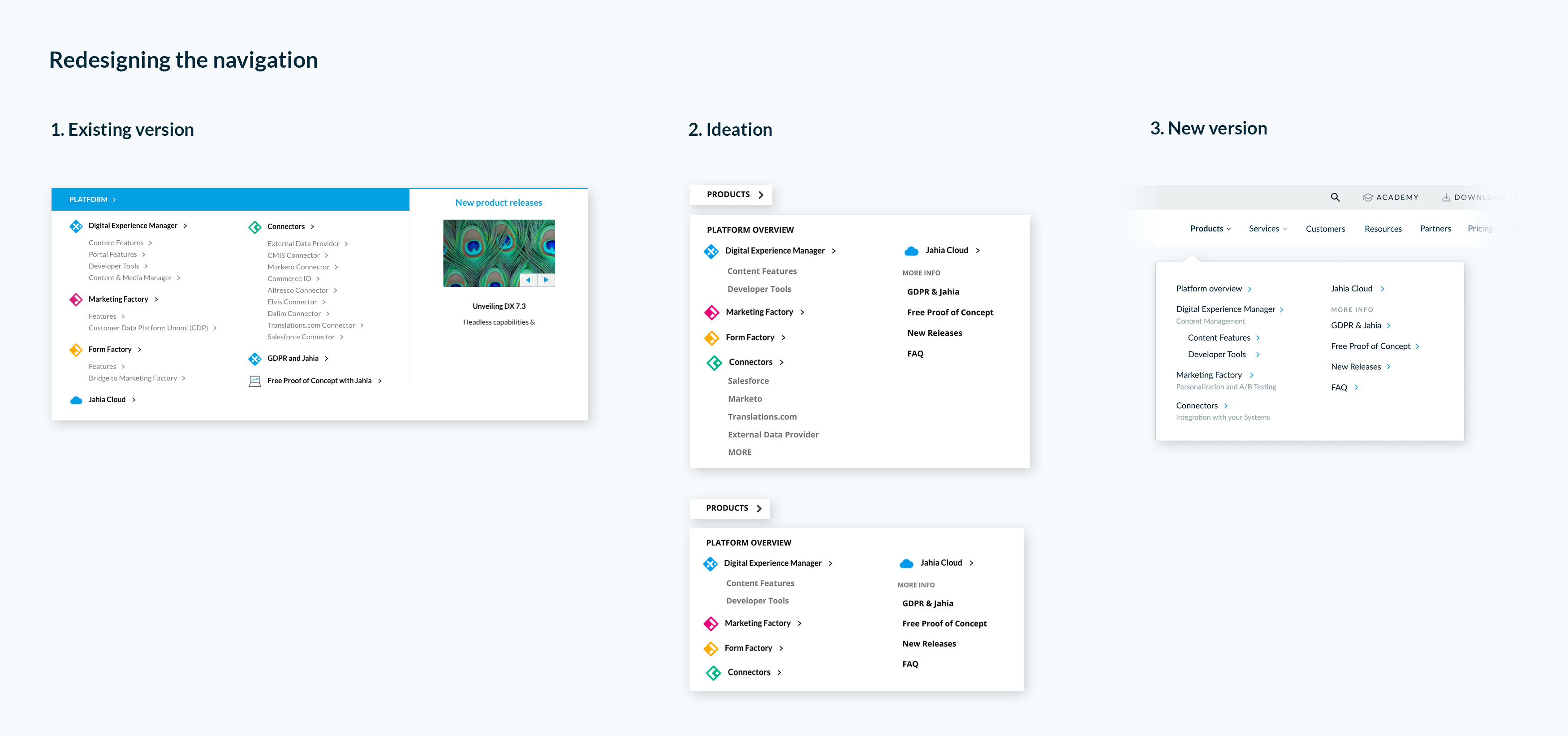 Redesigning the navigation
The Jahia team identified the navigation as a crucial part of the buyers' journey. They wanted to come up with a more simplified version, because they got the feedback from customers and potential customers that they have found it complicated.
We only left what was needed, we modified the order, changed the labeling and reorganized the bigger dropdown menus where they were necessary.
We continuously gathered feedback on the navigation through usability tests, and together with best practices we created a version in which users found their way effortlessly.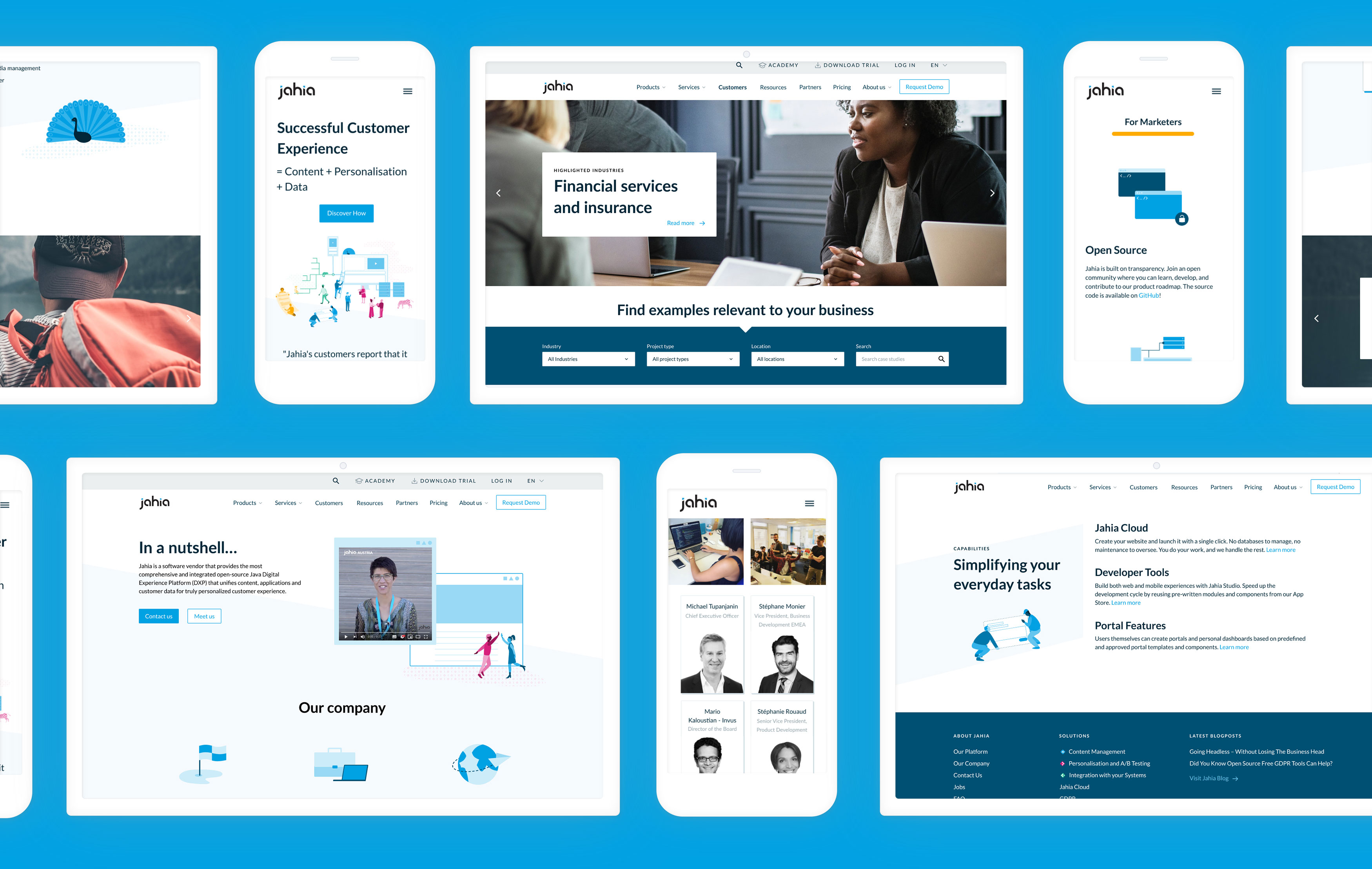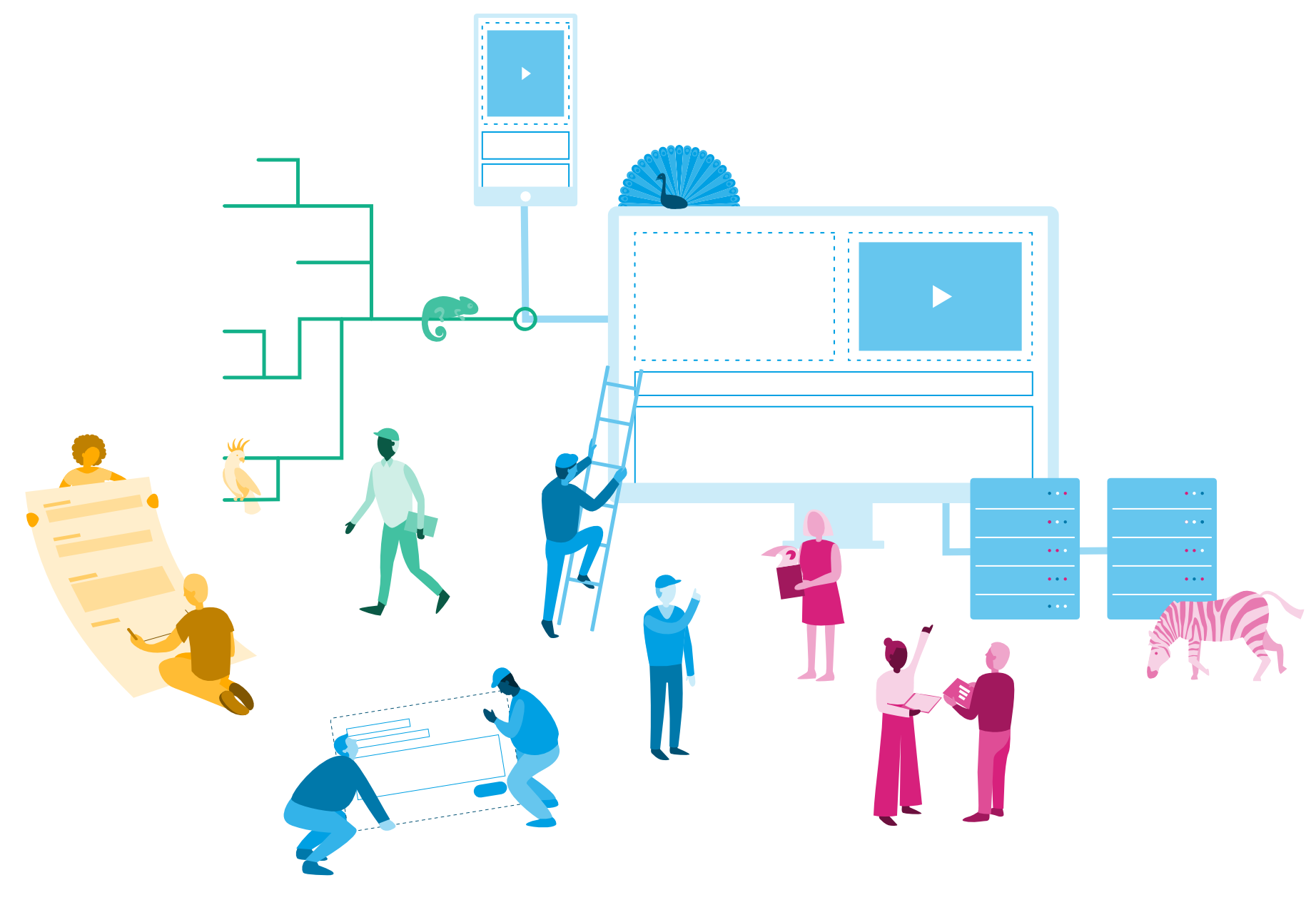 Illustrations
Jahia has four products, each of them is taking care of a part of your website. The characters in this fictional universe inherited the colours of the products. Their job is to build digital systems, kind of like workers on a construction site.
The idea of using animals as the representation of the products is not new, they've already existed as patterns. To make them work with the illustrations we evolved them into characters so they can live among the others.

Niche market

Potential customers are evaluating multiple vendors at the same time and the competition is tough. As a DXP vendor you have seconds to stand out from the crowd and get into the final shortlist. And people don't scroll on the home page.
"I don't want to read this."
People want to know how this product will make their life easier, and they want to know it fast. We had to make sure that we display the right information, design pages that are easy to scan and make the navigation seamless. Oh, and the more video content you have the better.
Marketers and developers are different
Our two target groups wanted to know different things but we had to find a way to make both of them happy. The possibility to toggle between the two kinds of content (For Marketers / For IT) hit right home with the target audience based on the user tests.