Cracking the Algorithm:
How Bots & Blogs Brought Us to Page Two!!
My summer at TechStak!
TechStak is the Angie's List of Technical Service Providers
(Links are in blue):

I participated in a 3 person team, including the CEO, to utilize automation software to increase client & provider conversion, develop blog content and improve their website's SEO ranking
With the help of my team and a whiteboard, I created workflows to illustrate and iterate the distinct paths and marketing funnels visitors to the website could take
I created various ChatBots, all designed to ease the burden on human staff by automating lead generation, prioritizing level of interest based on chat interaction and answering FAQs
We targeted technical service providers and small to medium sized businesses seeking technical services like: cyber security, vendor management and IT services
SEO strategizing and Blog writing
Our team developed a comprehensive SEO strategy to move up the Google rankings involving: attainable keywords, detailed blog creation and an HTML audit
Using software like SpyFu and BuzzSumo I researched keywords for blog articles by search frequency, ranking and difficulty
Following our SEO strategy and blog writing guide, I authored 3 different blog articles about Cyber Security, Vendor Management and Ai
In only 8 weeks, we were able to move the Google ranking of TechStak from page 71 to page 2!
Mapping ChatBots is Like Writing a Choose Your Own Adventure Book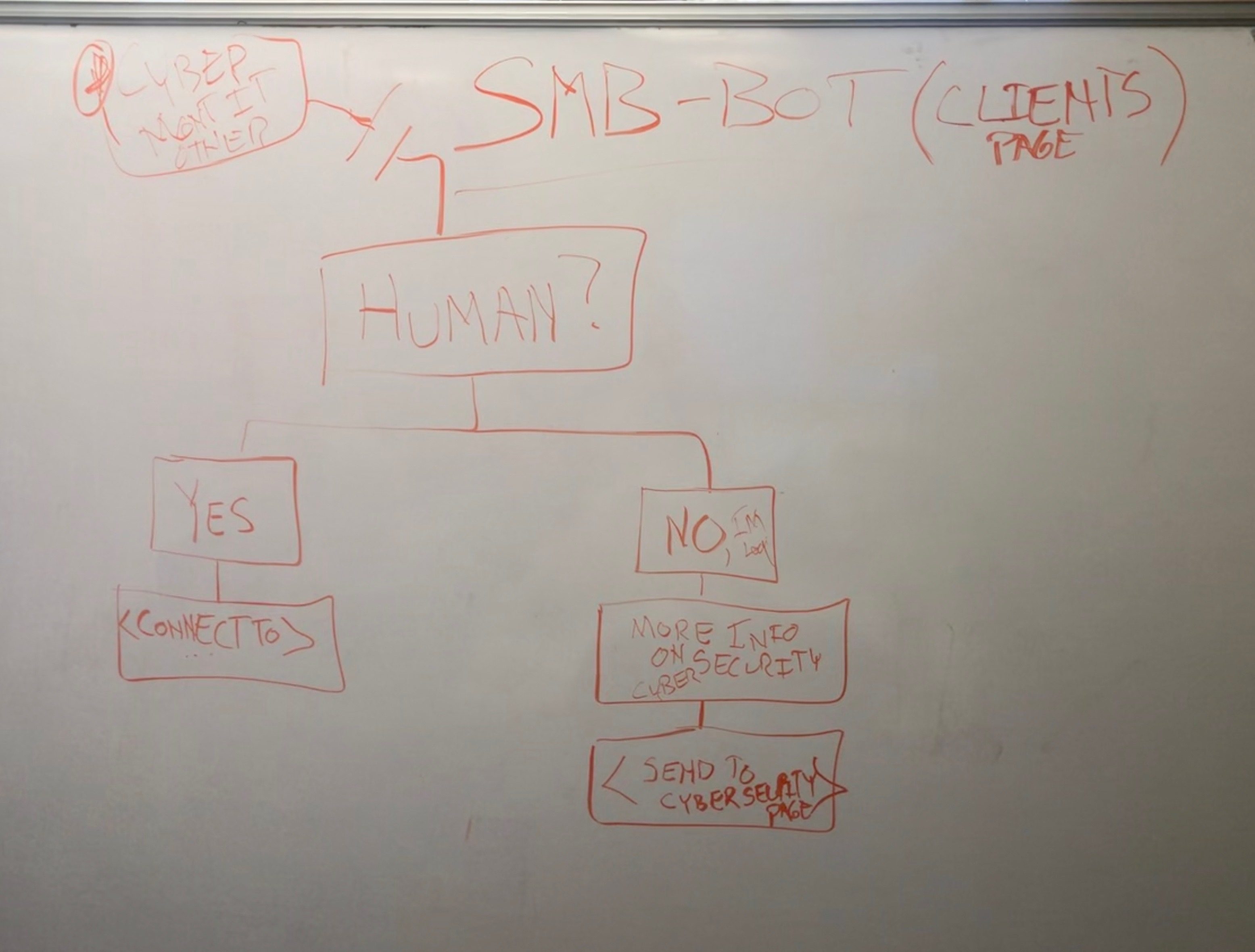 Whiteboard
SMBs ChatBot
I started this design process with my teammates and a whiteboard. This way we could quickly iterate through many workflows and potential journeys of small and medium sized business clients.
This was a fast and collaborative brainstorming session, which helped our team visualized each possible customer path
I was able to illustrate to my team what each ChatBot was designed for, quickly iterate various journeys and see any redundant, conflicting or unnecessary routes

Each path was thoughtfully mapped out, specifically targeting each user, depending on which page of the website they interacted with and which marketing funnel we desired them to utilize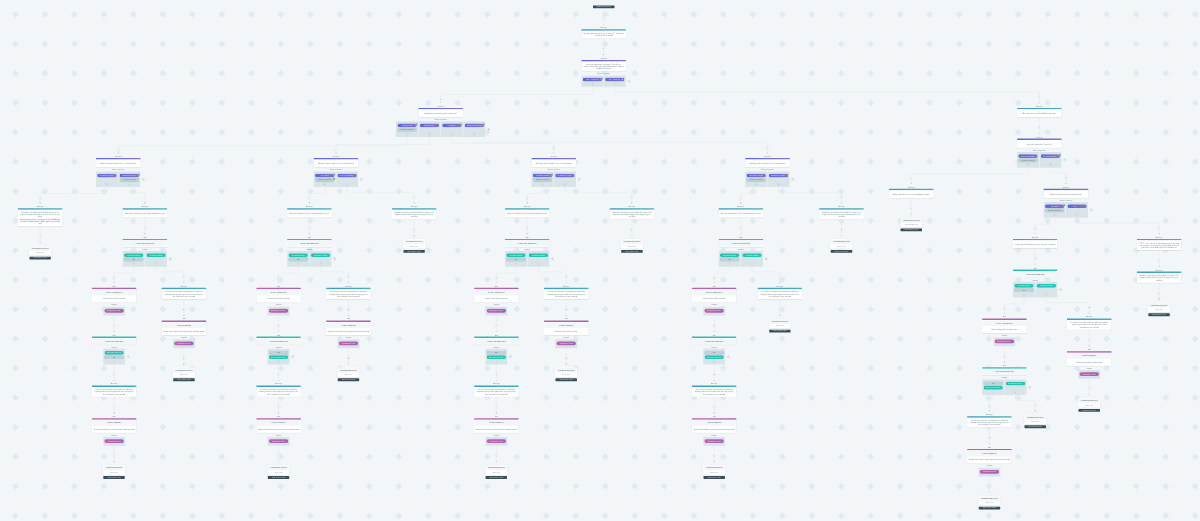 Workflows
Utilizing Drift: Conversational Marketing Software
In the second stage of my design process, I used our prior whiteboard mapping to quickly create workflows for testing purposes, using specialized software.
Each workflow was deliberately mapped to take users thru a specific marketing funnel, to help rank lead generation and determine follow-up protocol
Each path had a different end goal in mind: sending an e-mail, signing up for a newsletter, requesting premium content or ultimately being connected with a human being
Drift's software is designed to be conversational, closely mirroring human response style and casualness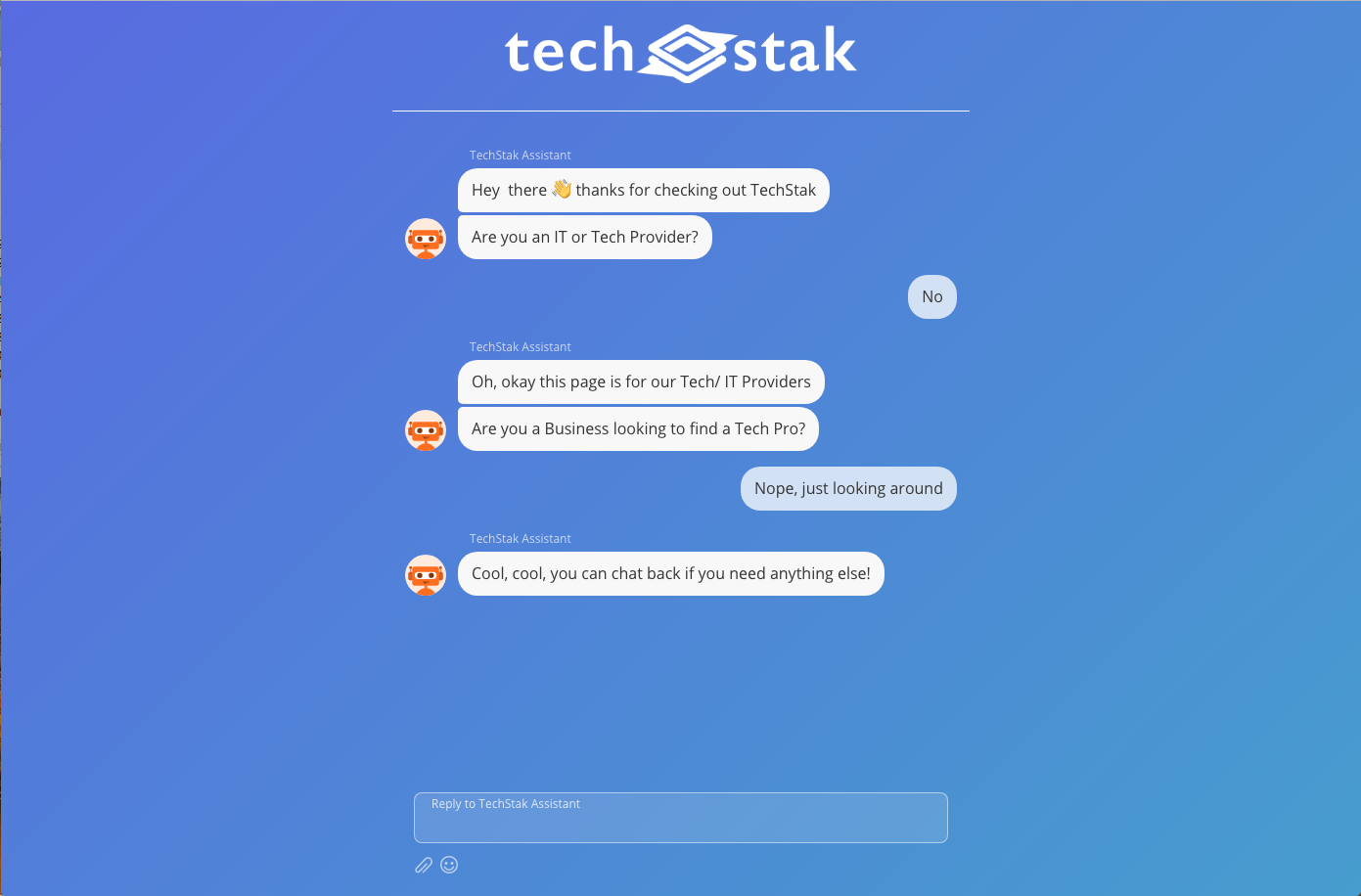 Customer Experience Designs
TechStak's Provider Page ChatBot
Finally, once I tested out all usability mistakes, I started creating the final bots with Drift.
Try the live Prototype here (refresh to reset bot)
The various styles of each ChatBot (pop-up, slider or pdf-bot) were chosen according to the desired marketing goal: e-mail capture, premium content request or connecting with a human


I customized their bots' features, matching the colors to the company color palette and adding

a smile, plus 2 antenna to convey a friendly vibe

23 distinct ChatBots were developed, including 2 auto-emailer bots for newsletter signup and premium content request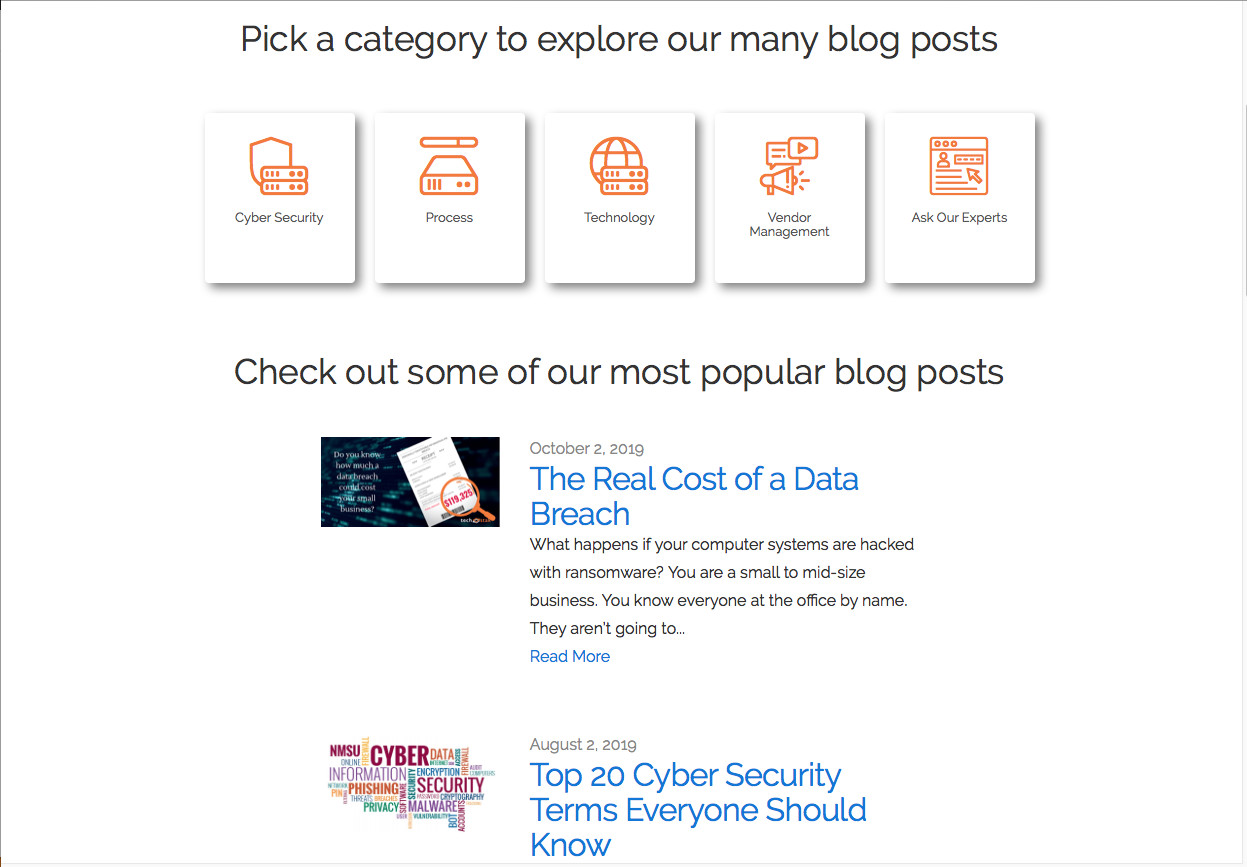 SEO + Blogs = SUCCESS!
Blogging for Beginner
In addition to creating ChatBots, I researched and wrote 3 blogs for TechStak's blog page.
Each blog was based off keyword search ranking and search difficulty, as listed on SpyFu and BuzzSumo
We found keywords that aligned with TechStak's online presence and reputation
We wrote blogs of 1200+ words, following HTML protocol for headlines, paragraphs and linking, both to internal and external sources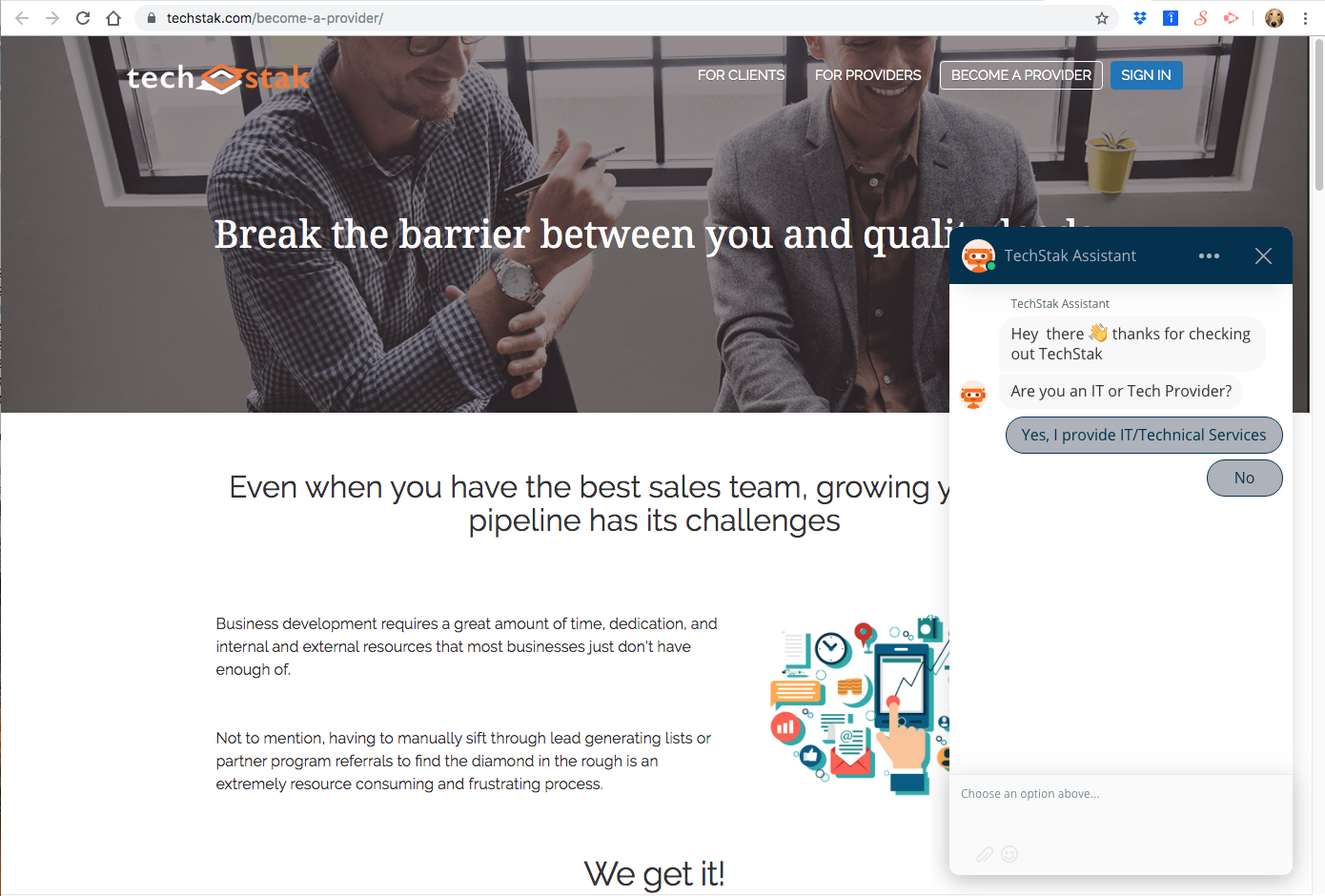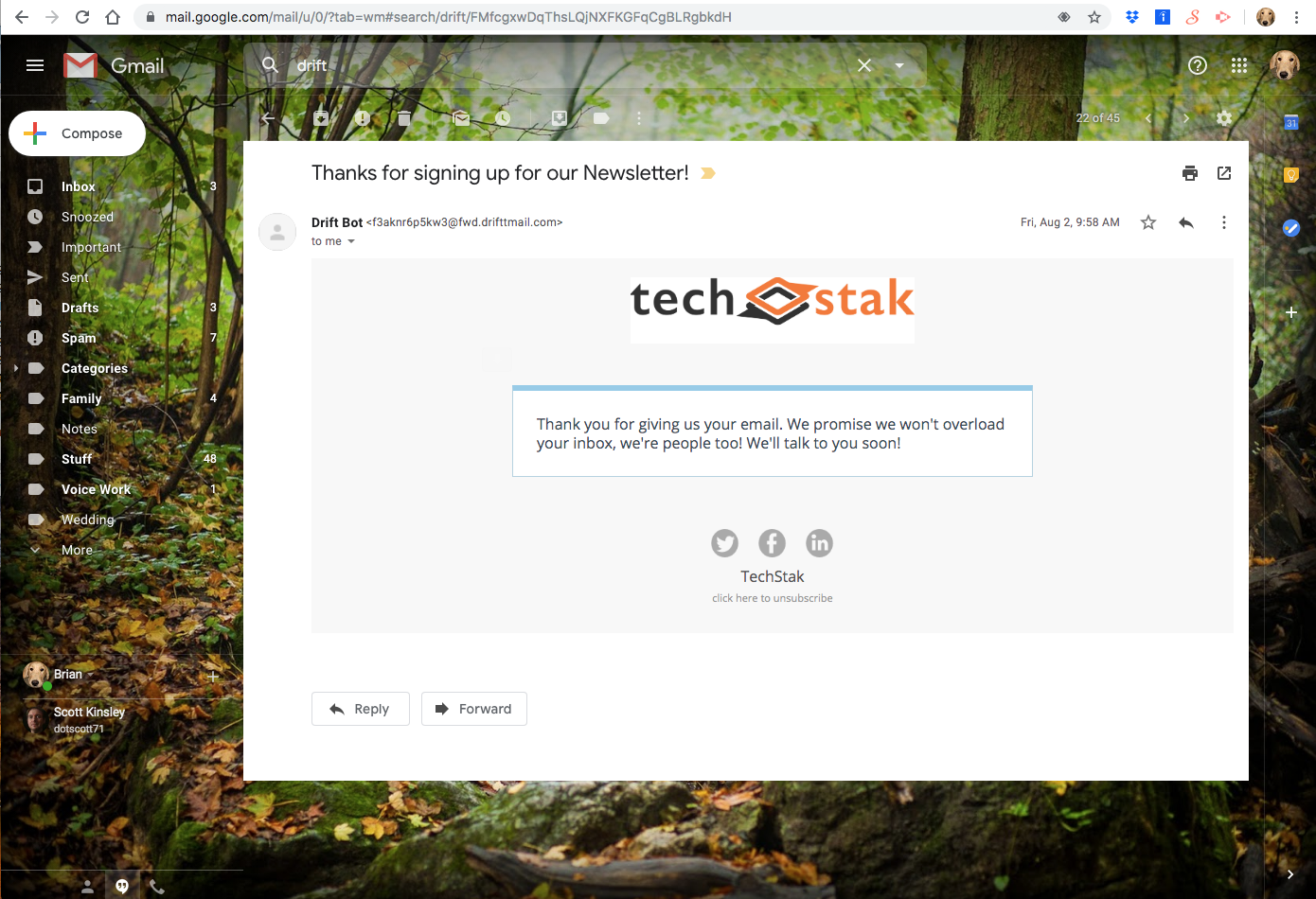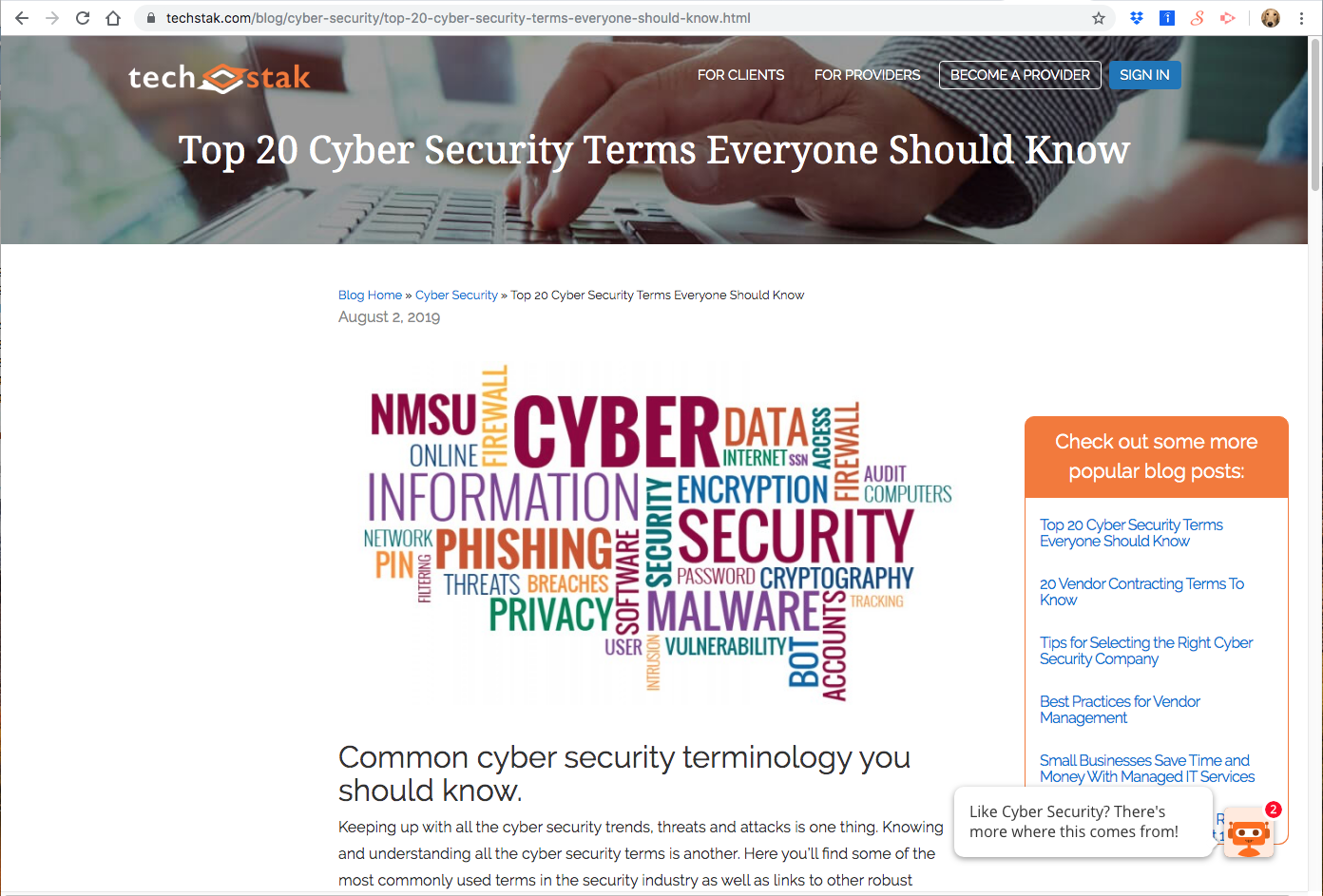 Bots & Blogs belong together!
We rose TechStak up the Google rankings.
In the beginning, I struggled explaining to my team how the ChatBots functioned and I had fears about blog writing, but after strategy sessions and collaborations, we made positive impact to TechStak's online presence and reputation as a leader in their space.

21 ChatBots are actively deployed on TechStak's website

Bounce Rate dropped 30% since ChatBot

integration
Impressions increased from 18.6K to 39.5K over our 8 week involvement
Trust in your team, stick to your strategy and remember your goals.