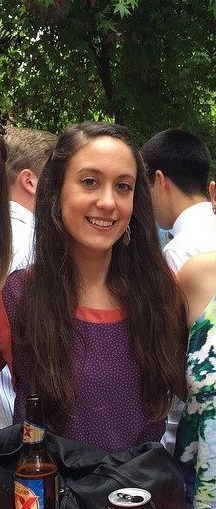 Kellie
UX Researcher/Designer
LifeWeb
Bringing new Life to the digital memorial space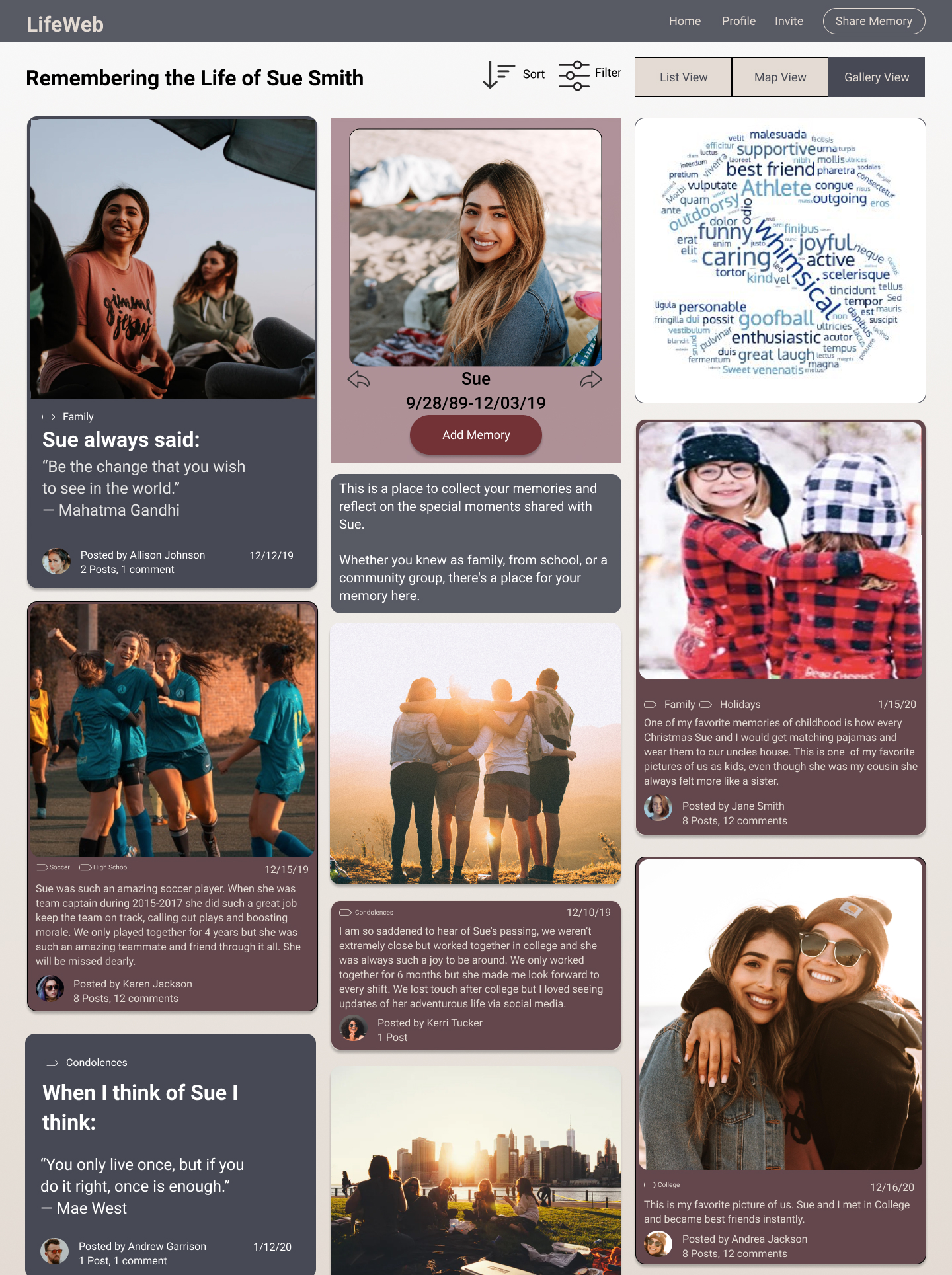 Client: LifeWeb 360 founded by Ali Briggs and Rachele Louis
Time: 3 sprints over 4 weeks
Team: 5 UX Designers
My Roles: User/Product Research, Analysis, UX Design
Tools: Figma, Miro, Mural, Otter.ai,

How might we encourage mourners to share more memories of the deceased while respecting their emotions during the grieving process?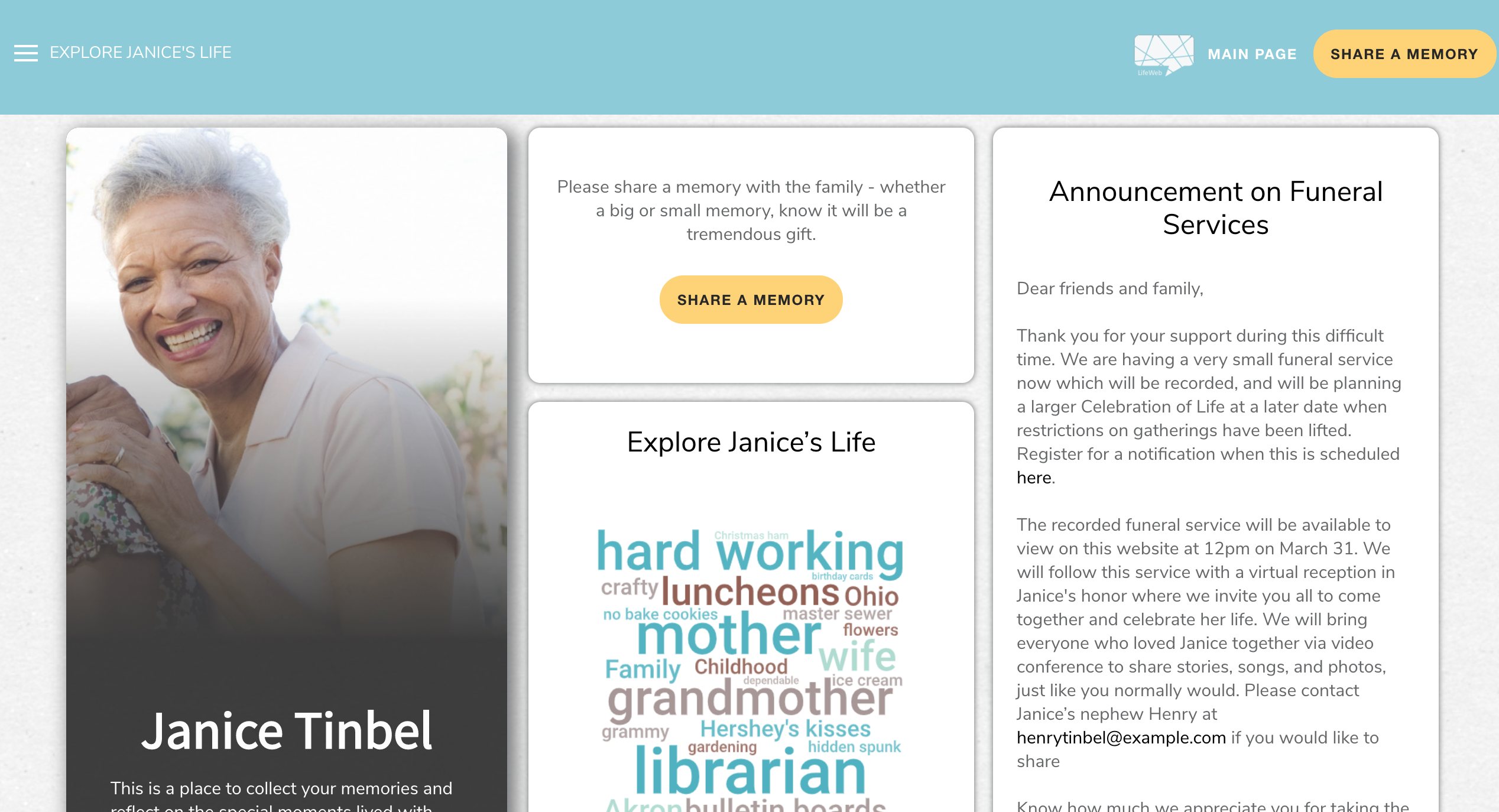 The Goal
We were approached by LifeWeb to to boost platform engagement by encouraging contributors to continually create and engage with content, over the course of multiple visits, through a variety of approaches and tactics
Our Client
LifeWeb is a digital memorial platform that specializes in providing a personalized space for loved ones to house meaningful memories of those in their life who have passed away. Their goal is to help keep legacies alive by providing a space to house users' contributions about their deceased loved one for generations to come
Getting started
We were approached by LifeWeb to boost platform engagement by encouraging contributors to continually create and engage with content over the course of multiple return visits through a variety of approaches and tactics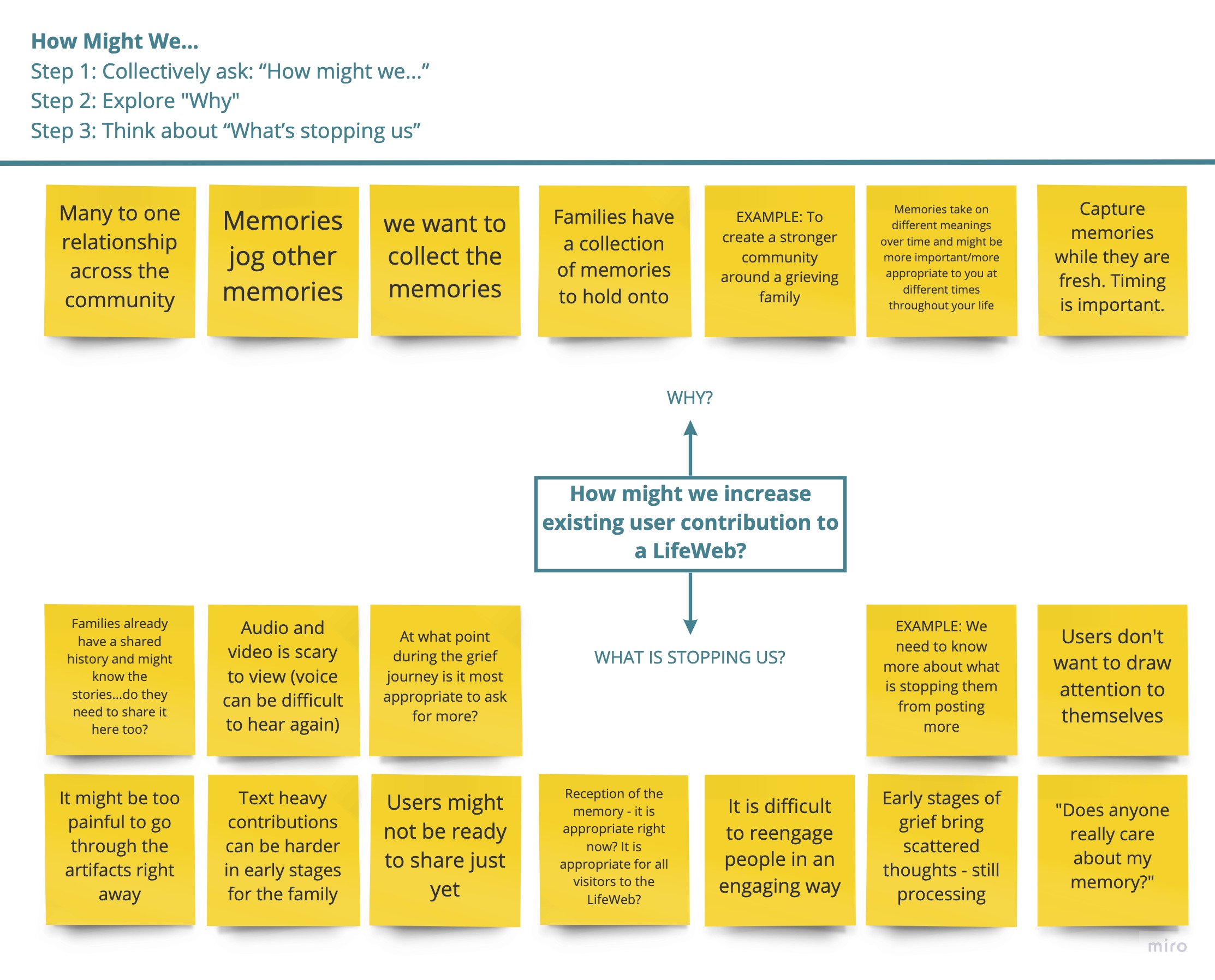 Exploring The Problem
We reviewed the materials provided by LifeWeb, and had a kickoff meeting with our clients we led them through a design exercise that examined how we might increase user contributions on the site.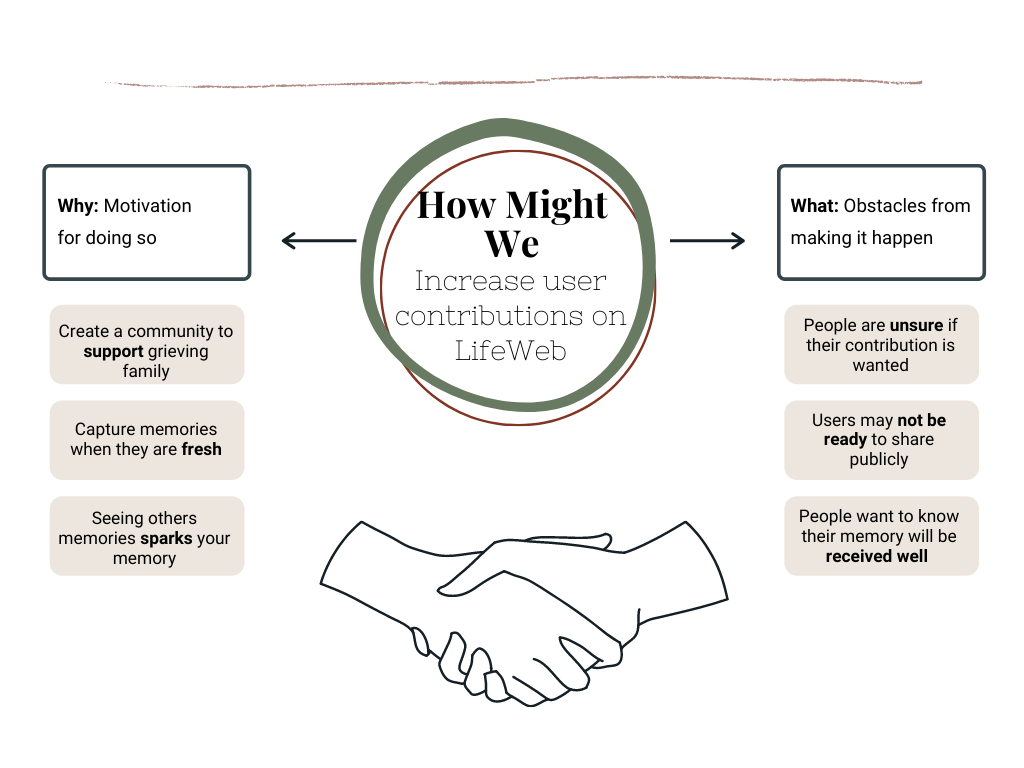 Completing this exercise with our client allowed us to understand how they have been exploring the problem space and identify what solutions they have come up with
Interviews
We started by conducting interviews with experts and users to develop a deeper understanding of the problem space and user pain points.
We met with 3 subject matter experts to learn more about the digital memorial space and grief process.
We also spoke with 9 users to learn what types of memories they would share, how they prefer to share memories and what features would encourage them to revisit a memorial site.
SME Interview Objectives
Learn about LifeWebs' history and product journey.

Understand the primary challenges with the platform.

Understand users' current habits when sharing memories of loved ones.
User Interview Objectives
Uncover what motivates users to share a memorial memory with others.

Learn what types of memories are users willing to share virtually.

Understand what hesitations users have about sharing memorial memories?

Understand how users memorialize their loved ones.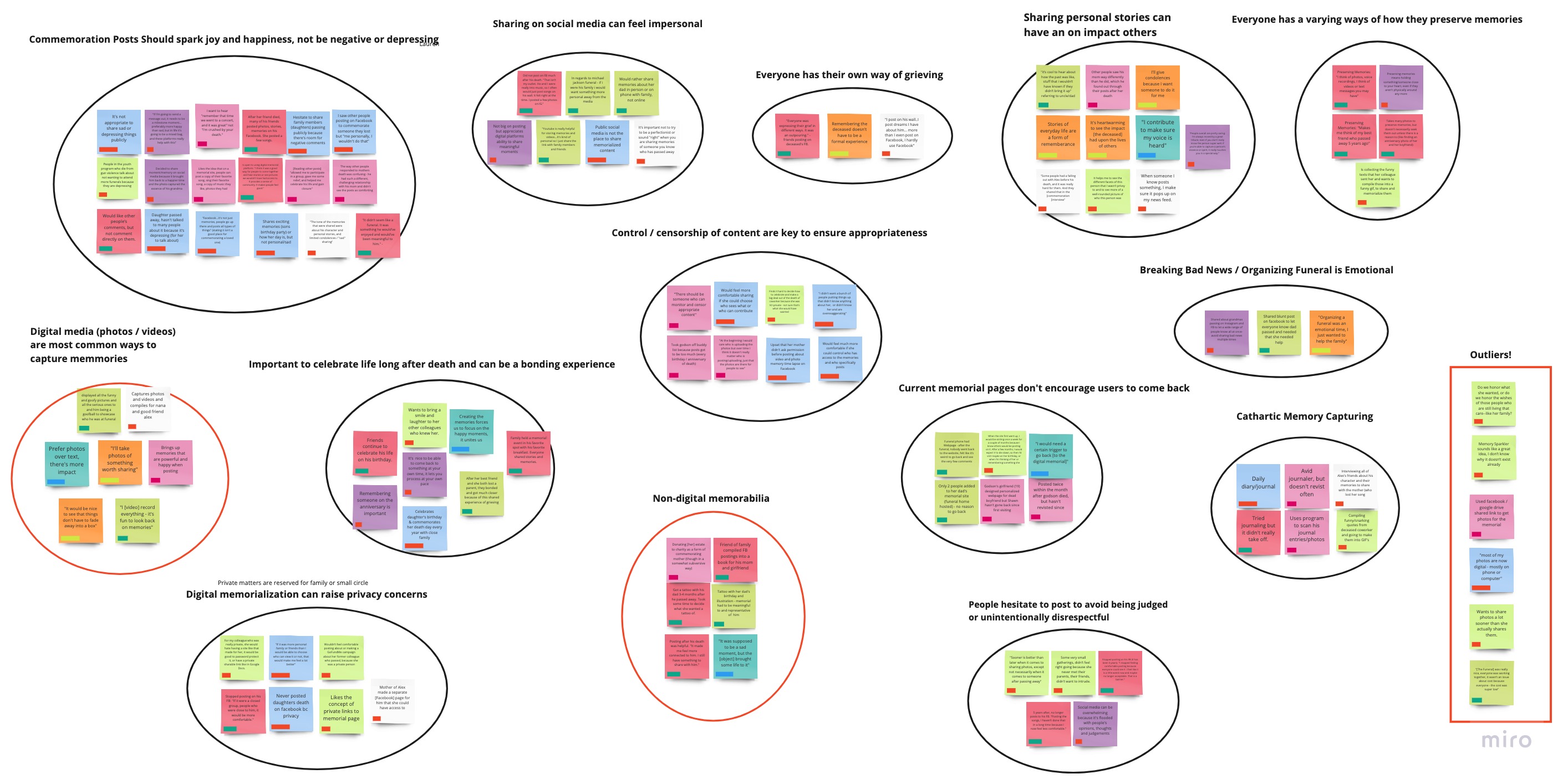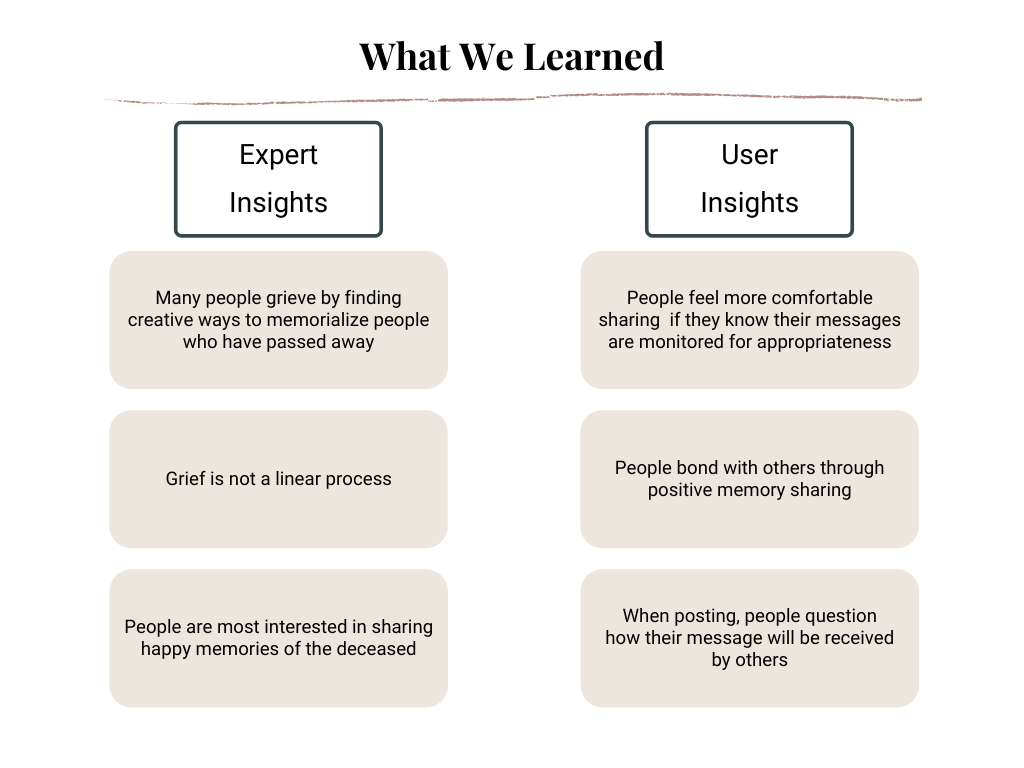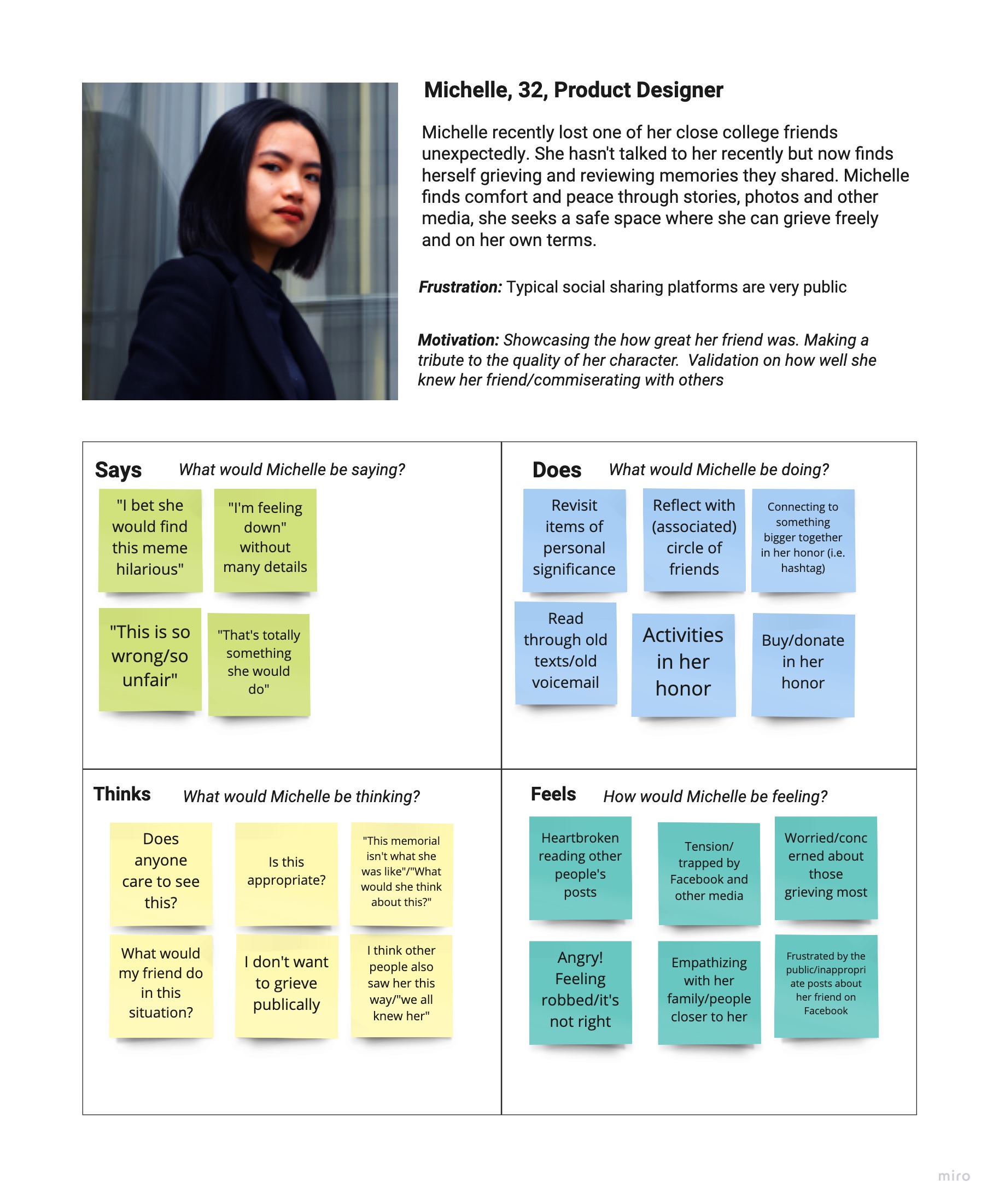 Empathizing with our users

Using our interview findings we built upon a contributor persona (Michelle) created by the previous design team and met with our clients to create an empathy map to understand Michelle's behaviors during her grieving process.

After a shared understanding of who Michelle is I created a Journey Map to help identify areas of opportunity to have her share memories on LifeWeb.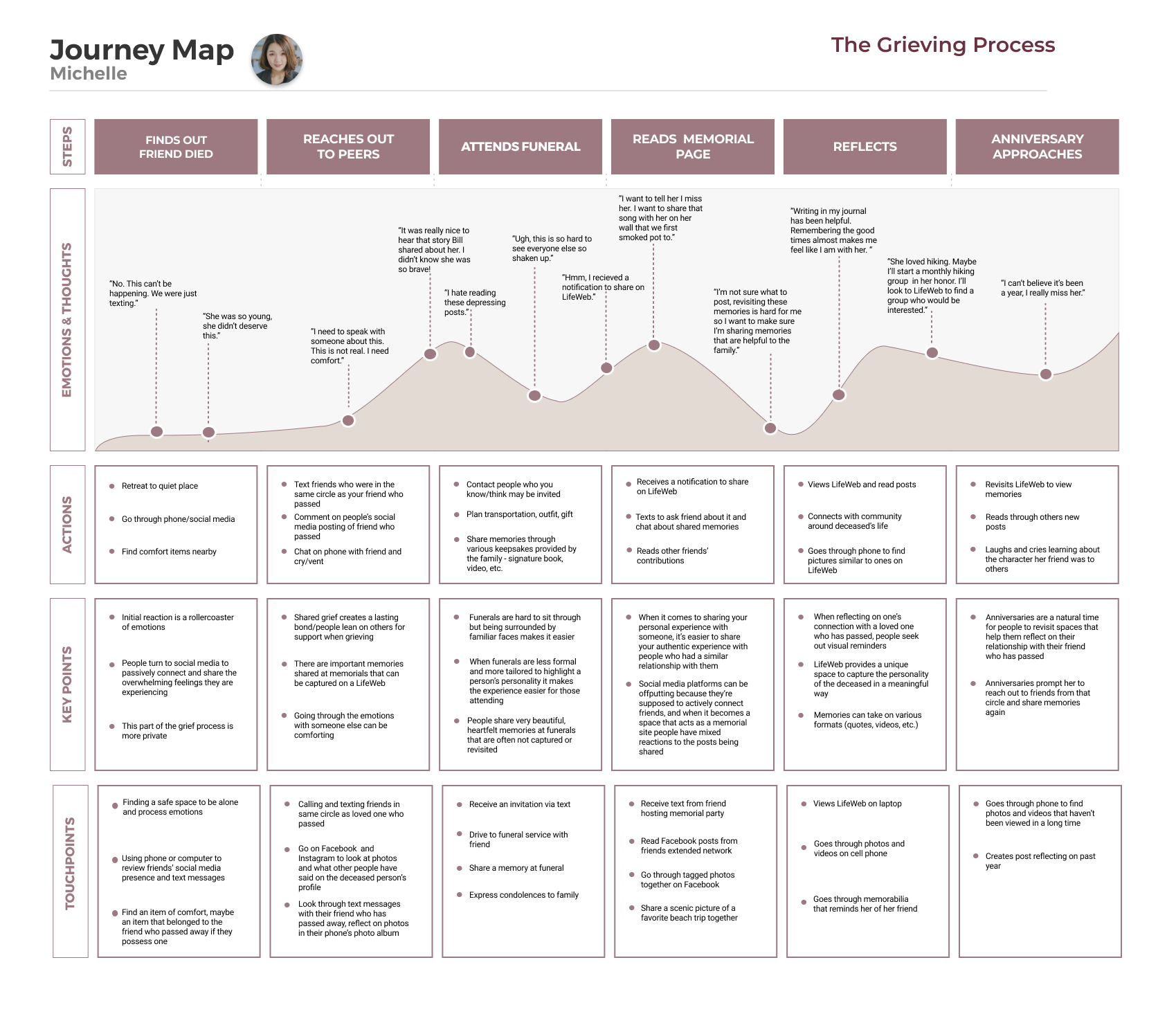 Identifying the problem
Now that we had a strong understanding of what challenges users like Michelle were experiencing during their grief journey, we were able to articulate the problem:
Hesitant contributors need guidance to confidently share memories that help them process their grief while also helping create a long-lasting gift to beneficiaries.
Brainstorming solutions
Our team went through multiple rounds of brainstorming and went from 50 ideas, to 22 concepts before taking a look at each concept through the lens of our problem statement and asking ourselves if it met the following criteria:
1) Does it promote sharing memories in an appropriate time frame?
2) Does it provide encouragement and guidance to users who might be hesitant?
3) Does it help create content that would serve as a long lasting gift to the beneficiaries?
This process brought us from 22 concepts to 10 that we felt would best help users, like Michelle, feel more comfortable sharing memories on a digital memorial space.
These concepts were built around: helping users create community, empathizing with each users individual grieving process, guiding memory sharing processes, providing interactive ways to capture memories, and gentle reminders for bringing contributors back.
Concept Testing
We conducted moderated interviews with 7 users to learn how well these concepts would be received by contributors. After collecting data from our user interviews we completed an affinity diagram to identify our key takeaways which would be used to refine our solution.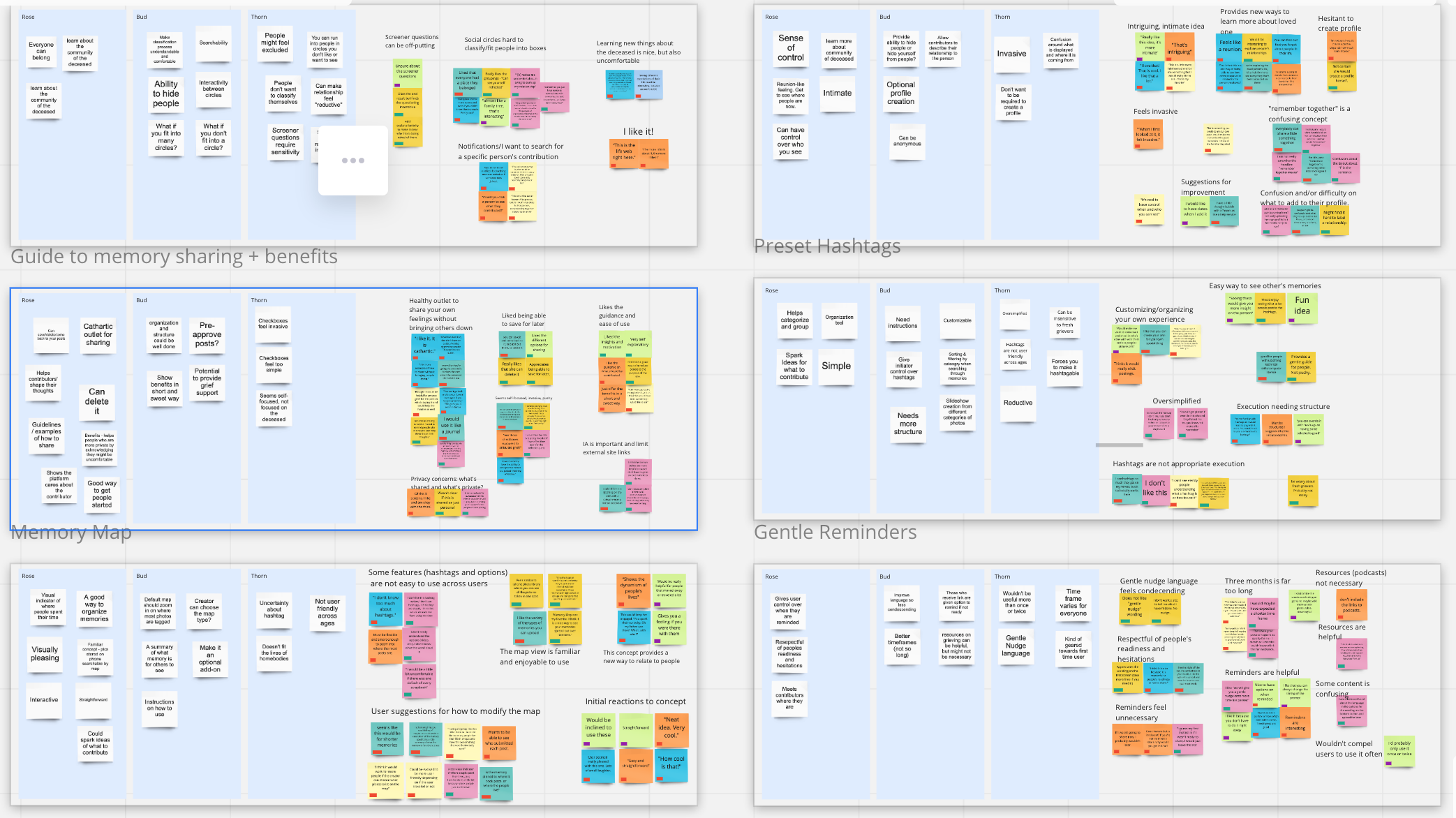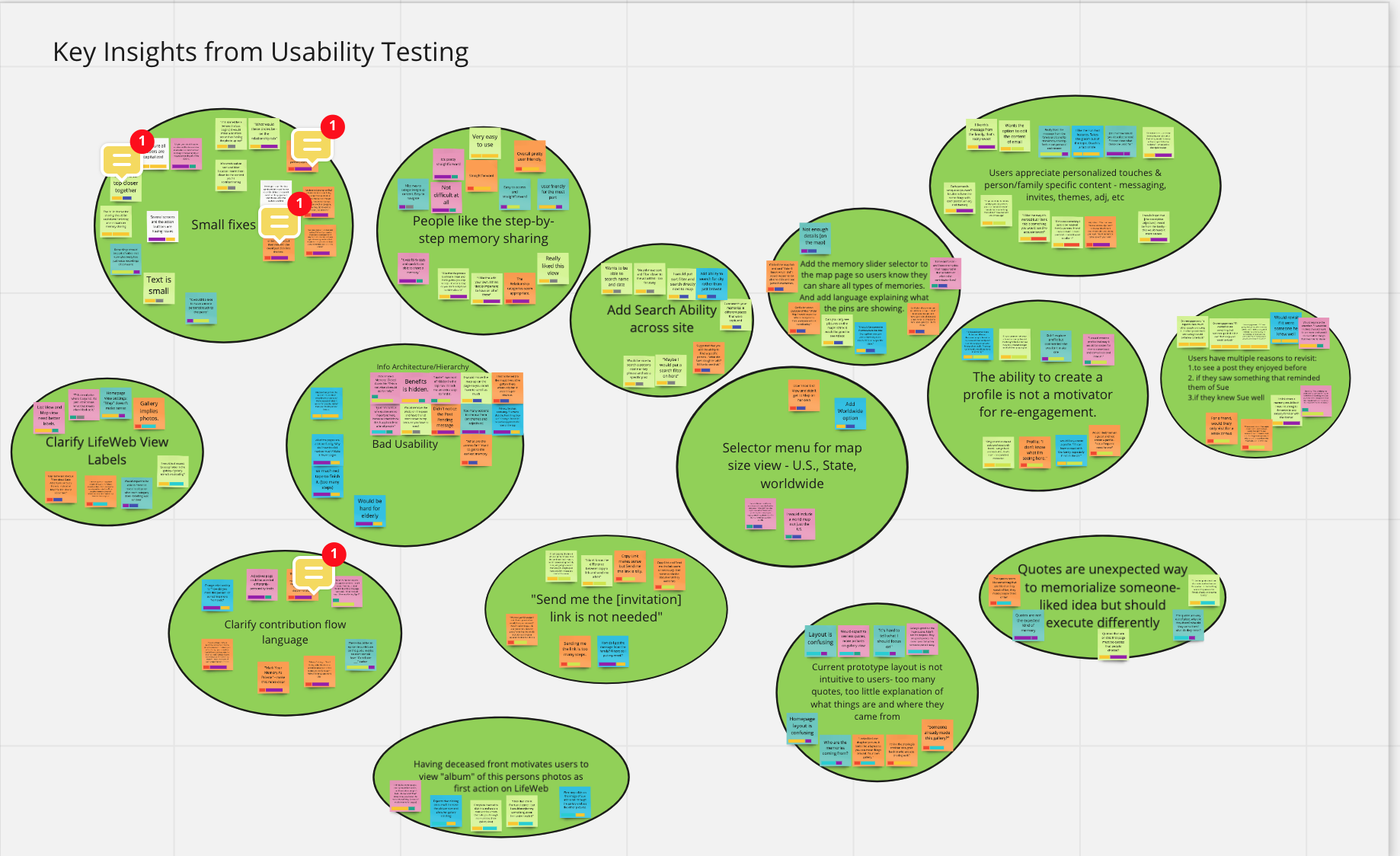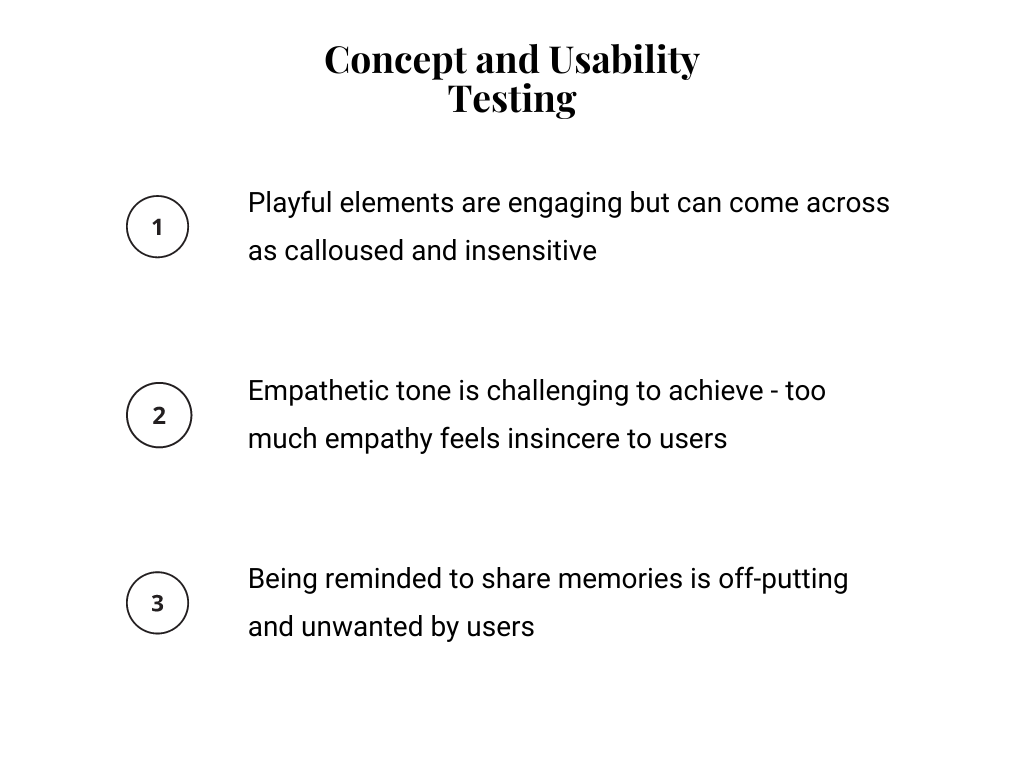 Since we started with 10 differing concepts we needed to sift through and identify the best features to refine and incorporate into our final design.
To do so we took the concepts that tested best with users then pulled out components and then mapped them based on how valuable it is to both the contributor and beneficiary- this helped us understand what would be useful to review with clients when discussing what is feasible for them and beneficial.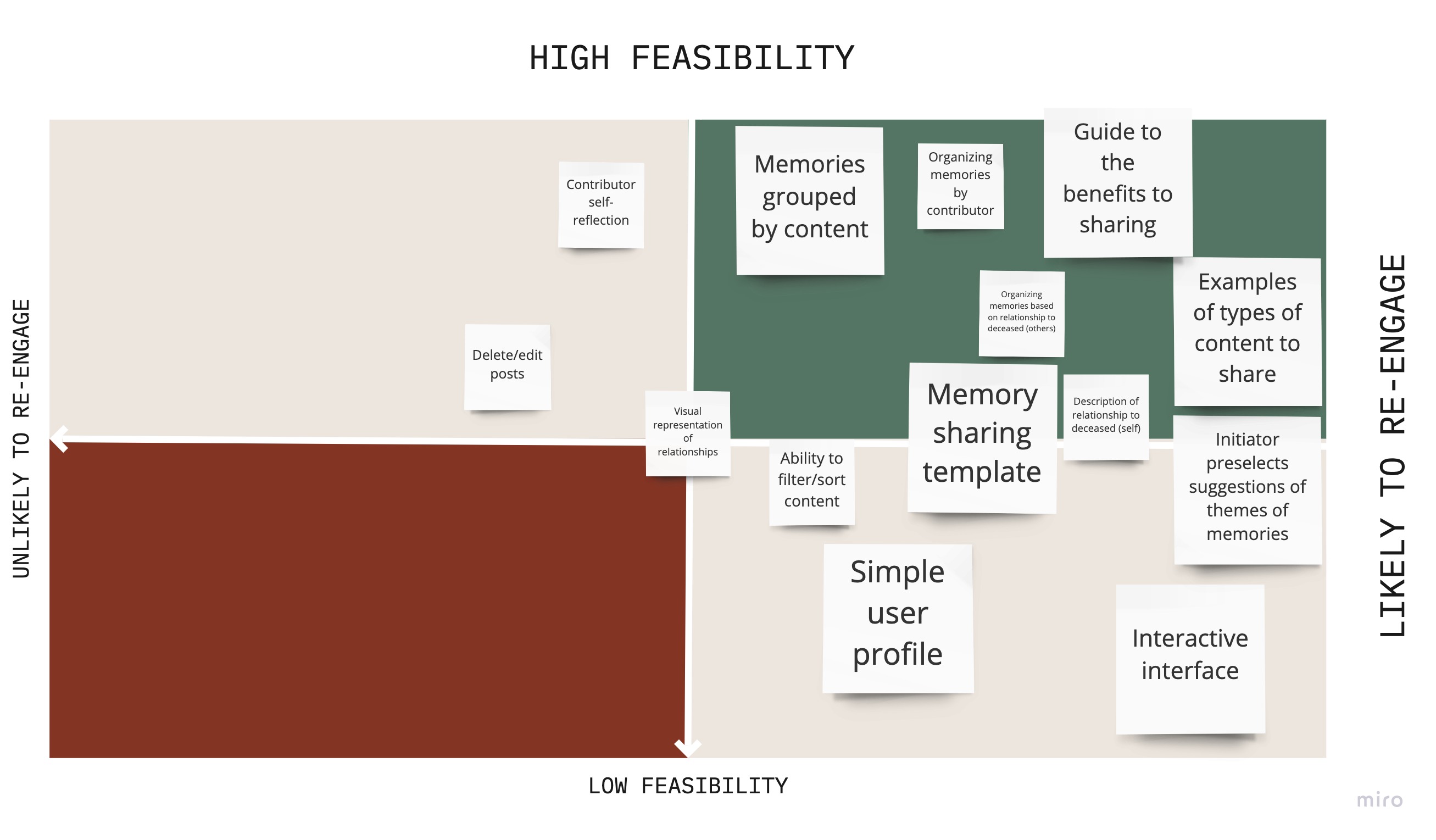 Through our clients eyes
During our next client meeting we shared our insights and asked them to help us map out these features based on what would be feasible given their time and development constraints.
We learned that LifeWeb is not concerned about development constraints because they are looking to roll out these features over multiple phases and are hopeful that over time the concepts can be implemented by their development team.
This gave us much more freedom with our final design because our clients are looking for a big picture goal that could be rolled out through various phases.
LifeWeb Reimagined
Using our insights from many rounds of internal and client collaborated priority matrices, we aligned on a direction for how to bring new life to LifeWeb by encouraging contributors to add to the site.
We tested the first version of our prototype through user interviews with 7 users. Our team utilized affinity diagrams and key insights to transform our first run of prototypes into the final project that we presented to our client.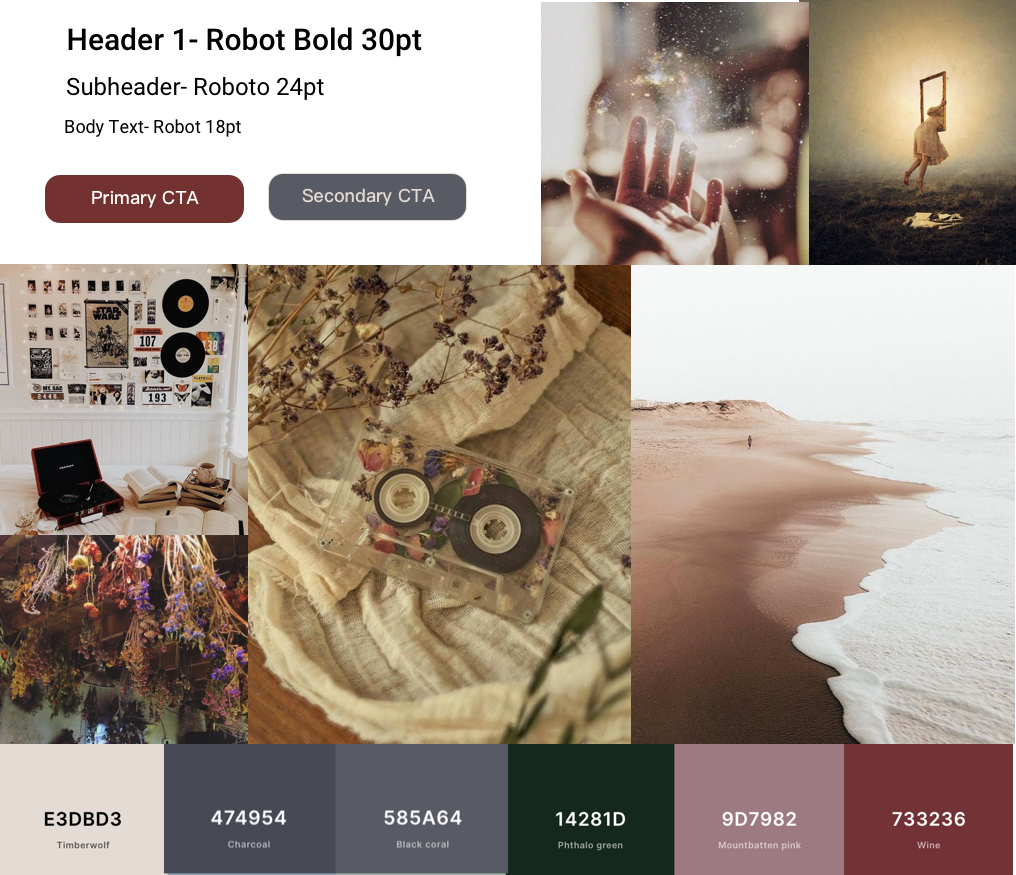 Bringing Life To Our Prototype
Outside the scope of our project I wanted to bring more life to our LifeWeb wireframes. I started by creating a moodboard that captured the nostalgic, joyful aesthetic that LifeWeb is based in. I expanded upon their color palette to include grey, red, and green tones that symbolize grounding, compassion, strength and encouragement.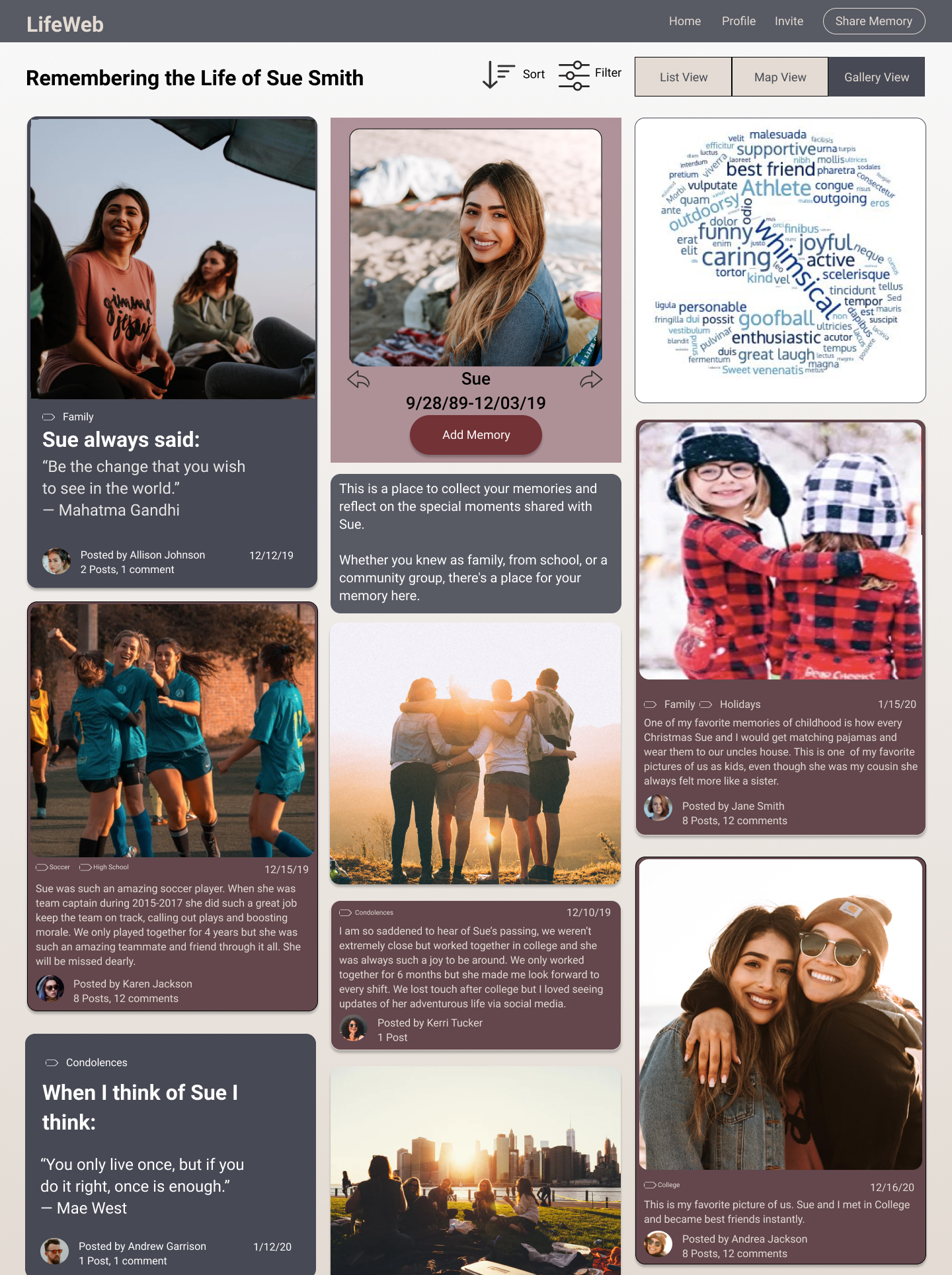 Handoff
Prior to handing over our deliverables we created a product roadmap with LifeWeb in order to understand what would help them most for their rollout of their updated site in June of 2020. Our client was extremely please with the solution but shared that they wouldn't be able to implement all of our solutions quickly.
Future Recommendations
After meeting with our client and building out the product roadmap we were able to refine elements that they wanted to implement quickly and set up annotated wireframes to provide more detail for features that would be part of later versions of their site. In looking at LifeWebs journey map we believe it will be beneficial to take the following recommendations into consideration for future projects:

1. Build out an initiator flow that reflects changes created for the contributor flow
2. Further concept and usability testing for empty state layout
3. Further usability testing around social concepts such as user profiles
LifeWeb Today
Since the handoff of our deliverables, LifeWeb has built out an initiator flow that mirrors our prototype for the contributor flow. Initiators are now able to include personalized messages and thank you's that will be recieved by those contributing.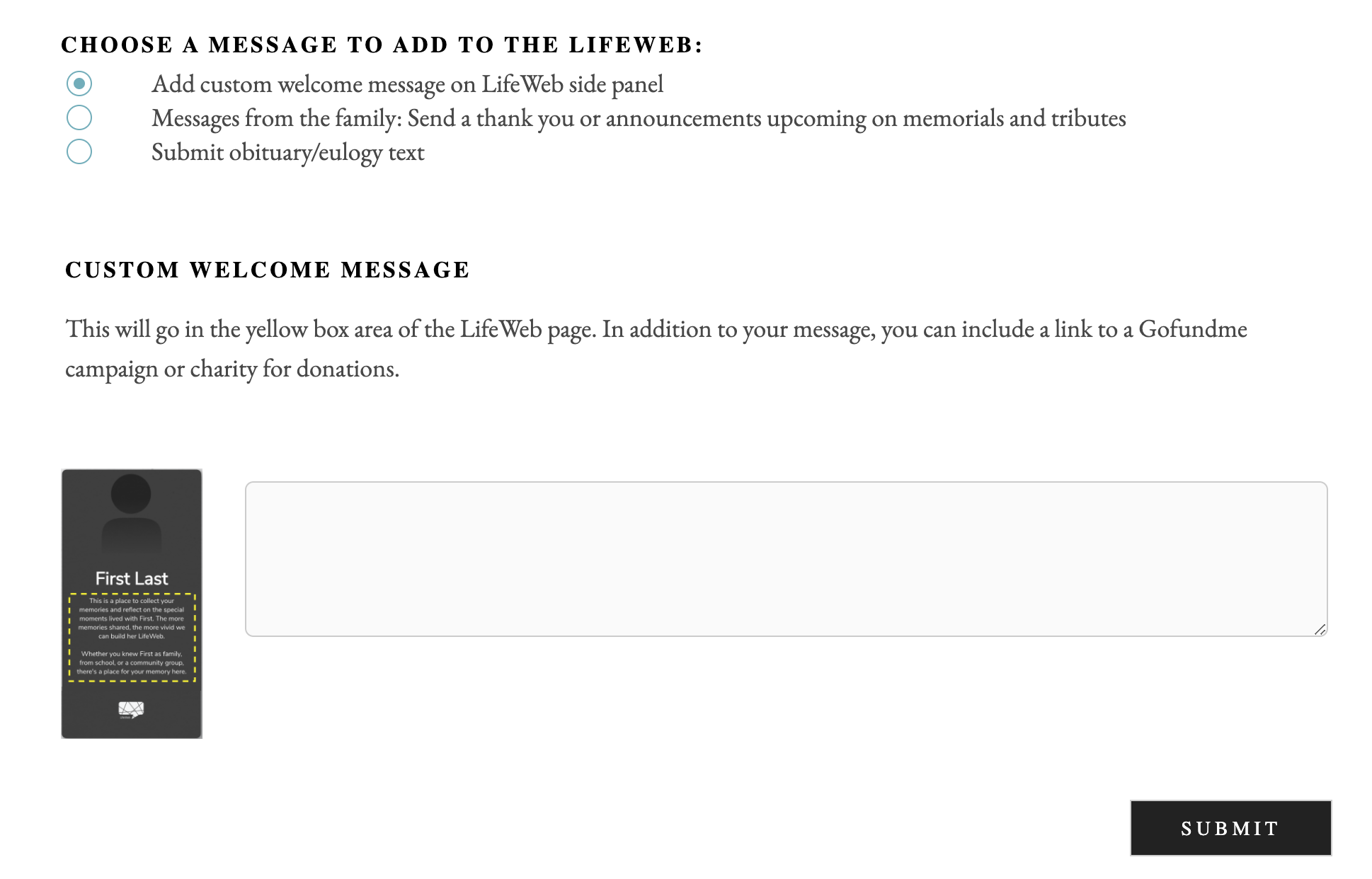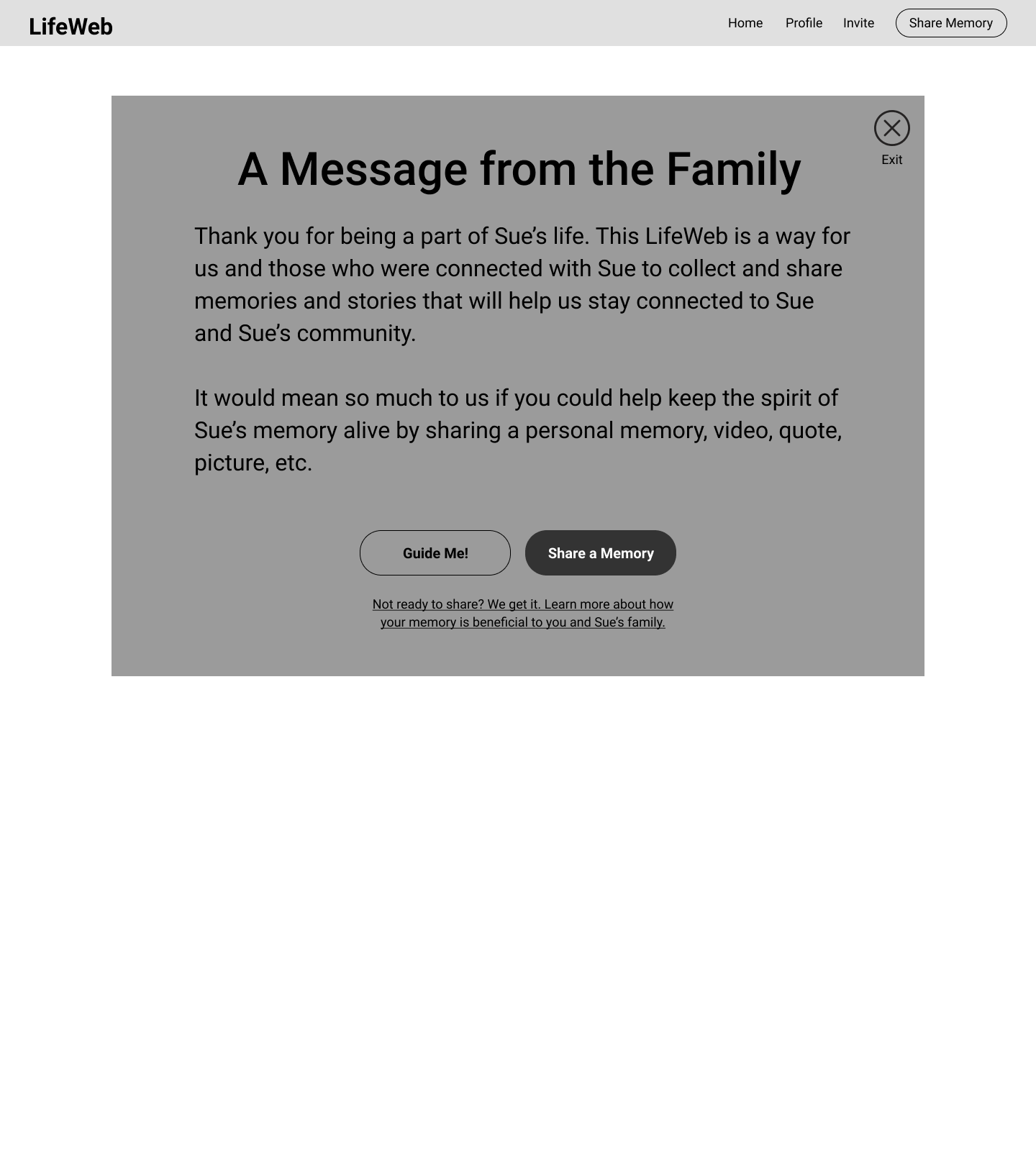 Learning moments
1. Playful elements can be healing: When it comes to supporting users during extremely emotional processes, people still appreciate gentle elements of playfulness
2. Breaking the mold: Working on this project helped me grow as a designer. Looking back we started the project we followed along the design path that we were most familiar with from other projects. I can see now that while there is a design process for a reason, each project is unique and part of being a designer is learning when to break that mold. If I were to do it over again I think it could have been important to do a product roadmap with our clients in the beginning of the project in order to learn more about their timeline.