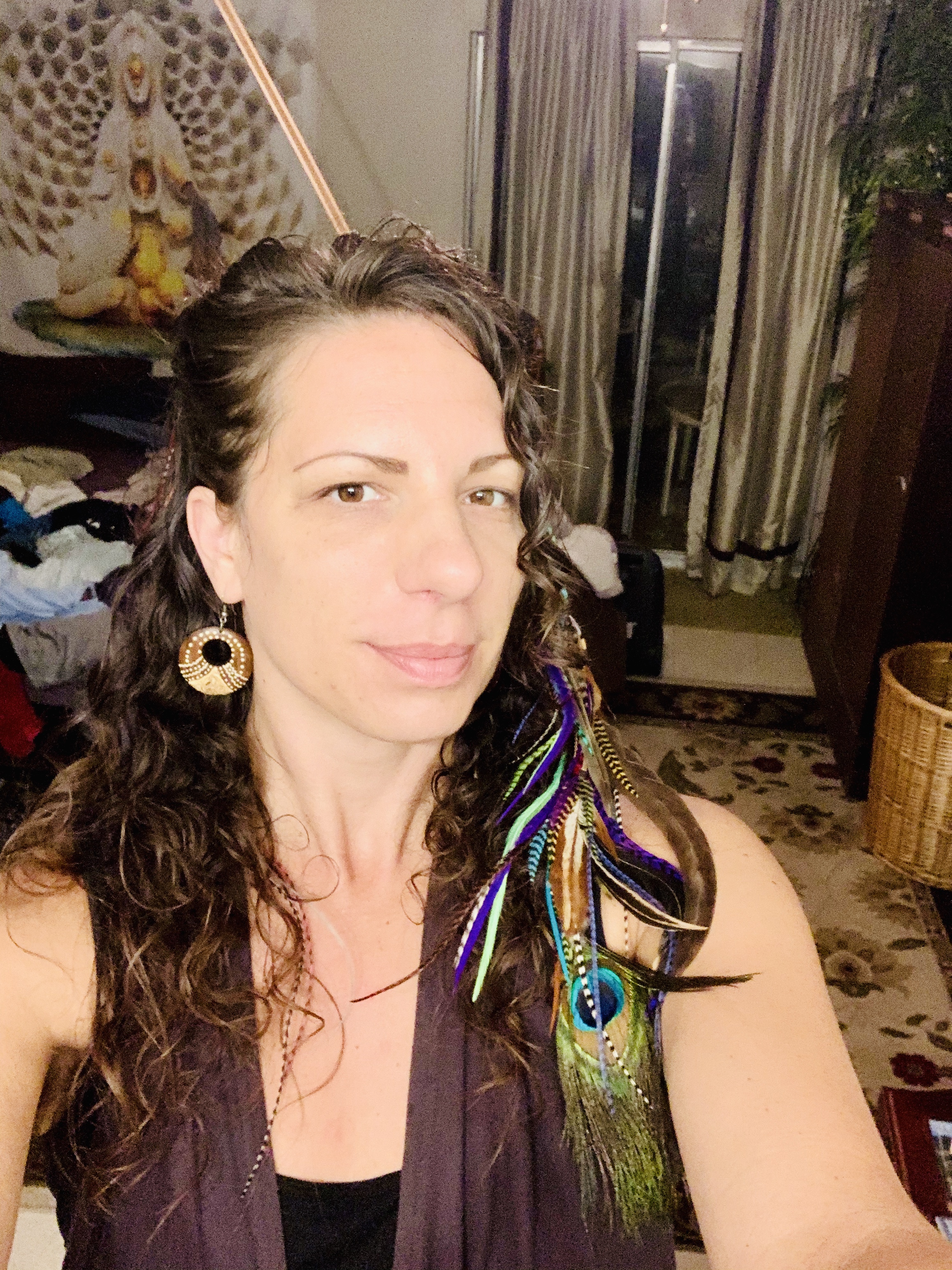 Megan Sanger
UX Researcher/Designer

covidtestingmoose.com
"America's Number One Moose Themed Corona Virus Testing Site." Joshua Jackson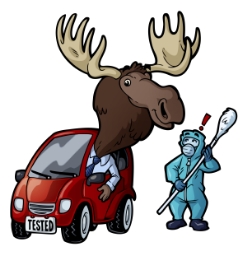 Covid-19 Testing Resources Website
My Role: Front-End Developer, Information Architect, User Experience Researcher/Designer, Copy Writer
Time Frame: 4 weeks
Freelance Project: My First Word Press Endeavor
Tools: Word Press, Site Ground, Adobe XD, FlowMapp, Slack
CLICK BELOW to view the site LIVE:
What I learned from my first freelance project:
I self learned how to competently and proficiently use Word Press!
How to apply my front-end development skills to a Real World Project.
Templates can be restrictive and limiting in design, requiring a great deal of code manipulations.
The importance of making freelance contracts UP FRONT and discussing project roles and expectations, in explicit details up front.
1,130%
Increased Unique Site Visitors from April 2020 to February 2021
684%
Increased Number of Page Views from April 2020 to February 2021 in response to the need for Covid-19 Testing.
525%
Increased Diversity of Operating systems from April 2020-February 2021
514%
Increased Diversity of Browsers from April 2020-February 2021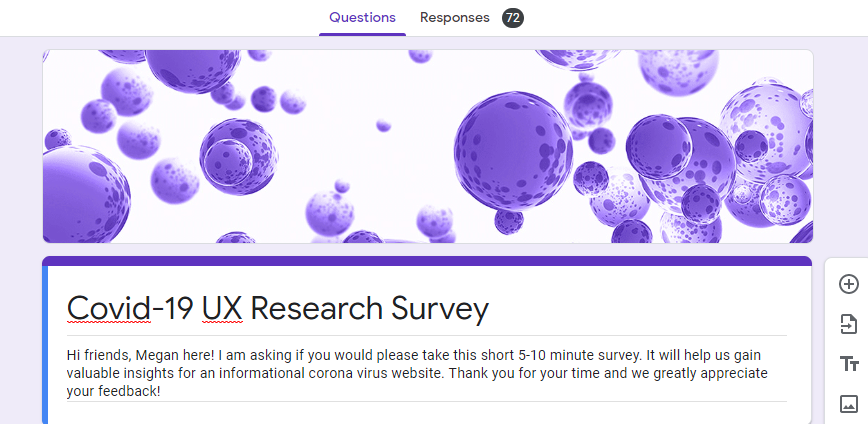 UX Research Survey
I conducted a google survey, in which, 72 participants answered questions
Their answers helped me to identify:
A need and desire for testing information access

What types of information users want to see when looking for covid-19 testing access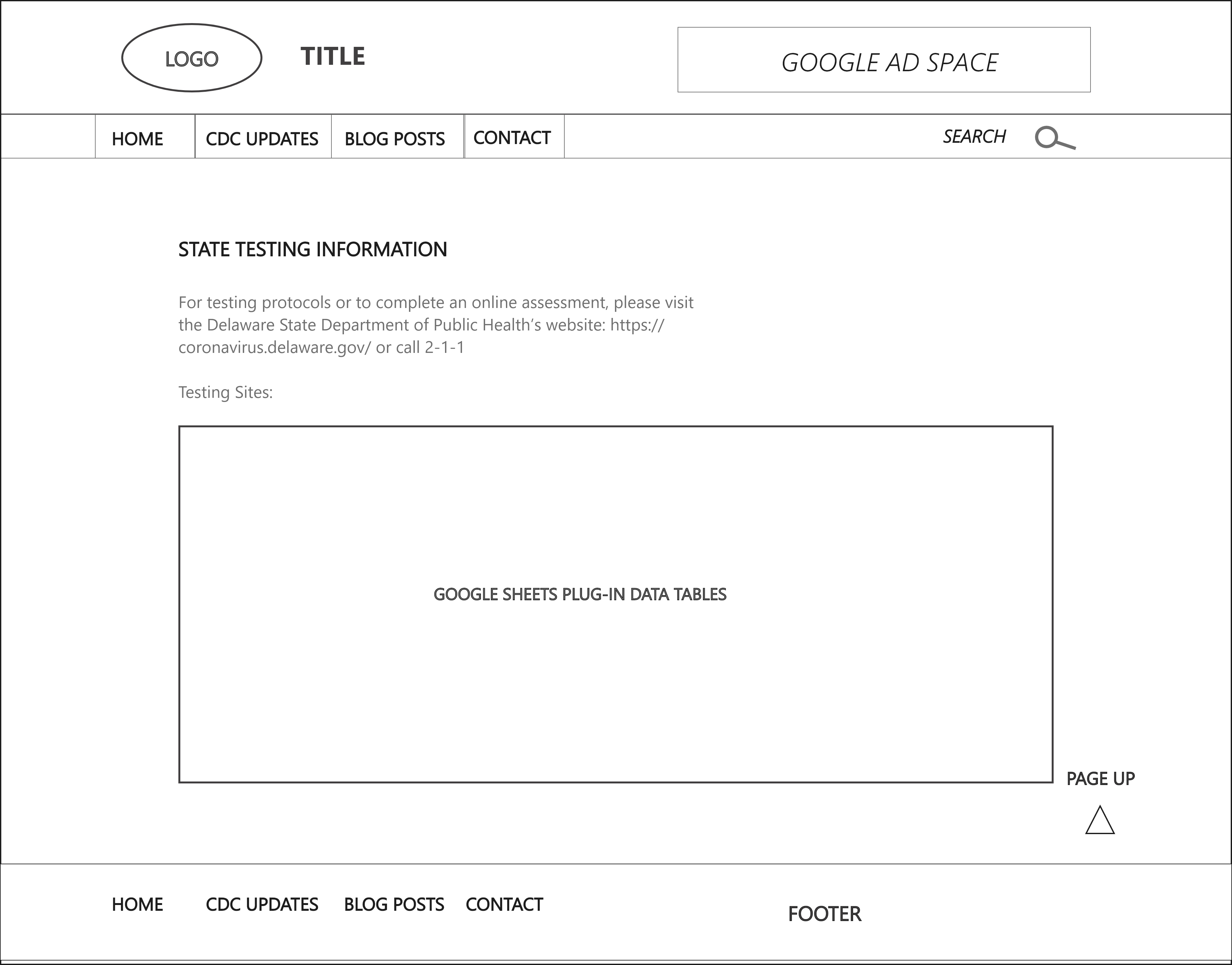 State Page Wireframe
Necessary State Page Information per the client's request and google survey results:
State Title
Link to that State's Department of Health Website
Relevant Phone Numbers if provided
Data Table of Testing Access within that state


5 user navigation tests were conducted and revealed that:
There was a bug in the page up button, no arrow appeared. Solution: code manipulation to the template files in WP to add a dark arrow.
Some of the grey fonts were not at a high enough contrast. Solution: code manipulation to the template files in WP to change to a darker font.
The Google Sheets plug in documents on the state pages, were not all displaying properly. Solution: add a sentence above these data-charts directing users to select the PDF option for a comprehensive list that is more legible and navigable.
Testing results and iterations were not applied due to this project being turned over to a full stack developer. I no longer had access to the site files.
Overall, this was a great learning experience!
This project admittedly did not go as well as one would hope from a visual design standpoint. So, I tried to use the case study to show what I Was able to do well and what I learned from the things that went wrong.
Some of the challenges I encountered:
Delayed responses to my emails and information requests
Clients unwillingness to communicate on the phone or video conferencing
Misunderstanding of what my role was and being asked to do Web Master tasks! Which I WAS able to accomplish after countless hours on the line with WP support.
Unrealistic expectations of timeline and scope of project, by myself and the client.
Project post mortem is a thing. After the deadline arose, the client handed this over to a Full Stack Developer and I lost creative access to the site.
What I learned the hard way, but still appreciate in this experience:
I realized after the fact that having to learn Word Press and build an entire site in less than 4 weeks was not a reasonable scope or realistic timeline.

I have since had practice with two consistent clients and I now give thoughtful proposals upfront. I have been able to accurately assess the amount of time it will take within my own process to deliver projects on time , and within scope and budget.
I am continually working to improve my communication, design, and listening skills! I seek to evolve, adapt, grow, and improve on an ongoing basis.