Lillian Jiang
UX/UI designer
Project Background
I know a lot of people who left their hometown and came to Australia. Most of them stated that they had a hard time the first few months, or even the first few years, since everything is different from their hometown.

This is the motivation behind my desire to design a platform to make it easier for foreigners arriving in Australia to settle in and to immerse themselves in the local environment.


Competitor Analysis
To understand the market and get inspired, I did a competitor analysis of 4 organisations.
Live in Melbourne
Platform: website

Function: Help foreigners or people from another city to settle in by covering the following subjects
Discover (e

ntertainment, r

estaurants, s

ports, a

ttractions, and landmarks etc.)

Migrate (migration process, visa nomination occupation lists etc.)

Live (education and childcare, housing and property etc.)

Work (find a job in Melbourne, overseas qualification unit etc. )
Do business (starting a business in Victoria, business advice and support etc.)
Connect (Victoria's industries' information etc.)
It provides thorough information to help users to settle in the local environment. But it does not provide information for cities other than Melbourne, nor does it provide a real-world connection between users and communities.
Australiance
Platform: Website
Goals: enabling international professionals and entrepreneurs to achieve their dreams in Australia
Covered areas: Bank and insurance; Business Development; Entrepreneurs; Event; Immigration and Visa; Internship; Job offers; Lifestyle; Networking; Tax and legal; Travel
The user group is narrow. It does not provide customised information according to locations, nor does it provide a real-world connection between users and communities.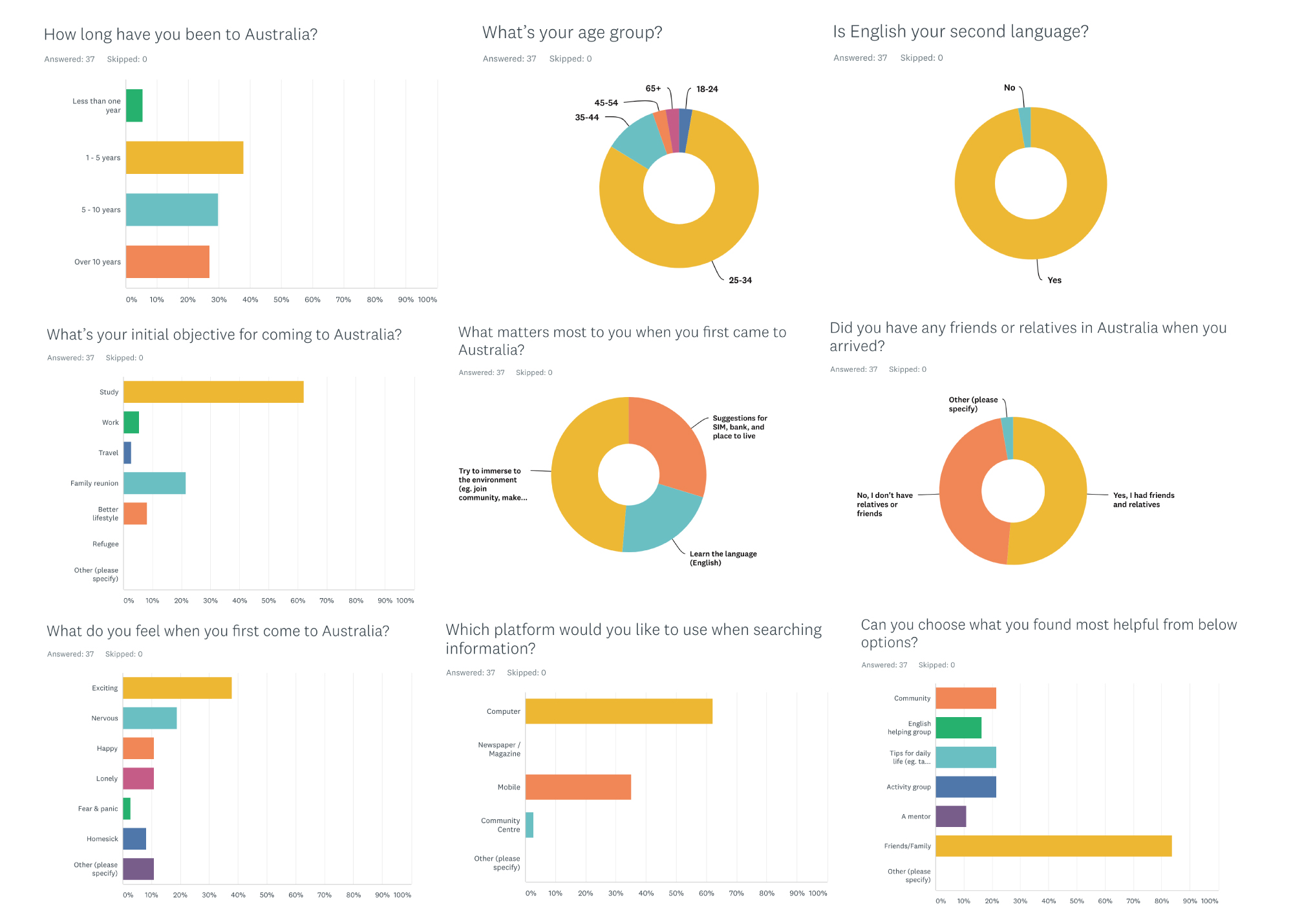 Online Surveys
In order to gain a basic understanding of the users, I set up an online survey via Survey Monkey, a total of 37 participants responded. The participants are from different countries, 2 of them had just arrived in Australia less than a year ago, whereas others have arrived more than a year ago.
Key Insights & findings
97.3% of participants responded that English is their 2nd language
The objectives vary among different age groups and occupations
Needs/priorities vary for people who have different objectives. 29.73% of participants believe suggestions for SIM, bank, and place to live matters most to them when they first came to Australia, whereas 48% of participants think immerse into the local environment is their first priority
The presence of friends or relatives onshore has a positive influence on their emotions/feelings
Community, tips for daily life (eg. tax, transportation), activity group, and friends/family are the main factors that foreigners believe would be helpful to have when they came to Australia

Mobile & computer are the two major platforms used by participants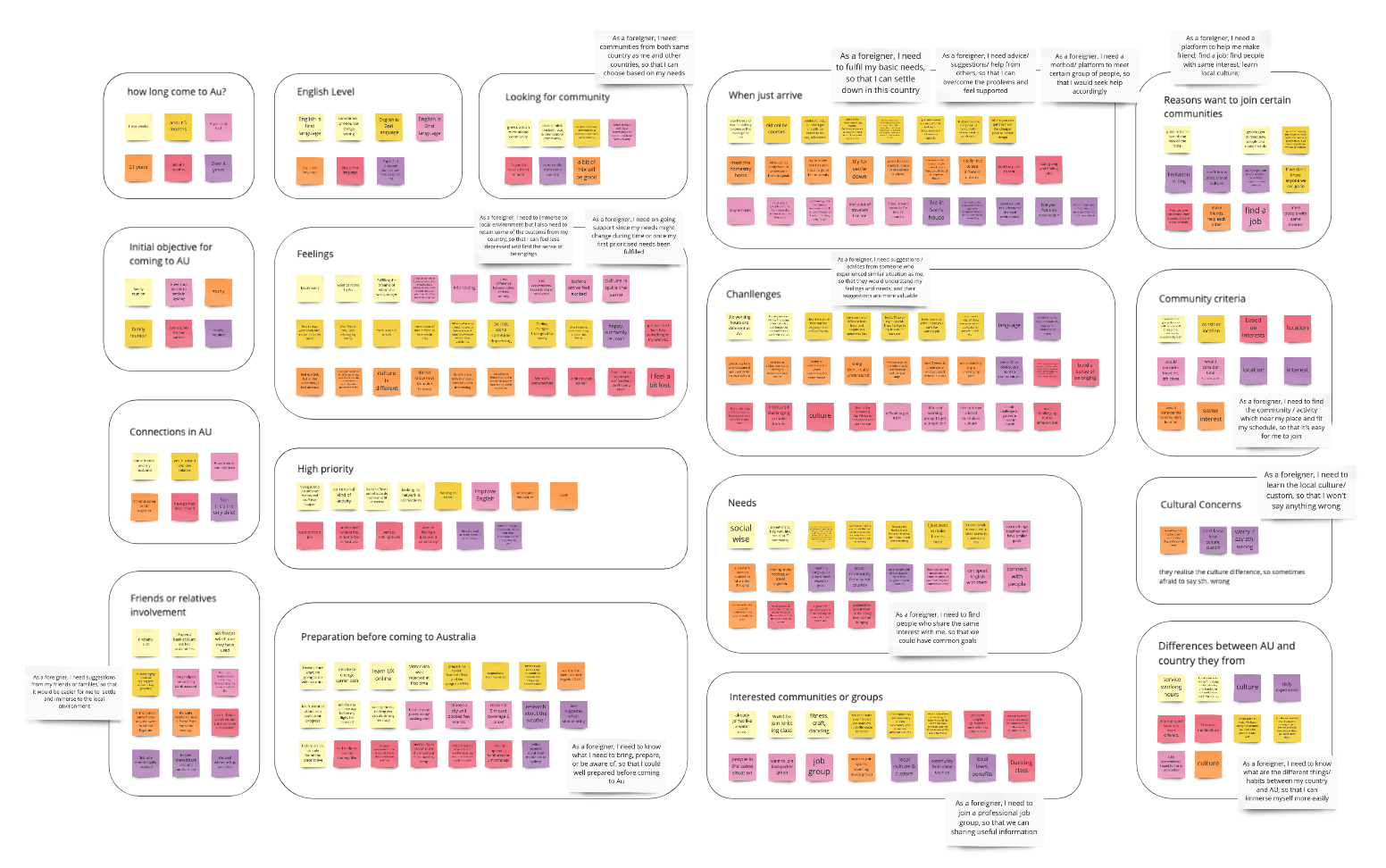 1 on 1 Interview
To have a thorough and deeper understanding, I interviewed 6 participants who came to Australia with different purposes: some of them are students who came to Australia to study; some of them came here to reunite with their family; some of them are travelers who are passionate about sightseeing; some participants came here to work to pursue a better lifestyle.

When analyzing the interview insights, I found that interviewees with different occupation or purpose (of coming to Australia) have different needs. For example, travelers want to know more about the attractions, a retired non-English speaking professional who came to Australia to reunite with his son felt that English and safety is his priority, whereas students felt education is their priority.

Although the participants have different needs, they all experienced 3 stages, which are: preparation stage (before they came to Australia), arrival stage (the first few months when they arrived, they try to get familiar with local environment), settling stage (trying to immerse into the local environment and connecting with communities and people).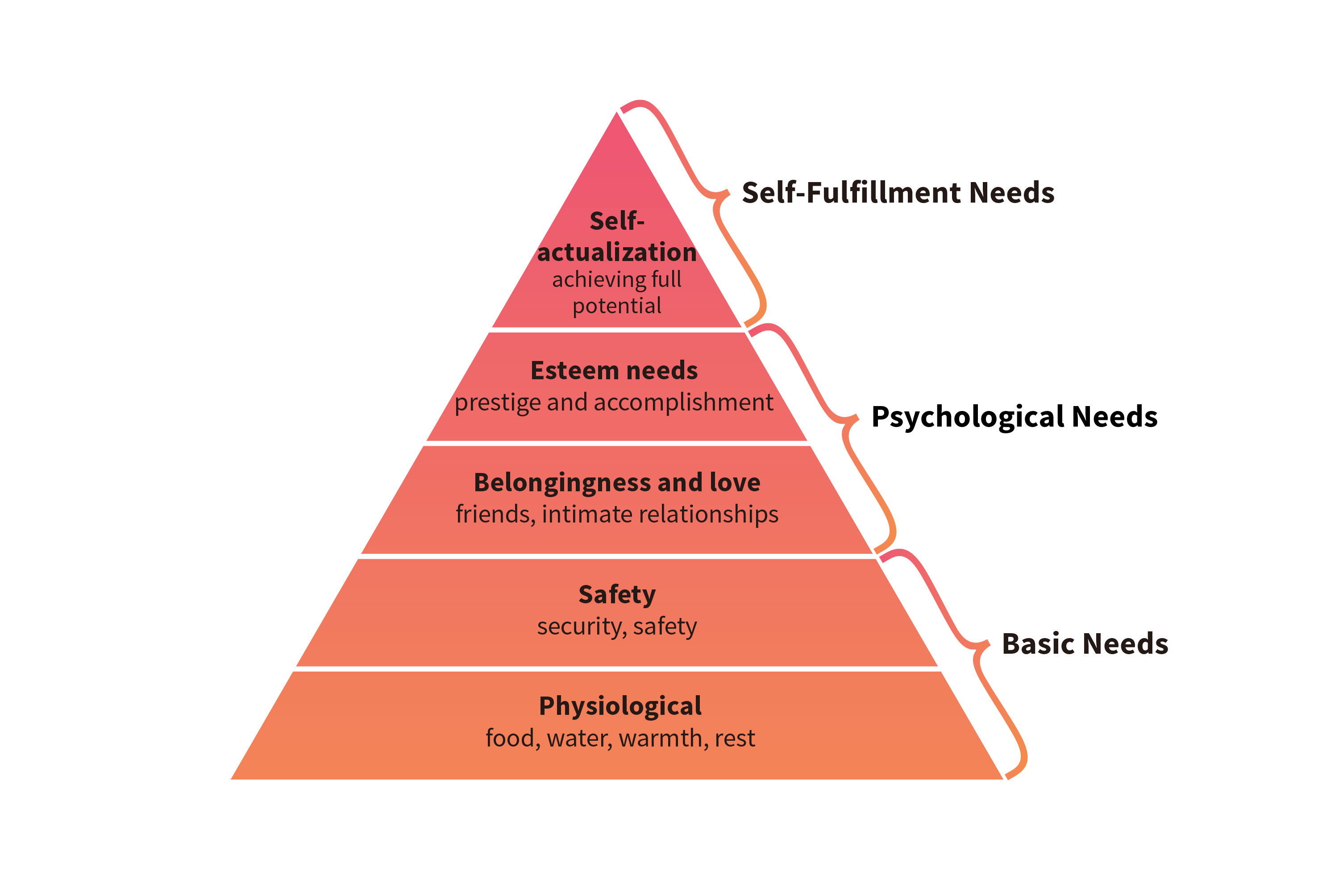 Maslow's Hierarchy of Needs
From the interview, I found that foreigners' needs might change throughout time or once their prioritized needs are fulfilled. This also reminded me of "Maslow's hierarchy of needs". From the bottom of the hierarchy upwards, the needs are: physiological, safety, love and belonging, esteem and self-actualization. Needs lower down in the hierarchy must be satisfied before individuals can attend to the needs higher up (Saul McLeod 2018).
Therefore, I have decided to implement "Maslow's hierarchy of needs" and combine it with the 3 stages while designing the app, to help foreigners who have different needs and at the same time, provide ongoing support when their needs change.
The key insights I got from interviews are:
Preparation Stage
Interviewees who don't have friends or relatives are more likely to spend a lot more effort on research before they come to Australia, since they do not have anyone who they can seek advice from
Foreigners need to know what to bring, prepare, or be aware of; so that they can be well prepared before coming to Australia
The majority of participants found the place to live before their departure
Participants would like to know the potential daily expenses during the preparation stage so that they can prepare and exchange currencies before departure.
Arrival Stage
It takes time for the majority of foreigners to get used to local life
Interviewees who have friends or families in AU seem to settle in more easily since they have someone who would give them suggestions regarding daily life. Interviewees who don't know anyone would discover everything by themselves, eg. how to catch a bus
Participants like to discover the local environment and activities when they arrive
Participants would like to know certain kinds of grocery stores, such as the Indian grocery store, Chinese grocery store
Settling Stage
Interviewees who came from a similar cultural background (western countries) seemed to have an easier time immersing into the local environment (than the interviewees who were not)

All participants are looking for social connections
Participants realize there is a cultural difference, so they are sometimes afraid to speak out if they feel that something is wrong
They will often look for communities or groups with similar interests and close proximity
The majority of participants want to connect to people who have experienced similar situations as them. They believe the advice would be more valuable from people with similar experiences and that people with similar experience would understand their feelings
Platform
When asking about the daily usage, participants all identify that mobile is the top device that they mainly used. They prefer to use mobile especially when they are not at home
Some participants have limited English. This should be taken into consideration while designing the platform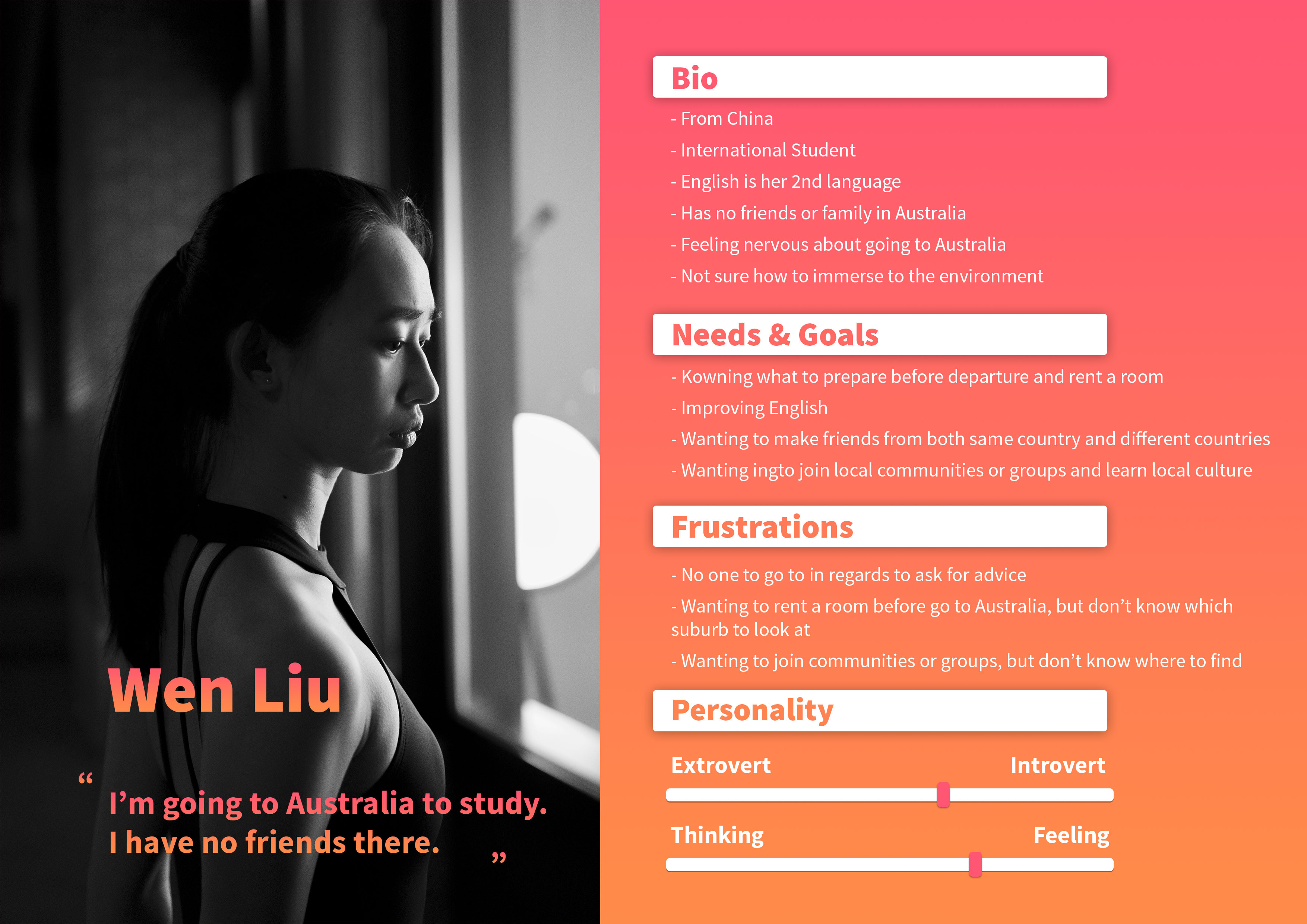 Personas
Based on the interviews and survey I derived a primary persona - Wen Liu, who is an international student. The secondary personas are travelers, professionals and retired people. I referred to them throughout the entire product development process.
User Journey
I mapped out Wen's journey to see how I could simplify her journey to help her reach her most important goals with the product.
How might we create a platform to fulfill the needs of someone who is moving to Australia in various stages of their relocation?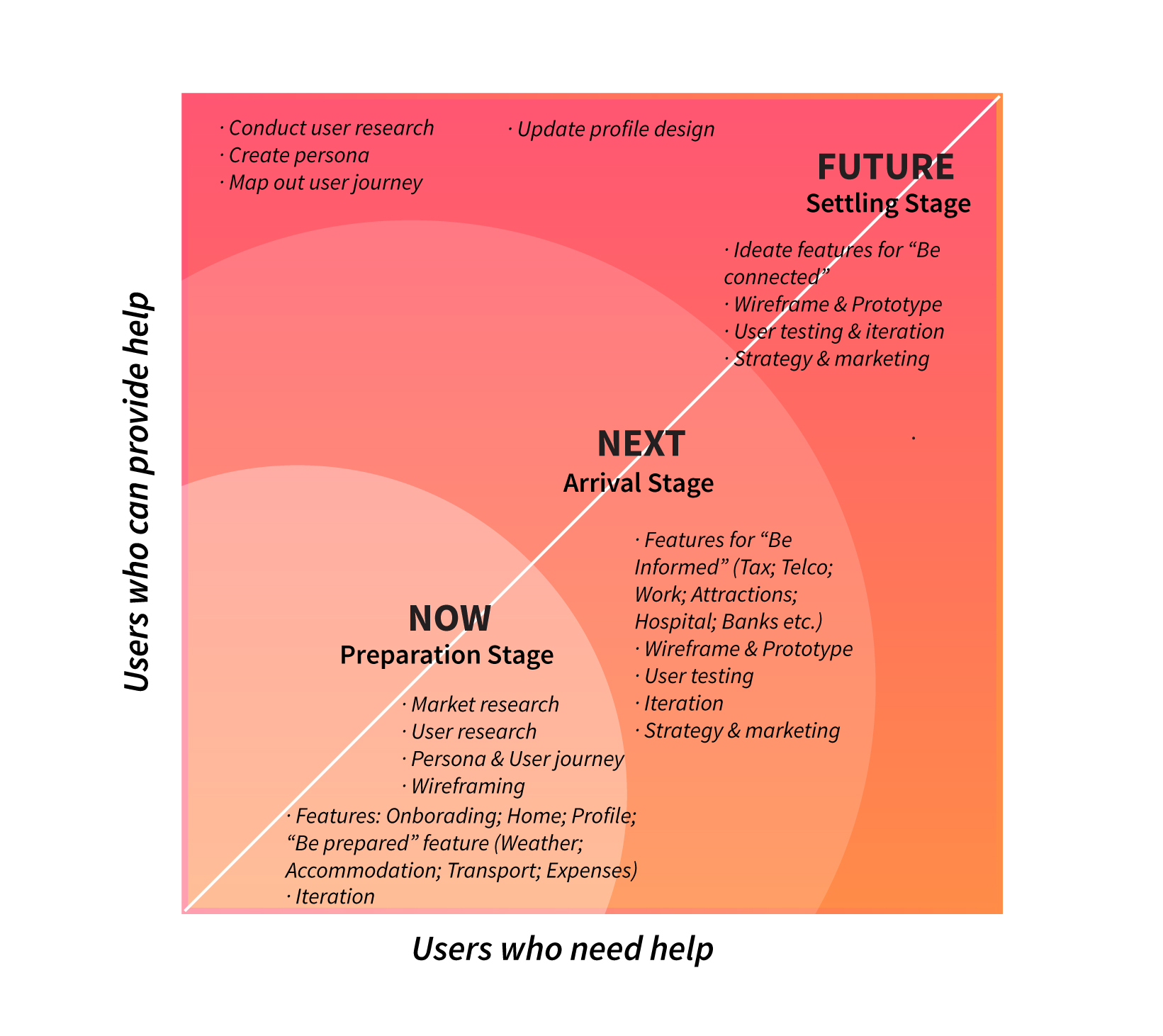 Workflow & 3 Phases
The agile methodology will be applied to my UX design sprints for this project.
There will be 3 phases in total (each phase would consist of several sprints) according to 3 stages. The first phase would be focused on the preparation stage since it is the basic needs in Maslow's Hierarchy of Needs. For this phase, no more interviews or online surveys need to be conducted. However, heavy research such as information about weather, suburb, expenses are necessary. The second phase would be focused on the arrival stage, which would fulfill the basic needs during arrival, such as bank, tax etc. Similar to phase one, no more interviews or online surveys are required whereas heavy research to obtain data is necessary. In terms of phase 3, it would focus on the settling stage, where foreigners are able to connect with people, communities, and groups to fulfill their psychological needs and self-fulfillment needs. In this phase, further interviews with the people who could provide help and the organisers from the communities or groups are needed, in order to find the best ways to connect different parties. The persona and user journey for this group of people are also needed.
MVP Workshop
In order to understand and break down what features are of high value and easy to achieve, I did an MVP workshop with the insights I obtained from research. I divided them according to 3 different stages, and focused on the MVP for the first phase which is the preparation stage.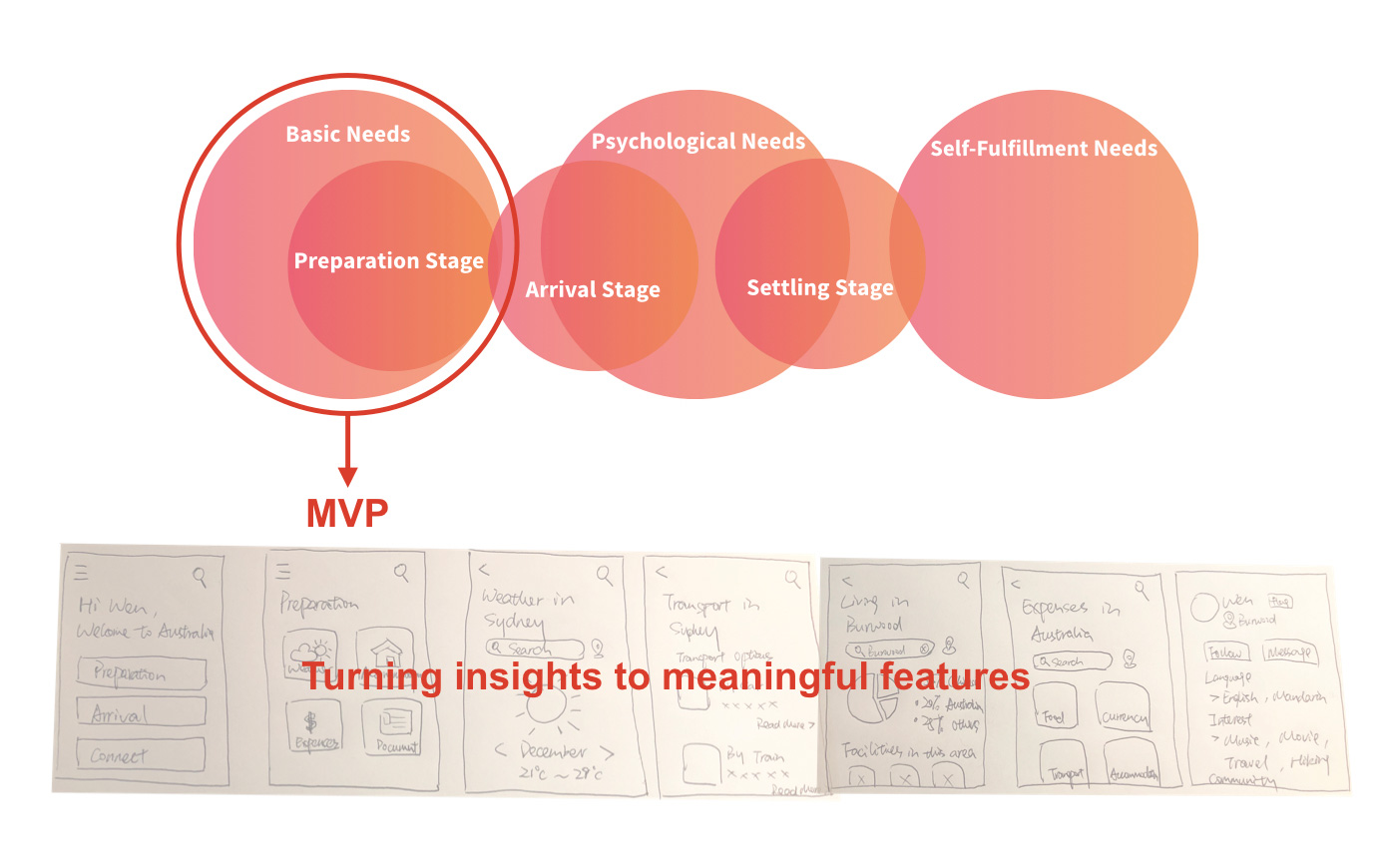 Sketches
Based on the MVP results. I have separated the insights into different sprints and started the design process with a low fidelity ideation.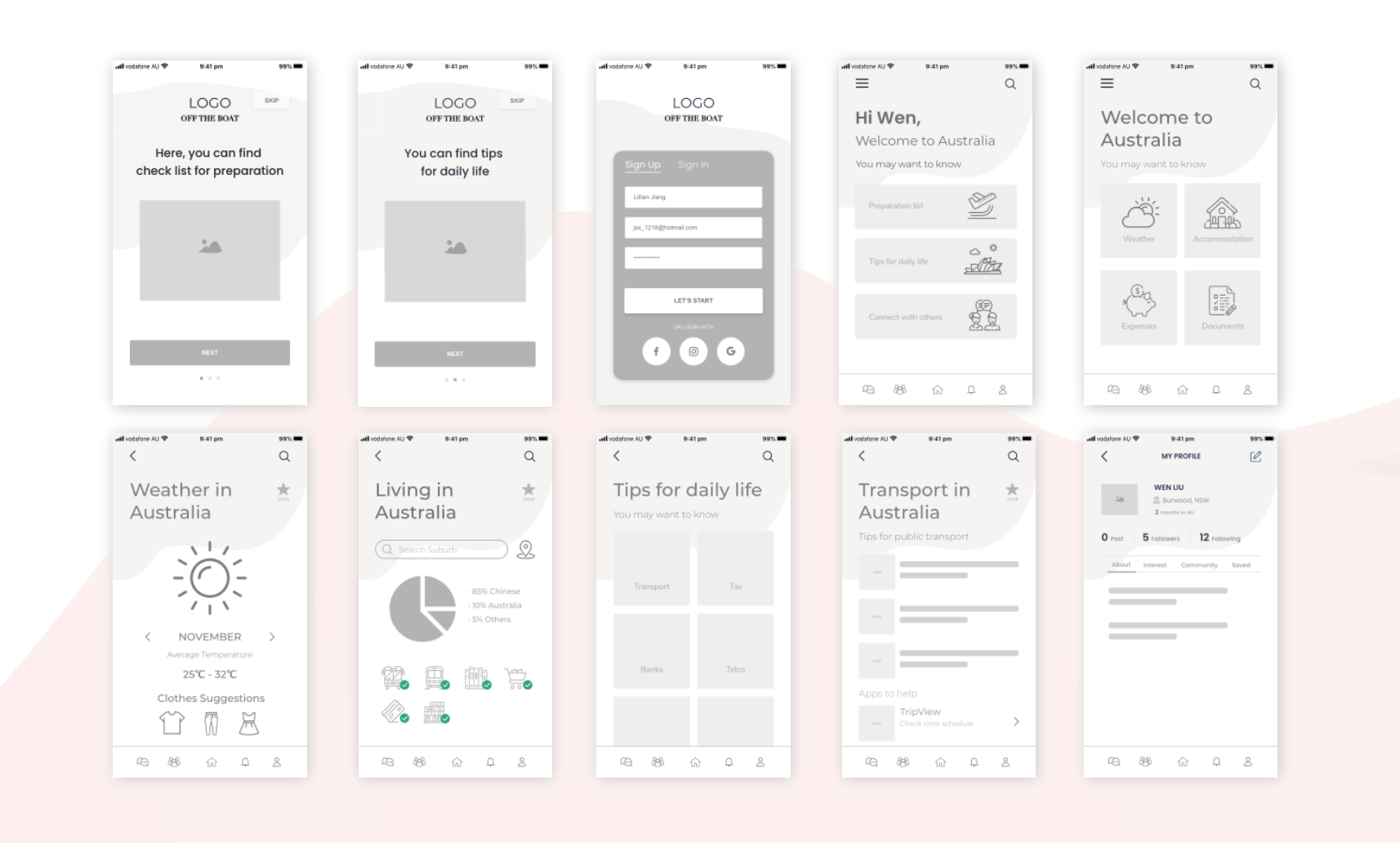 Wireframes
After the ideation, I used Adobe XD to create low fidelity wireframes. This is the way I iterate through the many design options quickly.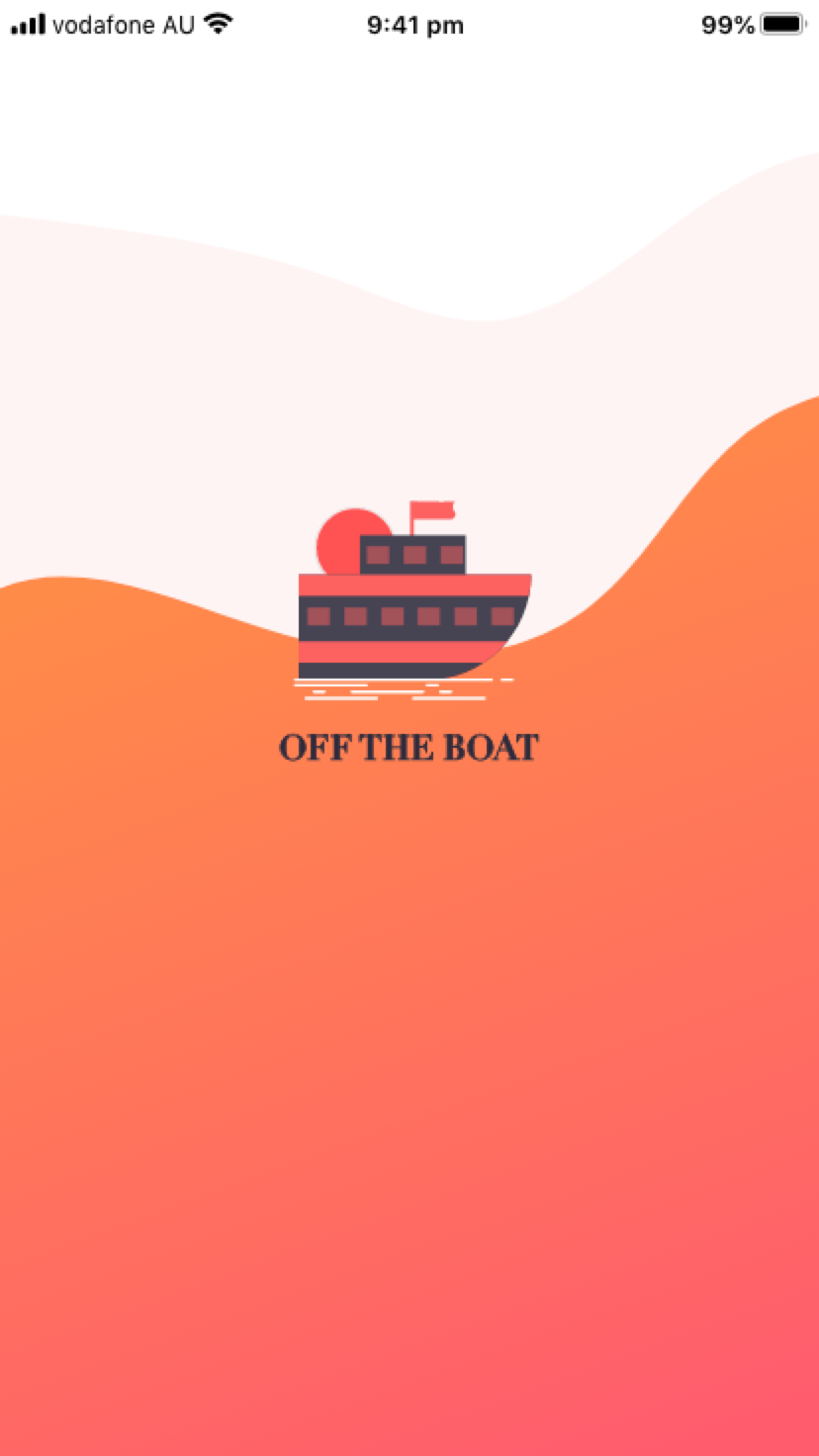 Feature 1: Onboarding
During the onboarding process, an introduction will be provided to the user. So they can have insights and expectations about what help or information they can get from this platform.
Feature 2: Home
Once the user logs in, they will see 3 options regarding the 3 stages. This would help users from different stages to access the information they need easily.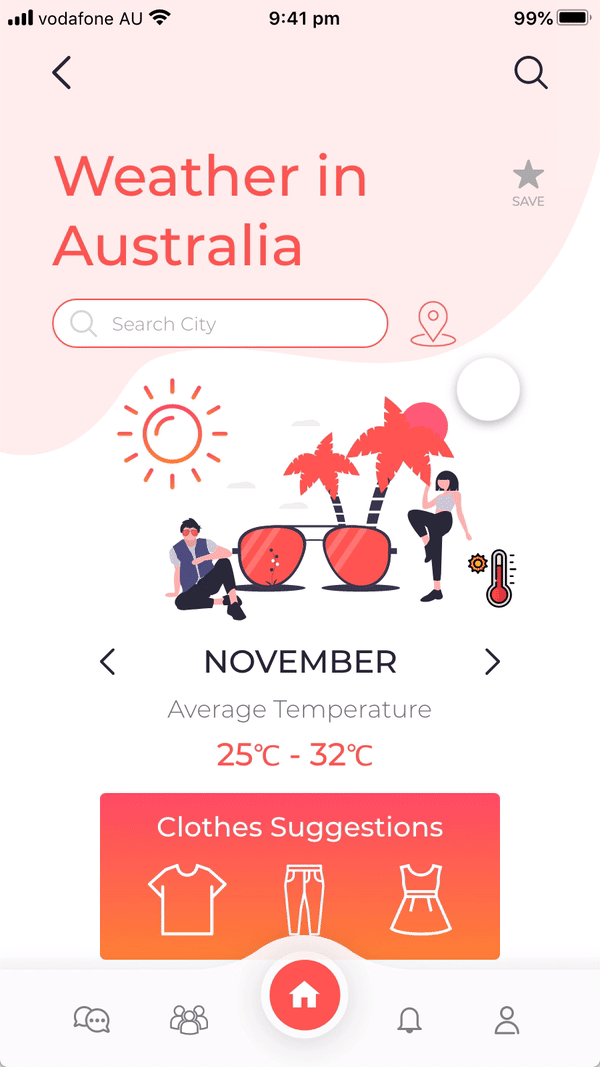 Features for Preparation Stage
Based on the insights and research, the preparation stage would consist of information about: weather, accommodation, expenses, documents
Feature 3:
Weather
In this category, users can find out the local weather, and clothing suggestions. This would help users to prepare and pack appropriate clothing.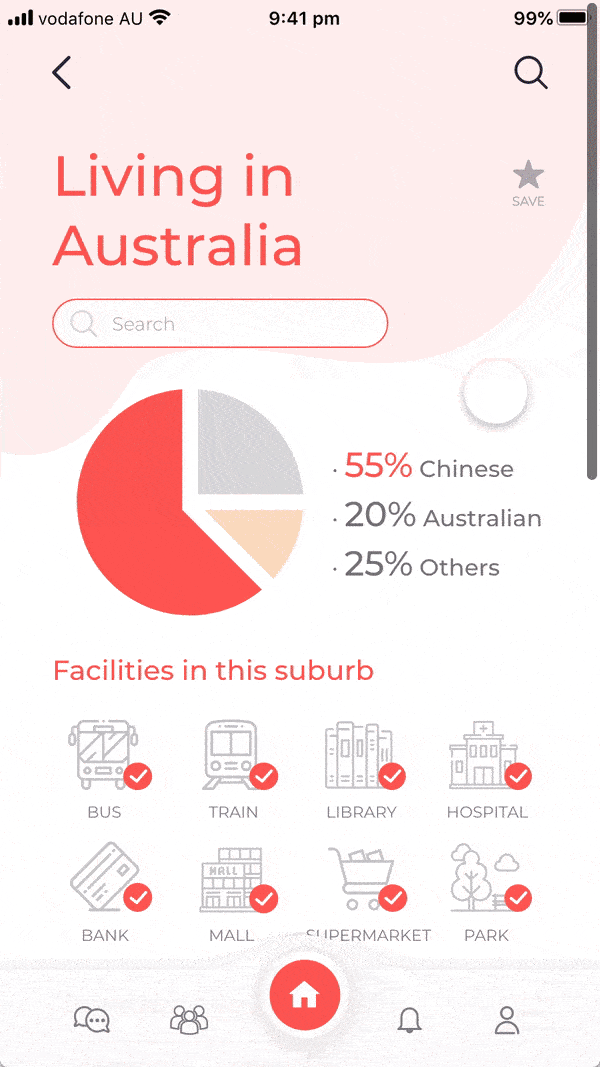 Features for Preparation Stage
Based on the insights and research, the preparation stage would consist of information about:
Feature 4: Accommodation
Once the users searched the suburb, they can obtain the suburb's demographic composition, which would allow them to find the suburb which has residents from the same country. This would be helpful for users who have limited English to settle in the environment.
Users can also see the available facilities within the suburb
They can see the recommended communities, groups and events based on location, interest or countries, which might help them to immerse into the local environment easily and build the bridge between this phase with phase 3 (settling stage).
Feature 5: Expenses
Finding out about

currency

and expenses regarding

food

,

accommodation

,

public transport

, etc.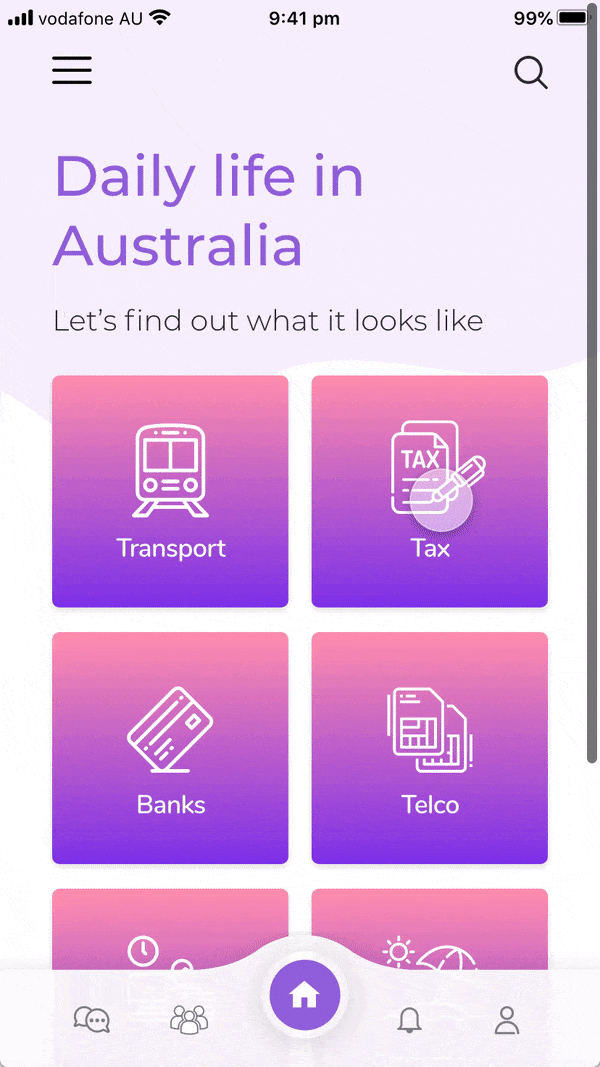 Features for Arrival Stage
Similar to the preparation stage, this stage would provide tips, knowledge, and guidance during users' arrival stage, to help them settle in and discover the local environment.
Information provided under this section including transport, banks, tax, telco, healthcare, attractions, restaurants, etc.
The reason for building this category in the first sprint of phase 1, is to figure out what users expected to see under the preparation stage and arrival stage. In other words, it is to test if the information provided is in the right category.
An example of Transport has been made.
Feature 6: Transport
Tips for public transport

Relevant mobile app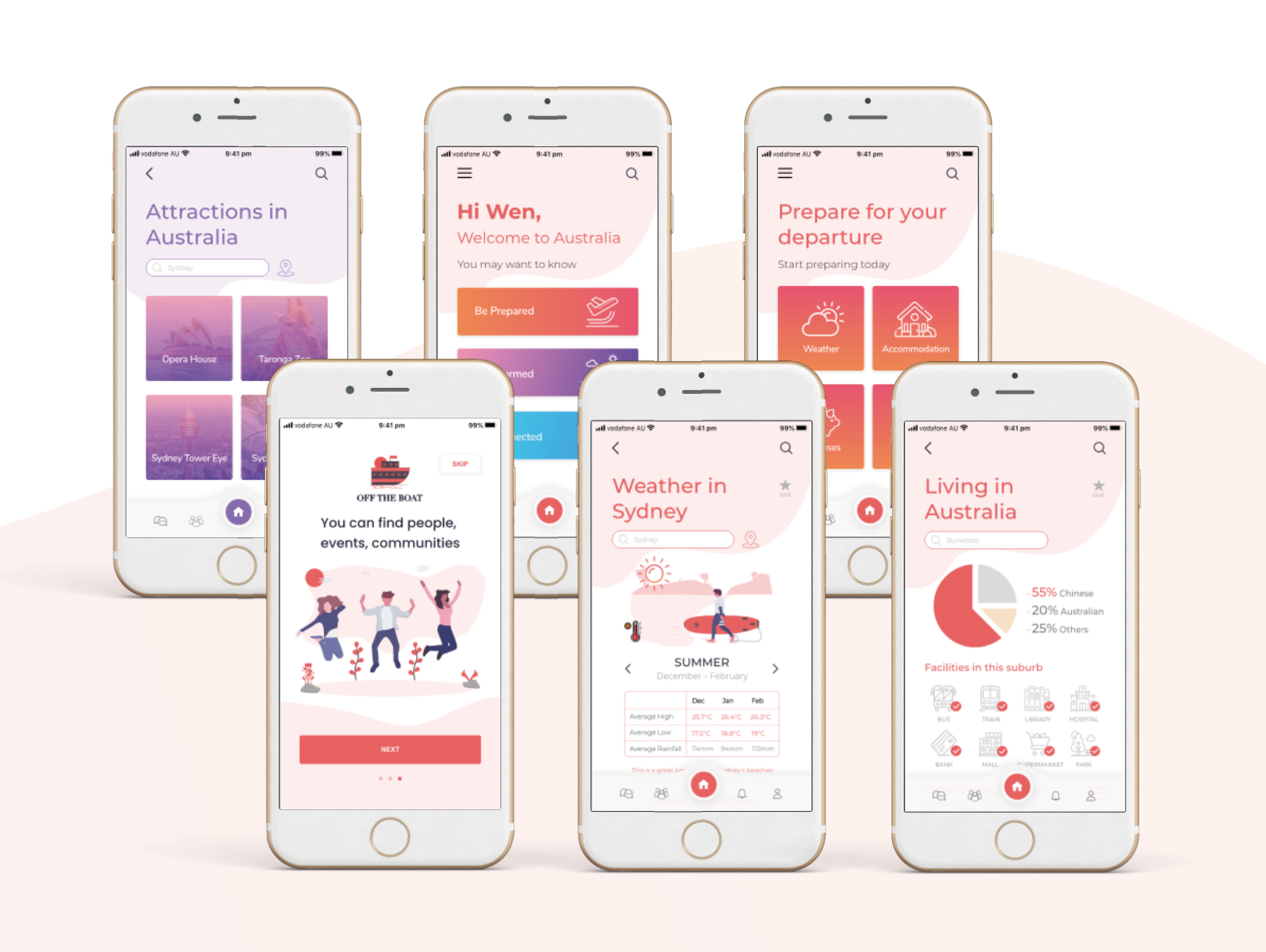 Usability Testing
I did a round of usability testing in order to reveal possible usability problems. There are 3 participants who tested the prototype in the first round.

The main insights from the usability tests are:
Users think the information is relevant to them
Users like the UI design
Users believe the information would help them before they arrive in Australian and until the first several months after they arrive in Australia
Users feel the information in the "weather section" does not need to be that specific, they prefer to see seasonal weather info
Users need to search the location by demography /culture or cost since they might not know the name of the suburb before they come
Users feel the "transport" session should also be included in the preparation stage. Since they'd like to know if they can drive with their own country's driver license
Users want to see the web link for certain organisations such as Australian Immigration.
Users want to see if the events are free or need to pay for the ticket
The main category names need to be changed to make it more clear
Users want to know the average accommodation rental cost for each suburb. They want to have the insights regarding the bond before their arrival.
Changes are made
Based on the insights from usability testing, some iterations are made.
The weather information changed from monthly to seasonally.
Add in the language option so users can change it to other country's language.
Provided more ways to search for the suburb and accommodation.
Add the "transport" section into the preparation stage and provide more information
Changed the name for the main category
Add in the average accommodation cost
The work never ends
That was just the beginning of the project. Same as Maslow's Hierarchy of Needs, human needs are continuously changing, this platform would also require continuous iteration. To build up this platform, it would require heavy research.
The potential challenge I can imagine would be in phase 3, which is to help foreigners to connect with local communities, groups, or people. The challenge is not just only about how to build the bridge, but also about how to ensure the users' safety when they meet each other in the real world.
Since this is a personal project, there might be some aspects that overlooked. Thus, continuous testing and iteration would be vital.
"It took me 3 years to understand local culture"
Said by a participant during interview