UX studio
User Experience Agency
Made with
Masterstudies.com
7-month UX design and research project for a higher education platform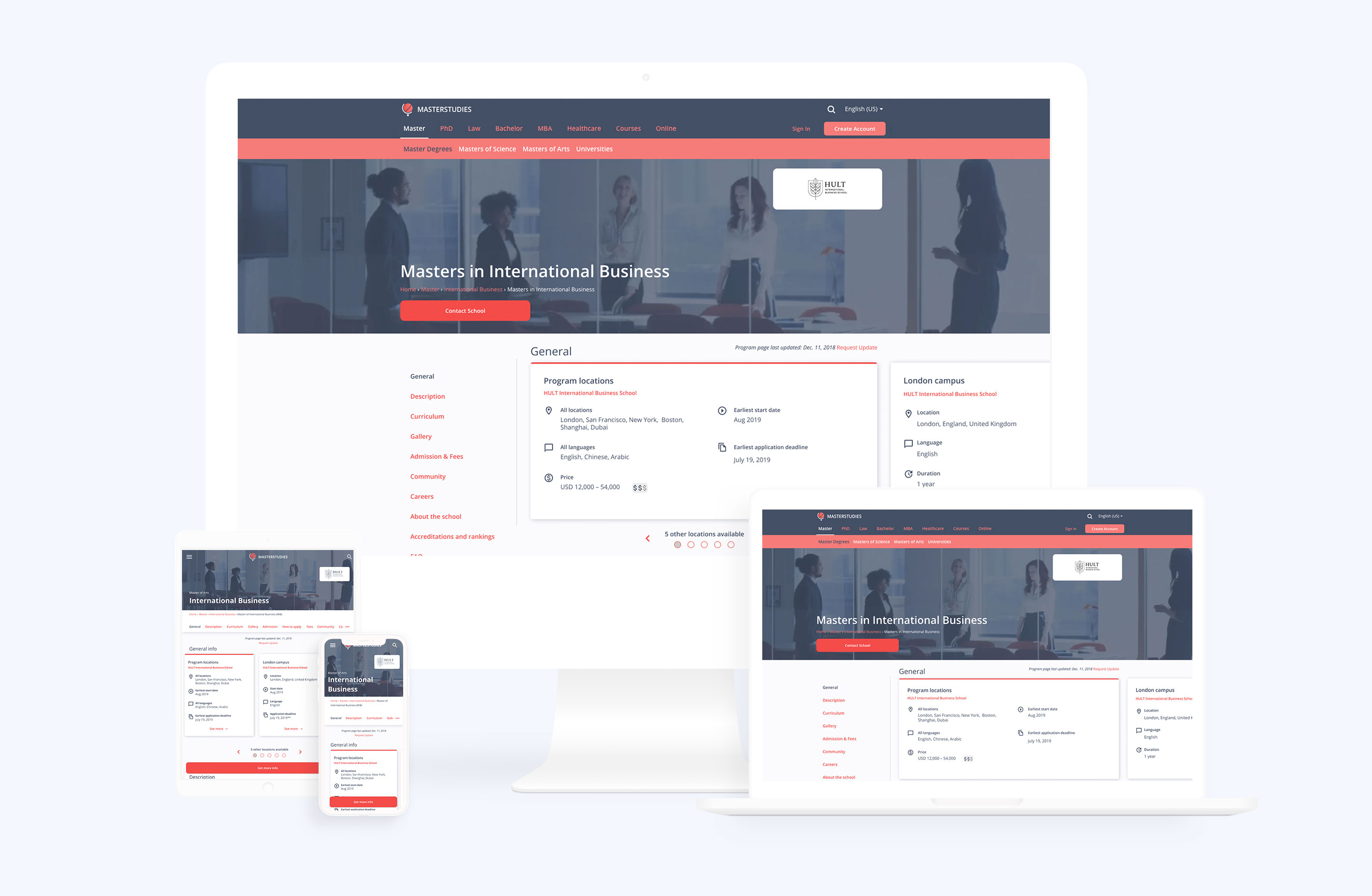 Project Description
Keystone Academic Solutions have 8 different websites, Masterstudies.com being the most popular one. Their platforms provide students with the opportunity to search for and compare international university programs from Bachelor to PhD-level. With the help of their service, universities can reach potential students and share valuable information with them.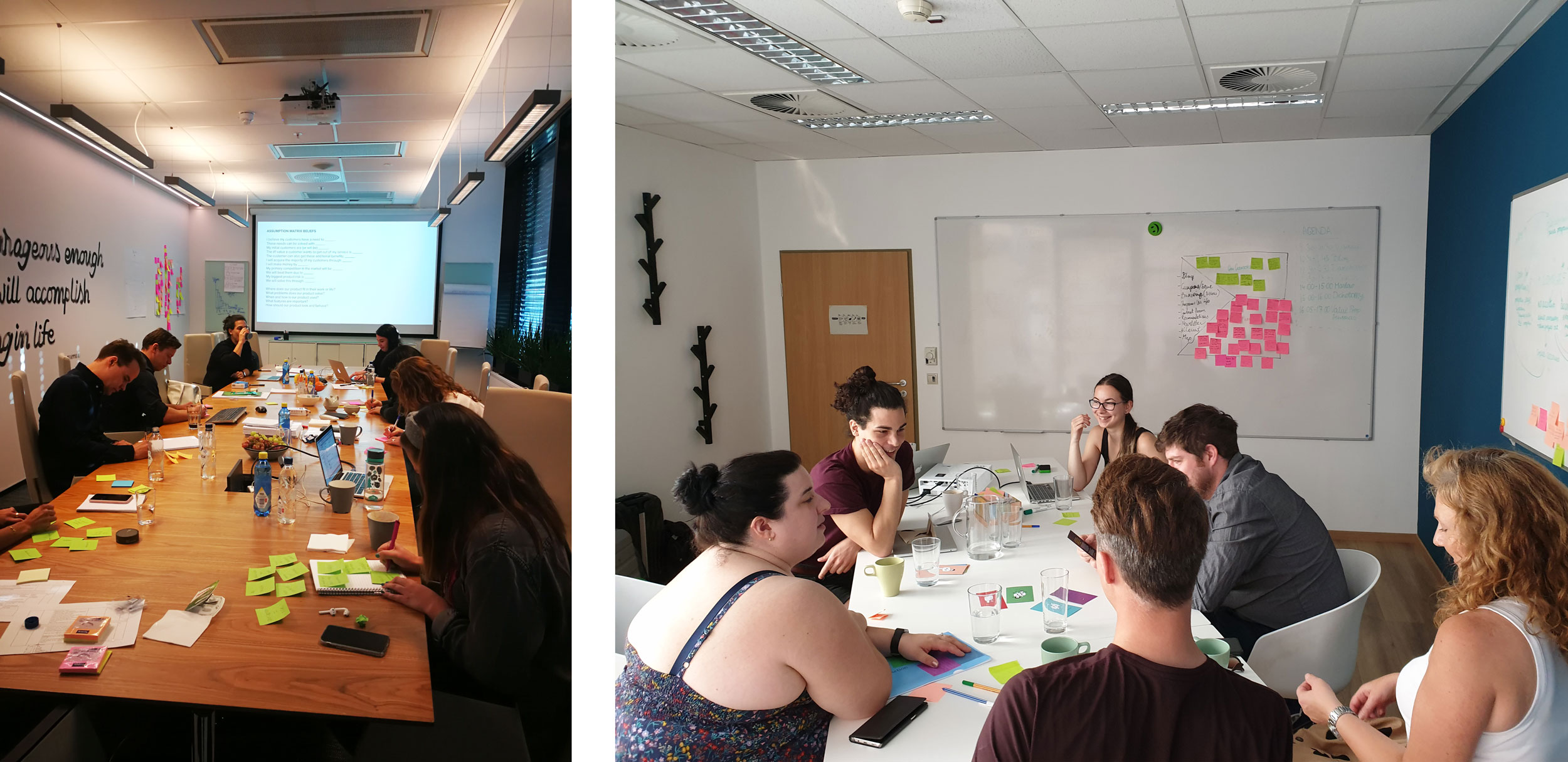 Team Composition
Our UX team consisted of two UX/UI Designers and one UX Researcher based in Budapest. We worked closely with the Head of Strategic Development as well as representatives from Content, Localization, Marketing, and Product teams based in Oslo, Norway.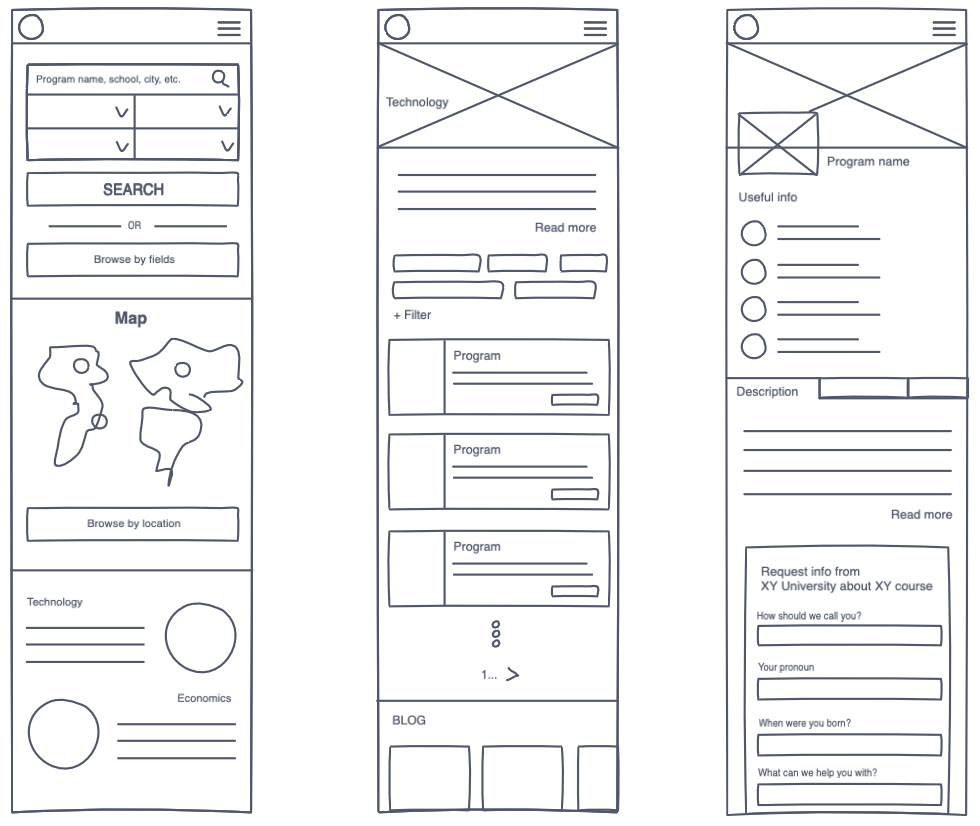 Ideation
We started the process with the sketching workshops, where we ideated multiple solutions for every page type. The customer flow was left intact since the website has big traffic of millions of visitors monthly, and we wanted to change only one thing at a time. This strategy helped us in the long run because we had time to understand the product better.
Wireframes
Our two designers collaborated in Axure. Since we were testing both mobile and desktop versions, we divided the work by these two platform types. This provided the benefit of being able to work independently while keeping consistency through daily check-ins.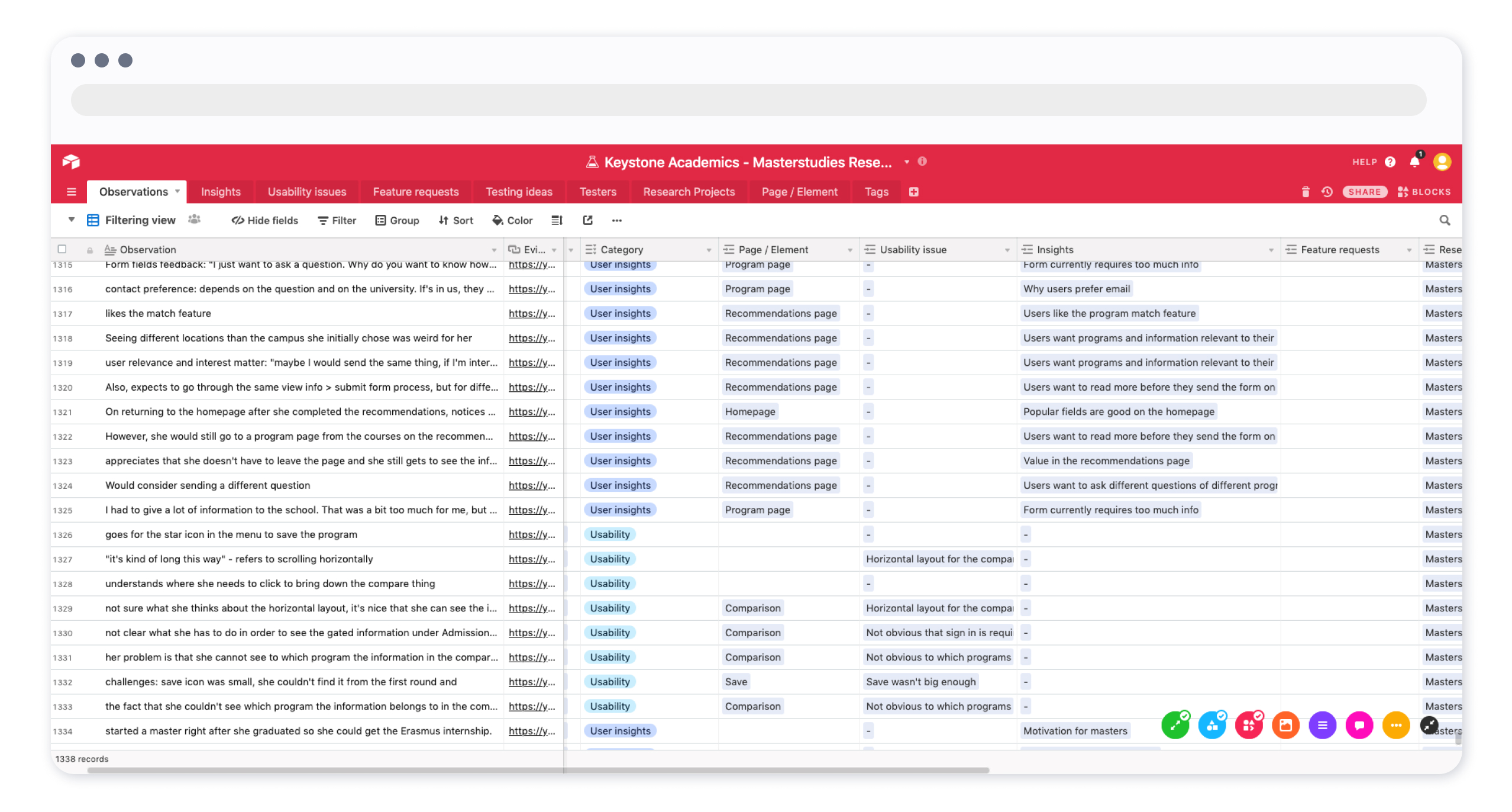 Interviews and user testing
Laura, our UX researcher, started with Google Analytics reports and 5 discovery interviews for the existing website. These helped us to uncover the main pain points.
After that, she conducted usability tests on the prototype. She tested with people from all around the world currently studying in Budapest and in the process of looking for a place where they can do a Master's degree. She collected more than 1300 observations organized in an Airtable research system.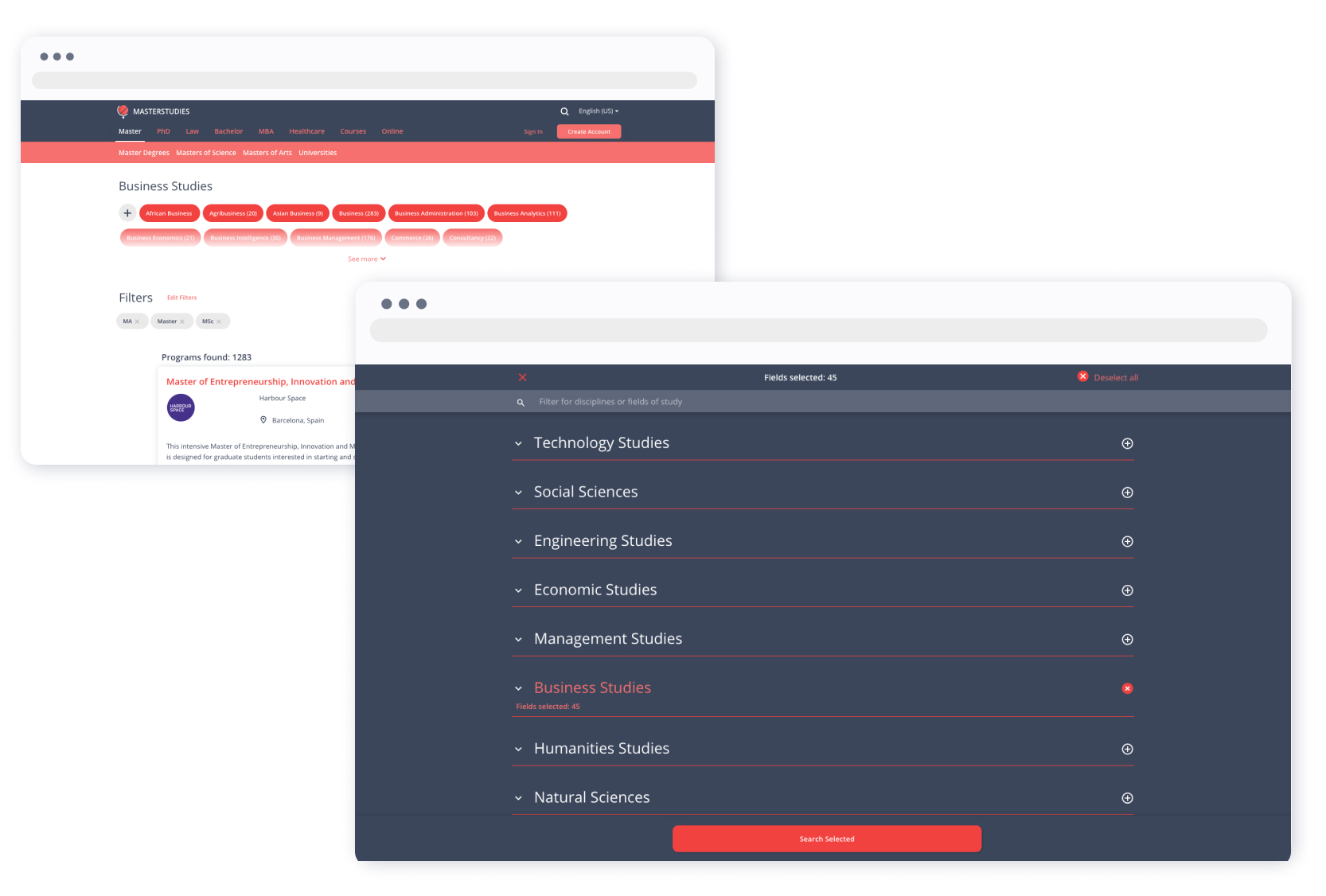 Improved filtering and search capabilities
User problem
Diverse approaches to a degree search.
Business/Tech Challenge
To maximize SEO, discipline (category) and field of study (sub-category) names were very detailed. This resulted in a high amount of options to choose from.

Solution
We applied progressive disclosure to make filtering less overwhelming by showing only the disciplines first. On the other hand, it is also possible to custom select from multiple categories which increases flexibility.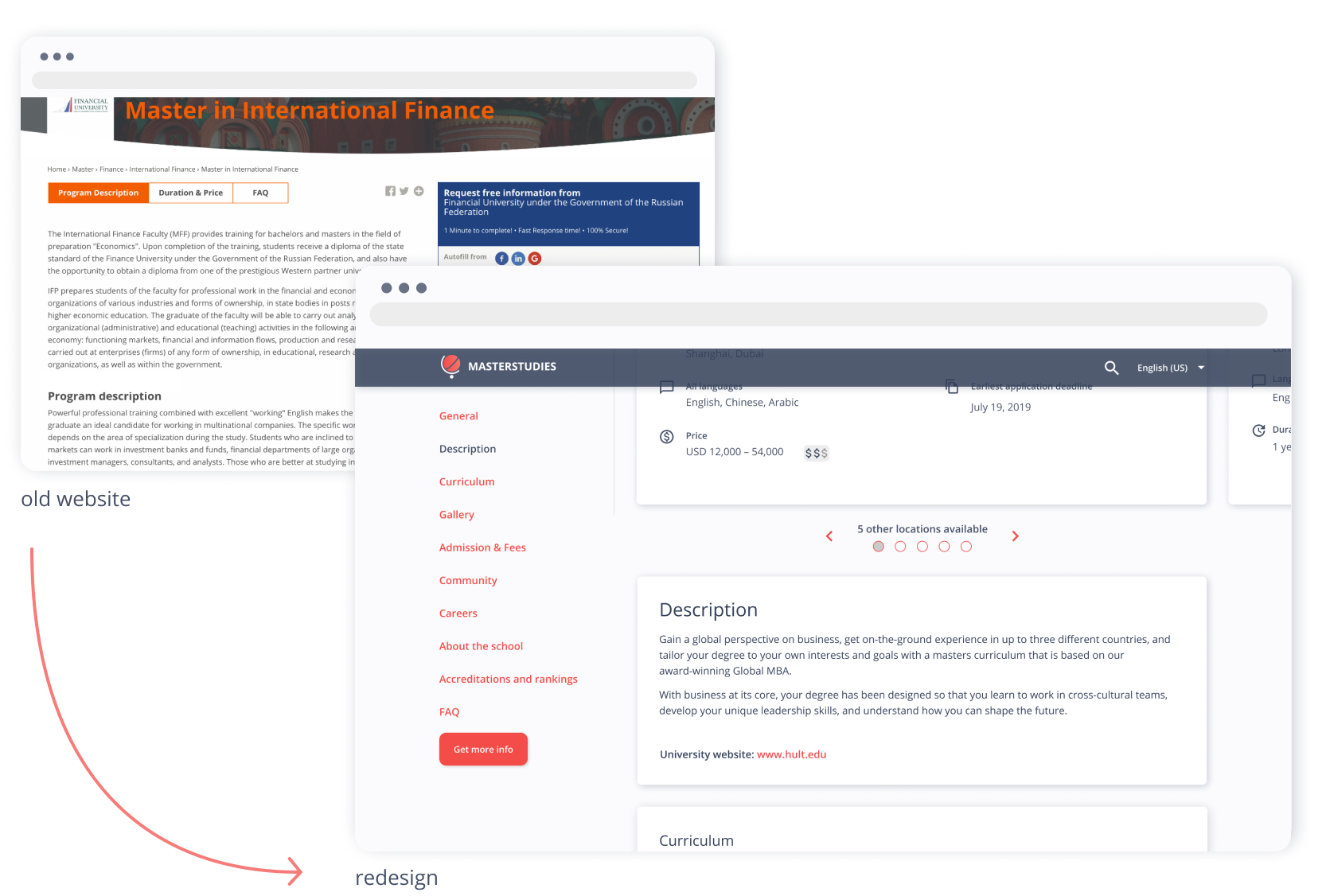 Universal content page
User problem
Since each program page was structured differently, information was hard to scan.
Business/Tech Challenge
Restructuring hundreds of pages cost extra time and money

Solution
After several user interviews, we identified the key information students were looking for when searching for a degree. Based on this we came up with a template and a navigation system. This seems like a good investment in the long run: the easier students find the necessary information, the more likely they contact the school.

Finding the right moment to ask for data
User problem
It's hard to find the right contact person from the institution.
Business/Tech Challenge
Regardless of its prominent place, not enough people wanted to fill out the contact form.

Solution
When entering a program page users are not likely to fill out a form without checking the program details. They also wanted to understand where their information was being sent to. By changing the title and moving the form to the bottom of the page we made the site feel more trustworthy.



Localization - 44 languages without major UI modifications
User problem
It's easier to understand and share information in your native language than in English.
Business/Tech Challenge
Different languages have different constraints (average word length, reading direction, translation costs, etc.)

Solution
From day one we prepared for this challenge and planned the interface accordingly. In the UI phase, we also tested our designs in different languages (e.g. German, Arabic, Japanese).

Conclusion
We're very happy we were able to work on this project, we had a lot of awesome feedback and support from the team in Oslo. This case study was the summary of the first 3 months of our collaboration (Phase 1). Phase 2 is currently in development to add more value to students, the end-users of these websites. We can't wait to see it in reality!

"We really appreciated the user-centricity
UX Studio brought to the table and how they advocated user needs while still understanding and considering our business challenges, too."
Stefan H. - Strategic Development Director, Keystone Academic Solutions