PAWS
An app to help pet owners raise their pets.
PROJECT CONTEXT
PROBLEM:
More than one million households re-home cats and dogs annually. Common primary reasons for re-homing include pet problems (e.g. behavior or health issues), family problems (e.g. health troubles or allergies) and housing problems (e.g. the landlord or not enough space). In addition, many first time pet owners are overwhelmed the first couple of weeks when they bring home their pets and although there's a ton of information available, experiences and needs are different for both owner and pet.
SOLUTION:
In order to start considering how I might assist a user in raising a pet to achieve their unique goals, I first needed to understand who the user is and their unique experiences and needs raising a pet. For this project, I focused on user research to inform human-centered design solutions followed up with interactive usability testing allowed me to solve design issues and assist pet owners in raising their pets.
MY ROLE:
The goal of this research project was to identify and interview possible pet owners to understand their experiences and needs raising a pet. As the sole designer for this project, the process included user research and synthesizing to understand the projects MVPs as well as design solutions to my user's needs. Followed by the UI design, product prototyping and usability testing couples with my research and testing insights to create products that provide a meaningful and relevant experience to my users.
RESEARCH
SECONDARY RESEARCH:
UNDERSTANDING THE SPACE IN WHICH I'M WORKING
In order to better understand the space I was working in, I needed to conduct secondary research in order to learn how others in the space were viewing it. This information coupled with the perspectives of my users helped me to inform and refine my own perspective in the future. Conducting secondary research was an essential step in my process to ensure that my solutions were heading in the right direction.
Secondary research included sourcing articles and studies done from the Journal of Veterinary Behavior and Journal of the Medical Library Association as well as popular news websites such as The Telegraph and Sentient Media.
This initial research gave me initial insight into the pet industry and the common problems it was facing.
The most prominent insights included:
Behavioral problems in pets are a very common issue amongst pet owners.

There's a lack of veterinary mandate practices readily available for pet owners to use when seeking information on how to raise their pets.

In the UK alone, a study done in 2018 revealed that millions of pets were deemed at risk including being fed the wrong diet, denied veterinary treatment or left on their own for long periods of time.

Animal Cruelty comes in many different forms including but not limited to animal neglect and disregarding animals feelings and emotions.
This data gave me essential background information and helped prepare me going into my primary research and getting to know my users better.
PRIMARY RESEARCH:
GETTING TO KNOW MY USERS BETTER
Once secondary research was conducted allowing me to gather background information on the challenges pet owners face while raising a pet, I set out to conduct primary research to get to know my users better and understand their unique challenges. The research tacts I used in order to carry out my primary research included:
Screener Survey - sent to 60 participants to recruit potential interviewees and gather quantitative data about their unique challenges raising their pet(s).

Remote Interviews - conducted with 4 key users who matched the audience demographic requirements to understand their unique challenges raising a pet using qualitative information.

Synthesis - organized and sorted research insights using Affinity and Empathy mapping to highlight key opportunities.
The screener survey asked 3 questions to determine if users currently or previously owned a pet, what type of pet(s) users owned or have owned and what age group they identified with.
Participants were identified based on whether or not they owned or have owned a pet as well as their age. The final 4 participants were an equal split between male and female all belonging to the 26-35 age group. 3 out of 4 participants currently owned a dog and 1 participant had previously owned a dog. In addition, 2 out of the 4 participants owned a pet with behavioral issues.
The interviews consisted of 30 minute video conferences to learn more about:
What sources of information do pet owners use to educate themselves on pet related topics?

What topics of information do pet owners seek to help them raise a pet such as training, pet health, pet selection, breed specific needs, etc?

What are key factors that pet owners consider when selecting a pet?

What are common issues pet owners face when raising a pet?

What are factors in a pet owner's life that could affect the well-being of their pets such as finances, lifestyle, family structure, education, etc.?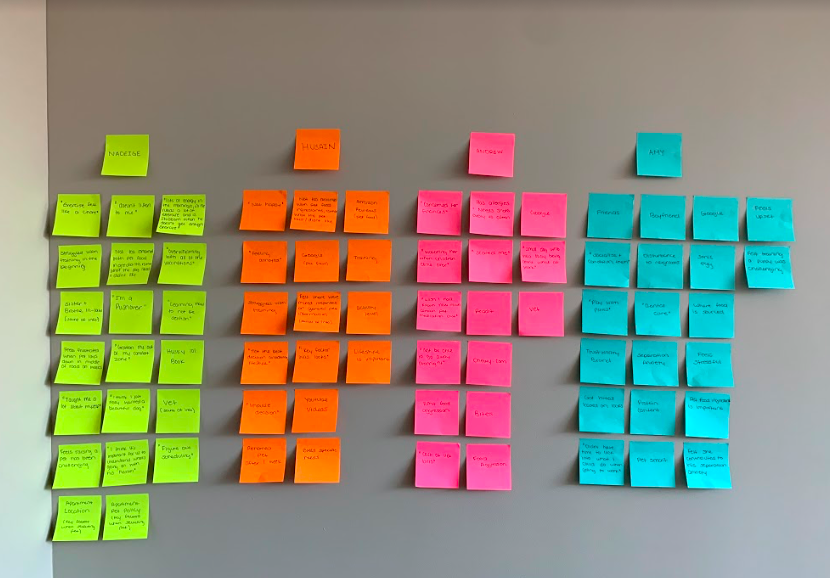 RESEARCH SYNTHESIS:
ORGANIZING THE INFORMATION
After interviewing each participant and reviewing the notes I took from the recorded interviews, I was able to pull important insights and quotes from our discussions. Once important insights and quotes were pulled, I used affinity mapping to organize them into groups and labeled each group based on the prominent keywords within those groups.
KEY INSIGHTS:
Health related issues (mental and physical) -

Some users were struggling to deal with their pets behavioral issues such as food aggression and separation anxiety.

Users were also uneducated when it came to the type of food they are feeding their pet. This included food quality and ingredients in addition to where the food was being sourced as well as buying from trustworthy brands.

Sought out sourced of Information -

Users were getting their information from a variety of different sources such as friends and family, online websites, books and their veterinarian.

Finances associated with raising a pet -

I found that users were very concerned with the costs associated with raising a pet such as vet bills, medication costs and babysitter costs.

I found that users wish they had known how much raising a pet could cost them.

Users also want ways they can lower their vet costs and medication costs.

Self reflection -

Users realized that lifestyle is important to them and the type of pet and breed they owned have affected that in some way or another.

Sought out topics of information -

Users were seeking information to help their pets mental and/or physical health issues as well as breed specific information such as level of activity needed.

Emotions associated while raising a pet -

Most users associated negative emotions while talking about the obstacles they faced while raising their pet.

Obstacles faced while raising a pet -

Users faced challenges when it came to training their pets.

Key factors that were important when getting a pet -

Most users thought appearance was important rather than getting a pet that best suits their lifestyle and needs.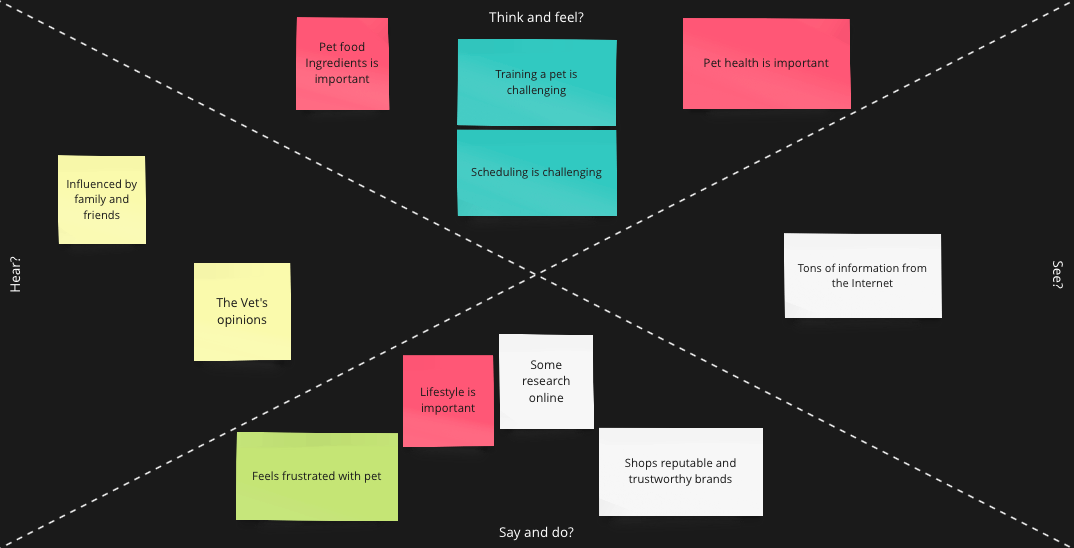 PERSONAS:
WHO AM I DESIGNING FOR?
In addition to organizing the insights by similarity, I also organized them using Empathy Mapping split into four quadrants (Says, Thinks, Does and Feels) so that I could create reliable and realistic representations of key users for reference. These representations are based on qualitative and some quantitative user research data.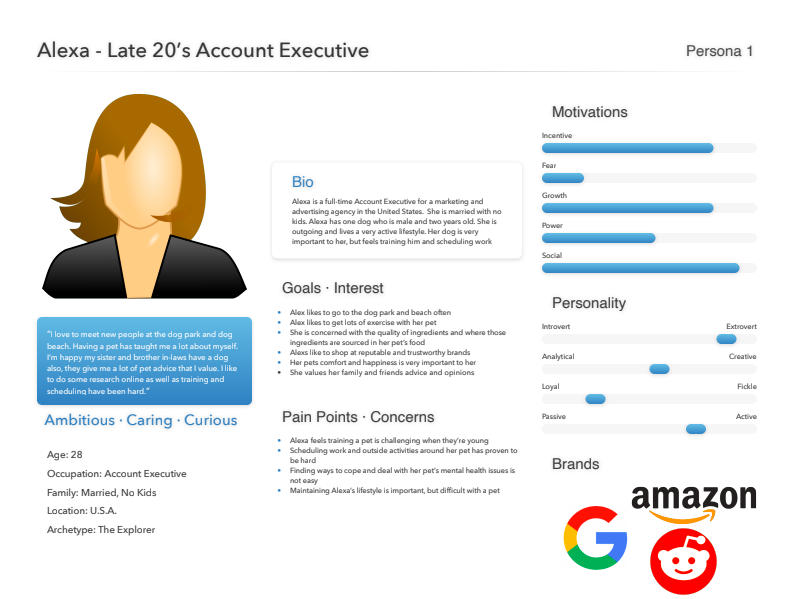 HOW MIGHT WE…? (HMWs):
WHAT PROBLEMS AM I TRYING TO SOLVE?
Once I synthesized my research and figured out who I was designing for I reframed my insight statements into How Might We (HMWs) questions and turned those challenges into opportunities for design..
How might we make training a pet less challenging?

How might we make scheduling work or outside activities around a pet easier?

How might we make putting a pet on a consistent eating and sleeping schedule less stressful?

How might we make finding resources to assist with vet bills and pet medications easier?

How might we help assist a user dealing with their pets separation anxiety easier?

How might we help assist a user dealing with their pets food aggression less scary?

How might we make exercising a pet feel less like a chore?

How might we assist a user in selecting a pet that doesn't compromise their lifestyle?

How might we make raising a pet easier for a user?
USER STORIES:
After turning my insight statements into HMWs, I started brainstorming my user stories to be able to articulate the needs of my user and consciously think about how they would use my product. Each of my user stories describe a task the user wants to be able to complete and the associated outcome they're looking for.
After creating 20 user stories, it was important to organize them with affinity mapping according to similarities and priority. This process helped show which user goals were most important to address first in my designs to the least important.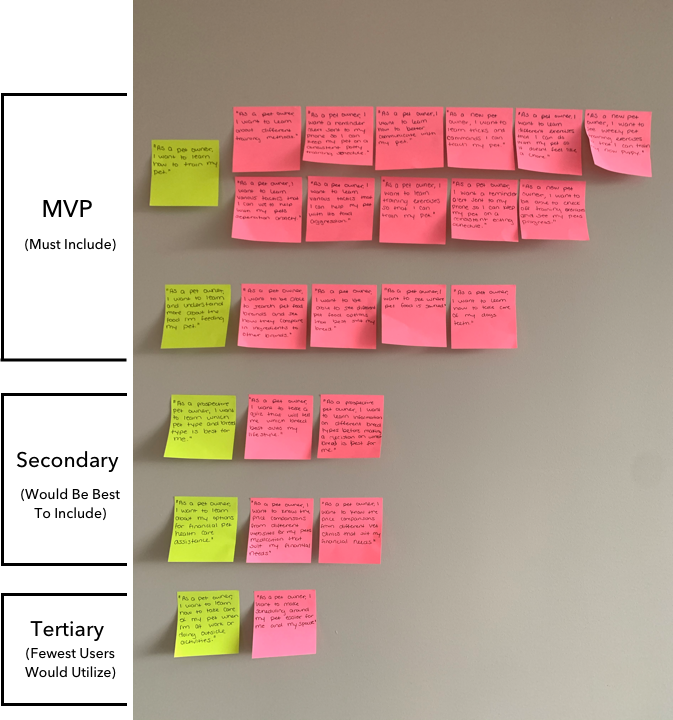 Final MVPs:
1. AS A PET OWNER, I WANT TO LEARN HOW TO TRAIN MY PET.
Sub-Goals Include:
- Learn different training exercises/methods.
- Have reminders sent to my phone.
- Know how to communicate with my pet.
- See my pets training progress.
- Learn different exercises I can do with my pet.
- Learn tactics to use for my pets behavioral issues.
2. AS A PET OWNER, I WANT TO LEARN MORE ABOUT THE FOOD I'M FEEDING MY PET.
Sub-Goals Include:
- Compare brand's pet food ingredients.
- See food options for my breed.
- Food/toys that affect my pets teeth.
- Know where my pet's food is sourced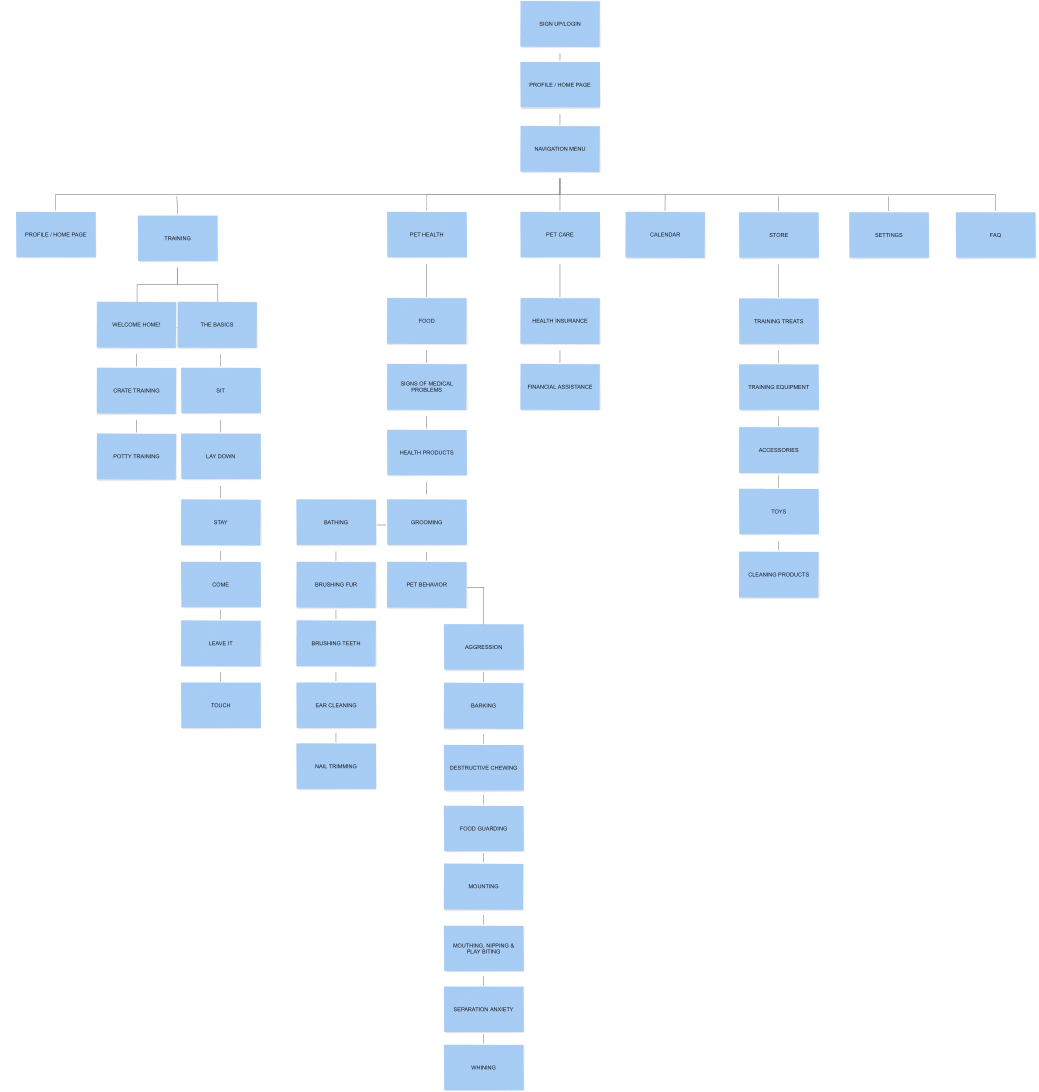 DESIGN IDEATION
SITE MAPPING:
Once I determined the MVPs of my product to solve the users needs, I created a site map to organize all of the information that my product was going to house. In addition to organizing all of the information within my product, creating a site map also helped me to understand how the users would navigate around my product.
Profile Page

The profile page is the first page the user sees once they log into the app. This is where the user will be able to see their pet's information and switch between profiles as well as edit or add a new pet to their profile. It would also include the pets earned badges and mastered tricks.

Hamburger Menu

Within the profile page there will be a hamburger menu that contains the users route to training, health, care, calendar, store, settings & FAQ.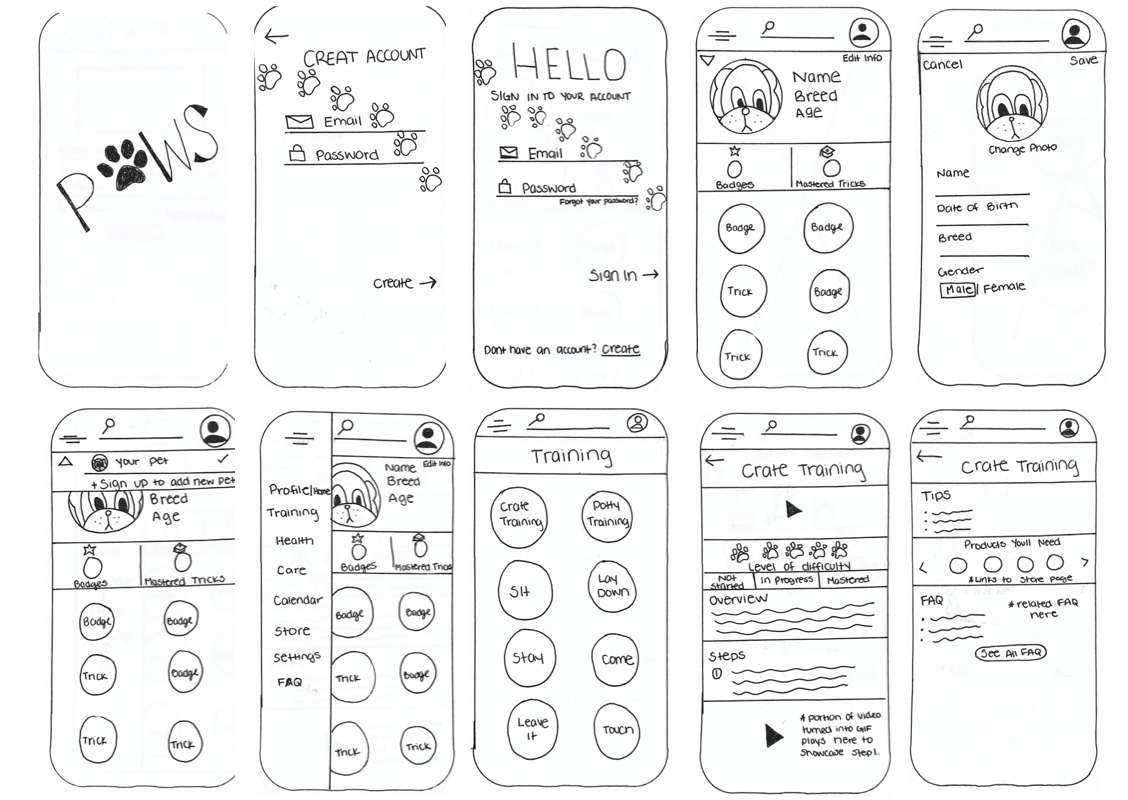 EARLY ITERATIONS & WIREFRAMES
After organizing my site map, I was excited to start sketching and seeing the pages come to life! These early iteration sketches helped to visualize the layouts for each page and to be able to physically see what worked and didn't work.

These initial concepts included testing different shapes and icons throughout the apps, layout.. These screens were how the user would explore and find detailed information about the various trainings, health information and such.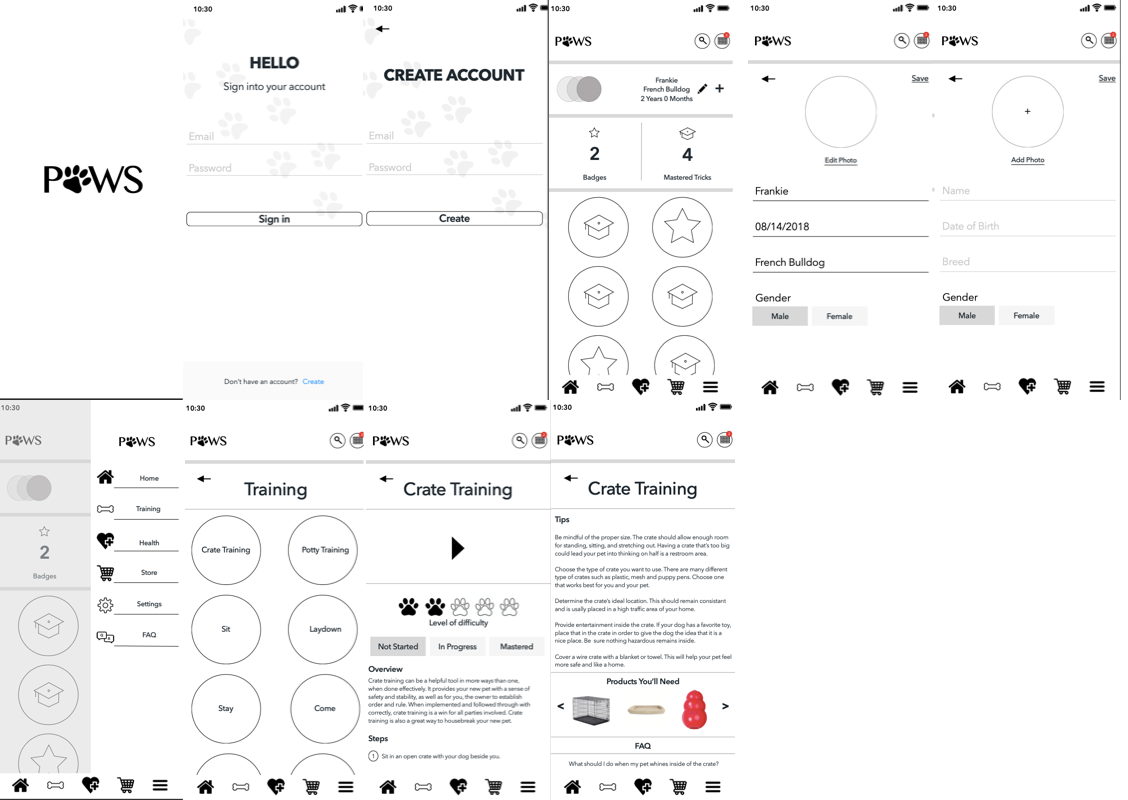 WIREFRAMING:
After sketching my product's initial concepts, I needed to digitize them by creating wireframes. Creating wireframes allowed me to Create a visual guide that represents the skeletal framework of my product. Wireframes allowed me to arrange the elements to best accomplish my users needs.

Creating wireframes with such detail allowed me to visualize everything the user would be able to see as well as all the necessary steps and flows of the user's journey through the product. This allowed me to make sure everything made sense and flowed visually.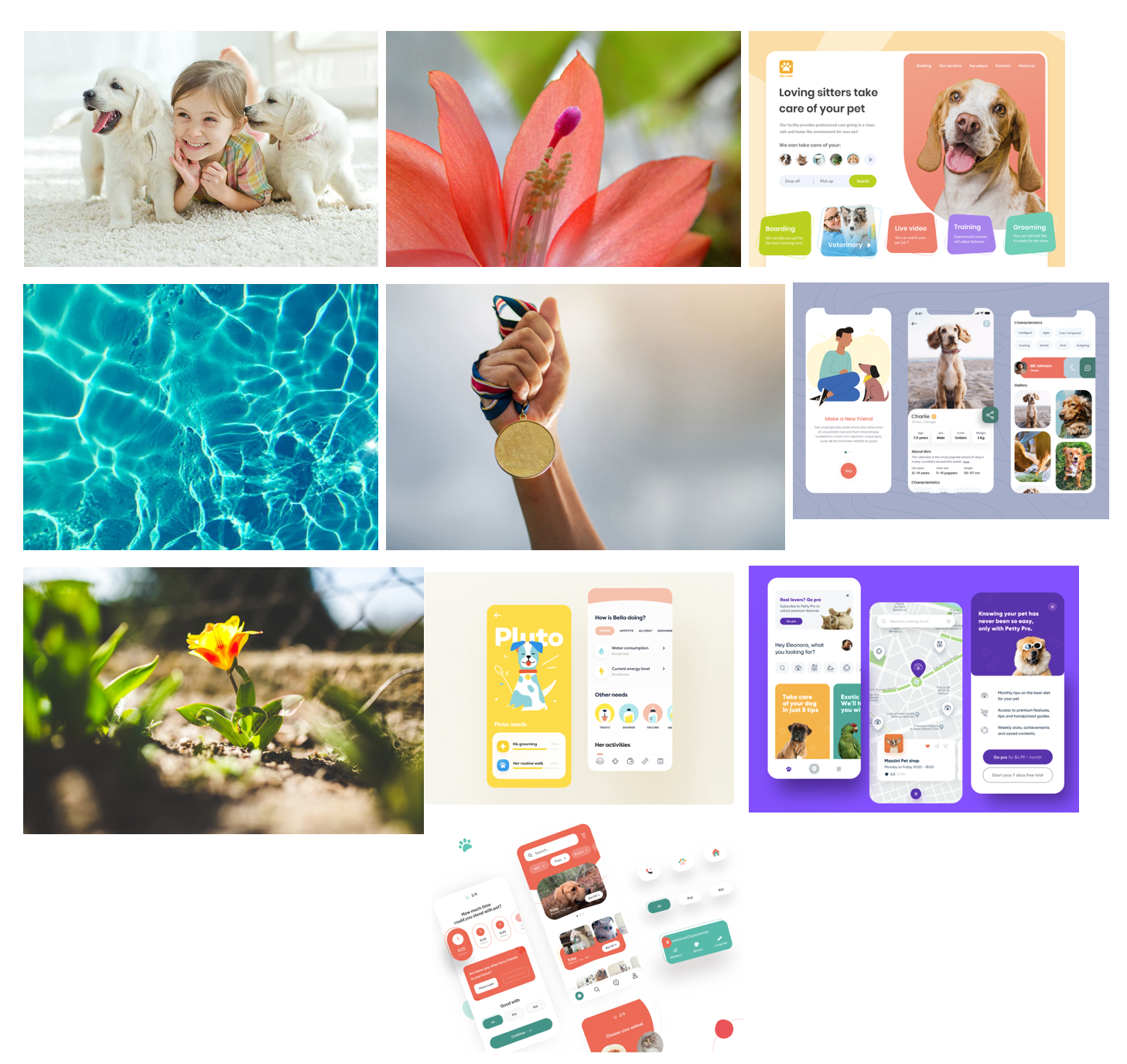 Moodboard
After sketching my wireframes, it was time for me to start envisioning the look and feel my product. I created a mood board of imagery and colors that ultimately represented the visual aesthetic I used in my final product and inspired my creativity as I designed my UI.
The aesthetic established by my moodboard directly reflected my brands personality and brand attributes of my product.
I chose imagery that felt genuine as I wanted to convey my brand as being genuine and trustworthy.
The imagery itself is very bright, calm and youthful. I wanted to choose photos that represent all of these things because that's what I want Paws to look and feel. A product that's cheery and bright. When products are exciting to use and pleasing to the eye and help boost the mood, ultimately users will want to return.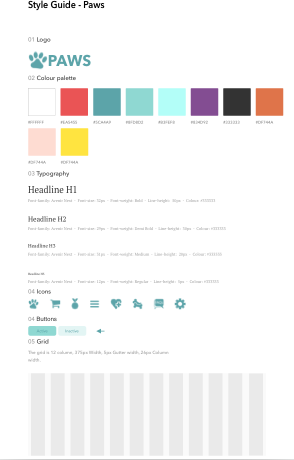 Style Guide
Using my moodboard for reference, I started to create my products style guide, following a holistic set of standards that defined my products branding. My style guide references tone, logo usage, colors, visuals, and more. The style guide acted as a point of reference during my design process to help me stay consistent. This also applies to if I were working with a design team and there are multiple people working on the same project, this allows us all to stay consistent.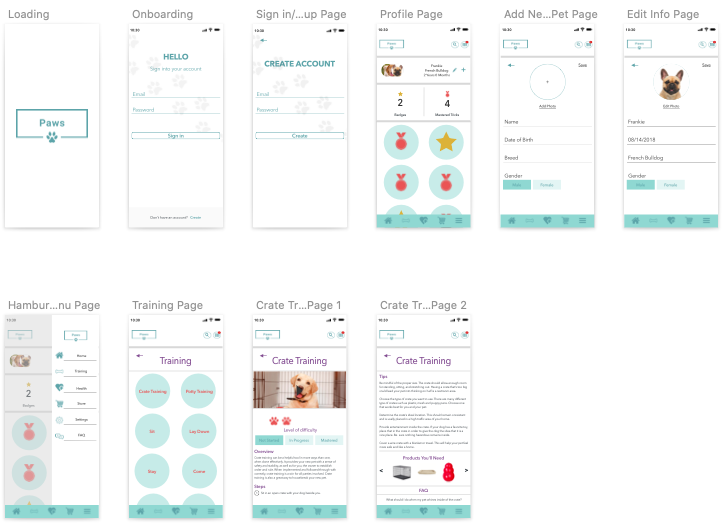 UI Design
Using the style guide and mood board I started adding the UI design element to my screens. This part was most exciting to me because I started to see the screens come to life with color and graphics.
TEST & VERIFY
USABILITY TESTING
Now that I added the UI elements to my products pages, I needed to test and verify my design decisions. For this I conducted usability testing done remotely through video conference. This test consisted of asking my participants to complete specific tasks within the prototype to identify any problems.
I recruited two initial participants from my previous interview, survey and research participants as well as two new participants that I found through social media.
I provided each of my participants background about where my project currently was at, the goals of the tests I planned to run, the questions I hoped to address, and the methods I would be using. The following red routes were tested with my participants:
Login/Create Account - testing the app's login / sign-up flow

Edit Pet's Information - testing editing a pet's information to see that users were able to utilize that feature.

Adding a New Pet - testing adding a new pet to see that users were able to utilize that feature.

Check Flow to Specific Training - testing the participants ability to find a specific training and note their navigation process
In addition to these tasks I asked each participant to observe the profile page and in a detailed manner to talk me through what they thought in terms of visuals (colors and graphics) as well as layout to get a sense of what users liked and didn't like. This helped me to revise my designs later on.
FINDINGS:
While the majority of the experience was smooth and worked as the participants expected there were some small issues that users were experiencing. This allowed me to identify opportunities for design improvement in my final designs.
Issue #1:
Majority of participants were using the hamburger menu to navigate to the training page instead of clicking on the bone icon which represented training.
Participants didn't understand what each icon was for and therefore ultimately used the hamburger menu icon to find the training page
Recommendations:
Having the hamburger menu separate from the rest of the icons could allow participants to experiment with the icons more.
Issue #2:
From the training page, the back arrow led to the open hamburger menu instead of back to the profile page.
After completing this task and navigating back from it, a participant found that it led back to the open hamburger menu instead of back to the profile page.
Recommendations:
Change the destination from the hamburger menu to the profile page when a user clicks the back arrow button from the training page.

Have the home menu button in the middle of the bottom navigation menu and/or make it bigger for users to also be aware of for utilization.
Issue #3:
Color Palette
Some users thought there could be more bold colors incorporated throughout the product.
Recommendations:
Add 1-2 complimentary colors which are more bold to co-exist with the current set of colors used which are more pastel and light.
Issue #4:
Use of size and space
Some users with more background and experience in UX/UI design noticed some of my sizes and spacing were on par with standard sizing and spacing for buttons, icons and text.
Recommendations:
Update the size and space to accommodate the standard size and spacing used in design.
SOLUTION:
Using the issues and my recommendations, I updated the UI to address the usability issues found in my testing. Majority of these issues were located on the profile page, so those were the highest priority to address as that acts as the "Home" screen and is the first page users will use to navigate through the rest of the product.
Apart from the participants' feedback and my recommendations there were further issues that needed to be addressed. The overall layout needed to be improved to be more visually appealing as well as the icons all needed to match (filled in or hallow). These simple changes made the app present much better and be more cohesive in its design.
OPPORTUNITIES FOR GROWTH
OPPORTUNITIES FOR FUTURE ITERATIONS:
While this project addressed the main issues gardeners were experiencing, I found additional opportunities along the way that would be excellent prompts for future iterations of this app design.
INTEGRATION WITH LOCAL VETS
Allowing users to book and manage appointments with nearby vets as well as have access to chat with them regarding their pets health and care needs.
PRODUCT INVENTORY AND SHOPPING LISTS
Linking the "products you'll need" shopping list section within pages to an Amazon Affiliate link or nearby stores with available inventory.