Lillian Jiang
UX/UI designer
The Challenge
Registering a new business has always been a long process, especially for first-timers and it may take weeks to complete registration. Our client Patricia Holdings is a business operating since 1968, they specialise in making this registration process easier and customers can expect delivery within days.

However, with technology developing so rapidly, competitors with digital savvy trends have saturated the market that Patricia Holdings had once dominated.
"We have lost the prime mover advantage so we want the best experience", said our client.
Improving Online Experience
After discussing the brief with our clients, we have understood their pain points and agreed on the primary problems which we were going to tackle, which are as follows:
Improving the online experience for new customers
Simplifying the company registration process
Increase opportunities to gain more customers
Problem Statement

A first-time business owner who feels frustrated and stressed about not knowing how to start a business needs to set up a business but faces time constraints and lack of business setup knowledge.
How might Patricia Holdings provide a better online experience and attract first-time business starters?
My Role
I worked alongside two UX designers for this project. We worked in a Waterfall methodology in this project to reach our goals.
My role on the project was to participate in all activities, the breakdown of my role in this project is as follows: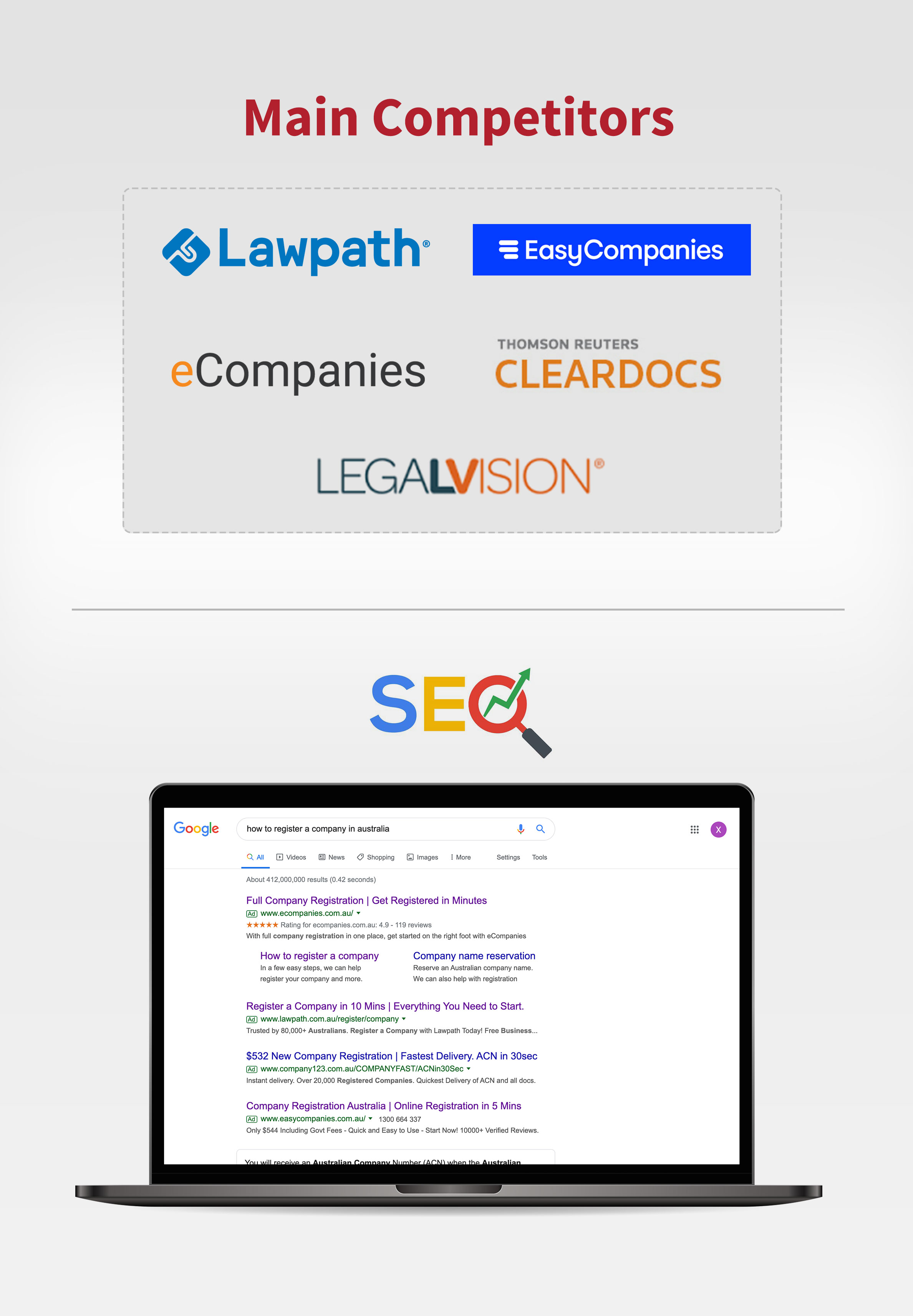 Competitor Analysis
In order to better understand the market and get inspiration, I did the competitor analysis of 5 major companies.
Easy Companies
The company registration process was easy. The overall process took less than 20mins.
Have insights and guidance on how to register a company before the registration process (eg. how long would it take to register a company; what need to be prepared)
Highlighted the customer reviews to build trust
The human tone of voice (eg. We've worked hard to make it easy)
Strong UI
Using Google SEO
E-companies

Have a web page of "How to Register a Company in Australia" to provide help & guidance for business starters
Highlighted the customer review from 3rd party to build trust
The registration process was easy
Using Google SEO
Quantitative Survey
Once we understood the market, we wanted to understand more about users in terms of their behaviours, psychology, registration experience and what they value most when they use a service provider to register a company. Thus, we set up an online survey and asked business owners to fill it out. A total of 17 participants filled out the survey.
Key findings & insights

The majority of participants are business starters, they have no idea about the registration process when they first register a company, so they might need guidance and support
Majority participants set up the company by themselves or use accountants
75% of participants think customer service is important
When the participants decided to start a business, 50% of participants chose to search online, 40% of participants decided to ask friends and families. Thus, there would be opportunities for Patricia Holdings to do SEO or referral programs.
When participants use a service provider, they valued :

speed/time
cost
customer support
service quality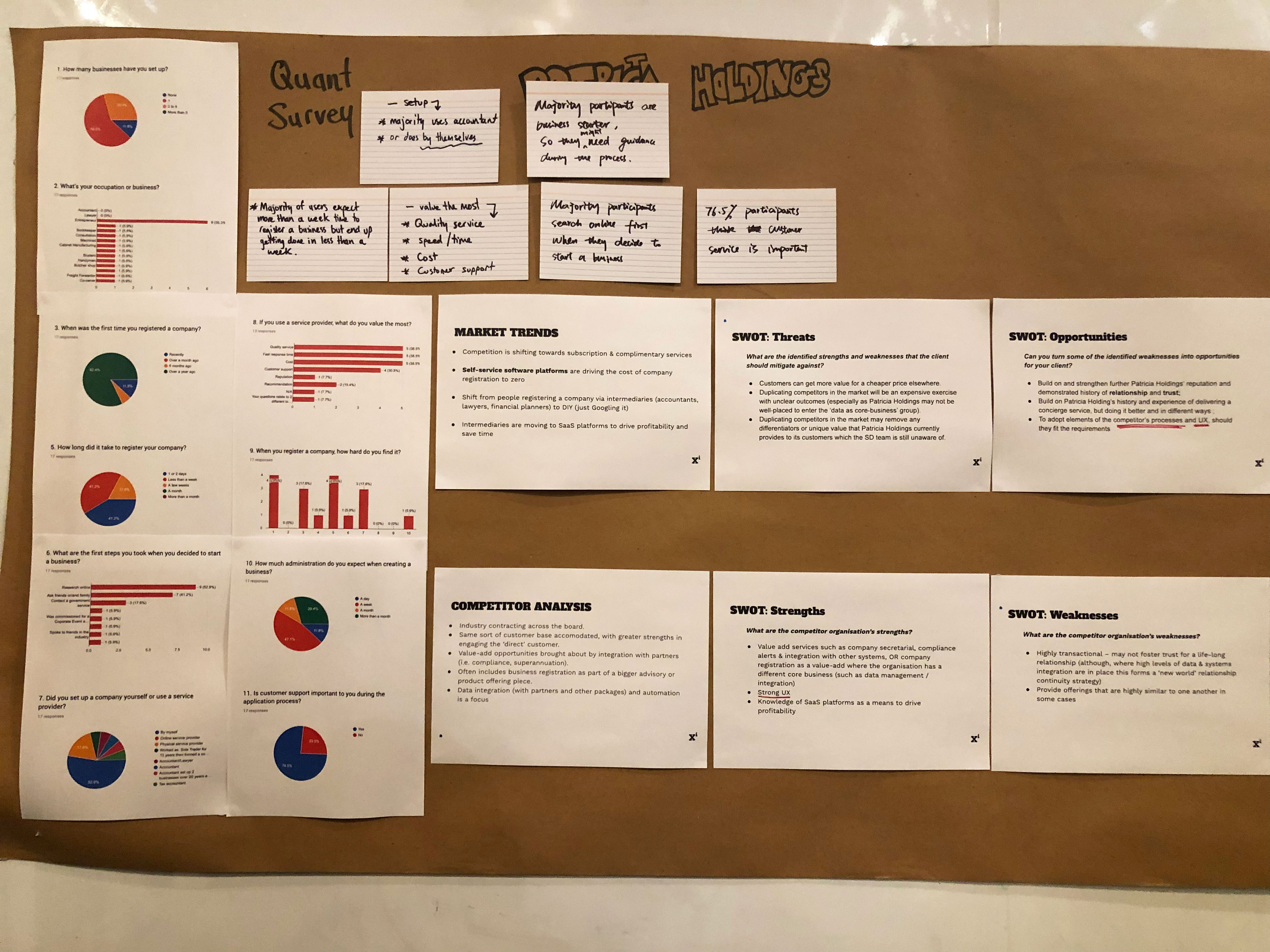 Qualitative Interview
At the discovery phase of our project, we conducted user interviews in order to get a better understanding of the problem.
To discover and understand more about the market, users' pain points, and possible opportunities, we have conducted interviews with 7 participants, 2 of which are Patricia Holdings customers.
The main insights we got are:
Users need a platform that is clear and easy to use, so that they can register the company easily.
Users need to navigate through pages easily with a clean UI so that their experience is delightful and rewarding.
Users need relevant suggestions so that they can do everything right especially when they do it the first time.
Users need a simple but efficient experience with guidance so that they don't feel alone, confused and unsure.
Users need transparency in the registration process so that they can have a sound understanding of the process.
Users need to be able to contact the customer support so that they can have the answers straight away and their problems are solved quickly.
Users need continuous guidance and support so that their upcoming questions can be resolved and they don't feel alone.
Users need to know what they don't know so that they don't waste time and money by setting up incorrectly.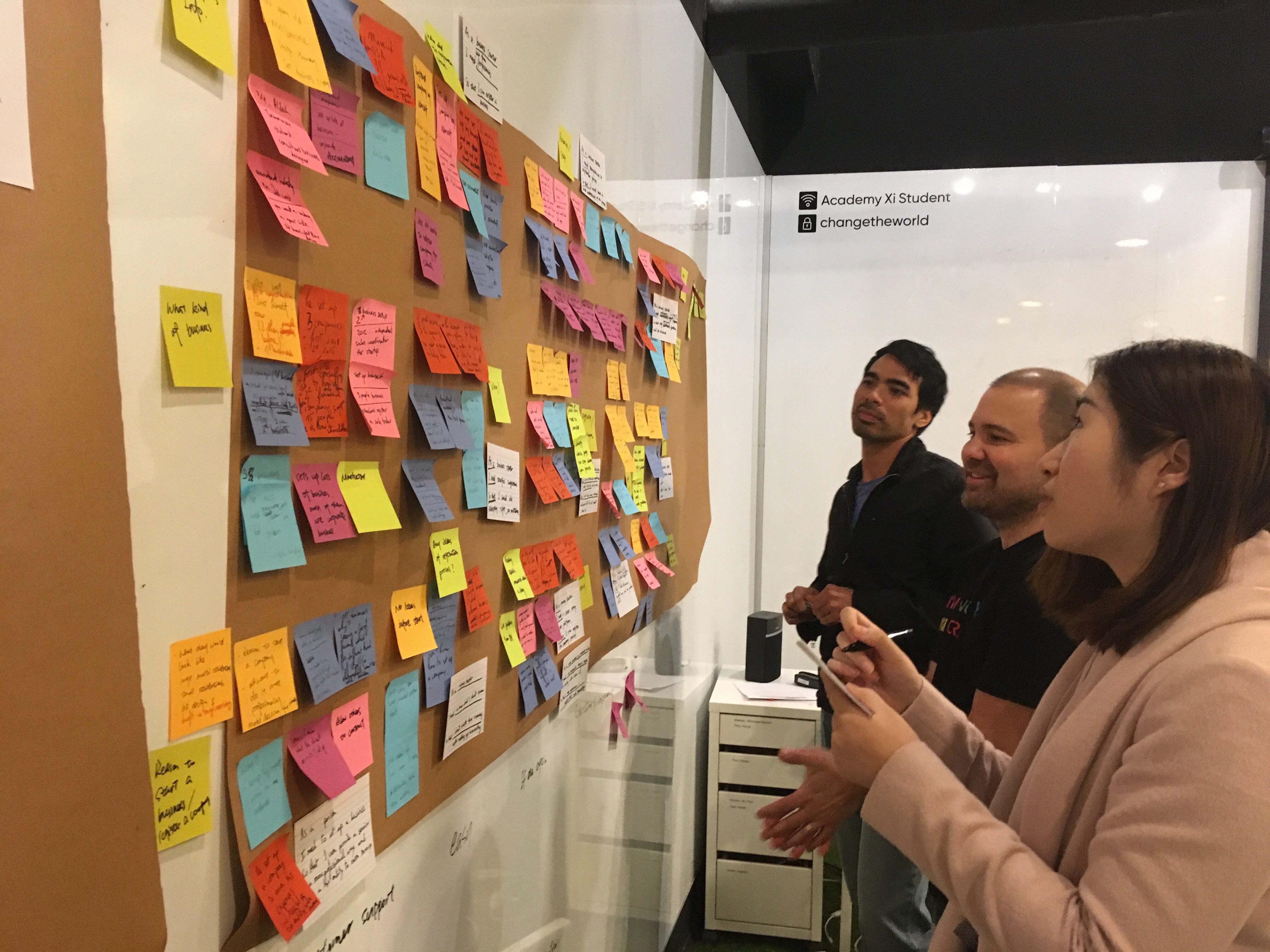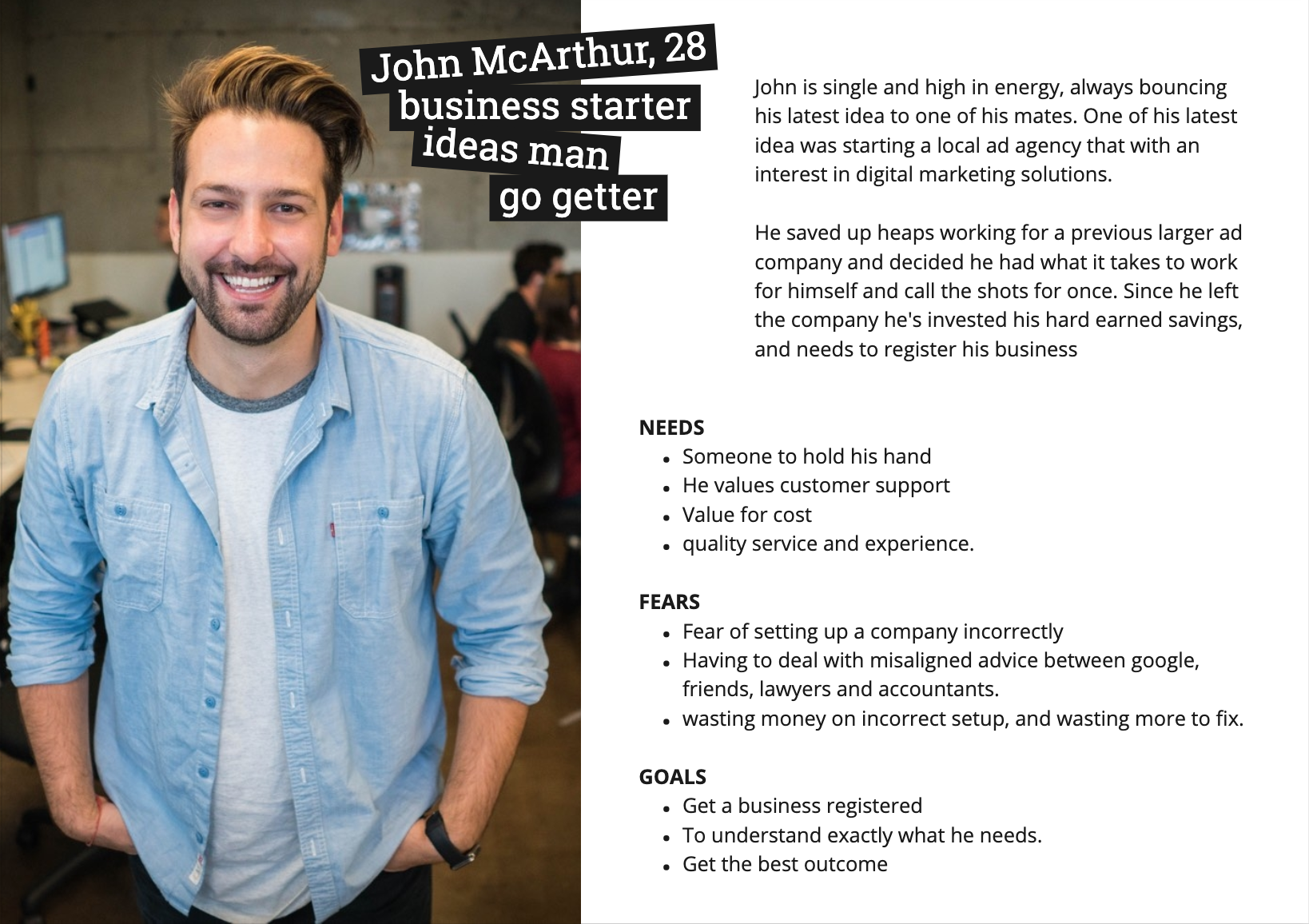 Persona
To help the client understand the users, we set up a principle persona according to our findings. We developed a User Journey and identified the pain points based on this persona.
We referred to it throughout the entire product development process.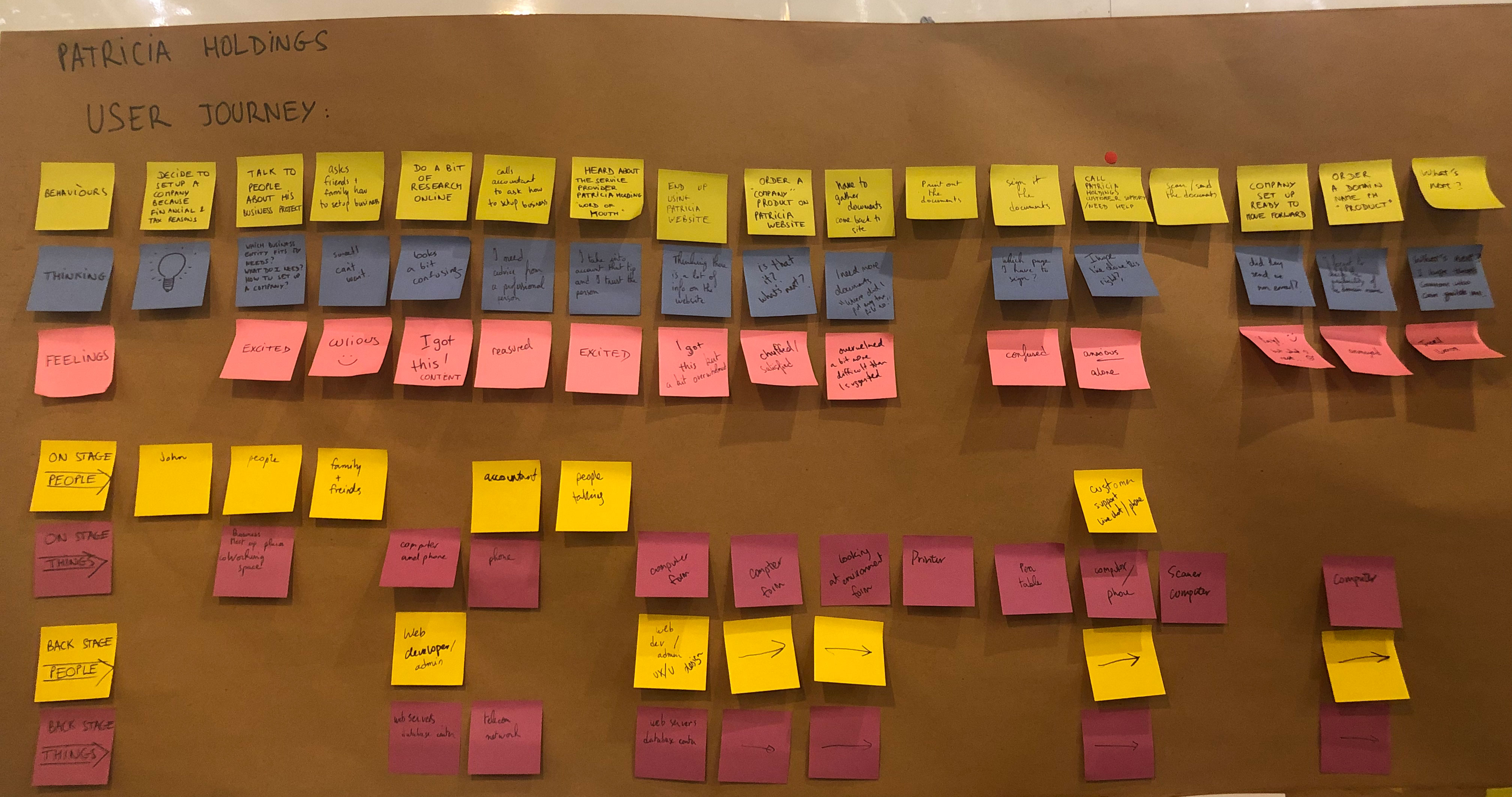 John's User Journey
In order to understand our users better, we created a user journey for John. This helps us better understand the process John goes through and his pain points, so that we can alleviate the pain points when we design the product for him.
MVP, Features & Prototype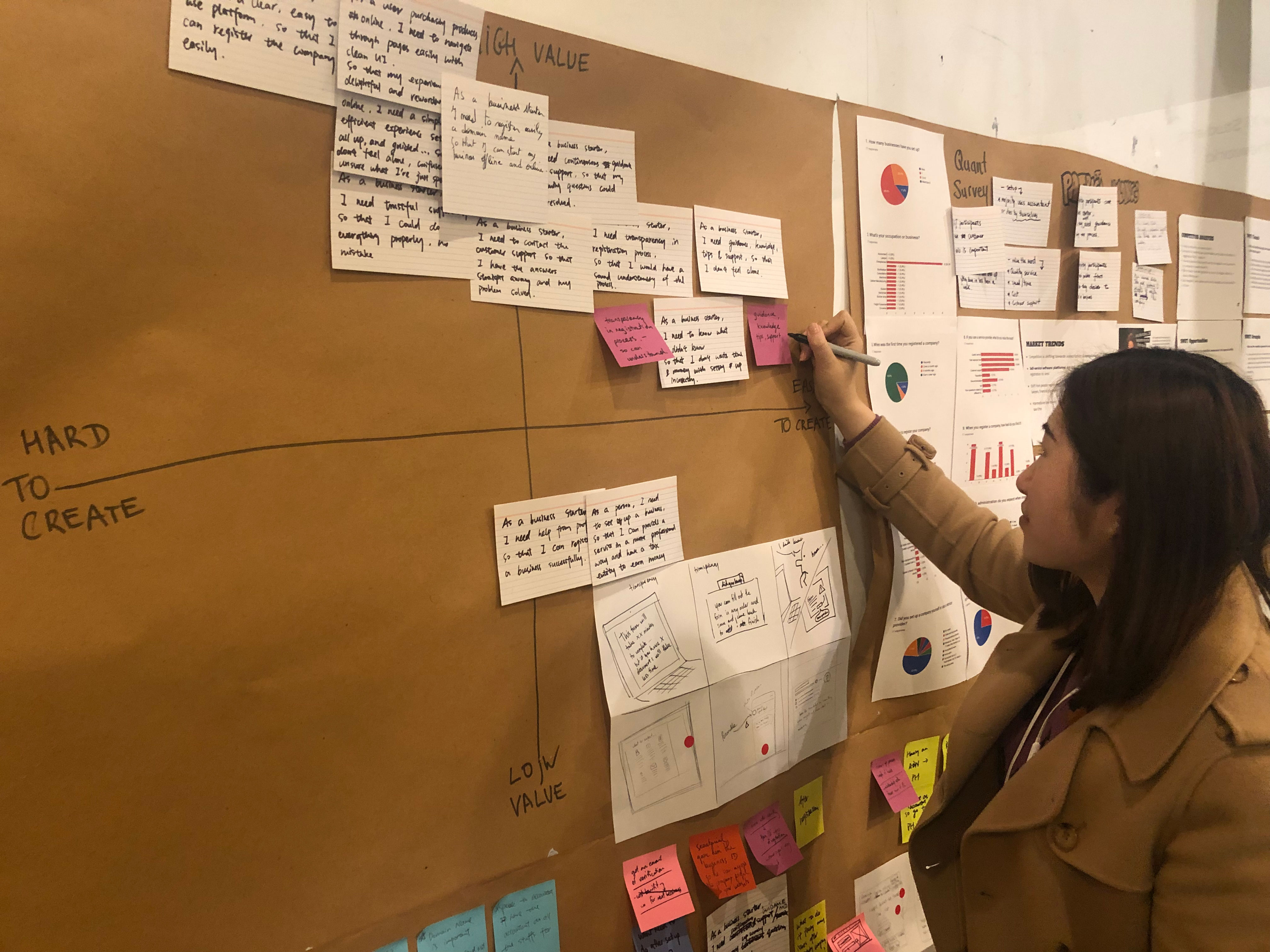 MVP Workshop
After getting the insights from affinity mapping and qualitative survey, we did the MVP workshop to find out what are the high value and easy to implement insights and the themes for design.
Themes from MVP Workshop

Guidance & Support
Easy to Use
Transparency
Trust & Confidence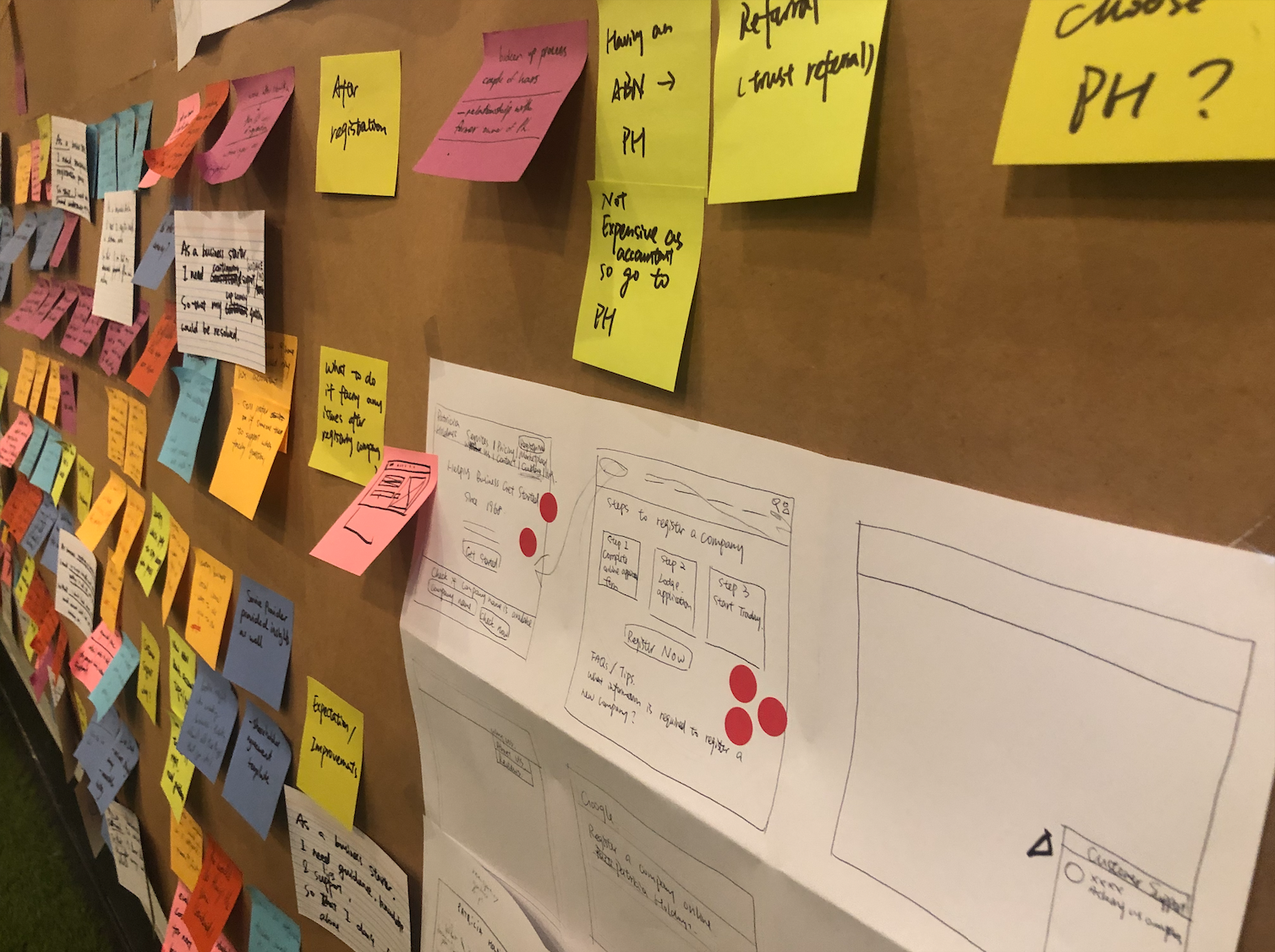 Ideate and Sketching
I always start my design process with low fidelity sketches. This is the way I iterate through many design options quickly. Then our team vote for the features which we believe are valuable and prototype based on those features. Sometimes we combine ideas to make a better component and base our prototype on that. Feature 1: Customer Support
Based on the survey, 76.5% of participants think customer support is important and most people values it when they were choosing a service provider.
I also got insights from the interviews that business starters would need customer support during the registration process, to make sure everything goes right.
Thus, one of the features we highlighted is the live chat. We made the live chat pop up once the user opens the website. Compared with PH's current live chat, we added in the human face and welcoming words, to make the customers feel they are welcomed and supported along the process.
I also identified that we should add the contact number to the live chat and to the home page since the phone number is hard to find on PH's current website. This is because the majority of participants mentioned they prefer to have both the live chat and contact number when they looking for support.
Feature 2: Build Trust
We highlighted the customer review from the third-party to give users more confidence and create trust. Third-party reviews were understood to be a way to lend credibility to companies from an outside source and were helpful to both consumers and search engines. Besides, we received feedback from users that customer reviews were difficult to find on the current website. Therefore, it was important that we highlight those in our final product.
Feature 3: Simplify the Overall Experience
Based on insights from the affinity map, users want a clear, easy to use platform. So we simplified the homepage.
We have re-grouped and redesigned the navigation menu and improved the UI to make the overall experience visually rewarding as well.
We also created registration process insights, to give customers more guidance and transparency, such as how long would the process would take and what they should expect.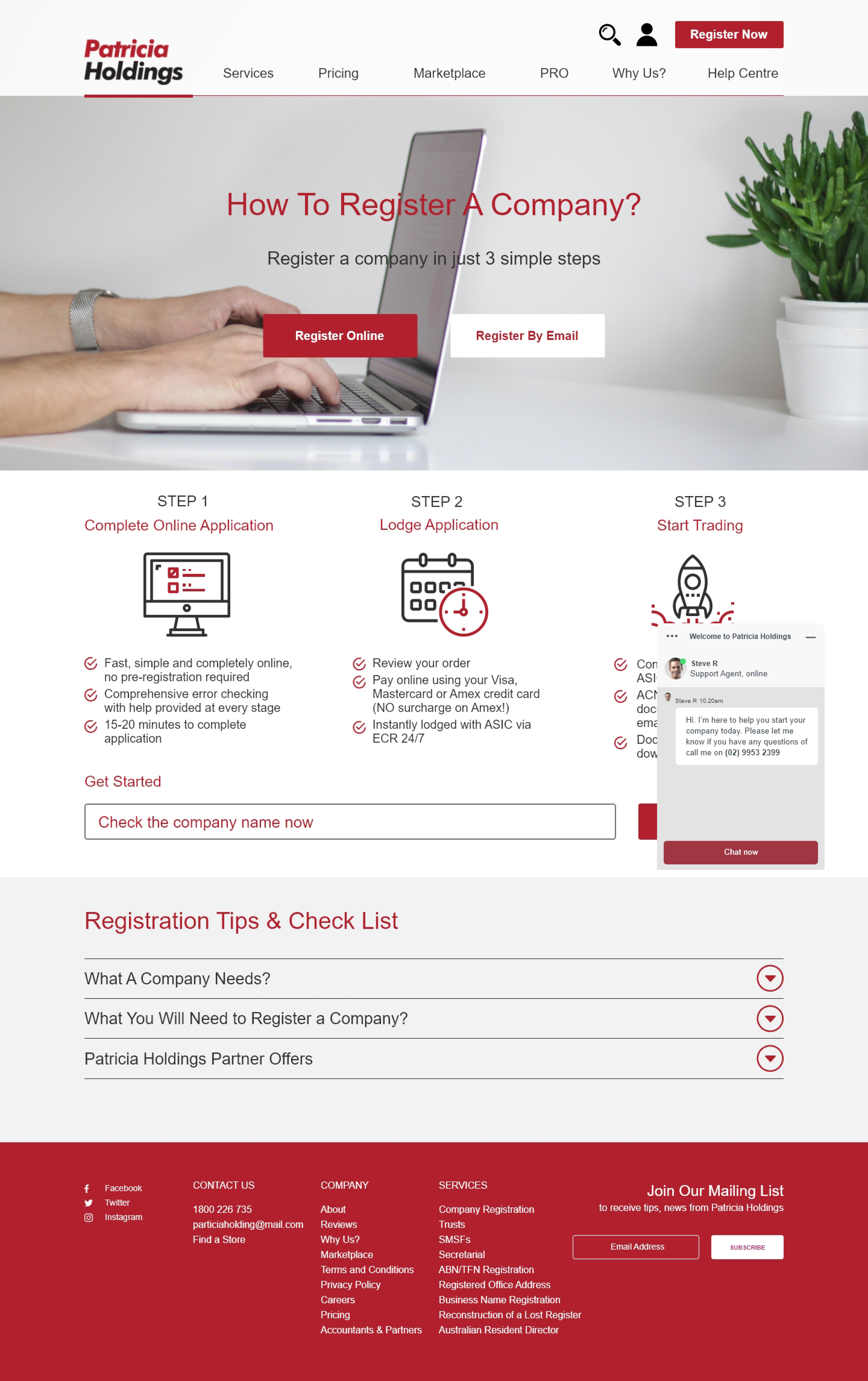 Feature 4: Guidance & Support
Before the registration process
Based on the insights from the survey and interviews, the majority of business starters don't know what to do and where they should look for guidance. So I created a "how to register a company" page, to provide guidance, tips, or a checklist about the registration process.
Based on the quantitive survey, 52.9% of participants chose to search online first when they decide to start a business, so it would bring Patricia Holdings more opportunities with SEO or Google Ads about "how to register a company". When I searched for how to register a company, I found most competitors used this feature as well.
After registration
In order to provide continuous guidance to users, we also added the feature of follow up emails to provide tips and insights about how to run a business.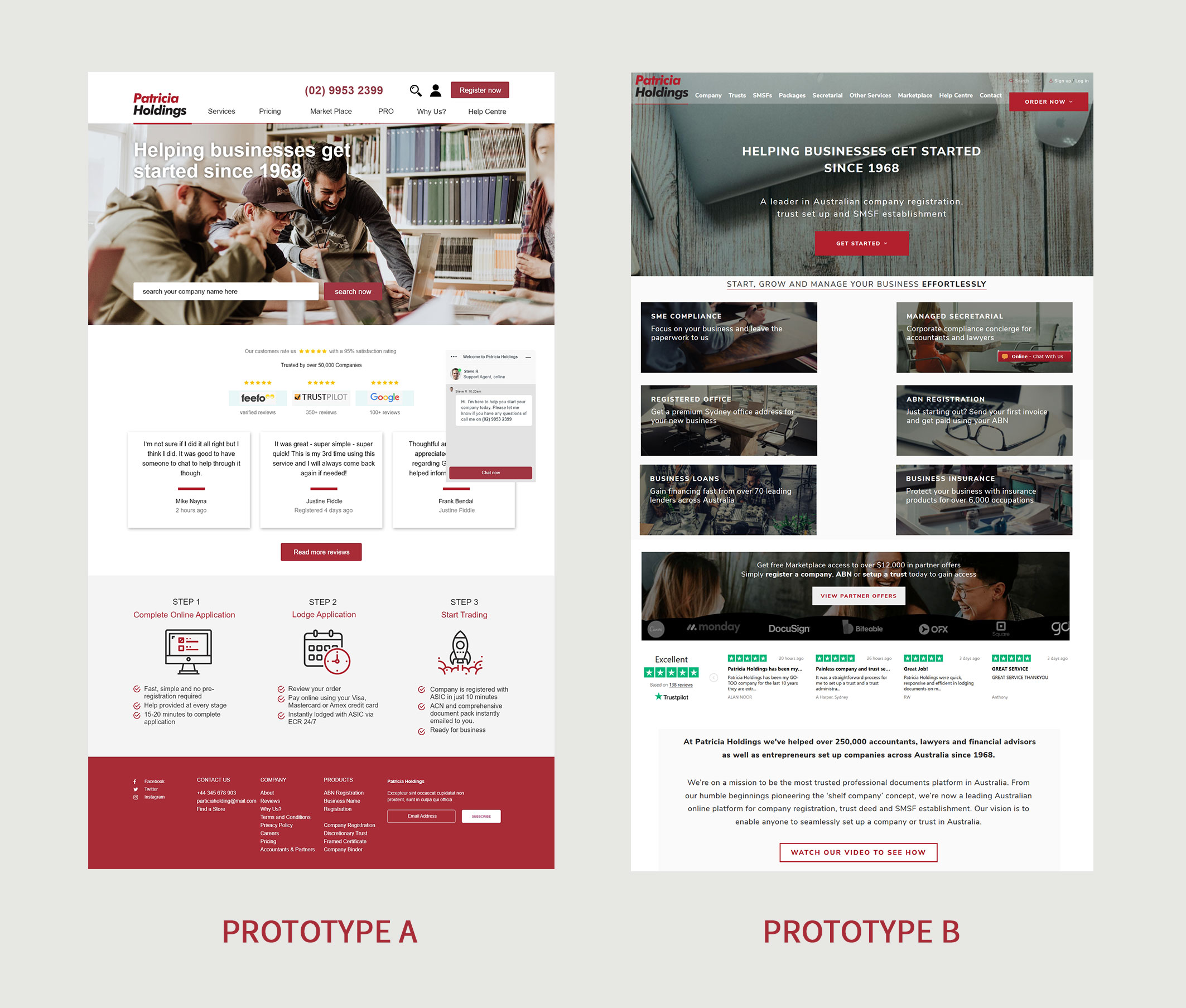 Usability Testing
Before presenting the prototype to the client, we conducted a testing round to reveal possible usability problems. In order to review the strengths and weaknesses of our prototype and existing Patricia Holdings website, we used A/B testing as the usability testing method.
We conducted the testing with 4 participants.
Main Insights from Prototype A
What worked
Users liked the 3 steps insights for the registration process before they get started

Users would check the "how to register a company" page before they get started
The company registration form is easy to navigate and is user-friendly for business starters
The users found it convenient to have the domain name service as part of the form.

What needed iteration
The homepage hero image is a bit distracting and confusing, and it needs to be improved since it's not clear and doesn't show what the company offers.
Main Insights for Prototype B
What worked

Most of the users liked the progress bar (circles) and the Order Summary, it was clear and efficient.
Most users started registration with the "get started" button, and didn't use the "order now" button.
The form was visually pleasing and the process was good/professional but maybe not adapted for the business starter
What needed iteration

The menu and click button showed too many options and sometimes too repetitive
The contact number should be made obvious and there should be a webpage about "how to register a company"
It's better to have the phone number shown during the process, otherwise, the customers feel that there is not enough support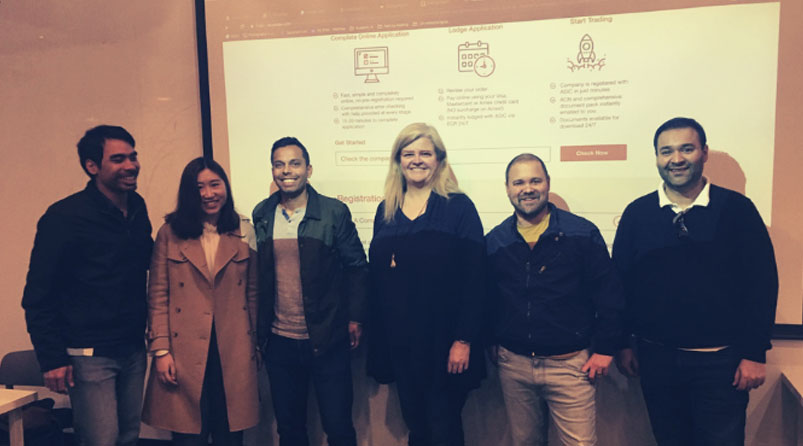 Future Iteration & Opportunities
After confirmation, besides the confirmation email, customers also expect to receive the partner offers and insights about what is next
The form's length would influence customers' experience. It is better not to have too many options and long-form pages

Could consider utilizing SEO for "how to register a company" webpage, so that business starters would access to Patricia Holdings website while doing research about the registration process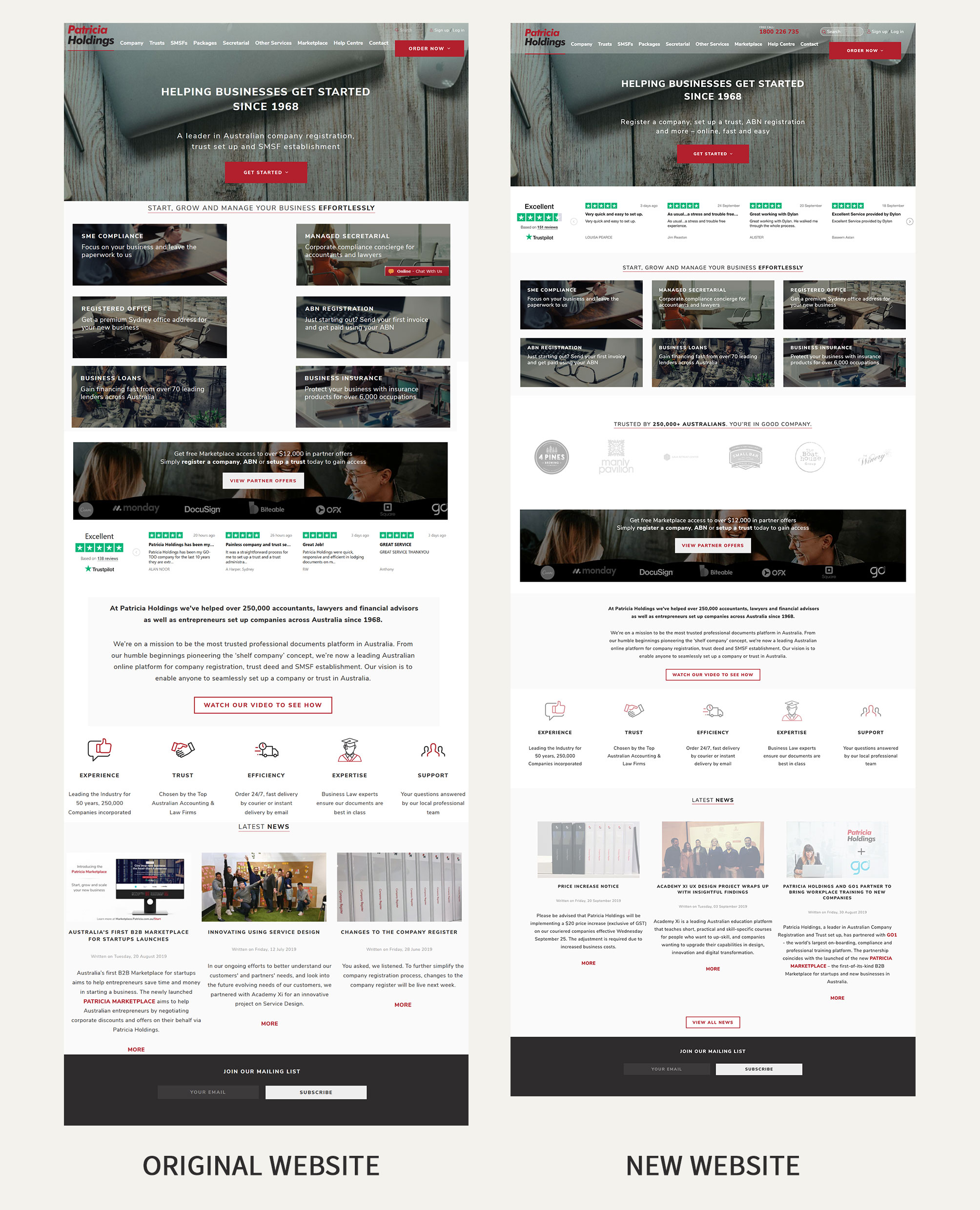 Change is in progress
After the final presentation to the client, they implemented changes on their website based on our findings. They have highlighted "Trust", added the "Contact Number" into the homepage, and changed the "Content Writing" for the hero image.
They are still in the progress of making changes and have shared some of our findings on their website.
Click here view their website and news.
Main Takeaway
We decided on the main categories of the webpage with a Card Sorting session by using Treejack. We sent out the card sorting survey to Facebook business owners' group, and waited for 2 days to review the result. However, we failed with this process as 9 out of 10 participants quit the survey before they finished it. This may be because the survey is too complicated as an online survey, and some words might not make sense for them (eg. SMSFs).
Although we failed in this process, it was a valuable lesson for me. I have learnt to be mindful of this issue when handling this type of research methodology and this will better my future projects and research.
"The final findings presented by the Academy Xi team were both insightful and practical. We will be implementing many of the recommendations to make the process of registering a company in Australia for entrepreneurs not only fast and easy but also find more ways to help new business owners get a head-start".