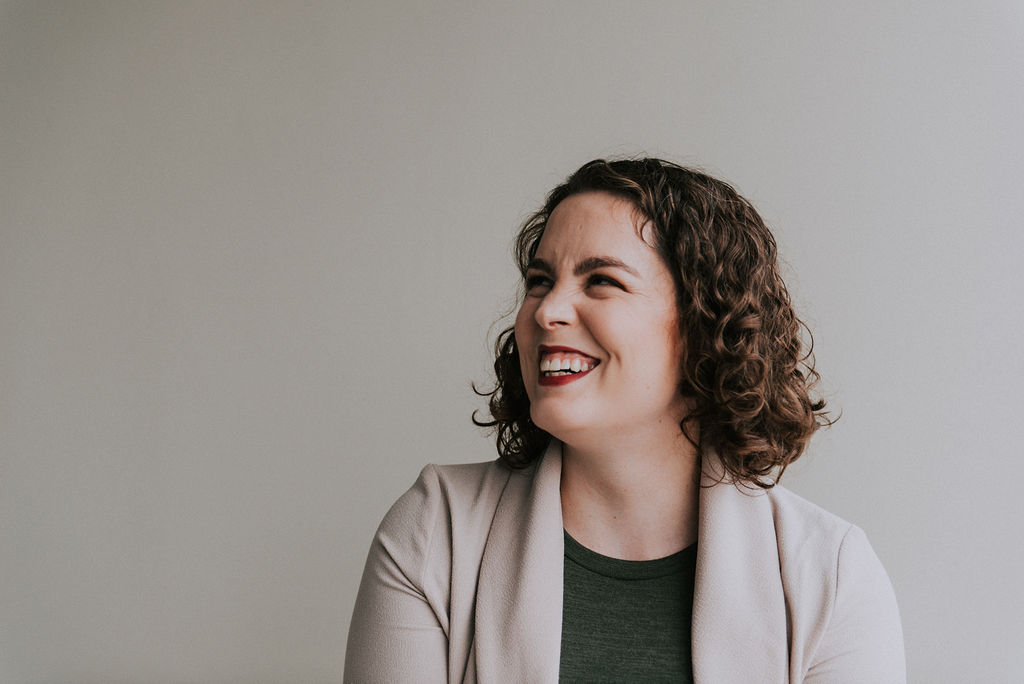 Allison Robins
UX Researcher + Strategist
The Folk Festival Society of Calgary
Website Redesign

Summary
I served as the lead UX Researcher and Strategist for the redesign of the Calgary Folk Fest's website. The project team consisted of Field Creative, Guerbois Creative, and Helen Eady Creative.

To ensure that we made the most of the not-for-profit's budget, I worked to ensure that our design decisions were evidence-based, which reduced unnecessary rework.

My research deliverables included the following:
Analytics Audit

User Interviews (15 participants)

User Personas (x5)

Tree Tests (461 participants)

Usability Tests (7 participants)
The redesign resulted in a 90% increase in the adoption rate of the site's custom schedule functionality, a 25% reduction in the site's bounce rate, and a 27% increase in session duration.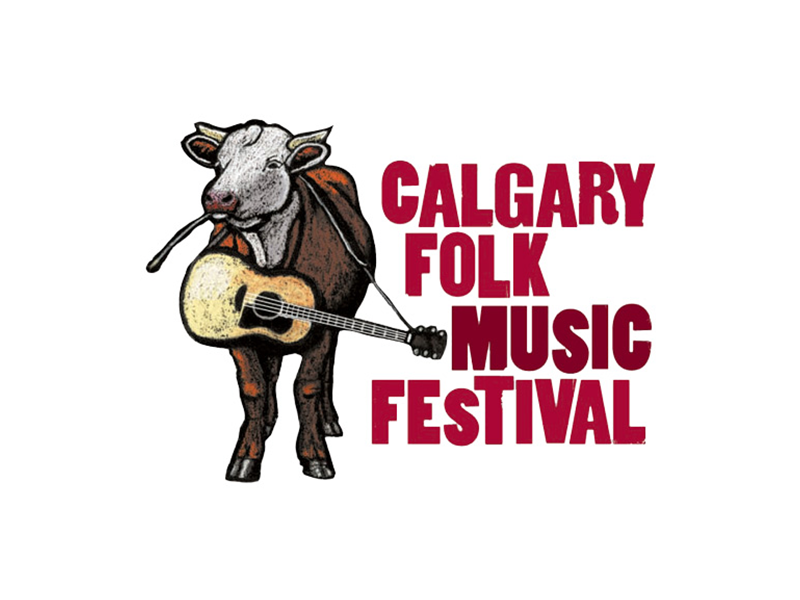 The Client
The Folk Festival Society of Calgary (Folk Fest) is a charitable arts organization that over the course of 40 years has grown from its primary event, the Calgary Folk Music Festival, to include the ownership and operation of a community event space, a multi-venue winter festival, and year-round musical programming.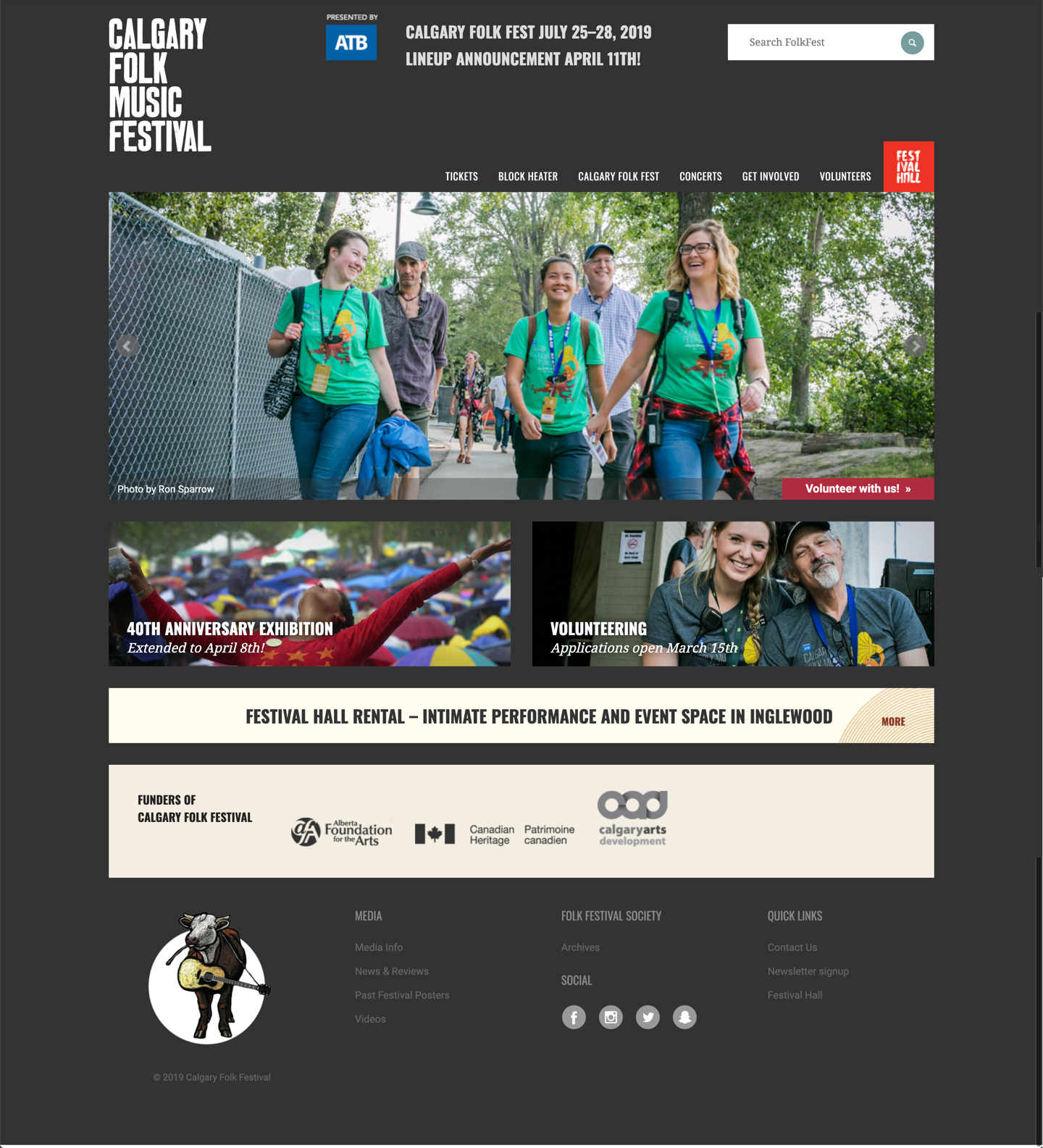 The Business Problem
As Folk Fest's mandate grew and brand evolved, its website did not effectively adapt. Folk Fest needed a site that could unite its different brand elements, keep pace with changing seasonal priorities, and drive ticket sales to its musical programming. Over the years, the site's content had grown to span over 1,000 pages, due to a lack of a sustainable governance plan. While Folk Fest had never formally conducted user research, anecdotally they knew that users struggled to find what they were looking for in this mass of content.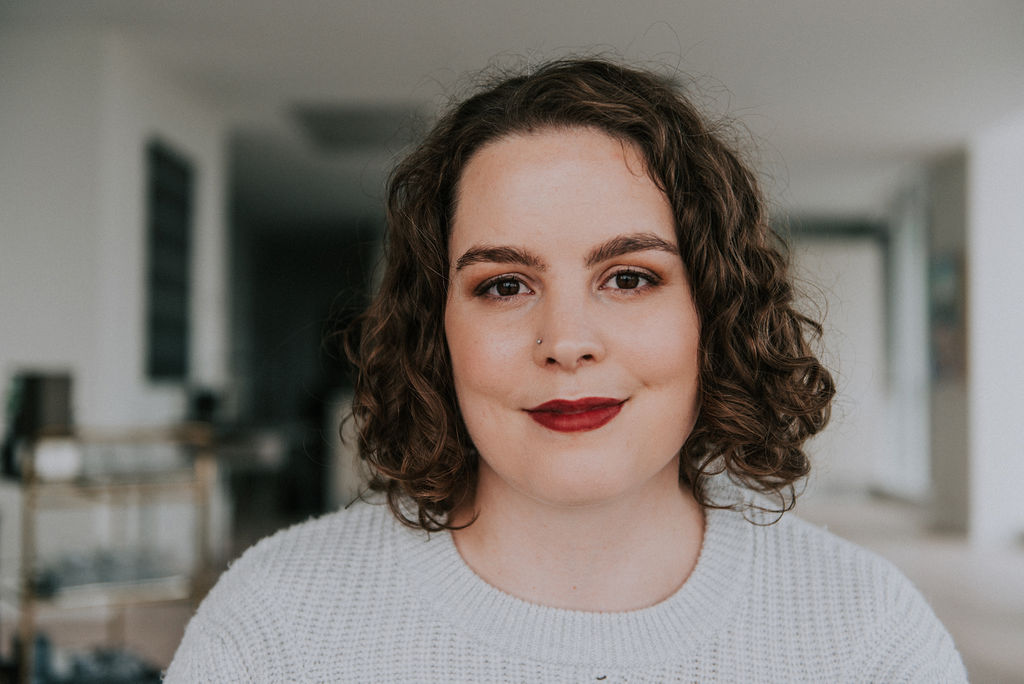 My Role
I was brought onto the project to lead UX research and strategy, collaborating with a broader team of designers and strategists. As a not-for-profit, it was important to me that my work made the most out of Folk Fest's spend. From previous experience, I knew that conducting research throughout the duration of a project, as opposed to just evaluating our designs through a usability test, would reduce rework by ensuring our decisions were evidence-based.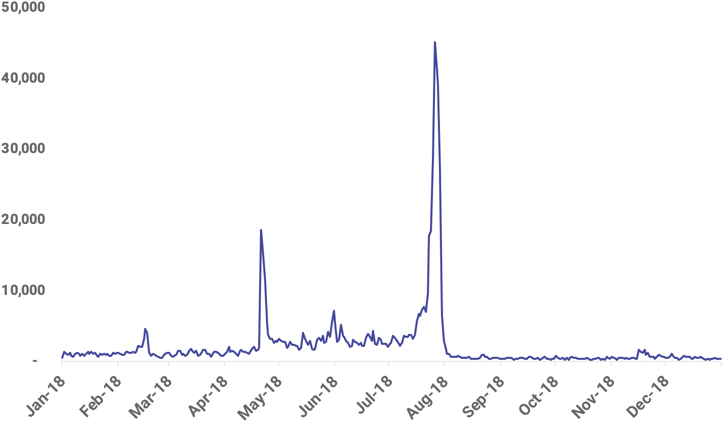 Analytics Audit
I began with a review of the site's analytics to help me understand how users arrived at the site and what they did when they got there. Examining the patterns in the behaviour of the site's 174,000 users, it was clear that there were distinct periods when different user segments accessed the site.
Due to the site's configuration, however, I had no visibility into how users interacted with Folk Fest's lineups and schedules. This lack of information was particularly problematic because these actions accounted for over half of the site's activity.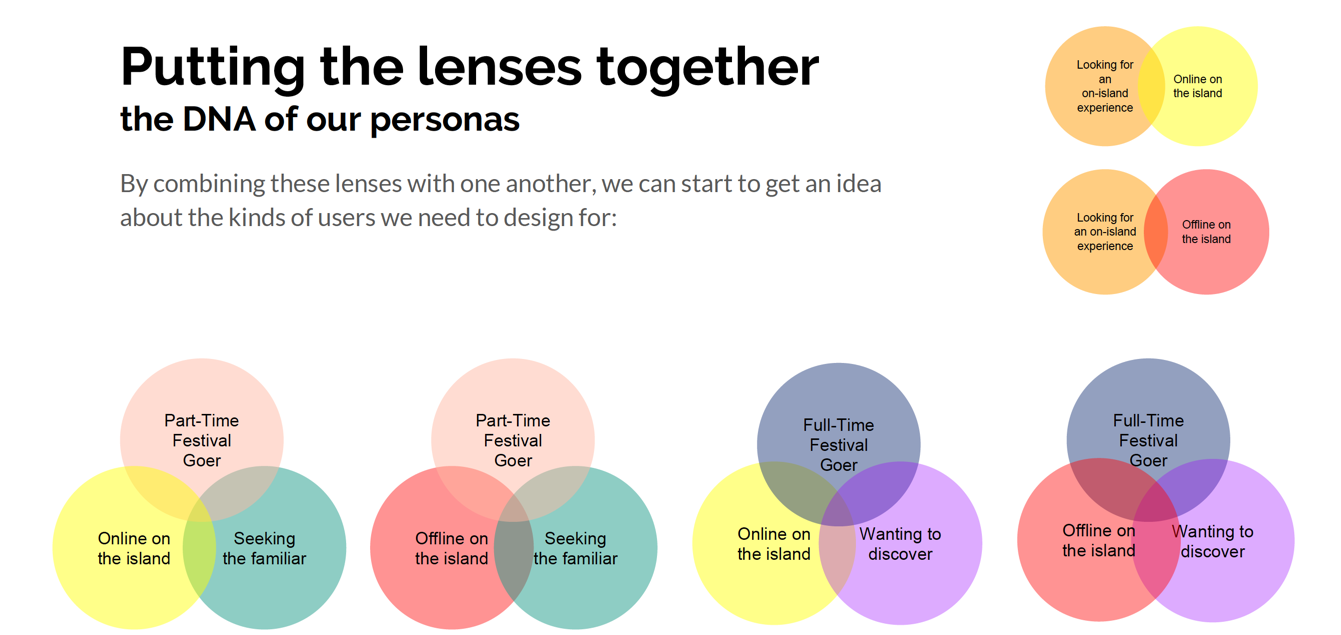 User Interviews
I used a series of 15 user interviews to address the big question marks that were leftover from the audit:
How do users currently interact with festival lineups and schedules?

How do these behaviours change throughout the different stages of the user journey?
As I summarised my research findings, there were clear clusters of values and behaviours that emerged:
Pre-Ticket Purchase: People who would only attend a portion of the festival vs people who would attend for its entire duration

Lead-Up to the Festival: People seeking familiar artists vs. People seeking to discover new artists at the festival

During the Festival: People looking to be online at the festival vs. People looking to disconnect
2022 Update:
I think it's important to normalize changing your opinion when presented with new information.
Since creating these personas for Folk Fest, I've been exposed to a lot of fantastic thinking from others in the UXR community about how seemingly innocuous details like photos or demographic information can drive bias.
If I were to do these personas over again, I'd remove these unnecessary details, which, at best, distract from my research findings.
After all - empathy doesn't come from looking at a stock photo; it comes from understanding people's experiences, values, beliefs and goals.
If you want to learn more about why so many personas are just plain bad, check out the article Your Personas Probably Suck by Amber Westernholm-Smyth.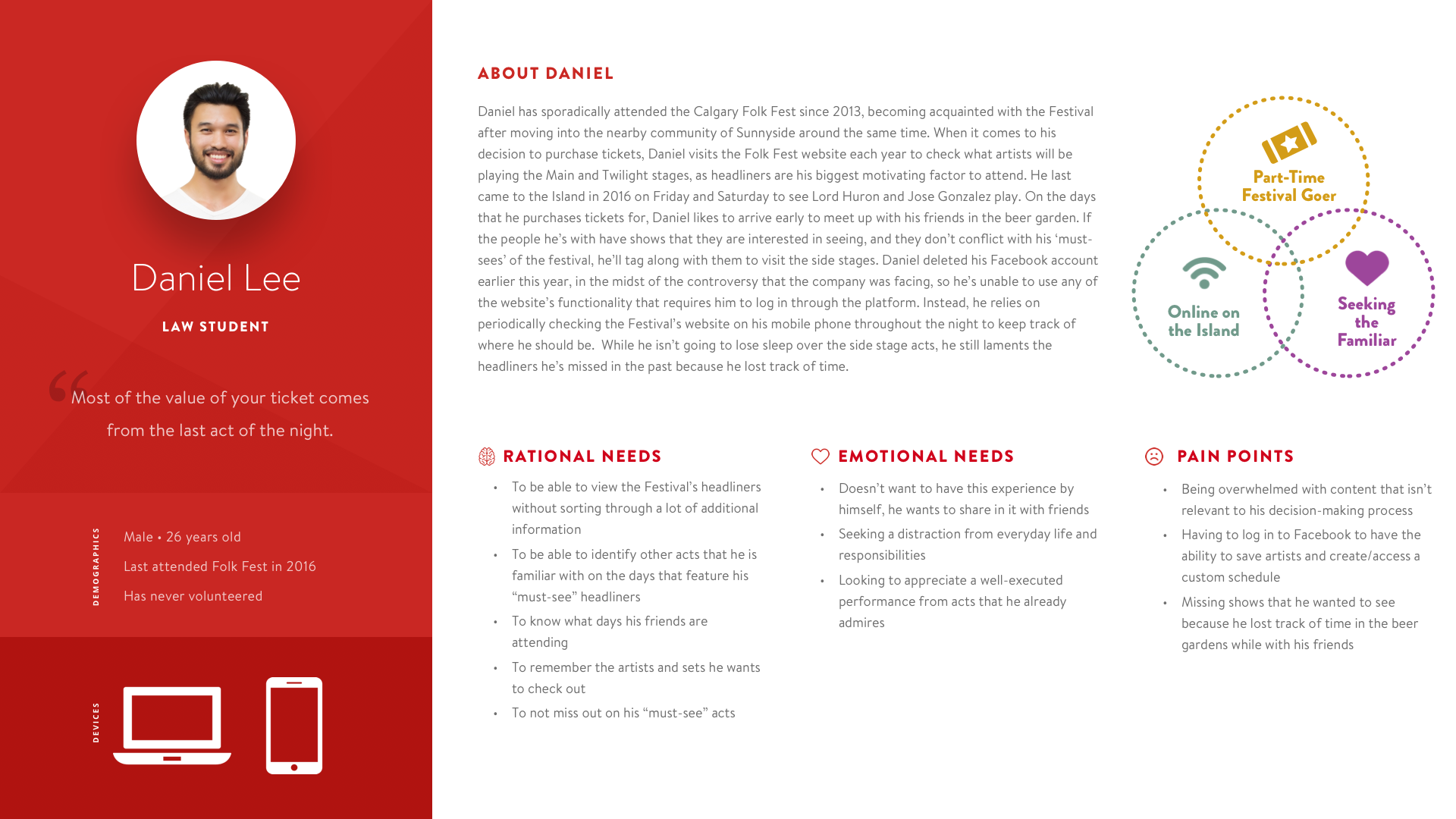 User Personas

Understanding how these values and behaviours combined improved my knowledge of the users we were designing for. I distilled the many data points that I had gathered through both the digital audit and my user interviews into a series of 5 personas.
In contrast to marketing personas, which rely on demographic data, I base my UX personas on observed behaviours. This approach helped the team to avoid making assumptions during the design process. For example, a surprising insight was that users of all ages desired print functionality because they viewed the festival as an opportunity to disconnect from their devices.

Tree Tests
After completing a content audit of the site, I developed a sitemap that reflected our research findings. I wanted to make sure that the content structure and labelling were intuitive to users, so I conducted an unmoderated tree test with a sample of 461 participants. In some cases, users were divided where they would expect to see a piece of information or appeared to be confused about the meaning of some of our page labels. My research findings highlighted where the site could benefit from cross-linking between pages, and where we would need to be cautious in applying branded terms.

Minimize clicks to view headliners

When the lineup launched, the top portion of the homepage was dedicated to displaying each day's headlining acts. For users whose decision to attend was based on who was playing the mainstage each night, they could get this information without venturing any deeper into the homepage, accompanied by a call-to-action to purchase tickets.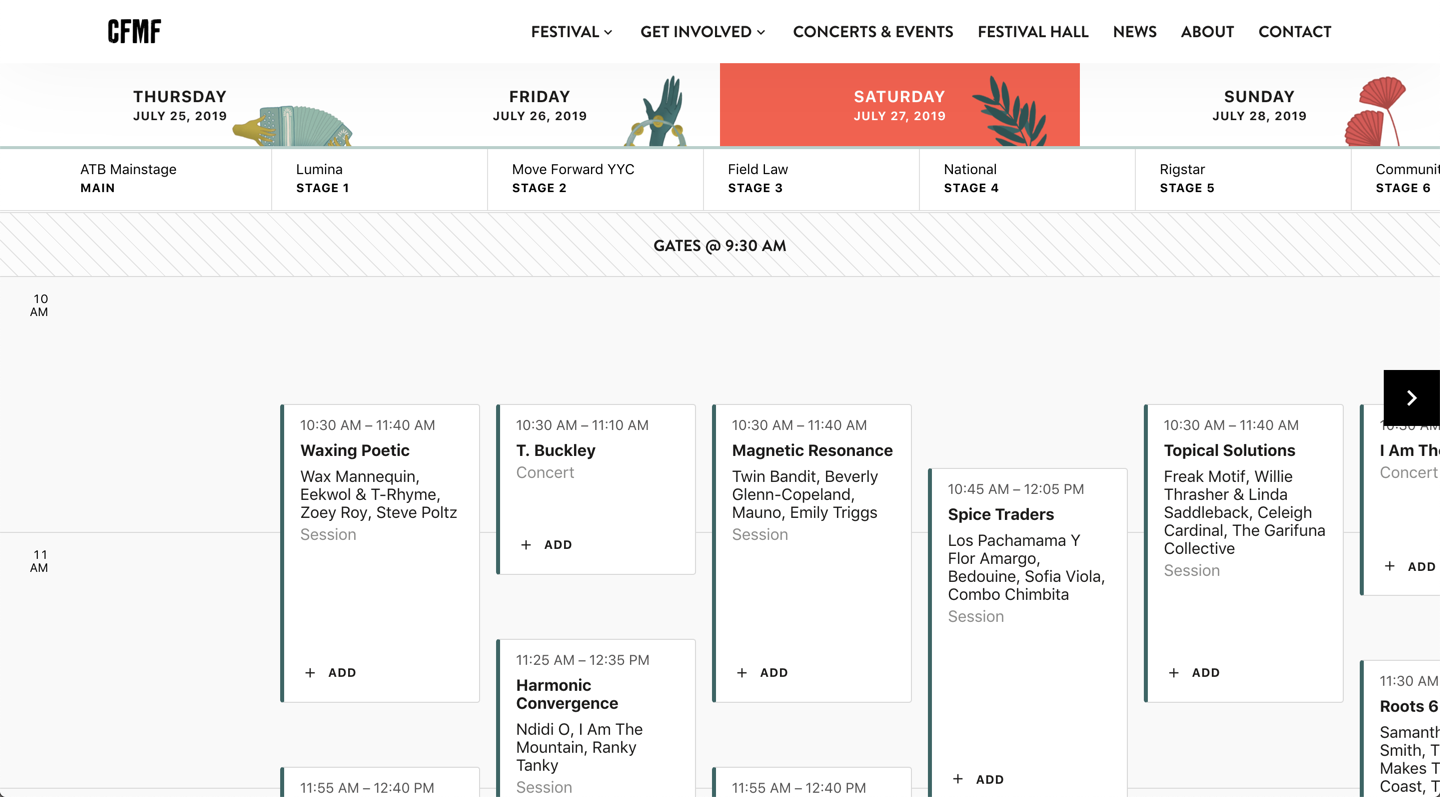 Provide custom scheduling functionality
One of the most important learnings from our user research was that people did not want to have to use Facebook to sign in to create a schedule. This requirement limited the number of people who could use this functionality on the previous build of the site. For the new site, we associated a personal schedule to an individual's mobile number. Users could then add acts from either the schedule or artist pages that they wanted to keep track of. Users could also opt-in to receive notifications 15 minutes before scheduled showtimes to help make sure they didn't miss out while at the festival.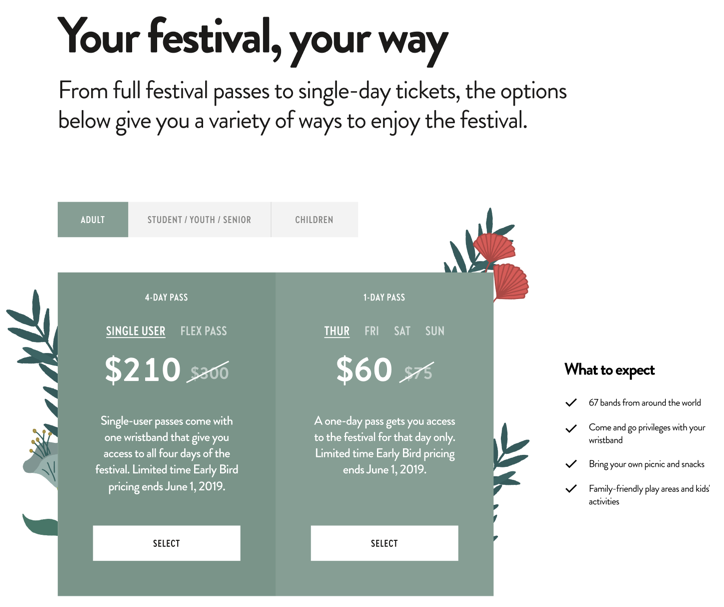 Streamline the ticket purchasing process
Folk Fest offers two kinds of multi-day passes, in addition to 4 different single-day tickets. Each of these tickets is associated with a different price that depends on who the user is purchasing a ticket for, such as a student or senior, and escalates in price as it gets closer to the festival. We streamlined the process by first asking the user to identify what kind of ticket they were interested in purchasing, and then only showed them the relevant options for that category. We also highlighted how much the tickets would cost if they waited to purchase them, which helped to inspire a sense of urgency.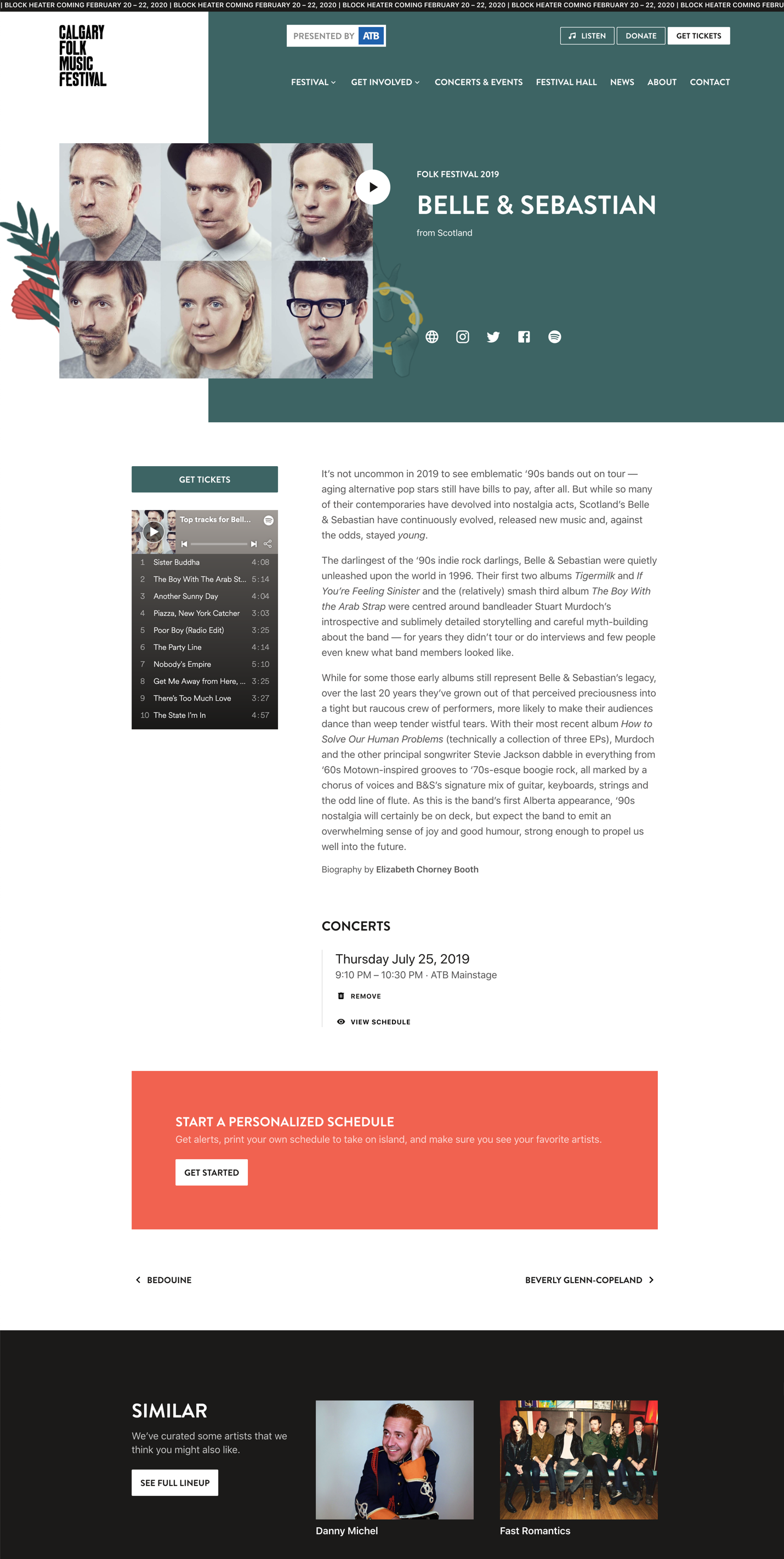 Give users the opportunity to get to know new artists before the Festival
To help users discover their new favourite musical act, we designed each artist page to be content-rich. Users were able to view a video of a live performance, curated by the Festival, and was provided with an embedded Spotify playlist of their most popular songs, which let users sample tracks without leaving the browser window. Additionally, users would be able to view all of the performances the artist was scheduled to play throughout the festival, including workshop sessions with other artists.

Help people prepare for their festival experience
Compared to other summer music festivals that resemble "party prisons," Folk Fest has developed a unique culture and norms. Festival-goers are able to come and go as they please and bring their own food and drink into the festival. If someone opts to not bring their own food or snacks, they can sample a variety of cuisines that cover the gamut of dietary restrictions. In 2019, the Festival participated in a pilot project that saw a cannabis consumption site on festival grounds.

We wanted to make sure that people were able to plan to make the most of their experience, so we created a "Plan Your Festival" page that answered logistical questions such as how to get to the festival, what you could/couldn't bring, and other common FAQs. We also created an "At the Festival" page that provided information that would be useful to festival attendees throughout the duration of the festival, such as food and artisan vendors, and other points of interest.

Usability Tests
I conducted a total of 7 usability tests with a representative sample of Folk Fest users to make sure that we were successful in meeting their needs with our designs. The test involved giving participants a variety of scenarios that tested their ability to create and modify a schedule and to retrieve it on multiple devices – essentially a repeat of the structure of the initial user interviews I conducted. This approach gave me the ability to compare our results to our initial findings. The success rates for each of our tasks suggested that the schedule & lineup pages were intuitive, useful, and did not leave users feeling frustrated.
By the Numbers
Over 2,000 users created a schedule, adding over 24,000 shows in total – a 90% increase since 2016 (the last year that data was available). Over three-quarters of these individuals opted to use the notification functionality. Additionally, a review of the site's analytics post-festival suggests that users engaged with more of the site content, for a longer duration, and bounced less frequently than they did the year previously.
24,546
Shows added to custom schedules
+90%
Schedule adoption rate
+27%
Average session duration
My learning? Don't forget your client's journey
Part of the challenge of this project was anticipating how the site's design and structure would need to shift throughout the year in response to changing needs. Organizational and user priorities when the lineup is released in April are different than those in June when the schedule is launched, and different still in September during the lull between summer and winter festivals.
I consulted with various members of the Folk Fest team early and frequently throughout the design process to ensure that there were no surprises when we launched the redesign. These conversations also helped to structure the CMS in a way that would be both intuitive and helpful, and probably most importantly - sustainable.